Dominique Wilkins still uses "we" and "us" and "our" when he talks about the Hawks. Maybe it's because he's technically a part of the franchise (he's involved in "various management functions," according to the team, as well as the local TV broadcast). But he sounds more like an active player than an exec, despite that he hasn't played in Atlanta since '94.
Of course, if anybody's getting an honorary spot on Mike Budenholzer's bench, it's Nique.
Wilkins led the Hawks to the post-season eight times in the late-'80s and early-'90s. In his prime, he was the NBA's greatest dunker—in transition, in the half-court, in a contest, didn't matter. He's also the game's 13th-leading scorer, peaking in '86 with a League-best 30.3 points per game.
On Saturday morning, though, the 56-year-old was none of those things. Instead, he was one of an estimated 2 million people in New York City living with diabetes. Speaking as a patient and advocate at the American Diabetes Association's NYC EXPO on the west side of Manhattan, in association with Novo Nordisk, Nique's job was to "educate people, give them healthy options, and send them to our website, diabetesDreamTeam.com, which gives you a clear look at how you manage diabetes and how to build your own Dream Team," a supporting cast that "pulls together to make sure you manage it right."
Graciously, The Human Highlight Film also spoke to SLAM about the strangest year of his NBA career, the current status of his jump shot, and this year's Playoffs. (Spoiler Alert: He likes the Hawks' chances.)
SLAM: When were you diagnosed with diabetes?
Dominique Wilkins: Almost 17 years ago, a year after I retired. Diabetes ran in my family. My father died of diabetes, my grandfather died of diabetes. But out of eight brothers and sisters, I'm the only one to have diabetes. I decided when I was diagnosed to not let diabetes do to me what it did to my father and grandfather. So I made lifestyle changes. Changed my diet, started exercising and got on medication. Those three things got me on track. But you can't have one without the others. So that's the key. Staying consistent, staying regimented. You still can have your favorite foods, but not so much of it. Everything in moderation.
SLAM: Was it something you worried about often?
DW: No, I didn't. Growing up, even though it was in family, diabetes was a situation where you thought just old people get it. That was our ignorance to the disease. Now we realize it hits every age group.
SLAM: What were your early symptoms?
DW: Dry mouth, frequent urination—like every five minutes. Fatigue—I was always so tired. I just felt off.
SLAM: What's the best advice you can now give to the public?
DW: Get screened. When you feel like you're having a tough time, get screened. Get a blueprint of your health so if something is wrong, you know how to fix it. And accept diabetes, if you have it, not so much as a curse, but as an obstacle that you can overcome. If you manage it the right way, you can live like everybody else. The fear that people feel is that once they got diabetes, they all of a sudden stop living. That's their biggest mistake.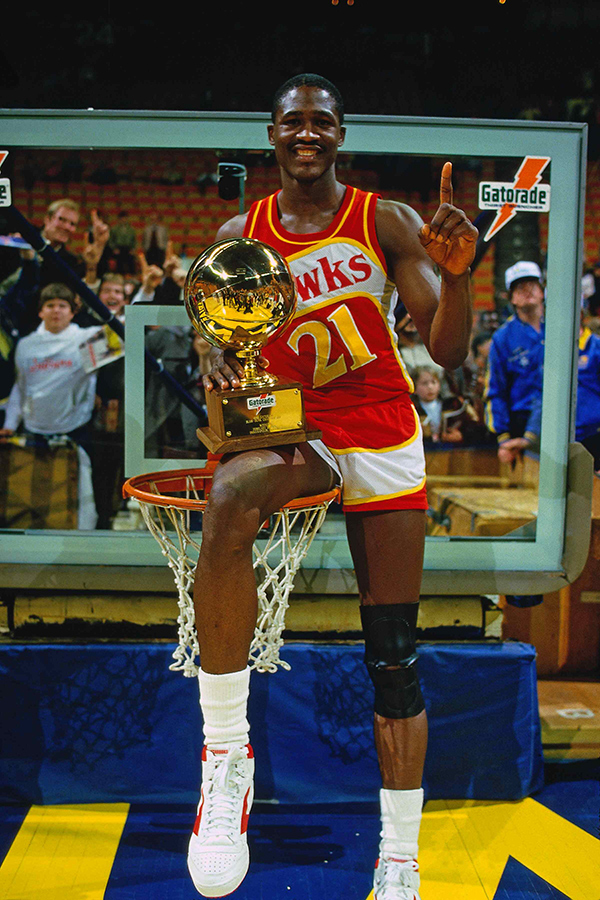 SLAM: What's your daily workout like?
DW: A lot of walking. Just get yourself physically moving. You don't have to go to a gym. Go outside. The gym is right outside your front door. I'm a very active guy anyway, and so I walk 2-3 miles a day, and I do a lot of work outside in the yard. I always ride bikes—I try to do at least 60 miles a week. And I shoot around with my son.
SLAM: Do you play any pickup ball?
DW: No sir, no sir.
SLAM: One-on-one?
DW: Just shooting around.
SLAM: How's your jumper these days?
DW: I can still shoot, I just can't run. When you try to run, you realize how winded you've become. But if I'm out there just shooting, no problem.
SLAM: One of your sons plays ball at UVA. When was he able to beat you one-on-one?
DW: Never. 'Cause I quit when he got to the age that he thought he'd beat me, around 16-17 [laughs]. I'd never let my son beat me. I have two sons, my other son is 9. He's gonna be a monster. He could probably be a 7-footer. He's a big, long kid. He's all me, too: Personality, attitude, I mean we're like twins. He had a ball in his hands when he was born.
SLAM: It's an interesting time to be developing as a forward. Everybody's shooting threes and all that—
DW: It's really hurting. Teams don't get enough points in the paint. If you're not making your threes, it leads to long rebounds, and teams are running out on you. So it's hurting a lot of teams. We played the Celtics, and they took 32 threes (in Game 6). Everybody is trying to emulate Golden State. Everybody can't be Golden State.
SLAM: Paul Millsap played an amazing first round against Boston.
DW: Millsap, boy, if we don't have him, man. We call him The Anchorman for a reason. He comes to work every night.
SLAM: What do you think about the Hawks-Cavs series?
DW: It's gonna be a tough series. As long as we come and play our game, we'll be in great shape. But they're a veteran, battle-tested team. Defensively, I don't worry about us. Offensively, we have to move the ball. If we move the ball, we'll give ourselves a great chance.
SLAM: Blazers-Warriors?
DW: Portland can't beat Golden State.
SLAM: Spurs-Thunder?
DW: Spurs.
SLAM: It's a funny thing, you played one year in San Antonio (in '96-97, at age 35). They'd been great, but David Robinson went down that year, and you ended up leading the team in scoring as the team won only 20 games and then won the lottery—
DW: They should be paying me! Because the year they got Tim Duncan, they were in the lottery. So many people were hurt. We didn't have any size. I had to play the power forward, which I hated. 'Cause I'm a physical guy, but in my era I was a small forward, and the power forward position had a license to kick your butt. It was tough, but they got rewarded for that tough year.
SLAM: Do you feel some pride for your role in the Spurs' dynasty? Well, maybe not pride—
DW: I do feel like I had a little something to do with helping them get Duncan [laughs].
SLAM: Finals prediction?
DW: Tough one this year. Put it this way: I hope we come out of the East [laughs]. Let's put it that way.
437