Starting Lineup's New Ja Morant Action Figure Captures the Personality and Charisma He Brings to the Game
We've got an exclusive 32-page mini mag on Starting Lineup's New NBA Action Figures. Shop here.
Every few years, someone tries to claim the dunk is dead.
OK, so not dead dead—it's still the highest-percentage shot in basketball, and it's always satisfying to see someone yam over a defender or finish with a flourish on the break. But when the game evolves, as it always does, and players boasting dazzling handles or dead-eye accuracy from deep rise to prominence, the narrative shift almost feels inevitable. Some may ask, Are dunks still the most exciting part of the game?
According to highlight reels and quite possibly your social feed, the answer is, emphatically, Did you just see that?!?!? Take Ja Morant. The Memphis Grizzlies' fourth-year guard with a skill set so compelling that it's difficult to argue for anyone else as the most dynamic—maybe the most fun—player in the League today.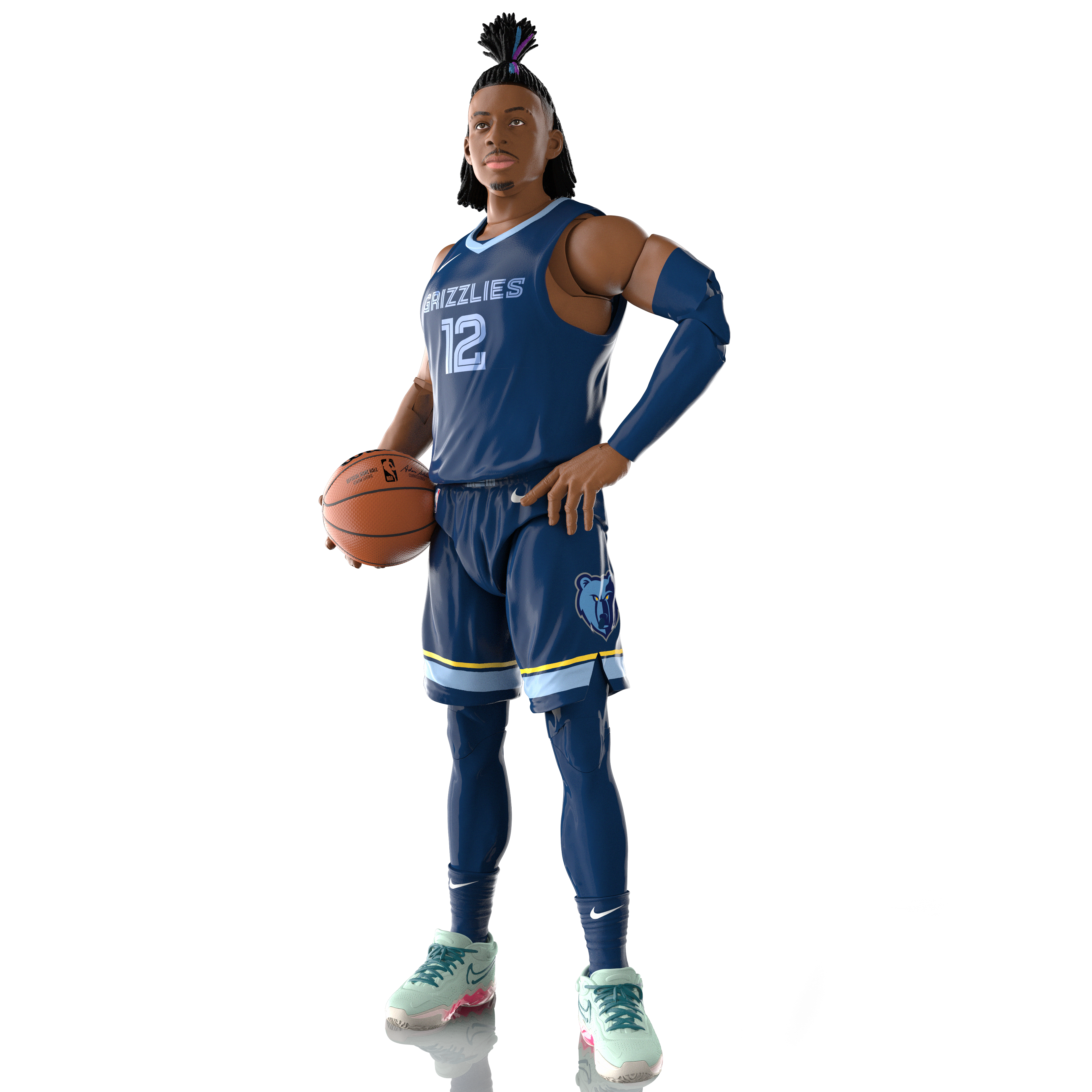 Ja was a mid-major star at Murray State and a rookie phenom in his first season with the Grizz, and he's only gotten better since. His offensive game is much more than scoring, let alone dunks. He led all of Division I in assists as a sophomore, dropping 10 dimes a game even as he averaged nearly 25 ppg, and he averaged 7.1 apg through his first three NBA seasons. And from midrange
to beyond the arc, his jumper keeps backpedaling defenders honest. But the dunks are the hook, the inspiration for the viral posts on loop, the thing that gets kids and old heads alike out of their seats.
Morant dunks like he's got a point to make, like it's vital that you remember what you just saw. He is quick, fast and explosive, a blur of hangtime and extension and angry finishing. All the great ones dunk like they're mad—at the defender, at the rim, at some perceived lack of respect from someone, it doesn't matter who. Ja's got that, and he's shown it repeatedly, most memorably against Minnesota in the playoffs last spring. Off two feet, from well outside the circle, a finish that blew the roof off the gym. He already boasts an incredible collection of posters, and he came close to topping all of them against Cleveland during his rookie season, nearly hurdling a defender five or six inches taller and almost finishing a dunk that any other 6-3 guy would be crazy to even attempt. Everyone was amazed, but no one was surprised. This is what Ja does.
And of course, he does it with style, from the chutes of color in his stand-up dreads to the notches on his eyebrow. It's all captured in his likeness here, imbued with the personality and charisma he brings to the game.
The dunk is very much alive. Thanks, Ja.