In retirement, some people rest, while some people rust. But in the distinct case of Steve Nash, he has posthaste reinvented himself. The 41-year-old recent NBA alumnus has gracefully transitioned from life in the League by applying his legendary intellect and work ethic into a soccer-infused charitable foundation that affects the lives of young people in need.
As any Morgan Stanley employee would tell you, the key to a successful retirement is in the planning. Back in 2004, at the height of his basketball-playing prowess and on the way to the first of his consecutive Most Valuable Player awards, the forward-thinking point guard began a foundation to provide grants for child-focused non-for-profits, medical services in areas of poverty, community re-engagement for victims of sexual abuse/violence and environmental education via sustainable practices.
This egress from basketball guided him back to his family's favorite sport: soccer. Steve's father John played professionally in England and South Africa and his younger brother Martin played for the Canadian National team and Vancouver Whitecaps (of which Nash is now part owner). A Tottenham Hotspur fanatic [Boooooo. #coyg.—Ed.], Nash fused his philanthropic mission with his NBA connections and a nagging need to run around the pitch. By dreaming up the "Showdown in Chinatown," a charity soccer game featuring basketball and soccer stars, the Steve Nash Foundation has galvanized this charming Lower East Side nook of the city that doesn't typically have world-class athletes running around on its fields.
The antecedent to the original game in 2008 began with a discussion between Nash and his summer rec-league soccer partner, Italian NBA journalist Simone Sandri, who thought it would be special if they pooled their vast and collective resources to do something unique and positive for the community. "We saw it as a cool show for the neighborhood, which could additionally raise money and bring awareness to our non-profit work," says Nash. Thierry Henry, Jason Kidd and Baron Davis were among the many to show up at Sara D. Roosevelt Park that magical June evening. The ensuing games brought more cleats, chin pads and enthusiasm with the likes of Dirk Nowitzki, Grant Hill, Kyrie Irving, Jozy Altidore, Chris Bosh, Tony Parker, Nate Robinson and Joakim Noah.
This year's diverse array of talent included Italian soccer legends Alessandro Del Piero and Giuseppe Rossi, the NBA's Matthew Dellavedova and Luol Deng, basketball legend and new St. John's coach Chris Mullin and hometown soccer pro Chris Wingert, who is now with NYCFC.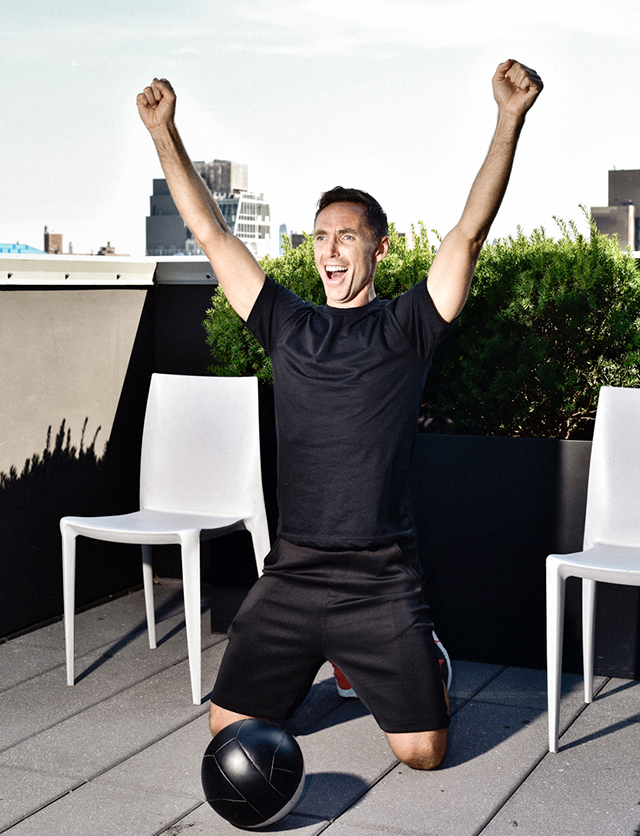 As in the previous Showdowns, 2015 offered an exuberant, fast-paced, 8-on-8 competitive match, or as Nash puts it, "Soccer's version of 3-on-3 half-court streetball."
The electricity from kids hanging from fences and on trees to get a glimpse of the action has made it soccer's equivalent of Rucker Park. Nash muses, "That first year was similar to watching your baby being born. So organic and a true highlight of my life."
This once-word-of-mouth unofficial kick-off to summer has evolved to a robust fundraiser with extensive media coverage and generous sponsorship, but the nascent spontaneity and kids climbing fences still remains an essential part of the game.
Nash was the only NBA player who had a soccer clause in his contract that allowed him to participate in the other sport he regularly enjoyed during his 19-year NBA career. "The movement of the game kept me sharp and in good basketball shape during the offseason," he says. Nash is so enamored by the beautiful game on the pitch that he wore the No. 10 with the Lakers, a number generally reserved on soccer teams for the leaders and most skilled performers. Nash further asserts that his game is strikingly similar on the hardwood and the soccer pitch. "It is the same brain, same wiring—just on a different surface."
The future first-ballot Hall of Fame inductee honed his pass-first style of play by emulating his childhood heroes: Hall of Fame Detroit Piston Isiah Thomas and Tottenham midfielder Glenn Hoddle. "Both were incredible passers with amazing vision who could score," Nash says. "They did it all. Isiah, in particular, was such a competitor and he was my size so I really studied him."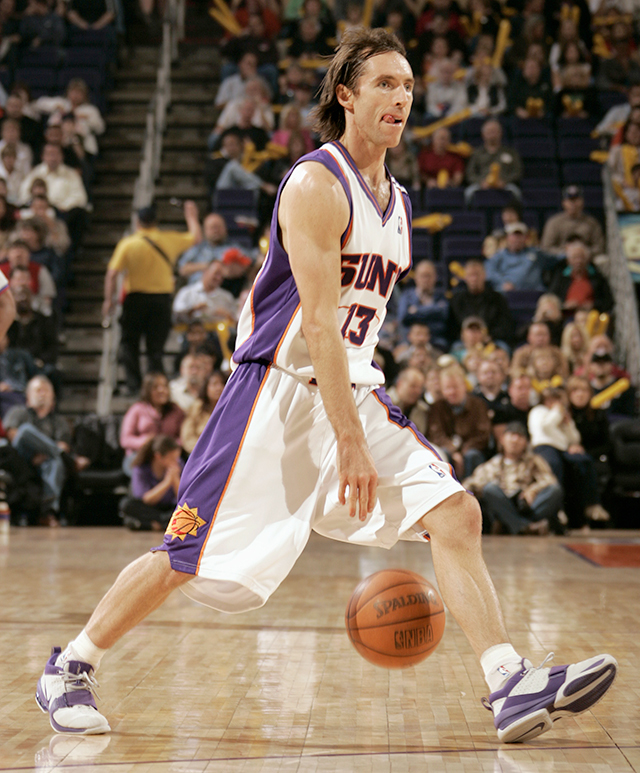 Most of us hope for a worry-free retirement, yet Nash has taken it upon himself to worry about others as his full-time occupation. Since hanging up his basketball jersey for good, Nash has spent the past year deeply involved with his eponymous foundation, specifically using the time to regroup and assess how he wants its future to look.
"We've been exploring early childhood education and universal pre-K, as many children arrive at kindergarten already behind," he says. One of the foundation's initiatives, Educare, which began in Phoenix, is now in almost half the states. Educare is used as a means to develop best practices for infants, toddlers, children and families that can't readily access those resources.
Nash is not so much political as he is about doing what is right. His battles for social justice and humanitarian causes have been well documented—whether it has been speaking out against Arizona's Senate Bill 1070, which racially profiled and criminalized anyone looking like an undocumented immigrant, or being one of the first in the League to vocally support LGBT rights.
Nash attributes his panoramic worldview to his parents, who never sheltered him from the inequalities and injustices that exist. Being in a position where he can eradicate certain problems through systemic changes, Nash firmly believes, and substantiates with the foundation's research, that child abuse can be eradicated. "There is scientific data to support this beyond a lofty goal," he says. "Leadership, discipline, teamwork, practice, winning and losing offer so many important life lessons."
He continues: "Sports is a wonderful teacher, similar to music—young people tap into new languages and forms of expression."
Basketball is still a substantial part of Nash's life. In fact, when we sat down for this interview, he had just gotten back from shooting hoops. Nash had spent the previous evening with Jahlil Okafor, the No. 3 pick in this year's Draft, who wasn't even born when Nash played his first NBA game. To further the divide, Nash is actually older than the 76ers rookie's father. "I told Jahlil to always be ready to laugh at himself," Nash says. "You'll be fine in this league if you can laugh at yourself."
This past spring, Nash, along with NBA icon Dikembe Mutombo, visited Cuba as part of the NBA Cares Global Health and Wellness program, and he's currently mentoring second-year Laker guard Jordan Clarkson, whom Nash refers to as "a great pupil who's willing to learn and is tough."
Nash really enjoyed this year's Playoffs and was thrilled for his former Suns general manager, Golden State head coach Steve Kerr. When asked if that Phoenix up-tempo seven-seconds-or-less style of play has influenced today's pace of the game, Nash humbly refuses to take any credit: "The rules changed to make the flow a bit more pretty."
He further observes that the beautification of the game seems to have extended itself beyond the court and into post-game press conferences and the locker room aesthetic. "When I first started, all the players wore big suits and had tailors. These days there are so many interesting ensembles to showcase, and many of the guys have stylists," he notes.
Although still too young to take from his IRA, Steve Nash is eagerly willing and wonderfully able to dig deep into his heart, mind and wallet to remain global in thinking and world class in giving.
Portraits by Ahmed Klink; action photo via Getty.