Twenty-five years later, it's almost impossible to imagine a career like Chris Webber's beginning the way Chris Webber's career began.
The No. 1 overall pick in 1993, traded on draft night. The 1994 Rookie of the Year, traded just weeks into his second NBA season. A transcendent talent just one year into a 15-year contract, already looking for a new start in his career. For Webber, that fresh start came in Washington, and those who remember his four-year run in D.C. are still wondering, What if?
To set the stage: After that single ROY season with Golden State, Webber decided he'd had enough of playing out of position and a difficult relationship with Warriors coach Don Nelson. So he sat out the start of the '94-95 campaign, forcing Golden State's hand. The Warriors sent him to Washington, and for the first time in ages, the Bullets—no, they weren't the Wizards yet, not for a few more years—were a franchise with reason to hope.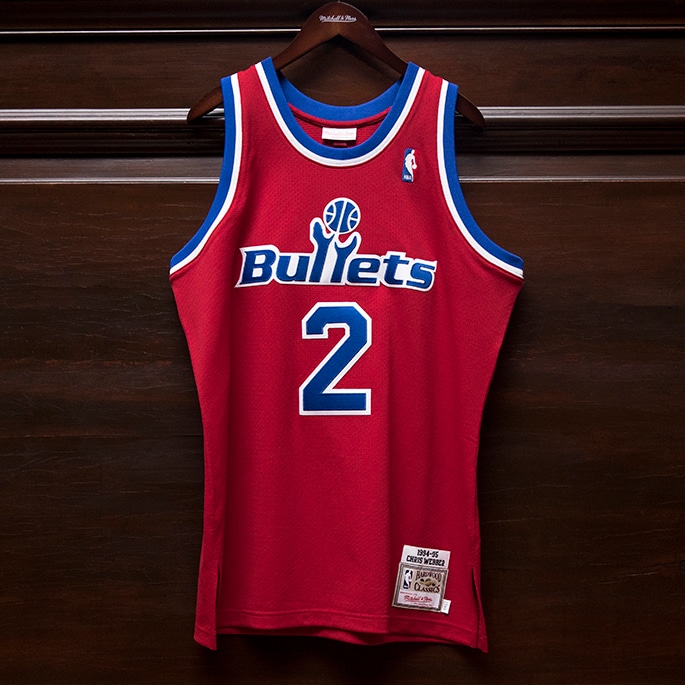 That hope wore No. 2—which was later changed to No. 4—below that iconic reach-for-the-sky Bullets logo on a clean sea of red. And while it took him some time to get rolling, by the end of his first season in D.C., Webber had reminded everyone why he was one of the League's most promising young players. Strong, rangy, versatile and deceptively athletic for a player his size, Webber still looked every bit the generational talent—the guy who could redefine the role of an NBA power forward. Reunited with his old Fab Five teammate Juwan Howard, Webber averaged 20.1 points and 9.6 rebounds on a team that struggled to just 21 wins.
Webber missed most of the '95-96 season with injuries, giving his third year in Washington the feel of yet another new beginning. He made the most of it, averaging just over 20 points and 10 boards in '96-97, the first of six seasons in which he'd average at least 20 and 10. His best season as a Bullet was also the team's best season in Webber's D.C. stint, as they improved to 44 wins and earned a spot in the Eastern Conference playoffs.
Their first-round opponent? The No. 1-seeded Chicago Bulls.
Needless to say, it wasn't a fair fight, and Webber would have to wait for a return to the Western Conference—where he'd have his greatest personal and team success in Sacramento—to experience playoff glory. In the meantime, there was one last season in Washington, in which Webber's 22 points and 9 boards weren't quite enough to lift the team to a playoff spot. Unable to take the next step as a franchise, and with Webber dealing with minor off-court issues, Washington ultimately sent him to the Kings in the summer of '98.
His legacy in the Nation's Capital? Four-season averages of 20.9 points, 9.7 rebounds, 4.4 assists and flashes of the Hall of Fame-caliber talent that hadn't quite yet reached the level of true greatness. But those flashes looked cool as hell.
—
Ryan Jones is a Contributing Editor at SLAM. Follow him on Twitter at @thefarmerjones.
Photos via Getty Images and Mitchell & Ness.
2,689