In the aftermath of the Warriors' famed 2016 Finals collapse, it was fair to place blame on Draymond Green. After all, Golden State probably would have won the title had Green not kicked LeBron James—and others—in the crotch, prompting a Game 5 suspension. Nobody knew this better than the man himself, who couldn't help but sulk.
"It was fucking miserable," Green says now. "Y'know, going through the offseason, playing as long as we would have to win a championship, but we couldn't close it out—fucking miserable."
Things have picked up since then. On July 4, 2016, Kevin Durant signed with Golden State, largely thanks to Green's persistent recruiting. Eleven months later, the Warriors won their second title in three seasons, vanquishing the Cavaliers again. There was little drama this time around, not in the five-game series itself, nor with Green, who averaged a double-double while flashing his trademark versatility. A couple weeks later, Green was named Defensive Player of the Year.
"I feel completely different this summer," he says. "Last year, there was a dark cloud. Now I'm just on a cloud."
Green is spending a late-June afternoon at Terminal 23, the Jordan Brand-sponsored gym in midtown Manhattan. The space was opened in 2014, and the main attraction here is a dazzling basketball court. Its walls and ceilings are white, and so are the Greek-style columns that stand in each corner. The site hosts pickup games and training sessions—which occasionally include Jordan athletes like Carmelo Anthony—as well as brand events. Today, Nike is promoting the new 2017 Hyperdunk Flyknit, for which Green is the frontman.
Indeed, in a summer full of success, Green's latest achievement has come off-court. Last season, Green mostly played in a customized Zoom Rev PE that had a "D23" logo stitched in. But that's not so special—Devin Booker, for instance, also had his own custom pair. Now, though, Green is representing a sneaker on his own—a notch up in the Nike food chain.
"It's a dream come true that they want me to be the face of the shoe," Green says.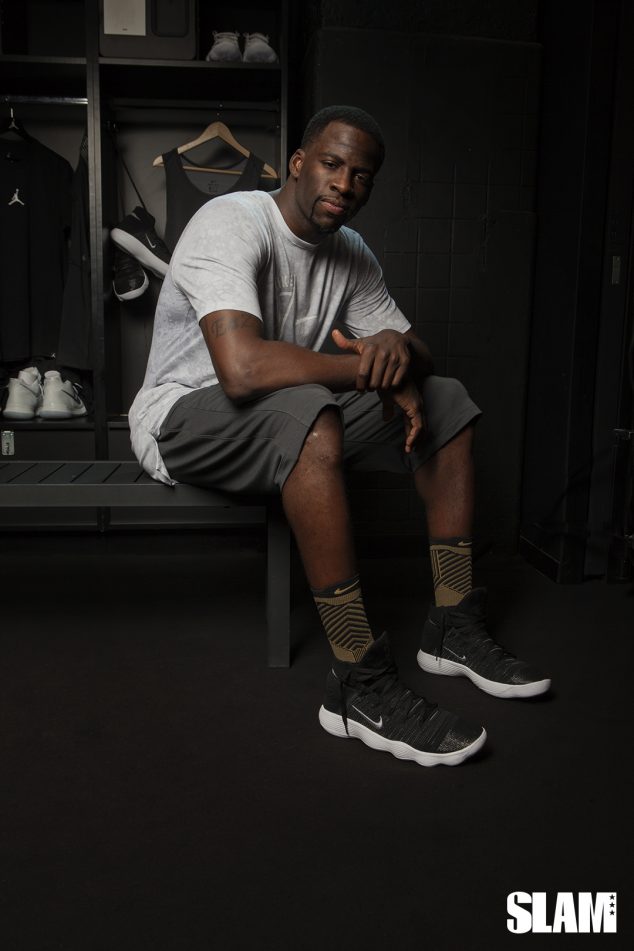 As he speaks, Green is wearing black '17 Hyperdunks. The Flyknit material streaks across the shoe in straight lines. On Green's model, the upper Flyknit promises a rare combination of flexibility and support around the ankles. The shoe's base is white, as is the Swoosh. The tip is a dark, glittery silver. In all, it's a clean shoe, which works for Green.
"If it's an ugly shoe, you're skeptical, like, Ah, I don't know if I can wear that," he says. Green has always taken fashion pretty seriously, though he admits that he didn't always have the money to let it show. Last year, borrowing from his lucrative second NBA contract, he hired a stylist to purchase his outfits, like the turquoise jacket and tight black shorts Green wore to accept the DPOY award at the inaugural NBA Awards in June. Luckily, Green says of the '17 Hyperdunk, "I think it's a pretty slick look."
That was the goal, according to Ross Klein, Nike's Senior Innovation Designer. "There's a simple visual aspect because there's so much info housed within the shoe," Klein says.
Specifically, Nike is introducing React cushioning, which, according to Klein, is the brand's "most complete foam. It blends cushioning, great energy return, a light weight, and durability. We tried to target everything our athletes are asking for."
The result is a shoe that supports any style of play—perfect for the adaptable Green. "We consider Draymond to be the Swiss Army knife of athletes," Klein says. "He can play all five positions. So he has quite a breadth on court, and this is the most versatile shoe that Nike has to offer."
React was perfected through two years of testing. First, Nike worked with high school athletes and incorporated their feedback. Then it was on to collegiate players, then over to Asia, where Nike stores are just as ubiquitous as they are stateside. Finally, the shoe was workshopped by the pros, Green included.
Green first tested it out in practice a few weeks before the Finals. "As soon as I put my foot in it, I could feel the difference with React technology and the cushioning in the back of the shoe," he says. Green has played in Hyperdunks since his days at Michigan State, where he wore the original model.
"My whole game is reacting, especially on defense, and these shoes give me the support, flexibility and versatility to move and go. The shoe moves with me, and it makes a huge difference."
Green offered to wear the '17 Hyperdunks in a low-pressure NBA game. But Nike had bigger plans for him, which were revealed to Green by his company rep, Adrian Stelly.
"[Adrian] was like, 'No, we want you to debut them in the Finals, and you can be the face of everything,'" Green says. He would wear a grey colorway in a Game 1 win. "I'm like, Oh man! That's dope. Obviously the goal is to get your own shoe, and this is a step closer to that."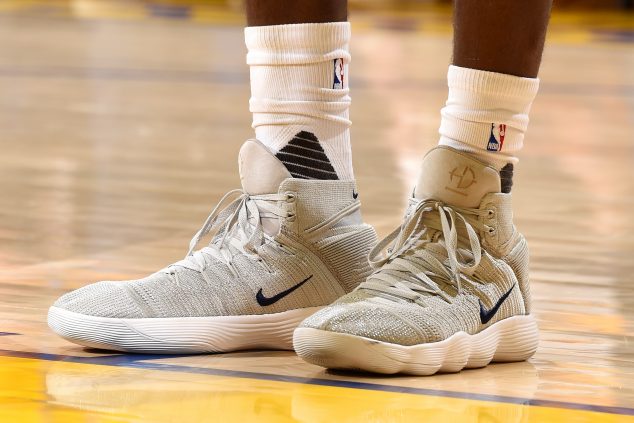 Currently, Nike has signature deals with LeBron, Kevin Durant, Kyrie Irving and Paul George. Each guy makes sense for two reasons: He is a superstar, and his style represents the modern game. These seem to be the brand's requirements.
In the bruising '90s, Nike had signature deals with a number of low-post players—David Robinson, Charles Barkley, Alonzo Mourning, Kevin Garnett and Tim Duncan, among them. That made sense back then, when basketball was played in the post. But the game has moved outward in the last decade.
In a clear sign of the times, no pure center or power forward has a signature shoe with a major American brand. Looking around the League, it's fair to wonder if Green might break through first.
Consider the NBA's premier bigs. The defensive styles of Rudy Gobert, DeAndre Jordan and Hassan Whiteside no longer lead to sparkling endorsements. Neither of New Orleans' stars, Anthony Davis and DeMarcus Cousins, stand out as particularly marketable off the court at the moment, at least until they find some team success in the Big Easy. Nikola Jokic, the talented plodder, would be a tough sell. Karl-Anthony Towns, Kristaps Porzingis and Joel Embiid likely need to spend some time in the national limelight—i.e. the postseason—before entering the signature conversation.
On top of it all, there is the old adage that nobody wants to buy a big man's shoe, because, A) most fans are not seven feet tall, and therefore prefer to mimic guys like Kyrie and Stephen Curry in their driveways, and B) because big men are inherently slower and less cool than guards.
That makes Green the perfect signature candidate. He is relatable for being undersized at his position and for having been overlooked in the draft. His playing style is relatable, too—every pickup player who's not great at any one thing likes to believe that he or she brings a little bit of everything to the game, just like Draymond.
Moreover, like past signature Nike athletes, Green represents the modern NBA—his game somehow combines all of today's trends. He is the desired 3-and-D wing, and the point-forward ballhandler, and the stretch 4 turned stretch 5.
Finally, Green plays in a major market, where he's won two championships.
That means the Warriors are constantly on TV and in the news, producing an entire roster of household names. This past season, despite being the fourth-best seller on his own team, Green's jersey was the 11th-best seller in the NBA. He's always making headlines.
Last year, for instance, there were the groin kicks and his own accidental NSFW moment on Snapchat. But 2016 also brought his successful recruitment of Durant, and later his thoughtful defense of KD's decision, in which he asked the San Jose Mercury News why NBA players are held to different loyalty standards than, say, CEOs at Apple or Google.
Most recently, there was his amusing feud with LeBron. That was initially sparked last year, when James wore an Ultimate Warrior t-shirt to the Cavaliers' championship parade, trolling Golden State. In June, Green was finally able to punch back, wearing a shirt that read: Quickie.
"The Q, that's what those guys' arena is called," Green explained to NBA TV at the time. "Got them outta here quick, with a trophy. Quickie." (Said LeBron, on Instagram: "That's what she said.")
In another era, those offbeat comments may have sparked a PR crisis. But today Green's takes are a lock to go viral, and, besides, they're all in good fun, anyway.
"I appreciate Draymond's personality," Klein says. "He shows an element of fun, right? He definitely has his stance on the game and what he brings to the game. The emotional level is just something that I really vibe with."
Where Green and Nike go from here is anyone's guess—signature deals are hard to come by, even for the most deserving of candidates. Regardless, Nike has helped Green bounce back from a tough summer, and then some.
"Debuting the Hyperdunk with new technology is special," Green says. "But to debut it in the NBA Finals, and then win the NBA Finals? It puts a whole different story to a whole different narrative."
—
Leo Sepkowitz is a Senior Writer at SLAM. Follow him on Twitter @LeoSepkowitz.
Portraits by Justin Borucki.