Karl-Anthony Towns on Mayweather-McGregor, Timberwolves, Hoodie Melo and Call of Duty
Karl-Anthony Towns has been keeping plenty busy this offseason. The centerpiece of the Minnesota Timberwolves has popped up at the popular E3 Conference, on the red carpet reading KD's old tweets at the ESPYs, running around with new teammate Jimmy Butler, hitting the beach with D'Angelo Russell to play volleyball, hooping in Kentucky, and, most recently, making his voice heard on the events that took place in Charlottesville, VA, earlier this month.
Over the weekend, KAT was active once again, taking part in a livestream for the latest Call of Duty: WWII video game. Once he hopped off the sticks, we spoke with the star about the Mayweather-McGregor fight, the new-look T'Wolves, Hoodie Melo, his appearance in the latest Katy Perry video and more.
Check it.
SLAM: What did you think of the Mayweather-McGregor fight?
Karl-Anthony Towns: I watched the whole fight—undercards included. Mayweather-McGregor was one heck of a fight. They absolutely went out there as warriors. I have nothing but true admiration and respect for Conor McGregor going out there against one of the best fighters who ever lived and holding his own.
SLAM: Were you surprised the fight went that long?
KAT: No, I was expecting the fight to go longer than six rounds. I expected McGregor to slow down. He's not used to that kind of conditioning—no matter how much sparring you do, it's still hard. His experience hasn't gotten him there yet. The first undercard fights are 10 rounds. Boxing fans and analysts always worry about people who come up and fight championship fights—now it's two extra rounds you have to fight. That could definitely change the outcome. Those two rounds, if someone is tired and the other guy is not, that could lead to a knockout.
SLAM: Do you think Floyd is really going to retire or are they setting things up for the rematch?
KAT: He's done. I hope everyone enjoyed it while they had the chance.
SLAM: How was Kentucky this past weekend? 
KAT: It was good, it was fun to be back on campus and have a chance to see the players and see the fans. I'm so happy that I had a chance to go back to a place that I feel is home. Kentucky has a big part of my heart.
SLAM: Who were you most excited to see when you got there?
KAT: I got a chance to talk to Trey Lyles and Alex Poythress a lot. People you don't usually get to see a lot—it's always good to see the coaching staff and to be in Kentucky. The aura is different, the air is different there. It's always good to go back anywhere that is like home. It was a great chance to be with my friends and coaching staff that I hadn't seen in a while and teammates that I hadn't seen in a while and play the game of basketball that we grew up loving.
SLAM: How did you end up in Katy Perry's "Swish, Swish" video?
KAT: [Laughs] A phone call led to being asked to make a cameo in the video and I accepted. I thank Katy for giving me the opportunity to be in the music video. It's a great video. It's very intriguing, very funny and entertaining.
SLAM: Was that your first time in a music video?
KAT: Yeah, it was cool. It was like shooting a commercial. It was very meticulous work and you want to make sure you get it done right.
SLAM: If you could be in any artist's music video right now who would it be?
KAT: I think it would be Kendrick Lamar. He's killing the music video game, I would love to be in one of his. A good friend of mine, Mac Miller, I would love to be in one of his videos, too.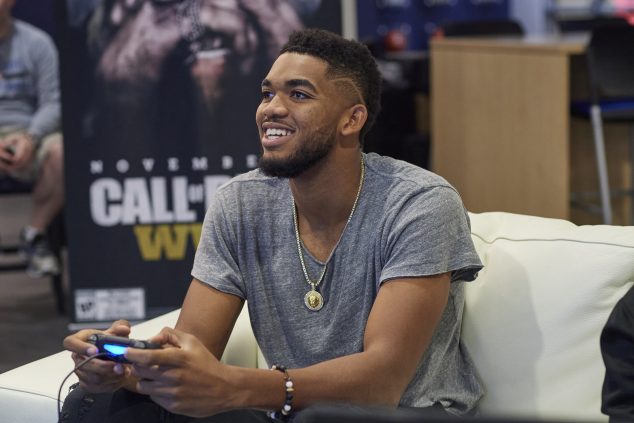 SLAM: Did the trade between the Celtics and Cavaliers catch you by surprise?
KAT: I was surprised, you didn't know the whole situation—we all didn't—I'm just happy they both found a way to deal with the situation. I wasn't too much into it. I'm glad the respected teams got done what's best for them and that's really it.
SLAM: What do you think of Minnesota's new Nike uniforms?
KAT: I mean it's a new image, we're trying to do something new. Obviously, we feel that we have a new team to start a new chapter in Wolves history and the jerseys definitely show us going in a new direction that we haven't taken before.
SLAM: What is the ceiling for this team now that you've added Jimmy Butler, Jamal Crawford and Jeff Teague?
KAT: I'm very excited. I think we have a great chance to do something really special. Obviously it's upsetting that we had to lose Ricky Rubio, Zach LaVine and Kris Dunn to trades but that's how the business is. We have to look forward and I'm excited about what we have.
SLAM: Last year the Wolves were a trendy pick to take the next step and make the postseason. Obviously, that didn't happen. After that experience, does your approach to the season change at all?
KAT: No, I expect us to be in the playoffs and I expect us to compete in the playoffs and have Minnesota rocking not just for one round, but for multiple rounds. We have a lot of faith in ourselves that this is something that we can do and we have a coaching staff behind us and great teammates. I think we have something truly special here.
SLAM: I'm sure you've been catching all the Hoodie Melo memes. Do you guys get a kick out of that stuff?
KAT: I think it's funny and I think most of us look at it as very funny. Melo's been doing that for years and social media took it to a whole new level. It's fun to see Melo getting in those workouts and see him focused for the upcoming season. You want to go against the best and you want the best to be at their best when you do.
SLAM: Much respect for the article you wrote for The Players' Tribune. Why did you feel like it was time to make your voice heard?
KAT: I think the timing was right and you never realize how important your voice is until you speak up. I'm trying to do my part to help society and humanity. I wanted to say something. I feel that fans and kids look up to us as professional athletes and role models and we have to do stuff to improve society and make it better for kids to live in. I was trying to do that and spread a message of love and everyone should respect each other and love each other regardless of color, regardless of gender, regardless of situation or monetary status in life. Right now, it should all be about love and respect.
SLAM: What is the response you have been getting?
KAT: People have been texting me and telling me that they're proud of me for speaking up. I don't feel like I need admiration or attention from the article—I felt like it was the right time to write something like that. It was on my mind and in my heart and I really wanted to speak out about it and give my ideas. Like i said, these kids look up to professional athletes and we hold a high importance to a lot of kids in the world. It's important to do something positive with the attention we garner and do something good for the world.
SLAM: What is your initial reaction to Call Of Duty WWII after playing? How is the gameplay?
KAT: It's great. It's very fluid, very smooth and they're going back to the things that made it great from the beginning. This game is really special and Call of Duty fans will feel the nostalgic feeling from old-school COD.
SLAM: Have you been playing COD since back in the day?
KAT: I've been playing since the first one came out on PC.
SLAM: How often do you play during the season when you're on the road?
KAT: I always bring an Xbox everywhere, a lot of us do. For good reason—we have long road trips and we're tired and want to be in our room and connect with our friends and that's how we're able to do it.
SLAM: Who is the best gamer on the Wolves?
KAT: It would be me. Hands down. I'm the best gamer on the Wolves, hands down.
—
Peter Walsh is a Senior Editor at SLAM. Follow him on Twitter @Peter_M_Walsh.
Photos via Getty Images