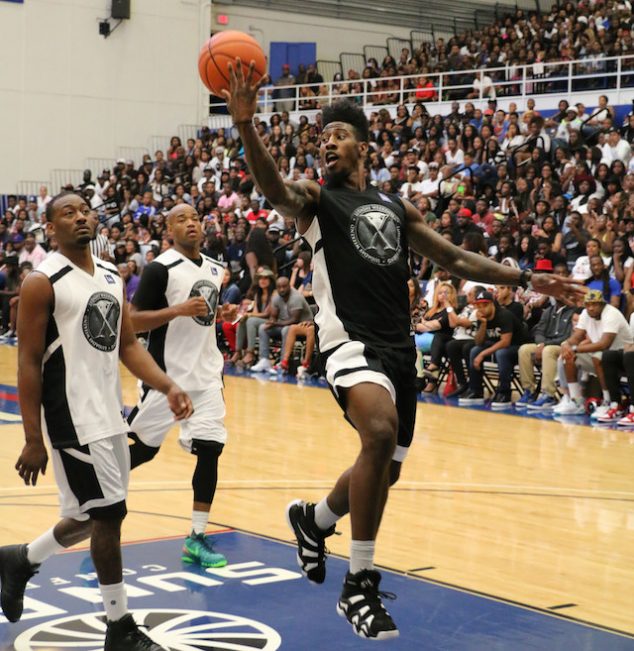 The tenth annual LudaDay Weekend popped off this past Labor Day in Atlanta and lived up to its well-earned rep. The five-day event brought concerts, a block party, and countless promotional events, culminating with the LudaDay X Celebrity Basketball Game. In front of a sold-out crowd at Georgia State, the DJ kept the atmosphere live with hot tracks and once the game started, the amount of NBA talent on the court could vie for the 'chip against just about anyone.
John Wall, Eric Bledsoe, Victor Oladipo, Cameron Payne, Iman Shumpert, Terrence Jones, Kentavious Caldwell-Pope, Nick Young, Kenneth Faried, Josh Powell, Jarrett Jack, Cameron Payne, Quinn Cook, Reggie Evans, and KJ McDaniels were amongst the NBA ballers in the game. Chris Brown, Trinidad James, Dej Loaf, and Omarion were a few of the musical artists who laced 'em up. Ultimately, it was Team Luda that walked away with a 121-117 win over Team Breezy in a dope event that benefited The Ludacris Foundation.
Here are a few of the names who stood out in the relaxed LudaDay X Celebrity Basketball Game:
John Wall, 6-4, PG, Washington Wizards
After what was a breakout season, John Wall appears to be in great shape and while he wasn't going full go, he still showed his ridiculous burners a time or two throughout the game. A regular at the LudaDay festivities throughout the past few years, the Wizards star was the biggest name amongst the NBA players and ended his birthday evening with a party at ATL's Gold Room, where he was given a $20,000 painting of himself.
Lou Williams, 6-1, SG, Los Angeles Lakers
The League's reigning sixth man of the year has been a permanent bucket-getter over the years at the LudaDay games. Able to bomb from 30 feet and finish above the rim, Lou is the type of guy who can easily drop 50 in these types of games. While he's used to coming in and being an electric scorer with the ultimate green light, one has to wonder if he's going to be given that same freedom playing with Kobe in LA.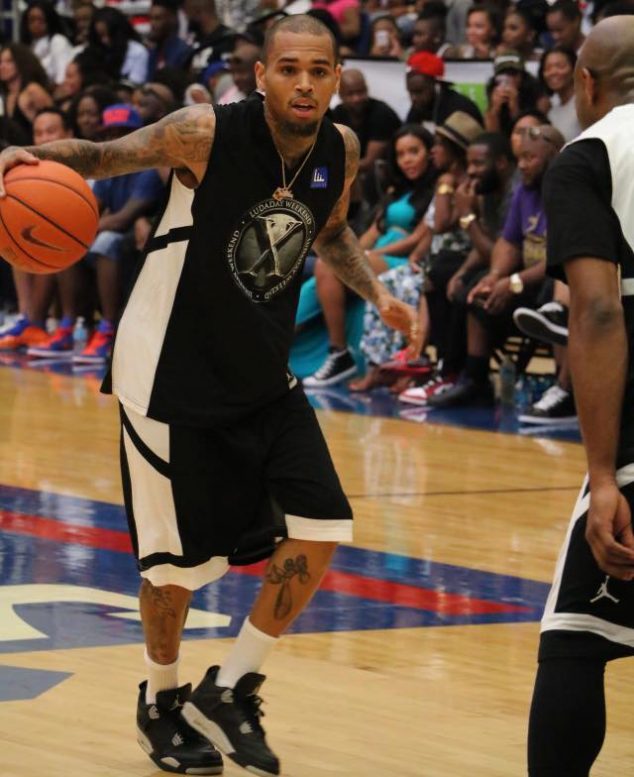 Chris Brown, 6-1
Playing in the Drew League over the years, it was always known that Breezy could go a little bit on the hardwood. Running the point with the Oreo IVs on, he showed off a slick crossover and hit 6 three-pointers in his squad's narrow defeat. While putting out hit records is what has made him a multi-millionaire, he certainly showed that he is likely one of the better-hooping R&B singers out there against a myriad of NBA players.
Victor Oladipo, 6-5, SG, Orlando Magic
While most players went through the game at less than half-speed, that was not possible for Victor Oladipo. A guy known for his insane work ethic, he looked to rip the rim off virtually every time he got the rock in transition. Oladipo nearly sent Georgia State into a frenzy when he back-rimmed an eastbay during the game, showing off the explosive athleticism that has made him one of the league's emerging young guards.
Nick Young, 6-7, SG, LA Lakers
Fresh off of battling James Harden at the Drew League, Swaggy P made it to ATL to run with some of the League's best. He was Iggy-less, but still showed off his handle and bombed a flurry of deep threes. With Kobe pack and the Lakers offseason acquisition of Lou Williams, it's going to be interesting to see what type of role the '15-16 season will bring.
Josh Powell, 6-10, PF, Milwaukee Bucks
Making one of the more interesting career transitions, Powell went from the hardwood in 13-14 to an assistant coach with the Rockets for the 14-15 campaign. Fast-forward a year and the 6-10 big man still has that itch to hoop, signing last week with the Milwaukee Bucks. A seasoned vet, Powell looked to be in great shape and should provide the same interior toughness to an emerging Milwaukee squad that he used to help the Lakers win two rings.
Big thanks to David Walker for all photos