Our friends at Mitchell & Ness are known for selling the hottest throwback jerseys money can buy. And since they're also huge hoops fans and historians, they released this cool graphic depicting the best player to ever wear every jersey number from 00-99 in the NBA. Agree with their picks?
Here's the explanation, from M&N:
As a vintage sports apparel company, we at Mitchell & Ness are obsessed with debating sports and recalling the greats who made us fall in love with the game. A typical meeting a few months ago went wildly off-course as a heated discussion broke out over who the best NBA player to wear number 33 was. We discussed stats and awards all while hearing valuable arguments for Larry Bird and Kareem Abdul-Jabbar while marveling at the other competitors at #33 – Patrick Ewing, Alonzo Mourning, Scottie Pippen, and more. After #33, we kept the debate going, laboring over other notable numbers. The M&N team, including our designers and historians, had so much fun debating the hotly-contested numbers, and finding out-of-the-box bests like Shawn Bradley that we decided to go through the entire list and pick out the best player to ever wear that number.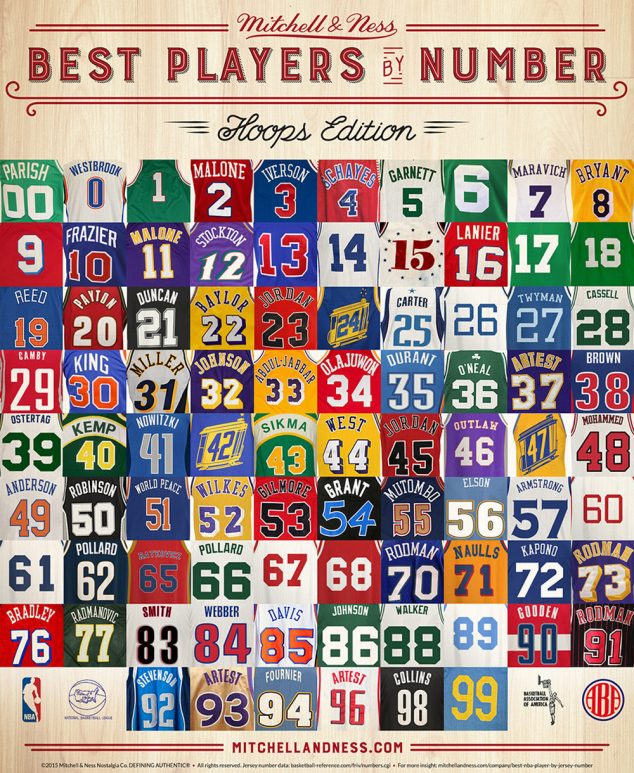 1,158