Last week, the Jordan Brand Classic once again descended on New York City, bringing with it the best high school basketball talent on the planet.
JBC week in New York is akin to the NBA's All-Star Weekend, minus the extravagant alcohol-fueled parties and overbearing autograph seekers. It's no match in terms of global cache, of course, but it's undeniably one of the best events of the basketball calendar each year, for its combination of incredible basketball talent and "did that just happen?" moments with celebrities, legends and the players themselves.
Most importantly: it's just genuinely fun.
The kids are in good spirits. The brand hooks them up. The media access is great. The fans are passionate.
Like Tuesday, when after NBA legend and Jordan Brand athlete Ray Allen gave some remarks at this year's "opening ceremonies" held at Terminal 23 in Manhattan, it became immediately apparent that, Yeah, these are still just high school kids. Within minutes of being set free at the tricked-out players' lounge (pool tables, ping-pong, video games, the works), Michigan State-bound Miles Bridges and Duke-bound Jayson Tatum were performing a karaoke version of Future's "March Madness" for their peers. A year from now, Bridges and Tatum will likely be lottery picks in the NBA Draft. Here they were, laughing and rapping and dancing—you know, being kids in a world where soon their every move will be tracked and every tweet turned into a bloggable news item.
Like Wednesday at 166 Flatbush, Jordan's interactive retail pop-up space across from the Barclays and next to Shake Shack, where fans lined up for hours before it opened, engulfing the True Religion store with hopes of getting a glimpse inside the Jumpman shrine. With good reason: the Jordan Ultra.Fly, the Air Jordan XXX, the Letterman 1s and more were on display and on sale, not to mention a full-service barbershop, in-house bodega and virtual training station to track your skills. The players even got the chance to design custom t-shirts, like this one that Kentucky-bound Malik Monk created for himself: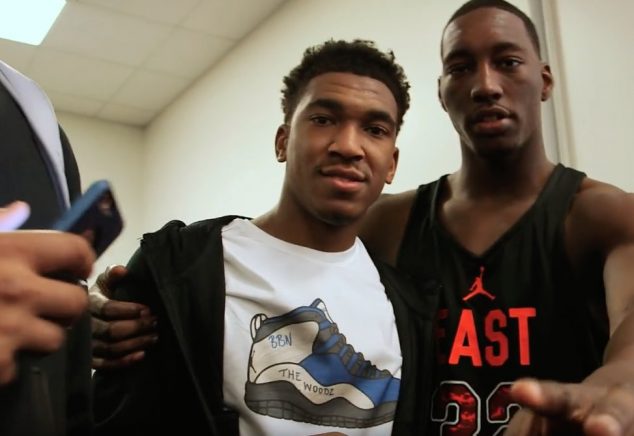 Like Friday for the main event, the list of courtside cameos for which this year was strong, from JBC alums like Jabari Parker, Tyler Ennis, Tyler Ulis, Devin Booker and Jamal Murray (word to #BBN, again) to Giants WR Victor Cruz to Brooklyn rapper Desiigner—whose post-game performance of "Panda" had the Barclays crowd more energized than any Nets game in months—plus current All-Stars Carmelo Anthony and Maya Moore. Fellow prospect Thon Maker showed up at one point and dapped up every player on the East bench during a timeout. Because, why not—after years on the high school hoops circuit, those are his boys.

It doesn't take an expert to know that in 2016, HS basketball is big business. And sure, much of the glamour of the JBC can be attributed to Jordan's emphasis on marketing the brand. But by letting the kids simply be kids, bringing in NBA ballers not just to make appearances and dip, but to actually be a part of the week, and allowing fans to participate in the week leading up to the featured games, Jordan's been able to thread the needle: Jordan Brand Classic is cool. Still. In a culture where cool typically turns to corny as soon as a corporate entity seizes even the slightest control.

Scroll through the photos in the gallery above to get a sense of the week that was for the high school kids, from tourist attractions in NYC to gearing up for practice and the games.

166

[ngg_images gallery_ids='1494' display_type='photocrati-nextgen_basic_imagebrowser']