As the highest-rated hoops recruit to attend Arkansas in almost 20 years, Nick Smith Jr decided to stay local for college with the goal of bringing the Razorbacks program back to the glory days of the '90s. He definitely has the game and swag to pull it off.
As Nick Smith Jr approached the stretch run of his senior season, he faced a dilemma familiar to many elite high school hoopers. He was eager to get to the next level, to test himself in college and move one step closer to a potential pro career. At the same time, there was a short-term goal that dominated his thoughts.
"I've been in high school four years," Smith says, "and I ain't got no championships."
Smith was focused on changing that in early March, when he led his North Little Rock HS squad into the Arkansas state playoffs. The Charging Wildcats are the defending 6A state champs, but Smith wasn't part of the team that lifted the state banner last spring (more on that in a second). Needless to say, the fact that one of the best players in the country joined the best program in the state made North Little Rock big favorites coming into 2022.
But when we spoke in late February, Smith wasn't taking any of it—his team's state title hopes, or his own place in the Class of '22 rankings—for granted. That's not how he got here in the first place.
A 6-5, 185-pound guard, Smith was viewed as a top-40 recruit up until his junior year, but probably not the guy who could turn a decent program into a national title contender. After transferring last summer from Sylvan Hills HS, Smith spent his senior season correcting that perception, rising into a consensus top-10 spot in the rankings, and even making his case for being as good as anyone in the class.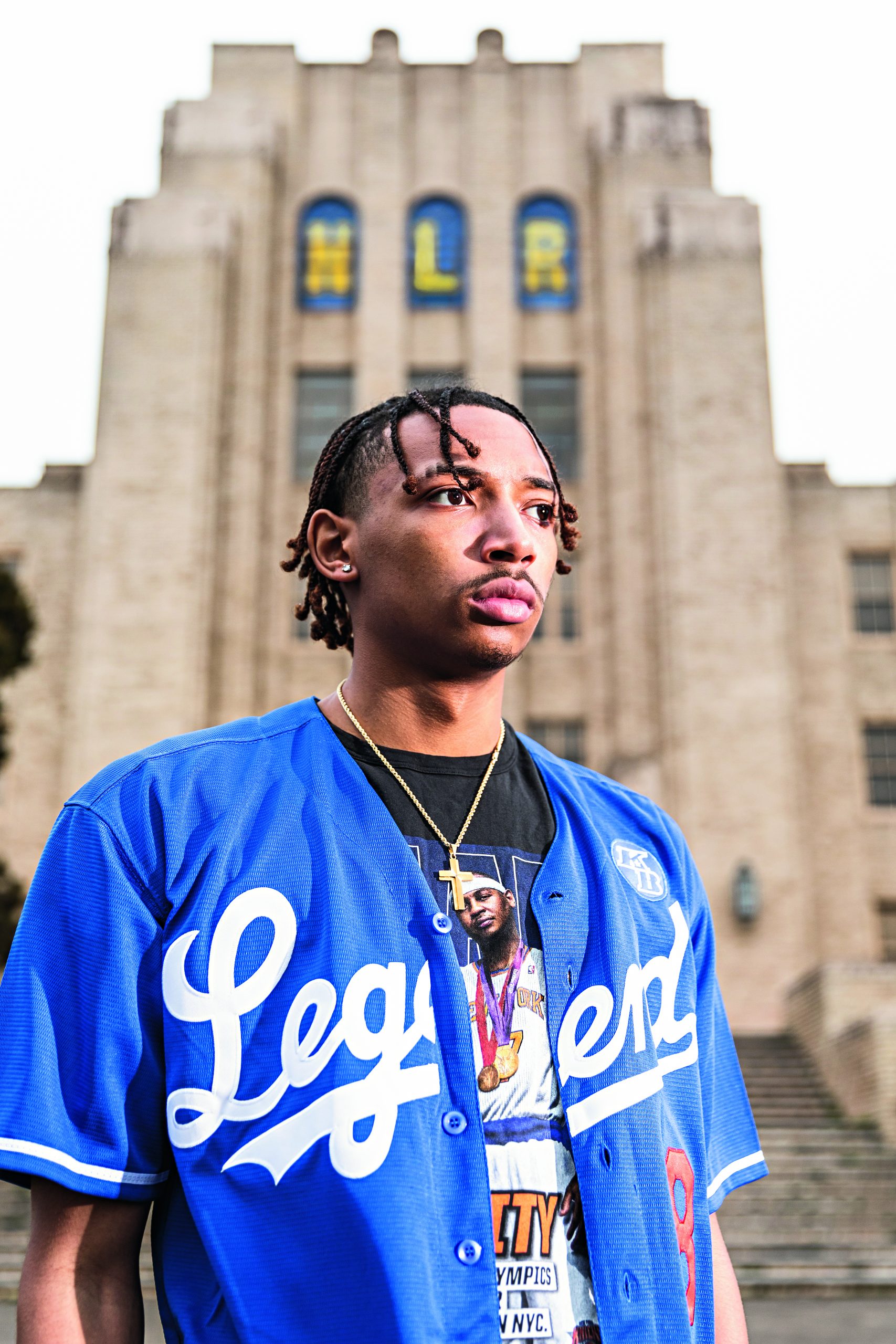 "Me, growing up, I've always kind of been the underdog," Smith says. "But even when I was, like, 40s or 50s in the rankings, I always had the level of respect from other guys in my class. They knew who I was. I was really doing the same things that I'm doing now, but obviously I've gotten a lot better. Now that other people see it, I'm just keeping true to myself, keeping that chip on my shoulder."
Motivation can come from a lot of places—Smith talks about his younger brother and sister, both hoopers, and setting a positive example for them on and off the court—but that "underdog" motivation might be getting harder to come by as more and more people recognize his place in the top tier of his class. He's already shown he can lead a loaded team, as his North Little Rock roster includes top-20 prospect Kel'el Ware, a skilled 7-footer who is committed to Oregon. Smith himself isn't traveling quite so far for college. Last fall, he announced his plan to rep his home state by committing to Arkansas, where he'll lead a top-10 recruiting class that includes four other top-100 signees, including top-20 wing Jordan Walsh.
Smith understands that he and his classmates have Razorback fans dreaming of the program's success in the '90s. He sees it not as pressure, but as opportunity.
"I'm super excited, for the simple fact that me and Jordan and the other guys have made a commitment not only to the school, but to one another," he says. "Me and Jordan are already like brothers, and we're just trying to come in and win. I feel like Coach [Eric] Musselman is going to put the right pieces around us."
Smith knows that as the goals get bigger, so will the expectations. And he's ready. "I work on my game constantly, getting ready for the next level—keeping my jumpshot ready, and staying in the weight room, because I know the next level is more physical," he says. "And I feel like my mental aspect is more ready than a lot of people. Me and Coach Musselman talk every day, I try to pick his brain. I try to pick everybody's brains."
Ultimately, Smith says, there's one reason he knows he'll be ready for whatever comes next.
"I have higher expectations for myself than anybody else has for me."
---
Portraits by Sara Reeves.