When Tom Miller was growing up in Northeast Ohio, the WNBA was just getting its footing. Miller, then a high school junior, watched as the league embarked on its first season and as girls across the country began to pick up a ball in the wake of stronger Title IX provisions. Now, nearly 25 years later, the 40-year-old has become a pioneer and champion of girls sports in Ohio.
Miller runs Ballher Athletic Apparel, a clothing brand for female athletes, out of Alliance, OH. Created in 2006, Ballher—pronounced "baller," with the letter "H" meant to highlight the female athlete—provides girls high school sports teams and AAU girls basketball teams across Ohio with custom jerseys, t-shirts and more. With an emphasis on supporting female athletes at a young age, Miller wants to ensure that they feel valued and respected as players.
In 2006, Miller was working as the girls' basketball head coach at Marlington (OH) High, and he noticed that many of his players would not have their own gear—they'd often wear oversized hand-me-downs from an older brother or relative. A lightbulb went off in the coach's mind.
"Girls need something that they can identify that's all their own," he said. "So I started looking around—AND1 was popular, that was a guy's logo. And then you had LeBron's logo, another guy. All these brands are mostly silhouettes of men and so I was like, Why can't there be a girl's version, a girl's brand that speaks to them on their own level?"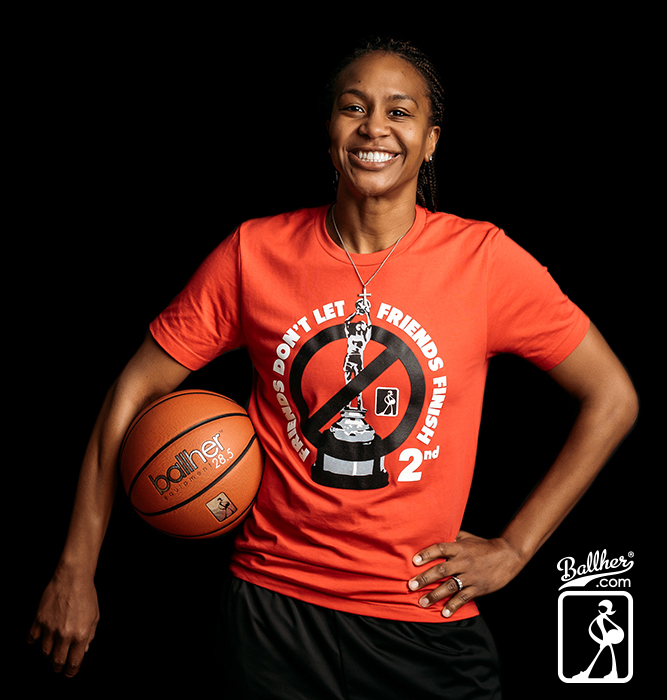 That year, Ballher was born. While the mission began as a way to get more girls to play basketball and to feel confident on the court, Miller and his team now also supply gear for girls' volleyball, softball and soccer programs.
This past summer, Ballher got an assist from Tamika Catchings, former Indiana Fever forward, WNBA champion and current general manager for the Fever. In June, Catchings signed a three-year endorsement deal with Ballher. Since then, she wore custom shorts from the company during her stint on American Ninja Warrior, joined Miller to surprise a local Ohio girls' basketball team with new uniforms and formed a partnership between her Catch the Stars Foundation and Ballher.
"Being a young female athlete myself once upon a time, not really having products that were designed and made specially for me," the newly inducted Hall of Famer said. "I think that his mission is just really cool and one that's become dear to my heart."
Catchings and Miller met in 2008 at one of the former Marlington coach's basketball skills camps. In the years that followed, the two started to work together through Catchings' youth fitness-focused foundation, and Ballher has created t-shirts for her camps and other events. Once Catchings' player-endorsement deal with Nike ended, Miller and Ballher saw the opportunity for the two to work together once more.
"What Ballher's been able to do is they've found their niche in an area that hasn't been as solidified in the past," Catchings said. "I think [Miller has] done a great job with his products, his design and his creativity of being able to serve a demographic on the local level."
While athletic apparel behemoths like Nike and adidas have global recognition and a war chest of resources, Ballher hopes to tap into its local roots by building connections with the teams it outfits and designing custom apparel that fits their history and personality.
With the coronavirus pandemic shuttering businesses across the country for an extended period of time, Ballher has been forced to pause production. Last month, a local girls basketball team outfitted in Ballher apparel was warming up for their semifinal game when, minutes before tipoff, the event was shut down and everyone was sent home. Along with school closures, all of the AAU teams that Ballher equips have stopped playing.
In the interim, Miller has started a challenge on social media to raise money for local food banks in Ohio. The campaign, #MakeMyShotChallenge, encourages kids and adults across the country to record themselves making a basketball trickshot and then post it on social media with the hashtag, tagging a few friends. If the tagged friends don't respond with their own video of the same trick shot within 24 hours, they must donate money. Ballher has a link on its website to donate, and 100 percent of the proceeds raised will be donated to a local food pantry.
Across the world, almost every sports league has been suspended until it is safe to resume play. But many, including Miller, worry about what this means for the future of women's sports—especially in the US, where the WNBA, in particular, was making strides and growing in stature.
"I feel like the men are going to rebound no matter what," Miller said. "I feel like the media is always ready to just jump in that circle because it's what they're familiar with and it's what they know. And so I think it's really up to people on social media to keep it going because without that, [the media is] always going to chase the dollar."
"So many companies are losing so much money that they're going to be very quick to jump into old habits. It's going to take a very conscious effort to pick up the ball where it was dropped and continue that for women's sports."
—
Bela Kirpalani is a contributor at SLAM. Follow her on Twitter @belakirpalani.