Dennis Smith is confused. And hungry. It's been a long day, as the day before the NBA draft always is for prospects. There are media sessions and charity events and more media sessions, and sponsors who need indulging, and marketing contracts to negotiate, and did we mention media sessions, all scattered throughout different corners of New York City.
It's tough to find a moment to squeeze in a quick bite, and so one of Smith's public relations staffers has brought him a small paper plate full of crackers and fruit. At least he thinks it's fruit. There are certainly strawberries and next to them lay triangular-shaped yellow slivers that look like pineapple.
Smith, leaning on a table behind a makeshift curtain in the lobby of Manhattan's Grand Hyatt hotel and dressed in basketball shorts and a white tee, headphones tucked behind his ears, takes a bite. His mouth then contorts and his dark eyes open wide. "That's not pineapple," he says. He's told it's cheese, that no one would put pineapple on a cracker.
"Yeah, that makes sense," he responds. "Long day I guess."
The day might be close to winding down, but there's still more than 24 hours to go before he hears his name called by Adam Silver, who the next night announces that the Dallas Mavericks had drafted Smith ninth overall.
Smith, many analysts believe, could wind up being the steal of the draft. The Fayetteville, NC, native averaged 18.1 points and 6.2 assists per game as a freshman last year for NC State—not bad for a kid who tore the ACL in his right knee the year before. He says the knee's fine, by the way. No, scratch that, better than fine.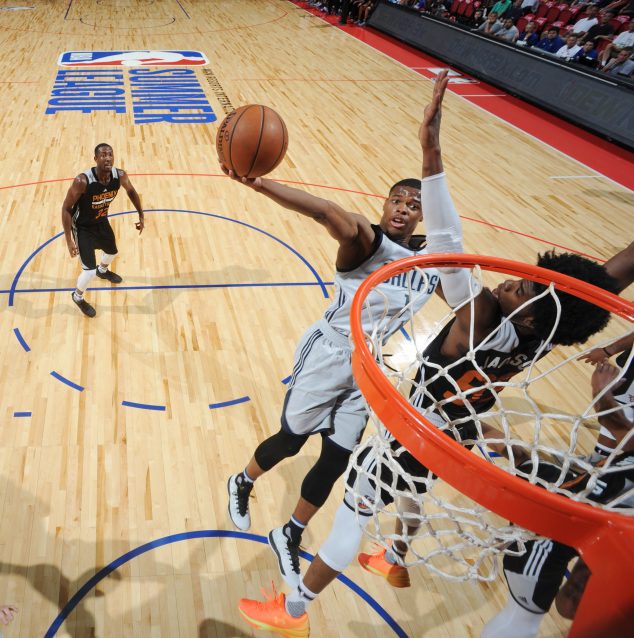 "I'm more athletic than I was before," the 6-3 guard says. "Because of it I had to do work on the muscles around the knee for the first time ever and it made me more explosive."
But just how explosive is Smith, who has drawn comparisons to Russell Westbrook? He's asked to give an example.
"Well, I've got a 48-inch vert," he says. He then flashes a big, warm smile before picking up another cracker, this time sans the cheese. Talk then turns to the entire pre-draft media process, and the repetitive nature of the whole ordeal.
"Just please, no more Knicks questions," Smith pleads. He's just endured his first experience with the New York basketball media. It's not that he doesn't like the Knicks, it's just, "That's the only question they were asking me before, and then someone else would come over and ask me the same questions again: 'What was it like meeting Phil?' 'How do you feel about the triangle?' Over and over."
So what would you like to talk about?
"I'm an avid paintballer."
He says he was only introduced to the sport about a year ago, but that since then, he's been playing about once a week. He plays with friends, his father, sister and his girlfriend. There's a field out in the outskirts of his hometown that they frequent. It's owned by a man whom Smith declines to name—"I'm not giving you that," he says—who last year allowed the group to spray paint a title onto the course's wooden entrance: Dennis Smith Field.
"It's like real life Call of Duty," Smith says. "But also, I love being out in the country, in the woods. It's what I'm used to." He's then reminded that his upcoming NBA contract might bar him from playing anymore.
"I don't know, I ain't never seen an NBA contract," he says. "But I'll definitely ask."
The PR woman signals that there's only time for one or two more questions. There's another charity event Smith needs to be shuttled to. Before he leaves, though, Smith is asked if he'd like to respond to those who say that NC State's ugly 15-17 record last season is proof that he's not ready to excel at the NBA level.
"I don't really have a response," Smith says. "I guess I'd say you have to take a lot of things into account when evaluating players, but really, criticism doesn't bother me. I don't really focus too much on proving people wrong. I'm too old for that."
With that the interview comes to an end. Smith picks up a couple of game-worn NC State jerseys that he signed earlier. Part of some sort of licensing agreement that he says he can't yet discuss. He heads for the elevator and disappears.
He's not yet a member of the Dallas Mavericks, but his professional life has already begun.
—
Yaron Weitzman is a Senior Writer for SLAM. Follow him on Twitter @YaronWeitzman.
Photos via Getty Images
202