It's crazy how often Dennis Smith Jr gets asked about hanging out with J. Cole and about playing with Dirk Nowitzki. Even after a season in the League and a couple of years in the spotlight before that, the journalists in this Las Vegas hotel suite just wanna hear him talk about other people. Like he didn't just come off a season in which he averaged 15 points and 5 assists, starting every game he appeared in. Like he's not one of the game's most electrifying players. Going back and reading old stories about him, even in SLAM, it's been that way for years—everyone wondering about his relationship with Cole or what he's learned from Dirk. So we ask what he thinks people should know about him.
After a quick smile, Smith Jr leans back in his chair a little and looks up.
"Probably how much I like football," he says, bringing his eyes back down from the ceiling. "I used to play, too. Cornerback. Football was my first sport. I might like football more than I like basketball.
"I love the contact," he continues. "You get to play full speed all game. I'm a country boy, too, so just being outside. I love all of that, everything except practice. I couldn't do that shit."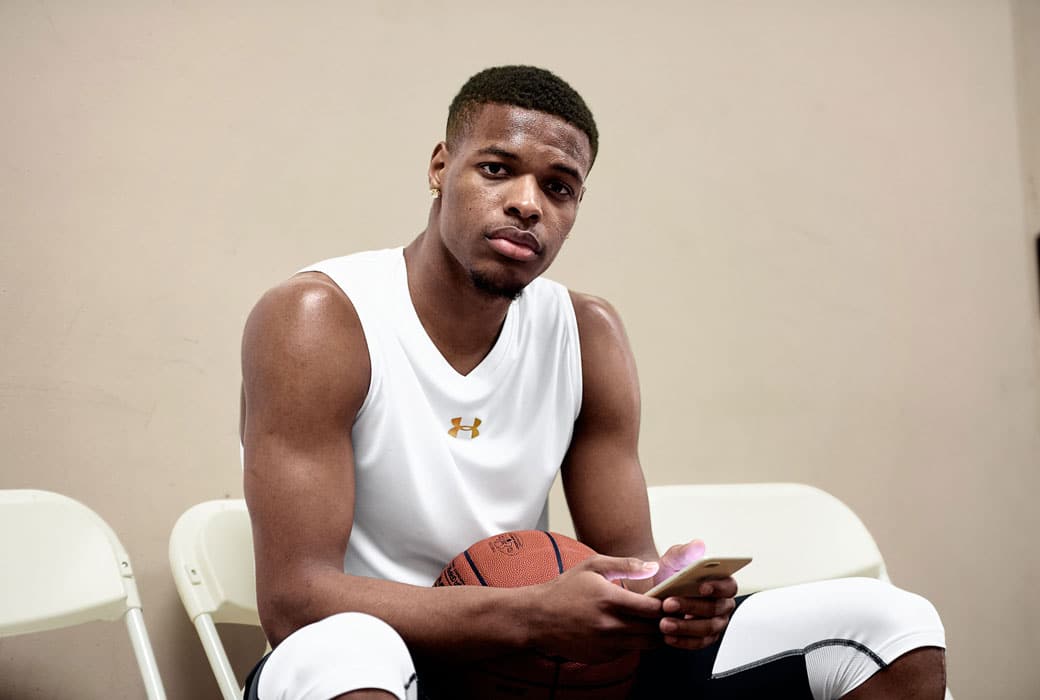 Smith Jr is always asked about J. Cole because they're from the same city in North Carolina. When Cole was running around New York trying to get signed, Smith Jr was running around Fayetteville with his older cousins. They used to spend all of their time outdoors, playing football and hooping.
"We're gonna start with the courts we were on," Smith says, looking back on those memories of the Ville. "It was just, like, a slab of concrete probably as big as whatever you call that, whatever that painted joint is." He points at the makeshift basketball court we're at, constructed by Under Armour.
"Probably as big as that," he says. "So we'll get a goal from the neighbors across the street, roll it back. And we'll hoop on that for a good amount of time before the neighbor makes us take it down. Sometimes we'd get two goals and play full court on them in, like, 15-feet-wide concrete. And if we didn't have that we'd be on the monkey bars until we could get to a gym. That's how I really got into hooping."
Smith Jr's real relaxed. He's speaking slowly, pointedly, making sure his words hit. A few minutes after talking about being a kid, he's up in the air, soaring with ease. He throws down a light dunk with one hand. Then he retreats to the top of the key, doing stationary behind the back dribbles. Right to left, right to left, right to left. Josh Jackson, Will Barton and Terrance Ferguson are also floating around the space.
All four of them are key endorsers for Under Armour, and they're out in Vegas to unveil the HOVR Havoc. It's UA's newest basketball silhouette, designed for flight. Though it isn't Smith Jr's signature sneaker, he was heavily involved in making it—Jackson, Ferguson and Barton were also a part of the process. The Havoc's lead designer, Leon Gu, relied on their input to create the sneaker.
"The process has always been to speak with [the players] first, to get what's most important for them," Gu says. "We take that information, go back and do some brainstorming, some sketching and then we show it to them."

Smith Jr spent most of his rookie season playing in the UA Drive 4 Low, which Gu also designed. He says that he used that sneaker to point Gu in the direction that he wanted for the Havoc. But this is all pretty new for him. Kicks weren't a huge part of Smith Jr's childhood. A lot of his clothing and sneakers came from members of his huge family.
"I remember getting a pair of Iversons that was passed down to me whenever I could fit them," he says. "I just remember them making me feel like AI whenever I put them on."
Like Iverson, Smith Jr is liable to embarrass people out on the hardwood at any moment. He's got a first step that's faster than lightspeed and a rapid set of bunnies to go along with that. He's a physical player, just as spry as No. 3. And just like Iverson, Smith Jr has the respect of other players.
"Shit, I mean, he can pretty much do everything," Ferguson says. "His speed is something. You can't stay in front of him. And his athleticism. I mean, one of the highest jumpers in the League, probably the world. He's definitely a special player. Definitely got a lot to learn, but he's there."
"He's just explosive," Jackson says. "So quick. In a blink, he's gone. Mismatch problem. I've always seen a lot of guys switch the pick and roll onto Dennis and that's a big mistake. He's getting to the basket, he's gonna score."
When Smith Jr turns the corner off of the pick and roll, the lane becomes his playground. He launches off the floor and punches the ball home like the rim did him wrong. He had a windmill at MSG, a 360 at Staples Center, a self-oop, a monster one-handed throw down against DeMarcus Cousins, a freezing hesi that led to a two-hander against Pau Gasol, and he put Kevin Durant and David West in harm's way during the same game.
And next season he'll be gliding in the HOVR Havoc.
"If you're tryna bounce, man, get you some HOVRs," he says. "Straight up."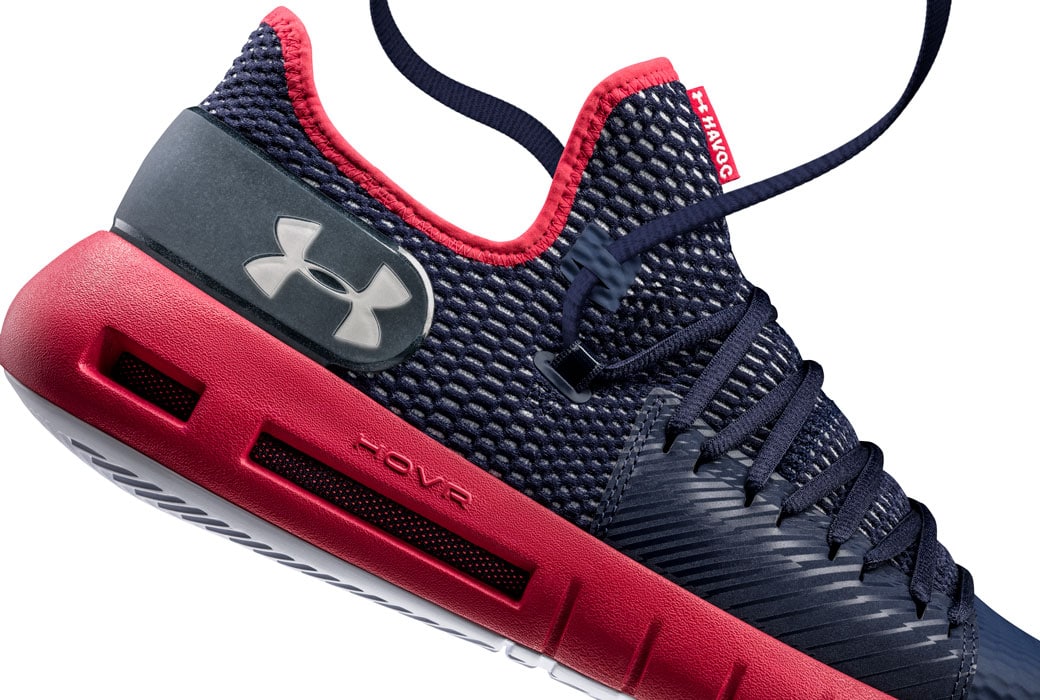 The Havoc is built with UA's HOVR tech, a high-energy return midsole foam that provides a spring with each step. The foam debuted in the HOVR Phantom and HOVR Sonic, two different running sneakers, earlier this year.
"[The players] think it's the greatest cushioning platform we've ever had," Gu says. "HOVR is the cushioning system we want to [use] for high performance."
The innovation doesn't stop there. The HOVR compound is wrapped within another UA material, named the Energy Web. That mesh support system is what gives the HOVR its frame. With the HOVR foam molded inside of the mesh of Energy Web, Gu and his team moved on to the rest of the sneaker.
Gu references how the players had asked to deliver on lockdown, containment and stability. They came up with a big heel counter, a customizable lacing system, a midfoot shank and targeted zones to control the wearer's foot, avoiding any sliding. They finished things off with a herringbone traction pattern and a two-layer knit upper.
Smith Jr wore the orange gradient colorway at Summer League and, as expected, had a signature one-handed tomahawk.
He's an elite high flier but his game is steadily evolving. His playmaking improved throughout the course of last season as he grew more comfortable within Rick Carlisle's offense. He also worked with God Shammgod, a visionary point guard from New York City, to develop as a floor general.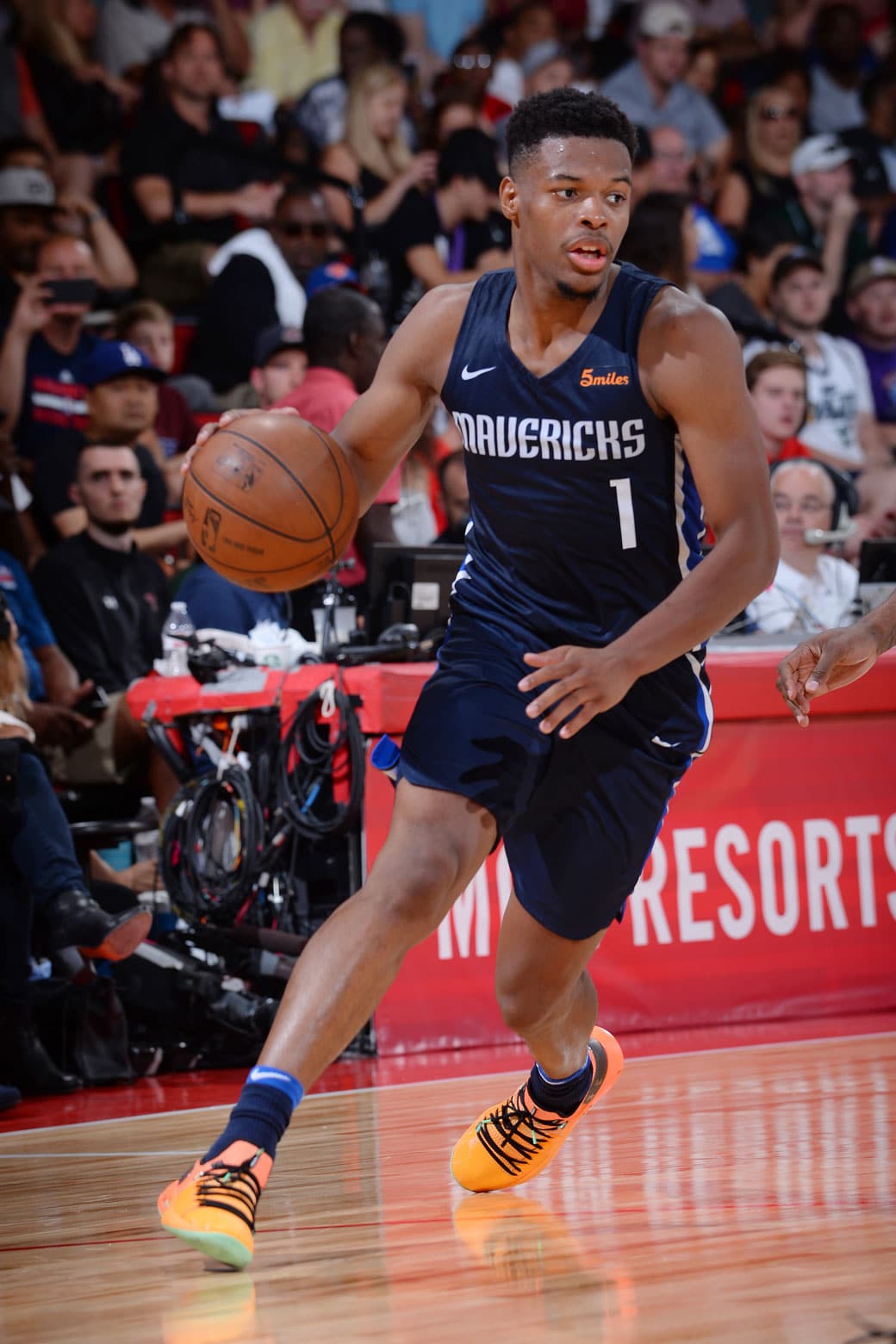 "He's a real good dude. Super New York," Smith Jr laughs. "He's a cool guy, all about working and improving. Always giving out knowledge."
Smith Jr also showed flashes of his three-point range. His shooting was a knock on his game when he first entered the League, but he connected on 45 percent of his long-distance shots in December and on 37 percent of them in March.
Meanwhile, we get to playing a couple of shooting games at the hotel suite in Vegas. After missing back-to-back threes from the wing, Smith Jr darts to the right corner and starts nailing shots. All net. All net. All net. All net. Then he dials in on the left wing, keeping pace with Barton, a talented shooter. Smith Jr's consistently setting his feet and holding his follow-through. He's been putting in that work.
No matter where he's playing or who he's going up against, Smith Jr has been ready for the challenge. He went face-to-face with Kevin Durant and Kyrie Irving with no hesitation. Credit that preparedness to the gridiron.
"Just being tough," Smith Jr says about what he learned as a football player. "Having an aggressiveness about you, a fearlessness."
It's a mindset that Barton says will pay off.
"He has a tight handle, he can pass, and he has a jumpshot, so he's real tough to guard," Barton says about Smith Jr. "He's gonna be real special in the NBA—it just comes down to how much he wants it. And I think he wants it."
The other thing Smith Jr says the public doesn't know about him is how close he is with his family. Two of his cousins are with him in Vegas, sitting a few feet from him during our interview. They've been with him for his entire journey, along with his father and sister and a ton of other people, by his side since those monkey bars.
Though the Dennis Smith Jr story is really just getting started, he appreciates the prelude. "There's so many people that was the same kid as me," he says. "It's like a dream."
—
Max Resetar is an Associate Editor at SLAM. Follow him on Twitter and Instagram. 
Photos via Getty and Under Armour.