The Chinese Basketball Association intended to resume play in mid-April, becoming one of the first leagues that was suspended due to the coronavirus pandemic to return to action. But with the Chinese government issuing an order that restricts all group sporting events until further notice, the CBA had to postpone their target start date.
There is hope that the season could pick up in early May. Several Americans have already flown back to China and completed a two-week quarantine, including veteran guard Pooh Jeter.
Jeter is a member of the Fujian Sturgeons. He's been in the CBA for eight years now following a long career in Europe and one stint with the Sacramento Kings. Here, in his second diary for SLAM, Pooh describes getting out of quarantine, the state of things in Fujian, returning to practice and his outlook for the future.
DIARY 1 (March 27, 2020): Pooh Jeter Describes Returning to a New World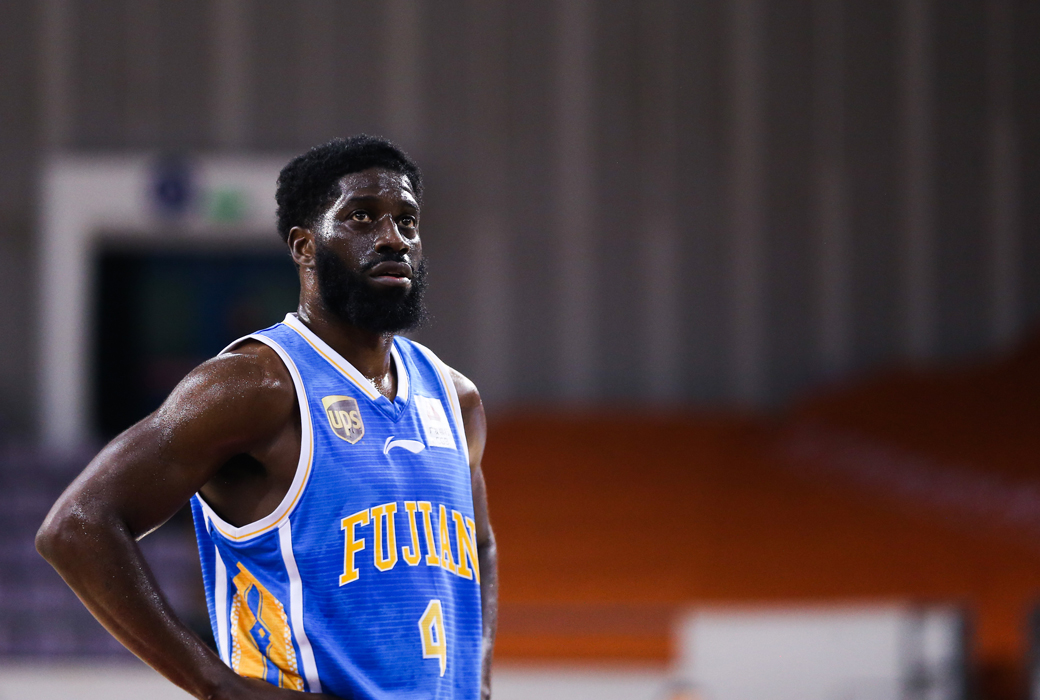 —
By Pooh Jeter, as told to Alex Squadron:
To start, let me just say: During my two weeks of quarantine, thank god for my trainers. I was on YouTube watching videos of Ky Evans and FitnessBlender. I was doing cardio workouts like running in place and side to side jumps. I had resistance bands, so I was putting those on the door and going as far back as I could. Just making stuff up, from sit-ups, dips etc. But the FitnessBlender was definitely good for cardio. I was drenched. I was wondering what the people underneath me were thinking. Like, What is he doing up there? Because I'm doing squat jumps, stuff like that. Just being creative and making all kinds of noise. I've been doing this for a long time, so I was combining a lot of different stuff. Shout out to Ky Evans, FitnessBlender, my trainers CJ, Jason (Estrada Fitness), Jelany White and our team strength coach George.
Today is April 2nd. On March 29th, I had my last testing for coronavirus, which was very uncomfortable. I had to get that testing done a couple of days before my release from quarantine. Around this time, I was thinking, Man, I'm really about to get out.
My temperature has always stayed the same. Nothing really changed. I actually checked into my hotel room at 1:00 am on March 18th. So my quarantine was from March 18th to April 1st. I'm telling my wife: I get out April 1st, but is that going to be a joke or what? Mentally, I scheduled my departure for April 2nd just in case.
I got a phone call on the 31st. The people in the lobby were like, Yo, tomorrow morning is your last day. You came at 1:00 am, so are you leaving at 1:00 am? I said I was going to leave around 10:00. I wasn't in a rush like that. The morning comes, they are hitting my phone, like, You checking out? I'm like, OK, it's real! This ain't no April Fools' joke!
They came up to help me with my bags. And mind you, it was a hard-to-say-goodbye moment because in those two weeks, I did a lot of stuff in that room. It was a time to reflect on life. I was on Sportscenter. I'm doing SLAM diaries. I was on Spectrum News, The Undefeated. I was really on a lot of platforms. It wasn't that bad. I had so many business meetings on Zoom. Reading, catching up on my shows. I was really at peace. It went by fast. I was able to eat pretty well. It was one of those moments like, Man, at least a lot of good things happened from it.
In the hallway on my way out, I'm like, "Yo Ty, I'm out of here!" Ty Lawson, my teammate, was a few doors down. He leaves quarantine tomorrow. When I got downstairs, it really turned into a photoshoot. I'm taking pictures with medical staff. They had me against the wall, posing for individual shots. They already knew that it was my departure day so they had some photos for me to sign. I'm getting my testing at this time as well. They checked my fever. We all had our masks on. They had the visor, helmet and face mask. They're for sure being safe. That was the moment where it was like, I'm really out.
A couple of people from my team came to pick me up. I hadn't been outside in two weeks. You know that feeling a dog has in the car, when it keeps sticking its tongue out the window? That was me. LOL. I'm looking closely at everything and it seemed normal. If you know about China, horns are blowing every second. It was regular. Restaurants and stores were open.
To get into the place I live at, they got a security guard out front checking temperatures. You can't really go in unless you're living on the property. I just went upstairs to my room. Now I got to tap into "I'm not in quarantine anymore" mode. This morning, I went to breakfast. The buffet spot at my place is only open for breakfast. For lunch and dinner, you have to do room service. Downstairs in the restaurant, they have like stickers that tell you the spots to be at, one meter apart. That's where people need to be standing while they're waiting for their food. They're really making sure that you're not close to anybody. It was good to see that.
Tonight will be my first night going to a restaurant. I definitely want to see how that is. It's mandatory that you get checked for a fever everywhere, even when I went down to breakfast. Whenever you enter a new building, you have to get your temperature checked.
And today will be my first day getting in the gym. I was telling my team: 'I'm not about to be going Usain Bolt out here. Ease me in.' I'm going to have an individual workout before practice with my coach Kareem. My head coach is actually in quarantine right now. He gets out Monday. So the assistant coaches are currently running practice.
There hasn't been anything that says the season is cancelled. I know they're having a meeting on April 20th to discuss the future of everything, but as of right now, we're starting in May. I was telling the guys that are out here that going from quarantine to playing four games a week starting April 15th wasn't going to work. No way we were going to be ready for that. I feel like we need this month to get back into that game type of shape. I can do all the cardio jumps in the world but game shape is a whole different story. If we do start the season, it'll be great. But I'm not going to look at this like a waste of time if we don't. This happened for a reason. I made the decision to come back out here. My main thing is just not getting stuck. That's the biggest concern for players that are out here. We want to be able to have the freedom to leave once we find out whatever happens.
Only thing I'm missing is being with my wife and two kids. I know my wife is like a super mom, doing everything with our two boys. That's one of the things I do miss and I wish I was there. But we understand the whole mission.
Now that the season is pushed back to May, I don't know how they'll play the games. By that time, will it be back to normal? Will teams be playing in their cities but with no fans? I don't know how that will be going. I haven't heard too much on that part. I know they're supposed to be having a meeting about the league around April 20th, so I'll make sure I keep everybody updated on the outcome.
But for now, I can't wait to get back on the court and play this game that I love so much.
—
Pooh Jeter also runs Laced, the only black-owned shoe store in Los Angeles with a Nike account. The retail location is closed due to coronavirus but the online store remains open. Follow Jeter on Instagram and Twitter.
Alex Squadron is an Associate Editor at SLAM. Follow him on Twitter @asquad510.
Photos via Getty.