This interview was initially published in October of 2017. As we prepare to watch "The Carter Effect" for SLAM Movie Night, we brought it back. Here, director Sean Menard gives insight into the process of creating the film.
SLAM Movie Night begins at 8:00 pm ET on Thursday. The Carter Effect is available to stream on Netflix.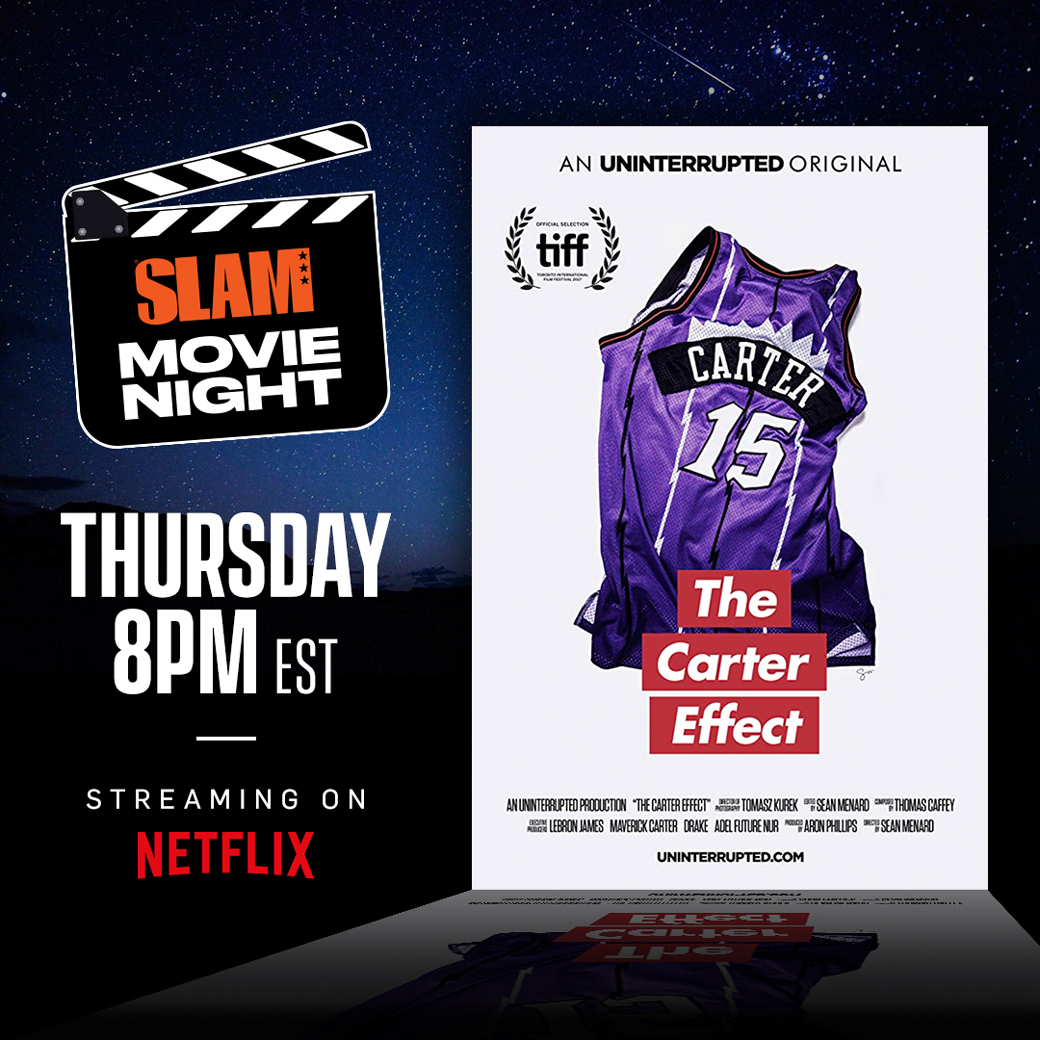 —
Sean Menard first linked up with LeBron James, Maverick Carter and the Uninterrupted crew when they bought his film Fight Mom, a documentary about Michelle "The Karate Hottie" Waterson, an MMA fighter that was balancing motherhood with her career in the octagon. And as he details below, he was reluctant to share his next project with them. He had an idea to showcase Toronto's history with basketball but thought that an American audience wouldn't be able to connect with the film's storyline. Luckily, he was wrong.
"Maverick and LeBron, they grew up watching Vince Carter when they were in high school," Menard said. "And they'd seen the impact. So they said yup, we love it, we want to move ahead and make this thing."
The Ontario-native eventually produced The Carter Effect, a documentary about Vince Carter's influence on hoops up north. It was a smash hit at the Toronto International Film Festival and there's still buzz floating around it. We caught up with Menard a few weeks after he, Drake and LeBron premiered the film in the T. Dot.
—
SLAM: What do you remember about Vince and the Raptors when you were growing up?
Sean Menard: I grew up just outside of the city of Toronto, about 45 minutes away. I didn't really take to basketball at first. I was pretty young when the Raptors first got in, in '95. I was, like, eight or nine years old. Then it took Vince Carter coming along to get the attention of me and my friends. It shifted from us talking about hockey or baseball to all of a sudden everyone was drawn towards, 'Oh, did you catch that game last night?' Or taking the ball out on the playground and trying to imitate his dunks and his moves. I noticed the switch from hockey and it all became more of a basketball culture.
SLAM: Why was it the right time to make this film?
SM: As a filmmaker, I look to tell stories that haven't been told. It really just came from wanting to get this story out there. I have an office that's right outside of the Air Canada Center. I would see the fans gathering around and "We The North" and all of this culture that has come in the last four or five years. I was just like, 'How did we get here?' It wasn't necessarily just about I want to make a Vince Carter documentary. I want to explain the history and where we are now, this basketball frenzied country. You see the effect with all of these young players. I wanted to see how we got there. And then from there the film really just existed on a one-page Word document called The Carter Effect. It outlined, roughly, the film. I tried to get Canadian networks to pick it up and they all passed. I thought it was dead and over. Then it was those guys at Uninterrupted, they had bought my first film, and then they asked what else do you have? I sent them a few pitch documents and I was hesitant on this one because it was so Toronto-centric. I didn't think such a large American company would want to jump at it but Maverick and LeBron, they grew up watching Vince Carter when they were in high school. And they'd seen the impact. So they said yup, we love it, we want to move ahead and make this thing.
SLAM: What did you learn about your home country while making the doc?
SM: While making the film I definitely noticed that Vince's impact went beyond him just playing basketball. If he just collected his paychecks and just went home to Daytona Beach, Florida in the offseason and didn't have any type of involvement coming back, there wouldn't be a Carter effect. He got involved in the city, opening up a nightclub and doing those camps for those young basketball players that grew up and became NBA players. Just from going through this experience at the Toronto International Film Festival, having four sold out shows and seeing the lineups for people around the block, just hoping a ticket would get released last minute. Seeing these people show up to the theater and saying 'I've never even been to a film festival but I needed to see this. This was my childhood.' I guess I underestimated the reach and the impact that this really had.
SLAM: What were your expectations for the film?
SM: You're messing with sacred ground of childhood and nostalgia. For me, my expectations were I can't mess this up.
SLAM: Speaking of nostalgia, what's your favorite Vince moment?
SM: It's the Slam Dunk Contest. That's what changed everything. Vince was doing those dunks with Toronto across his chest. Not the Raptors. It said Toronto. That's just become such an iconic moment for me and for people that grew up watching that. It's turned into a where-were-you-when moment.
My second favorite Vince moment is interviewing him. So when we sit down to talk to Vince, and we were told we only had 20 minutes. Being told 20 minutes with Vince is not nearly enough to make this film. So what ended up happening was after 20 minutes, he told the Memphis Grizzlies PR person to sit down because that person was trying to stop the interview. And we went for a full hour. I was hoping that was gonna happen but you never know until you get in the experience. He didn't have to do that. He could've just taken the 20 minutes and be gone but he was so overcome with nostalgia and memories. And he did not mail in that interview. You could tell he wanted to make sure I got everything I needed to tell the story properly.
SLAM: Now you're hanging out with Drake and LeBron. Have you had a chance to step back and realize what's going on?
SM: LeBron James was sitting behind me [at the premiere]. He's a real delight to watch a movie with. He was like a little kid, reacting to the dunks and the highlights, making little comments. And then being on stage after, next to LeBron and Drake and Maverick Carter for the Q+A. You're in front of 2,000 people and I had this moment. People kept saying stop and breathe and be present and really extend the moment. So I started doing that for a second and then I got lightheaded. I realized this is way too surreal, I need to step out of this moment for a second. Yeah, it was incredible. My expectations were never at that point. I never thought it would get that big.
—
Max Resetar is an Associate Editor at SLAM. Follow him on Twitter and Instagram.
Photo via Getty.