Man on a Mission: Donovan Mitchell is Focused on Bringing Utah Its First-Ever NBA Title
It's early November and Donovan Mitchell is on set at The Gym at City Creek, in downtown Salt Lake City. The gym itself looks like something out of NBA 2K. On one side, there's a wall covered in neon green, pink and orange graffiti tags and a spray-painted mural of two people playing one-on-one, on the other side are chain-linked fences protecting the glass windows that overlook a mall across the street and with a skyline of the mountain range in the backdrop.
Drake's Certified Lover Boy is on, and Mitchell quietly sings along to "Love All" in between takes. The lyrics seem to echo a truth that's reflective of his own journey.
Lotta fallin' outs help me build foundation…
Now in his fifth year in the NBA, Mitchell is on a mission to do something that's never been done before in the Beehive State—win the franchise's first NBA title.
"It's not like this is a regular occurrence here [in Utah]," Mitchell says of winning a 'chip. "This isn't like the Lakers where they have [17] of them. This is us. The team, the organization has never won one. So, how meaningful would that be? If you look at three or four years ago, Kawhi went to Toronto [and] that was a truly special moment for the country, for the team, for the organization. That excitement, we want to be the last team standing for many different reasons but that's a big one as well—to be able to bring the first one here in history."
That's always been the mission for Don since the minute he arrived in Salt Lake City as the No. 13 pick in the 2017 NBA Draft after two years at Louisville. While Mitchell has been a lead catalyst for the franchise's success over the years, he's also learned that it's all about the work that it takes to get there.
"I came into the League as a surprise," he says. "I tell people all the time, it's one thing to get drafted, but [it's another] to be able to do this on a year-to-year basis, day-to-day. I think [that] is definitely what sets guys over the top. That's my goal every year—to come out being the same player who gets better each year and you know what to expect coming from me, and I think that's definitely what I've learned from my rookie year—the work. You gotta stick to it, the work doesn't stop because you had one good season or one good game."
Although his rookie campaign started on a slower note, that "surprise" came eight games in—he had back-to-back 20-plus point performances against Portland and Toronto, and by December, he dropped 41 points against the Pelicans, becoming the first rookie to score 40-plus points in a game since Blake Griffin did it in 2011, while also setting the franchise rookie scoring record. Two months later, Spida—a nickname he earned as a kid by a teammate's father because of his long arms—paid homage to Vince Carter's iconic 360 windmill dunk and snagged the 2018 Dunk Contest title. By the end of the season, Mitchell had led all rookies in scoring with 20.5 points per game, was named to the NBA All-Rookie First Team and was a runner-up for Rookie of the Year.
And yet, even with all of his early success, Mitchell told SLAM in 2018 that he could "care less" about whether or not he won the award. What he did care about was making a "playoff push." The Jazz advanced to the playoffs that year, and rookie Don seemed ready for the moment, popping off with a 27-point performance in Game 1 against the Thunder, and another 28 points in Game 2—his combined 55 points were the most ever by a shooting guard in the first two postseason games of their career, a record that once belonged to Michael Jordan (53). The Jazz advanced all the way to the Western Conference semifinals, where they lost to Houston in five games.
Still, that was just the foundation, the first layer to the building blocks that Mitchell was establishing as a future All-Star and face of the franchise. Looking back on his first year, Mitchell does have a message for his younger self, though:
"Slow down. I think just understanding the game and letting the game come to you," he says when asked what he learned as a rookie. "You're not always going to go get it every game, being able to kind of pace yourself for an 82-game season. I really don't want to say much to my younger self because without those bumps in the road, without those mistakes, victories and success, I wouldn't be where I'm at today. Maybe if I learned some things earlier, I'd be better now, but I think for me, just being able to go through those mistakes, [going] through those things allows me to be the player I am today."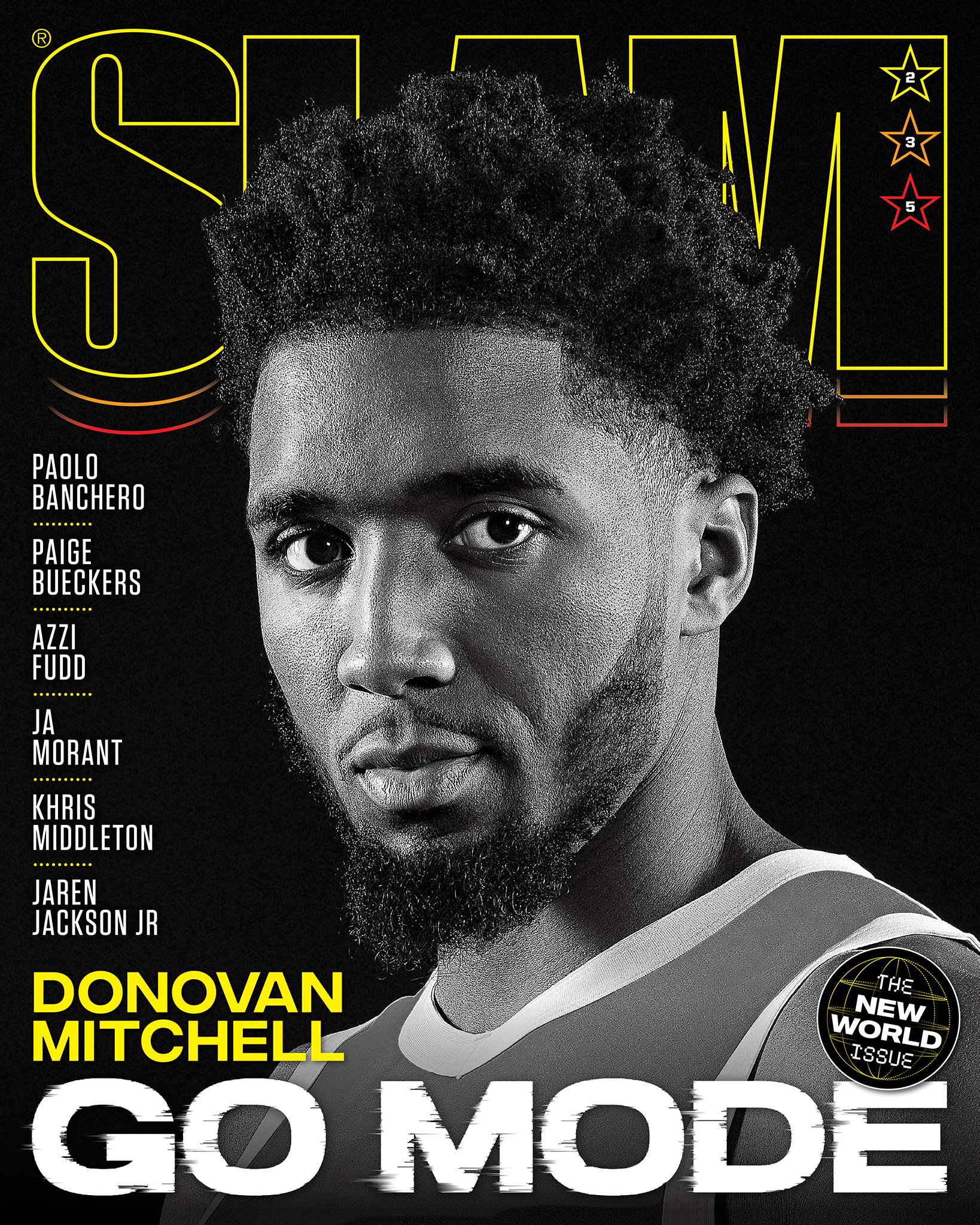 By his third year in the L, Mitchell's game had only gotten better. He went from averaging 20.5 points as a rookie to having career-highs in nearly every category, including points (24.0), assists (4.3) and boards (4.4). His dunks had somehow gotten even more explosive, his layup package was more impressive and the behind-the-back dimes to teammate Rudy Gobert had become all too easy.
Mitchell was named an All-Star for the first time in his career that season, and the Jazz ultimately embarked on a playoff run against Denver in the Orlando bubble. His numbers were astronomical. He broke Karl Malone's previous franchise playoff scoring record by dropping 57 points in Game 1, which was also the third most points in playoff history. He followed that up with 51 points in Game 4.
When he screamed, "I WANT THIS SH**!" that game, it was clear, especially then, that he truly did. After losing to the Nuggets in Game 7, an emotional Mitchell knew that yet another shortcoming was just the start to something great.
"This is me scratching the surface," he said after the game, per ESPN. "This ain't the end. This is just the beginning."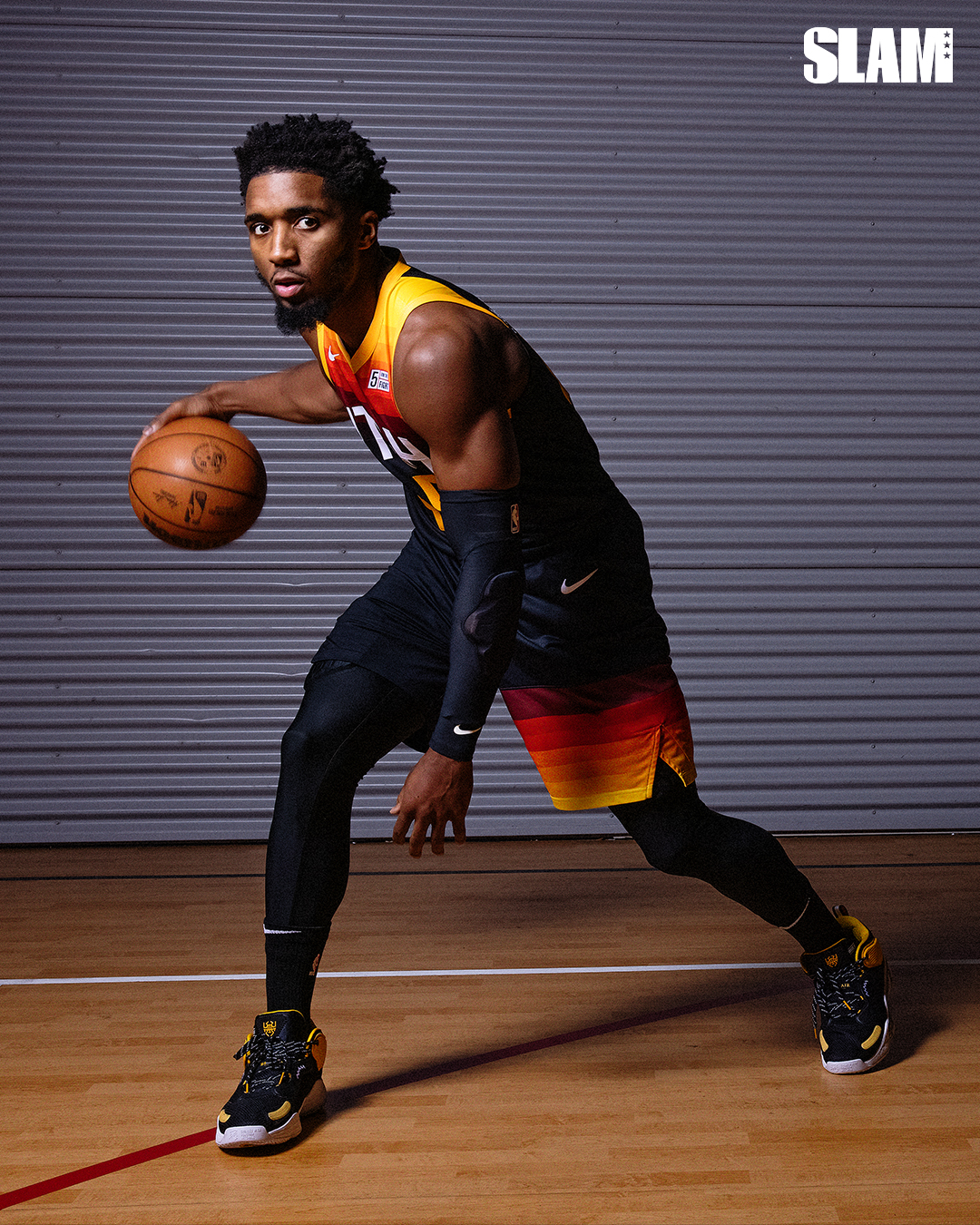 Grab the top spot, like pardon my reach…
The 2020-21 season marked new beginnings. Mitchell returned with a vengeance, averaging a career-high 26.4 points and 5.2 assists. He'd also added a deeper three-point shooting range to his bag, which—considering the fact that he was already equipped with absurd athleticism and elite playmaking abilities—made him that much more lethal.
While an ankle sprain in April would force him to miss 16 games, the setback only led to a major comeback when he returned at the end of May, just in time for the playoffs. The Jazz, who had finished with a League-best record (52-20) for the first time in franchise history, as well as the No. 1 spot in the Western Conference, took out Memphis in the first round in five games. Playoff Don was on a different type of time and made a statement early in the second round, dropping 45 points in Game 1 against the Clippers, followed by back-to-back-to-back 30-plus point performances in the next three games. The momentum was there, but for another consecutive year, it wasn't enough.
"I didn't watch basketball until Game 6 of the Finals," Mitchell admits when asked how he felt emotionally after the elimination. "It just didn't sit right with me. I felt like we had the opportunity to make it to the Finals, and for me, that was the first time I'd ever done that. It allowed me to sit back and approach the game differently, my training—obviously I was hurt, so I had to rehab, too, but I had to approach my whole summer differently."
During the offseason, Mitchell let out his frustrations in the weight room and in on-court drills with trainer Chris Brickley. Those sessions became his escape, and the loss only added to his motivation.
"It adds fuel to the fire, it adds an element of, OK, we got to the second round, now how do we get to the conference finals? How do we get past that? We lost Game 7 two years ago in the first round, like, finding ways to level up and get better each year. If you let it absorb you, it can deter you from what your goal is, so for me, it's being able to let it fuel my fire, fuel our fire as a team and go out there and improve in each category that I need to for myself, and the team as well."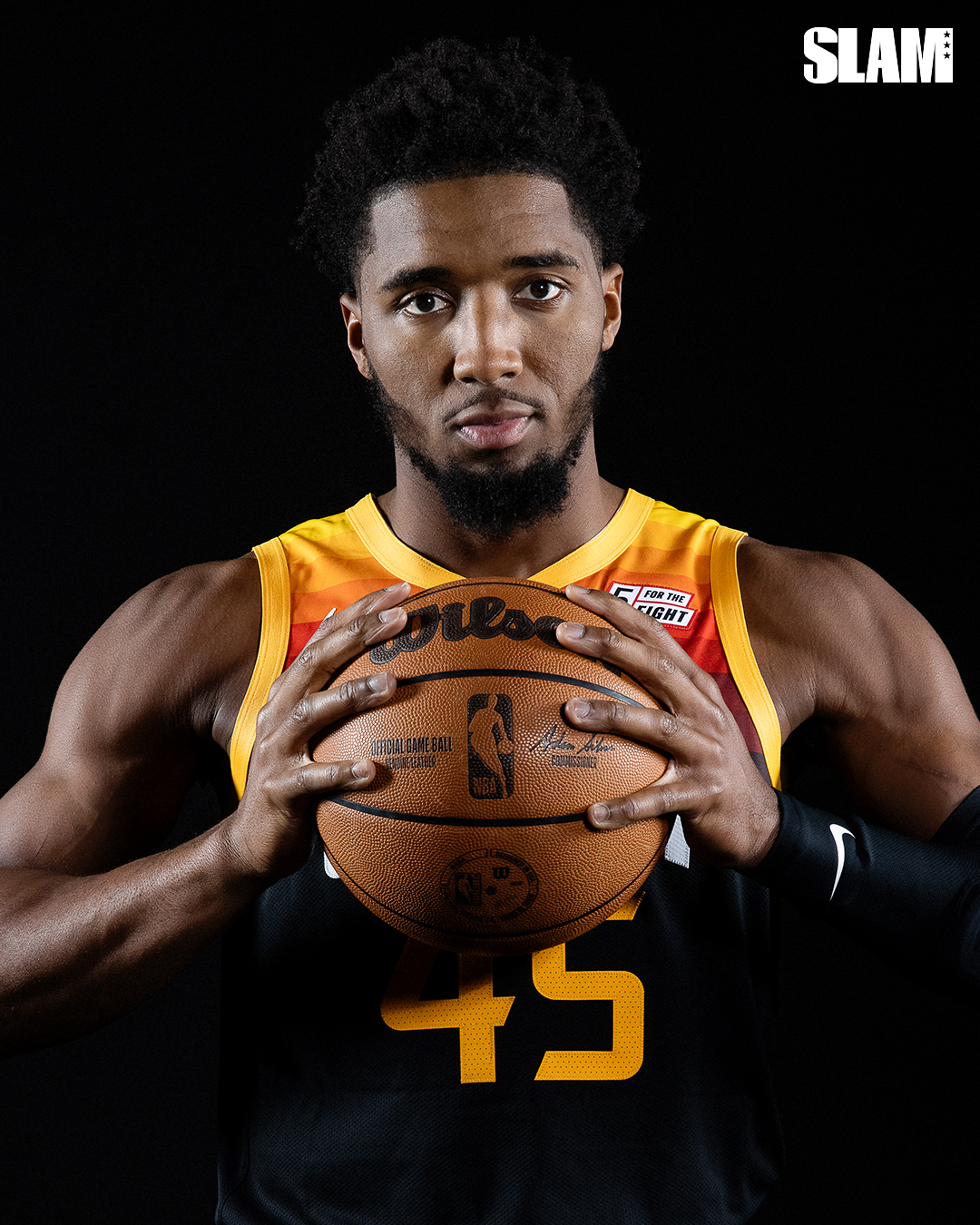 This season is another opportunity to run it back and build on what the Jazz have accomplished over the past few years. It's still early, but they've been off to a solid start so far. As of this writing, they're 8-3 with a No. 2 standing in the West. What'll set them apart, Mitchell says, is how they perform when it counts.
"We're a pretty good team, [but] we've got to perform when it's time. That's no secret, that's the biggest thing. We're a good regular season team and we've had success in the playoffs, but we haven't had the ultimate success. We haven't gotten past the second round. That's pretty much what we're looking at ourselves [for]. Obviously, the external stuff is what it is, but internally, whatever you hear—multiply that times 10 and that's what I'm thinking. You know what I mean?
"Of course, we want to be able to make it past the second round, conference finals and Finals. So for me, that's where it's at for us. We've got to be able to do things the way that'll work and we can't skip steps throughout the year. We got to continue to go through what we've been going through, take care of what we need to take care of and we got to be ready."
Woke up one day and it was all on me
If it comes down, it's gon' fall on me…
As for his own goals, Mitchell's mindset has stayed the same since day 1. While he's projected to have even better numbers than he did last year (according to Basketball Reference), it's still not about individual accolades for him.
"Unfortunately, I didn't win Rookie of the Year [in 2018] and I didn't make All-NBA last year, although I feel I should have, [but] it is what it is. For me, it's all about winning. Winning takes care of everything in this League—if you're able to win, you're able to be top in the West, top in the NBA, everything else takes care of itself…For myself, it's understanding that it's not about you or the individual stuff, because you could be an individual award winner and not win a championship. The goal is to win a championship."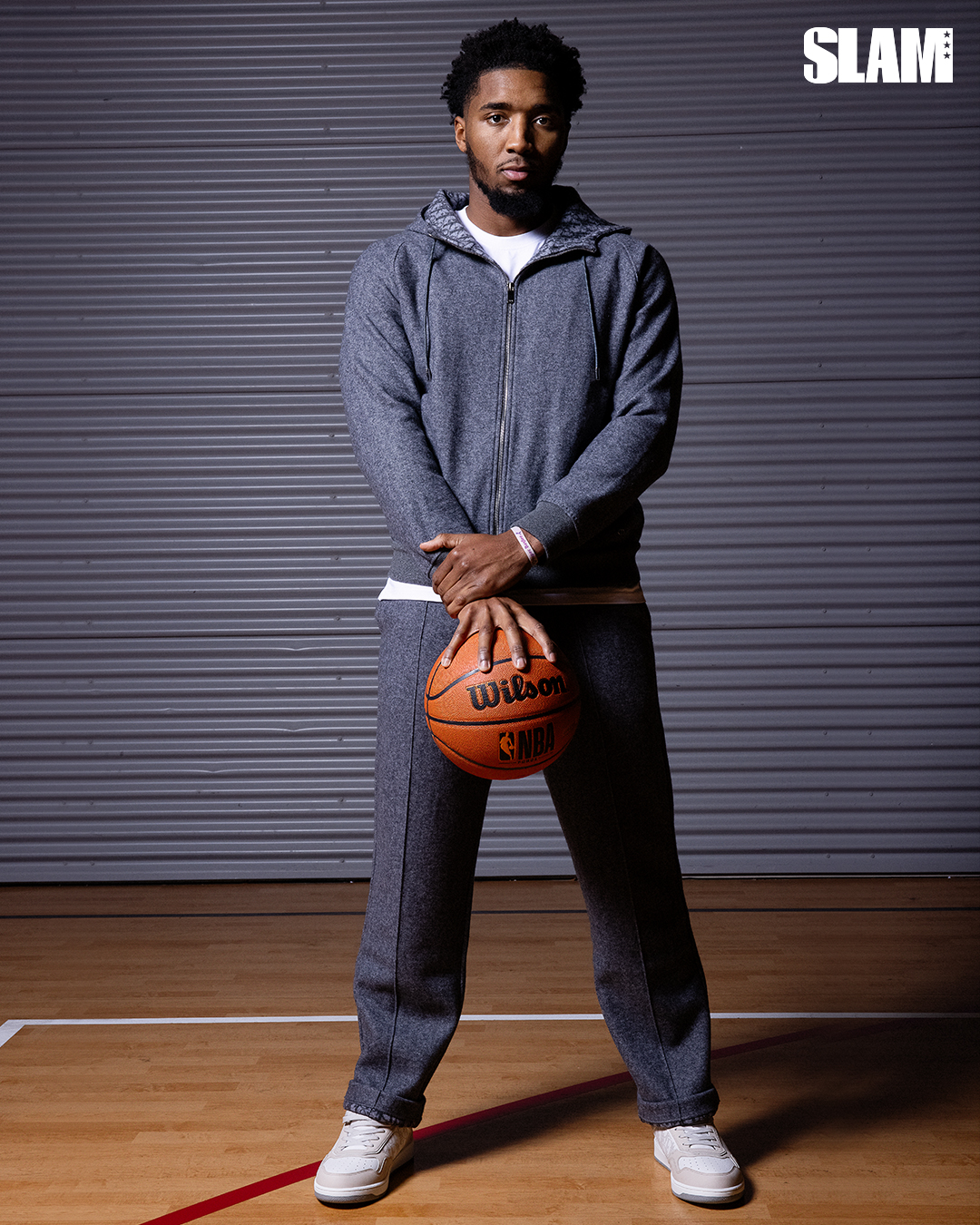 With Dwyane Wade in his corner as the new co-owner of the Jazz, Mitchell has been able to learn from someone who has reached the heights he's trying to get to.
"He's just passing the game down, passing the knowledge down, and I appreciate that," Mitchell says of Wade. "It doesn't have to always be that way, that's not always the case with guys. I ask a thousand questions and he's always ready to answer it. There's certain times where it's like, Nah, bro, you know the answer. You need that, there's definitely times for that, no matter how old you get or how experienced you get. There's always times where it's like, Figure it out. I think that's why I'm thankful for him because he's always able to keep it real."
While on a press tour for his new memoir, DWYANE, Wade recalls the first time he met Mitchell, when he was playing against him. "I think I was in Cleveland at the time, and he was guarding me. I got a chance to size him up and I was like, He's little," he says, later adding, "but he was so explosive."
When asked what advice he'd give to Mitchell about reaching the next level, Wade says, "Losing, it hurts, but it helps at the same time. He's been knocked out of the playoffs, he's had injuries. He has things to get that chip on his shoulder, he has experience…But, make sure that your effort every day is championship quality effort. Make sure you carry yourself as a champion, so that when you become one, when you get that opportunity, it's not foreign to you. You know how to act, you know how to do it, you know how to respond to it."
Just as Mitchell embraces Salt Lake, they've shown him love right back. His impact is everywhere, from the sea of No. 45 jerseys in the crowd at Vivint Smart Home Arena to the way that crowd goes insane when he pulls up from three and nails one in the fourth quarter.
"We've had greats play for this organization. You got Karl Malone, John Stockton, so many legends that have played for this team. For us, that motivation, being the first one to do it, I think is definitely in our heads when we're out there and competing. But, more importantly, we want to do it for each other, our coaches, our staff. That's something that's great, that we have that as a group. We're connected. We're locked in as a group and we want to be able to give our fans a show and bring one to Utah."
---
Portraits Atiba Jefferson.