Order your copy of SLAM 231 featuring Emoni Bates now.
It's a freezing Tuesday afternoon in mid-February and a snowstorm has blanketed a good portion of southeast Michigan. So much so that hundreds of schools in the region have canceled classes. Yet, in the southeast outskirts of Ann Arbor, right off US Route 23, a couple of SUVs filled with student-athletes are pulling up to an empty parking lot in the back of a building, on the grounds of what's become known to the high school hoops world as Ypsi Prep Academy—home to the most highly heralded HS recruit in recent years, Emoni Bates.
On a day like today, where school activities are halted by the city, Ypsi Prep perfectly exemplifies the power, flexibility and freedom that doing it their own way has given the Bates family.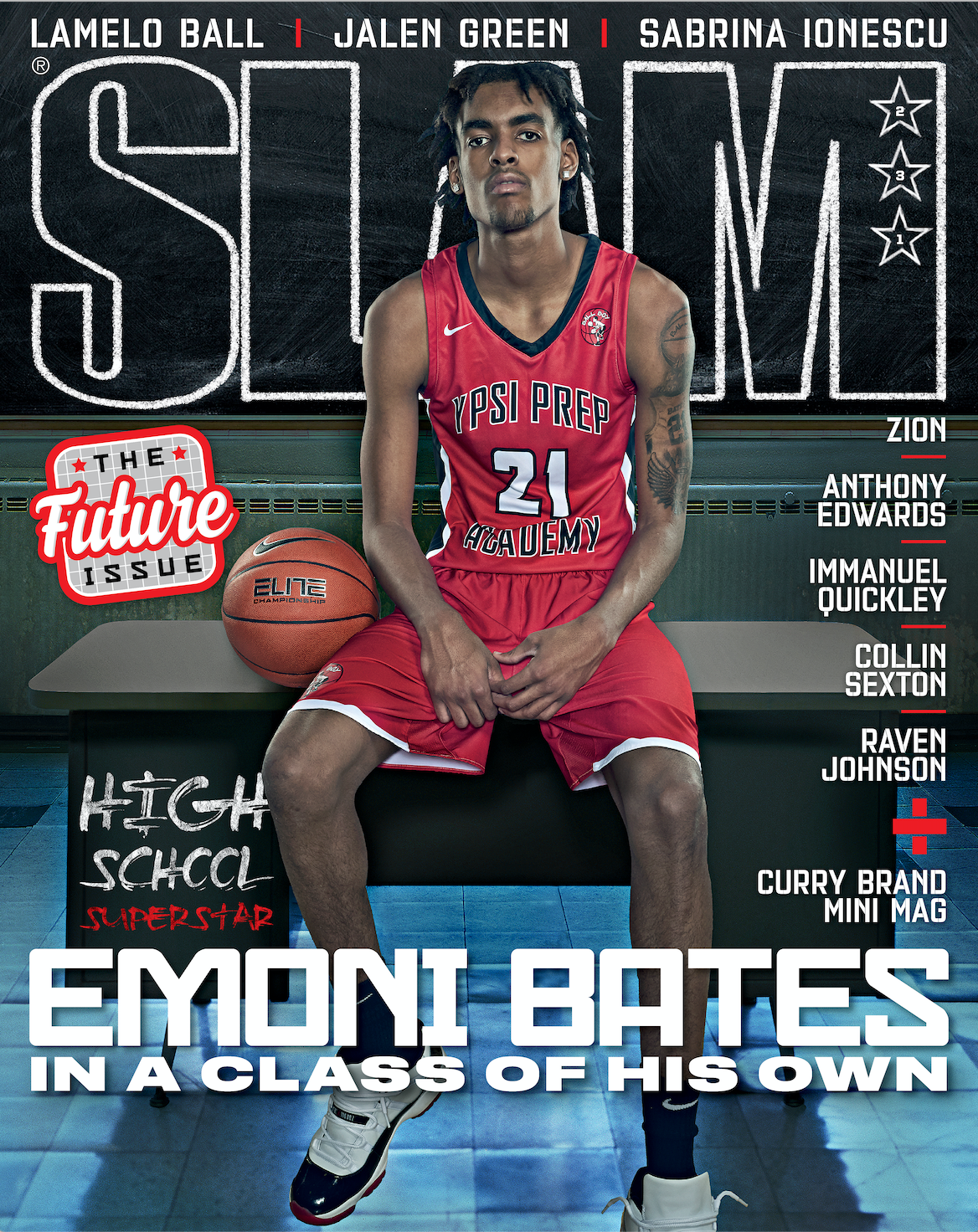 Order your copy of SLAM 231 featuring Emoni Bates now.
Emoni's dad, Elgin, launched the program this past fall to provide Emoni with better resources and to avoid the limitations and distractions that attending a regular local high school sometimes brings. After two years at Lincoln High in Ypsilanti, MI, Emoni joined his father's newly founded school.
"The school actually came to mind about, I want to say, around Emoni's freshman year. Just the thoughts of being able to do something on a national schedule," Elgin says. "Also, as far as safety reasons, a high talented kid playing lesser competition at times and when your dominance tends to get the best out of your opposition, things start to happen, as far as guys playing dirty [and] trying to undercut him, throwing basketballs at his head, things of that nature—where every night as a parent you have to worry about what's going to happen tonight or who's going to try to do something to get to his head or potentially harm him."
The program operates out of the back wing of a local public school, where a full-size court, locker room, classroom, coaches' office and a large open area behind the court that one day might be transformed into a strength and conditioning space, all belong to Ypsi Prep.
This isn't some setup where a program is just being allowed to use someone else's space with little to zero branding presence within the facility's confines. As soon as you walk in the building's back door, you are met with a newly refurbished basketball court, fully decked out in Ypsi Prep's red, black and white colors and emblems across the floor and walls. Emoni's 2020 Gatorade National Player of the Year banner hangs from the rafters above the baseline opposite the entrance.
"I used to work out here back in the day. Even when I was in high school, this place existed. So we used to come here and have open runs with the guys. Once I saw that this facility was available, we decided to make it happen," explains Elgin. "We used to have open runs and now we're partnered up with Arbor Valley Academy and so that's how this thing came to life. We got the [NCAA] accreditation through Arbor Valley. We got Ypsi Prep running but that's our educational partner. They do the whole education component of Ypsi Prep."
At half-court sits a gigantic logo. It's the image of a young boy doing a two-ball dribbling drill with a large red basketball in the backdrop. The words "BALL BOY" are written above it and the school's name below.
The half-court image is actually of Emoni when he was in middle school. It's not some Emoni-inspired sketch, it's from an actual photo that Elgin took on his phone one day while Emoni was doing a drill at a local gym, which he then turned into a graphic that serves as the school's and team's logo, and generally speaking, as a brand for Emoni and the family.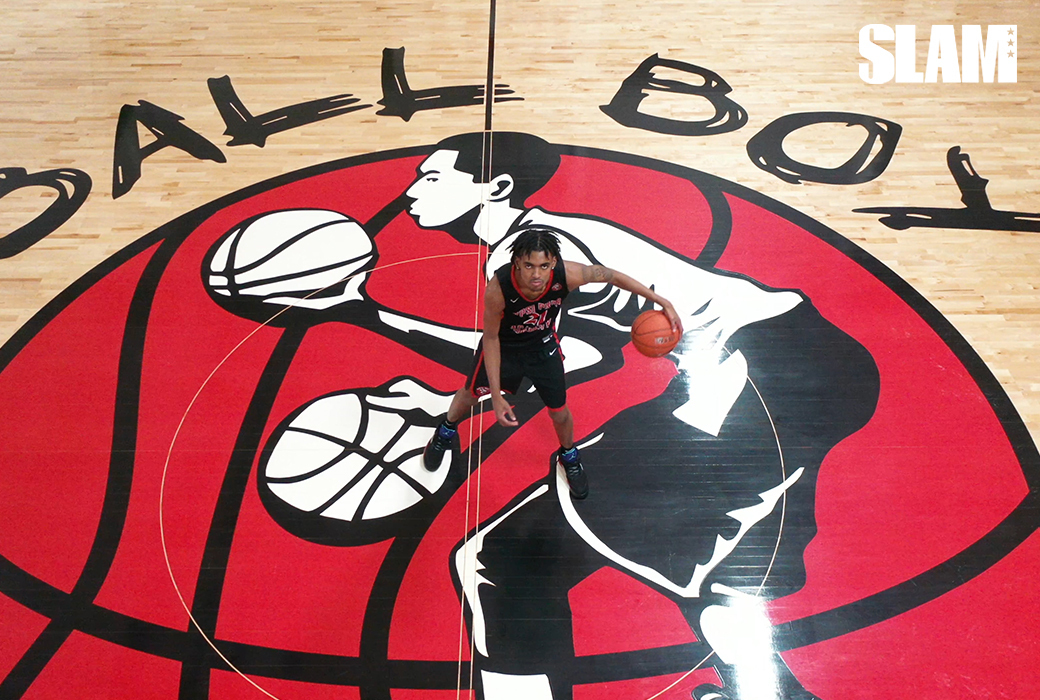 Aside from Emoni's image sitting at half court, the Ball Boy logo is also on the team's jerseys, across from the Swoosh logo.
A top prospect having his own AAU program formed around him isn't too uncommon nowadays. An actual school, though? That's definitely different. His own image as a logo at half court? Definitely a flex. And then that same logo on the team's jerseys? Next-level flex.
As unique and trailblazing of a situation as Ypsi Prep may be, as it pertains to a top recruit and his family introducing a new path for others to follow, Emoni is so focused on what is happening on the 94×50 that he doesn't really think too deeply about 12 other kids wearing his image on their chests or playing on a court that has his image right in the middle of the floor.
"It's just another court…my teammates, we all coming in here to get better," says Emoni. "That's definitely a blessing for sure, but really, we all trying to do the same thing—we're all trying to win.
"Seeing myself on the court, it's like, I don't really look at it like that. It's just, I'm coming to play basketball in the gym, for real. My teammates, we all coming in here to get better."
While the boss moves surrounding the school, the logo, the court and jerseys definitely add an extra flare to his name, the reality is that it was prompted by a desire to put Emoni in a situation where his development didn't have to depend on outside forces. It was about giving Emoni as much control of his future as well as of his current surroundings.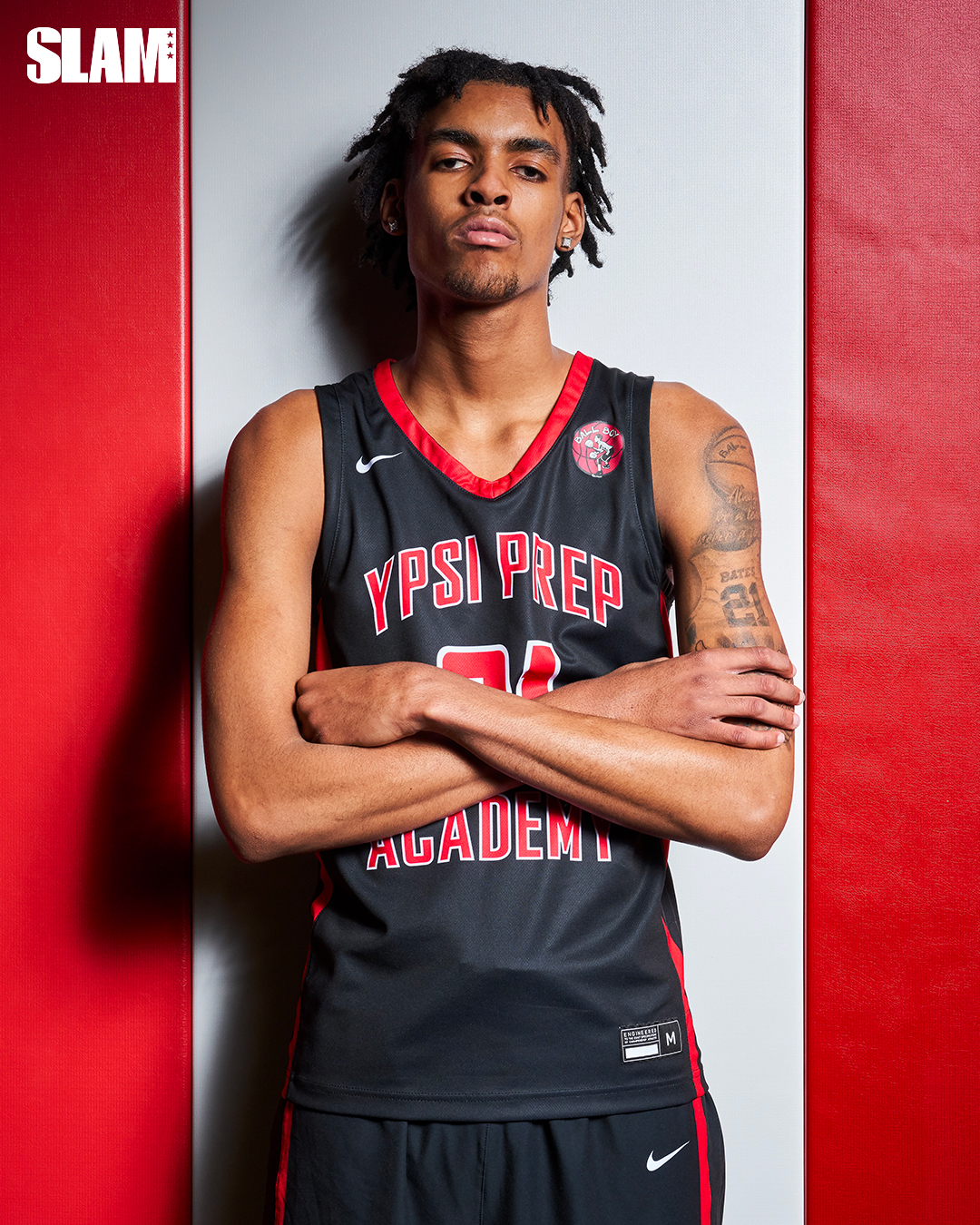 For starters, as an independent school, Ypsi Prep isn't beholden to the state's HS athletic association regulations that restrict and dictate if/when schools are allowed to practice or partake in games, especially when pertaining to out-of-state showcases or tournaments, which ultimately limit the level of competition that a player can be exposed to.
And with a global pandemic having brought even more limitations to high school kids and their seasons, Ypsi Prep has been able to power right through it thanks to its unique structure. Comprised of 13 players, the majority of the kids live in the two team houses, which has essentially created a bubble for the program. So, while thousands of players across the country weren't able to practice and play with their teams for months due to safety restrictions, it's been business as usual at Ypsi Prep since the beginning of the academic year.
While the Ypsi Prep structure has allowed the Bates family to have better control of situations that were once and usually are at the hands of other entities, when the team is on the road, things still tend to occasionally get strange. On a recent trip, the team arrived at their hotel and noticed someone was waiting for them in the lobby.
"As a parent, you definitely [see] people out here, they try to figure out your schedule, where you're traveling to, what hotel you're staying in—knowing your exact ETA," says Elgin. "Hey, Emoni, can you sign this? Like, dude, all you're trying to do is sell these memorabilia on the internet. Get outta here. Although, he was just being Emoni and decided to autograph the posters. But, just for you to pinpoint and figure out where we are—the kid at the time is 16—that's weird. But it also raises your antennas as parents, as far as tightening up certain things because you don't want people to have access to your child like that or know where your child is."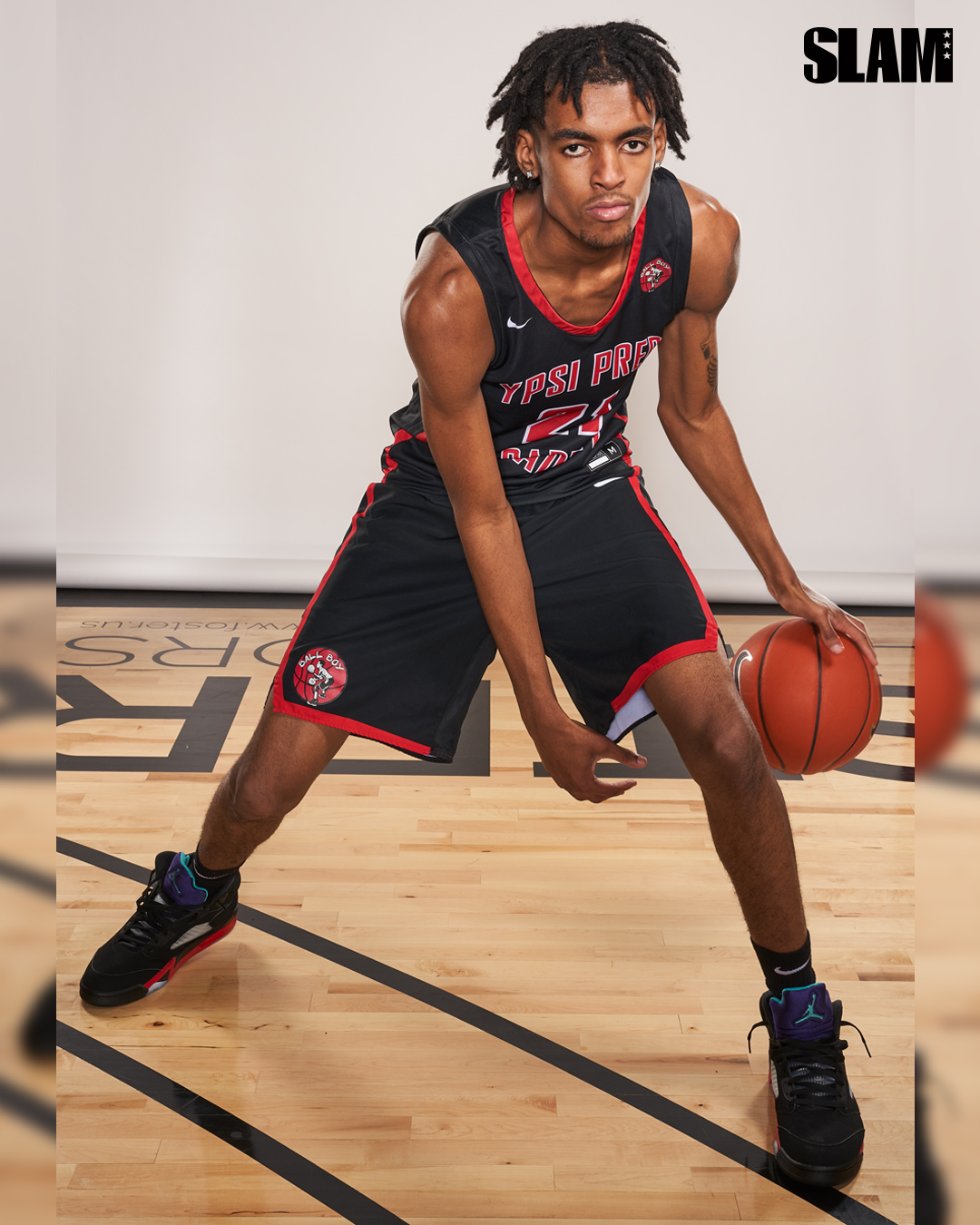 Emoni says he's starting to notice more of it, too.
"After we get off the bus for practice or a game, they'll be outside and then we'd have to wait [to] try to get them to move," Emoni says. "It's my room and people definitely find out what room I'm in, especially if they know what hotel I'm at. It ain't hard, all you gotta do is follow me. That's weird, though. It is what it is."
The program—which includes kids from Ohio, Georgia and Mississippi—has enjoyed a national schedule that has made stops in Texas, South Carolina and Virginia without worrying about any state association restrictions. Every game is essentially a road game for Ypsi Prep, giving the guys on the team a distinctive high school experience.
From a structure standpoint, Elgin also made sure to strategically surround the program with personnel who assist players off the court. He mentions clinical psychologist Dr. Byron Douglas and team chiropractor Craig Stoller as playing major roles in the program's inaugural year. The team also partnered with Daniel Roth of Blue Lion Fitness for its strength and conditioning program. Elgin, who named grassroots veteran Corey Tucker the head coach, says that while many may just assume that the program will cease to exist once Emoni has moved on to the next level, the plan is to continue to build and expand even further.
Anointed the number one HS prospect in America regardless of class, Emoni has had to deal with expectations since day 1. The ranking has put a target on his back. He sees two, three bodies on him every night. He gets everyone's best shot. He gets roughed up more than the average high school player. And then off the floor, there are the sky-high expectations. The cream of the crop comparisons. The nitpicky criticism on social platforms and in the media.
High school years are normally a whirlwind for just about anybody, but being the top prospect in America only adds some extra layers to it. Emoni, though, doesn't shy away from explaining how the rankings have impacted his approach to the game.
"I don't even like being ranked," says Emoni. "Me, personally, I was having fun when I wasn't famous. [Once] I started getting famous, it was like the love for the game started going away, for real. I had to learn how to make it fun again."
Before anyone tries to take that quote out of context, it's important to really understand the last sentence because, ultimately, it's Emoni's advantage over any other prospect (aside from the superb skill set, of course).
Many players might think they love the game, but truly, most really find out how much of a real passion they have for it when they hit an actual bump in the road later in their careers. For many top prospects, it's smooth sailing until they make it to the pros, all fun and games until they're in scenarios and circumstances they've never had to deal with before. Scenarios that aren't much fun to be in. It quickly becomes stressful and starts to feel like a job. And then suddenly you find yourself having to decide whether you still love it, and if or how you can find that spark again (this could be applied to all professions, actually). Many struggle and never find that feeling, and you start to notice it eventually.
The expectations and early fame forced Emoni to face this same reality much earlier than the average hooper. And not only has he persevered through that phase, you probably didn't even notice that he ever went through it.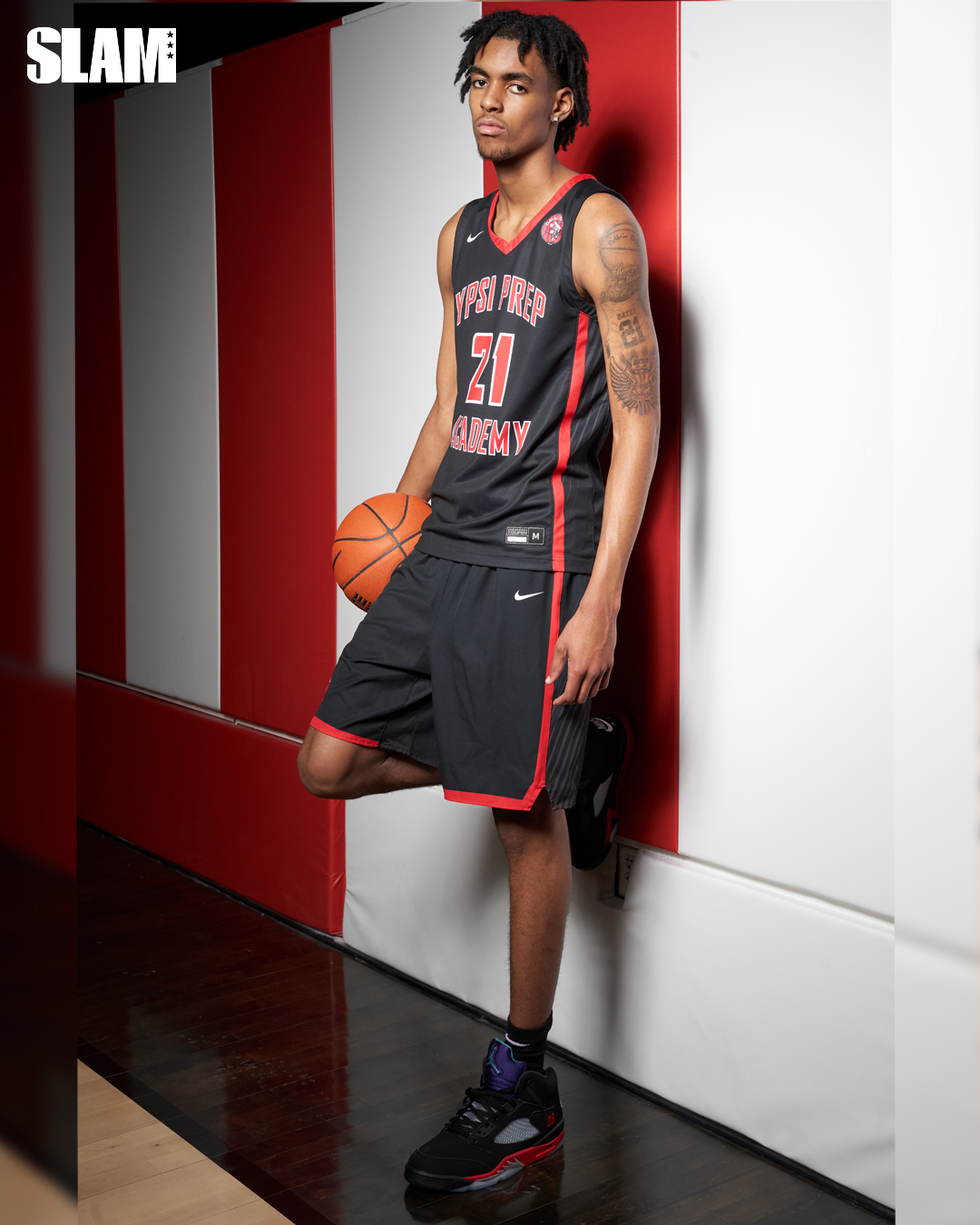 He's drawn comparisons to Kevin Durant, which he embraces and says he's even linked up with the NBA All-Star already.
"I met KD in person…It was an off the court thing. I DM'd him, and it was just, like, he wanted to chop it up with me and we chopped it up in person," says Emoni. "I still talk to him but I talk to Dejounte Murray the most. I been talking to him since I was young. We got a bond, I just ain't linked with him yet."
Emoni is committed to Michigan State. Although he's listed as a junior at the moment, Elgin says that Emoni isn't too far away from completing his credit requirements to graduate and could therefore theoretically reclassify to the Class of 2021.
"It might be two courses [left] before he could graduate, but Emoni is definitely in position to graduate early. Now, will he reclassify up or do anything of that nature? I don't know. That's his decision, but whatever he decides to do, I'm going to back him 100 percent," says Elgin. "Right now, we're just focused on the season. We just want to finish our season and then go from there, that way we're not being pulled away from our focus."
Despite his blue-chip status in the high school scene, Emoni says that his college recruitment process was a quiet one, mainly because a lot of people assumed that the NBA draft eligibility rules would change by 2022, allowing high school kids to make the jump straight to the League again. The majority of coaches assumed Emoni wouldn't go to college as a result and therefore didn't really recruit him. The new rule, though, was never passed.
"It wasn't stressful for me," says Emoni of the recruitment process. "Colleges wasn't really looking into me because of the rule with the NBA, so they basically didn't want to waste their time, I guess, or however they want to put it. Definitely [felt slighted], for sure, 'cause I been seeing everybody that I done played against and people that I done killed on the court and it's like, how they getting offers and I'm not? At the same time, I realized what it was."
In Emoni, you find a 6-9 versatile hooper who can play just about every position on the floor, do severe damage from the perimeter, off the dribble and above the rim. A quiet, laid-back demeanor off the floor, Emoni's entire persona changes the moment he steps foot on the hardwood. He's the ultimate alpha in between the lines, trash-talking to his teammates at practice and letting out loud roars after a tough basket.
"Off the court, I'm a chill dude. People don't really know me. You know, everybody thinks I'm mean because of how I am on the basketball court," he says. "So, it's like when I'm on the court, I mean, it's business on the court. I'm just trying to win."
—
Order your copy of SLAM 231 featuring Emoni Bates now.
Photos by Pier Nicola D'Amico.