When Desiree Ale learned about the death of Fabel Pineda, a 15-year girl in the Philippines who was killed by two police officers back in July, the news immediately impacted her. Fabel was out with her cousins on the night of July 1 when she was arrested by Philippine National Police for allegedly being drunk in public and in violation of curfew.
She filed a complaint against the arresting officers and was killed by them on her way home from the police station. The llocos Sur police filed murder charges against the officers.
At home in Los Angeles, Desiree felt like she wanted to address and discuss the death of a Pineda's killing with the young girls that help make up her program, Her Game Sports. It was important that they use their organization's impact to help others, and Ale created the hashtag #hergamerevolution as a way for the girls to use social media as a tool to aid them in their quest for social justice.
Around the same time as Pineda's murder, the United States was engulfed in a growing movement to address the racial and systemic injustices that continue to prevail within the country. Several high-profile killings of Black Americans by U.S. police officers had ignited a cry across the nation for change.
Breonna Taylor, who was killed in her home when officers from the Louisville Metro Police Department broke into her home after obtaining a no-knock search warrant, became a rallying cry across professional sports including the WNBA who dedicated their 2020 season to all the women of color who have been killed by police in recent years.
Desiree saw this as a big opportunity for the girls to get involved in fighting for social change.
"We have a responsibility as an organization to teach them how to respond, advocate, and find solutions that can spearhead movements," Desiree says. "When most people think of the term 'revolution,' they see violence and fighting. But in the world of political science, the phrase is also coined to mean 'turn it around.'"
—
Growing up in the Los Angeles area, Desiree took to basketball after watching her older sister Rheina play. Their younger sister Kristen also followed in their footsteps. AAU games became an everyday thing on the weekends and with all three girls playing, it usually lasted the entire day.
Rheina was the first to fall in love with the game after their father introduced her to the sport when she was around seven years old. She remembers her dad taking her along with her sisters to the park every day to train and get better, even having them play against boys.
"Our dad packed all five of us in the car and we would be at the gym all day," Rheina recalls. "Dad would pack our lunches for the day and my poor little brothers had to come because they were way too young to be at home alone. They had to pack their gameboys or coloring books to stay entertained. I feel like they hated basketball because of those long days at the gym watching their older sisters play."
As the youngest of the three, Kristen was constantly soaking up as much as she could from her older sisters. She was determined to learn every move they made on the court and was grateful to have two role models to look up to.
"Every goal they achieved, I wanted to achieve," Kristen recalls. "I watched every single game and always brought my basketball shoes just in case they needed an extra player. I had built-in teammates everywhere I went, on the court and off the court."
The girls would eventually play together at Bishop Montgomery High School in Torrance, CA. Bishop Montgomery has long been one of the top girls' high school basketball powerhouses in Southern California and is currently coached by former WNBA champion Noelle Quinn.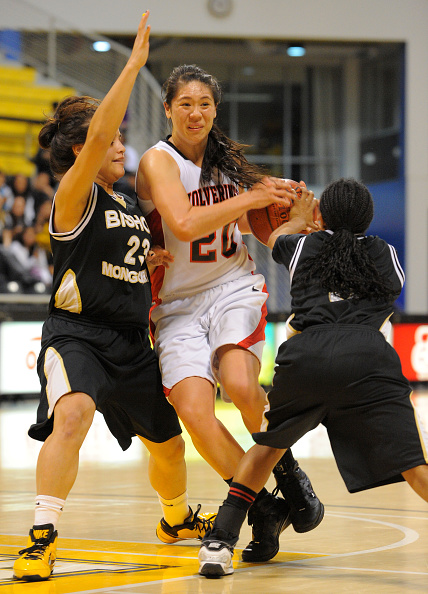 Rheina would go on to play at the University of San Francisco while Kristen played at Cal Poly San Luis Obispo. But Desiree's path took a bit of a different route. She suffered an injury that kept her sidelined for an entire season and she ended up playing at Saddleback Community College after high school.
"I had a very imperfect relationship with basketball. Suffering an injury that kept me out for an entire season really challenged me," Desiree says. "There were also times where I would internalize every single negative comment a coach would say to me. This affected my grades and self-esteem. Growing into adulthood, I had to unlearn what I internalized and teach myself to always be my own biggest fan and love myself."
As a child, Desiree initially wanted to be a dual athlete in both basketball and softball. Although she loved both sports, it was clear that basketball was going to shape her career path. Her coach at Saddleback College helped give her the tools she needed to be successful not only on the court, but she was able to look past the negative stigma that is often associated with junior college athletics.
Today, as the founder of Her Game Sports, Desiree reminds the young girls she mentors that a junior college is indeed a viable option in terms of post-high school academics and athletics. The organization has already helped a few girls in reaching the Division 1 NCAA level, but they've also had a couple of kids enroll in community college.
"I encourage athletes to understand that everyone's path in life will look different and not to compare your journey to someone else's. I reassure them that you will get where you need to be when you need to get there with the right work ethic and mentality," Desiree says. "The real idea behind any opportunity is to always prepare yourself for the best and to never overlook any option that helps you arrive at that destination. Her Game is all about encouraging young women to become great at all levels while breaking every single ceiling they possibly can."
It was Desiree's transition to post-college life that helped give her the impetus to start Her Game Sports. Neither she nor her sisters played professional basketball, although they did represent America Samoa on the women's national team at the 2015 South Pacific Games.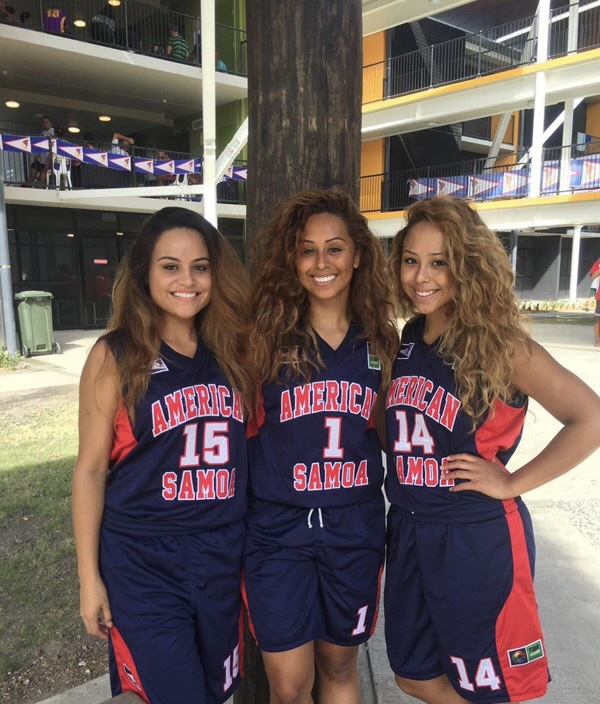 Desiree knew she wanted to transition into the sports industry in some fashion, and as she looked around, she noticed a severe lack of representation of women working in sports. Thus, Her Game Sports was born.
According to a recent study done by the Women's Sports Foundation, young girls tend to drop out of sports at twice the rate of young boys by the age of 14. The foundation cited a lack of resources and opportunities compared to boys as a driving factor in why girls have a higher rate of dropping out of sports. That's one of the things Desiree is hoping to change through her organization.
"It's always been evident that there is a severe lack of representation for girls in sports. The disparity of representation translates to a lack of equality and empowerment, which consequently has forced many young girls to drop out of sports over time," Desiree says. "We pride ourselves on empowering young female athletes by teaching them value and how to use their voices. The goal is for them to break down barriers and change the current culture of athletics for a greater future."
—
Southern California represents one of the best locales for Her Game Sports to provide outreach and opportunities for young girls. The Golden State has long been a hotbed for prime basketball talent, especially in the Los Angeles area. Desiree and her sisters recall playing in front of 'coaches only' sections and attending Bishop Montgomery allowed them to play against other top schools in the area.
Playing AAU was just as tough as the competition also included competing against equally talented players on the same roster for playing time. But even then, despite having such a wide pool of talent, they can recall a noticeable absence of consistent media coverage.
Kristen can remember seeing stories from their big games the night before relegated to the very back of the local newspaper's sports section.
"When I say the back, I really mean the back," Kristen says. "The girls high school basketball section was usually a small article covering 1-3 games, and sometimes with a couple of pictures. At that time, social media was not as substantial as it is now, so media coverage has definitely improved since I was in high school."
That's one of the areas that Her Game Sports is looking to change: more representation for young girls in sports. Before the COVID-19 pandemic put a halt on organized basketball games in LA, Desiree had helped set up a showcase for some of the top up-and-coming girls basketball players who hadn't yet reached high school.
They had another showcase that was planned for last spring but had to put those plans on hold due to the pandemic. But since then, the organization has been very active on social media and has held several virtual seminars with some of the top women in both the sports and business world.
"It is absolutely important for young girls to be surrounded by positive, strong, accomplished female role models in order to actually be able to envision all that can be achieved. Even remembering my mother always being there for us on every game day as the loudest one in the stands," Desiree says. "This is why the organization's core focus is to surround these girls with as many resilient women in sports on a daily basis like my sisters too."
One of the ways in which Desiree's sisters, Rheina specifically, has helped model empowerment for young girls is through the Women's Drew League. The Drew League for men is world-renowned and routinely draws some of the top local NBA, NCAA, and high school talent. The league also is a staple in the South LA community in terms of providing a safe haven for neighborhood youth and stressing community empowerment. The women's league aims to do the same.
Normally held during the fall, the Women's Drew League attracts some of the top WNBA, overseas professional, and former NCAA talent. Back during the fall of 2019 when the league was last held, a few of the girls from Her Game Sports were often in attendance to watch games.
In addition to providing strong role models for the young girls, Rheina also believes it's necessary for former players like herself to have an outlet to continue to play the game they love.
"I think it's very important. Women needed the opportunity to showcase their talents as much as the men's side did," Rheina says. "There's a few of us who had very successful college and professional careers, and even though we decided to walk away from the game professionally, we still have some game in us and the love for basketball hasn't quite left yet. Even though my body can't move like I used to, I love watching up and coming talent come hoop every year."
—
Having recently reached the one-year mark since its founding, Her Game Sports has also launched a global Brand Ambassador program. One of Desiree's goals is not only to empower young women stateside but to also provide similar resources and mentorship to young women across the globe.
"It has been said that California is the mecca of basketball, yet basketball all over the world is evolving. Sports are heavily ingrained in the culture of everyday life so there are choices that girls have here that in many places do not exist for them," Desiree says. "This is part of the reason why Her Game is such a special revolution. It educates, empowers, and provides opportunities globally. We are using that platform to help shape young women all over."
One of the countries that they've gained a foothold in is the Philippines. When the news of Fabel's murder first broke, Desiree knew this was an incredibly important moment that needed to be addressed with the girls in the program.
With what was going on at home in the United States at the same time, Desiree feared for the safety of her girls.
"That could have happened to any Her Game girl right here in America or our Brand Ambassadors in the Philippines," Desiree says.
For Desiree, the death of Fabel Pineda, as well as similar killings here in the U.S., have shown her that women's lives, especially young women of color, still don't matter to society at large. She knows there is a very long road to go to turn that around. But she is hopeful that through Her Game Sports, she can help empower these young women and truly make a difference in the world.
"Whether the stance exists that Fabel's life did not matter to these policemen or that women's sports do not matter because they are simply women, the world is constantly trying to show and prove that we have no value and our voices should go unheard," Desiree says. "Her Game is here to turn that thought process around."
—
Photo credit: Getty Images and Nikki Boutte.
David Yapkowitz is a writer/reporter with The Next Hoops covering women's basketball. You can follow him on Twitter @Dave_Yapkowitz
WSLAM will be celebrating Women's History this month, and every day after that. Follow along @WSLAM.