Loess Cedric Lath is an Ivory Coast native who moved to Canada last February to study—and play a lot of basketball—at a new prep school, Institut de Sport Dynastie, located just outside Montreal in the French-speaking province of Quebec. Asked what he likes the most about being at Dynastie as opposed to back home in West Africa, Cedric doesn't hesitate. "The workouts. They are just so hard."
*Double take.* Given the fact that the 17-year-old Cedric is still just learning English and about half of his answers come with translation help from one of the school's founders, Alexandre Victor, who has set up our WhatsApp video call, I want to make sure Cedric understood the question. "I asked what you liked about being there?"
"That is what I like," he replies with a chuckle. "It was a little hard back home, too, but…"
"There are a lot more details here," Victor elaborates. Are there ever. The brainchild of three long-time friends in their 30s who share a love of hoops and similar backgrounds—Victor, Woodwendy Séraphin (both born in Canada to Haitian parents) and Bachir Outtara (born in Senegal, now living in Canada)—Dynastie's plan is to build a prep basketball experience like no other. Professional-style workout sessions are just the beginning.
"Our goal is to be the hub for kids from French-speaking countries who want to go to the NCAA or the NBA," says Victor. "We feel like if you take a kid from Côte d'Ivoire, and put him in the US directly, it's a big jump because culturally, it's so different. They need to adapt. And usually they're young—15, 16 and 17 years old. So we felt it's a more normal transition if they come through Quebec, have that transition from French, mostly European-flavored culture, to English and North American culture and the business of basketball rather than just a sport. So they transition here and then they go on to play Division I in the US. I believe that as time goes on and we're able to build our résumé, we will be able to attract the best talent from all of the Francophonie and still have enough roster spots for the best local kids."
Francophonie, of course, refers to the broad collection of nations where French is regularly spoken, which includes not only the motherland and its European neighbors but also large swaths of West Africa (Cameroon, Senegal, etc) and the Caribbean (Haiti and Martinique, among others). If you've looked at any NBA team rosters lately, you've surely noticed that there are a lot of players who fit the category, such as Joel Embiid, Serge Ibaka, Skal Labissiere and Pascal Siakam.
Well aware of the abundance of potential talent who would qualify for the program, and with a gameplan in mind, Victor and the other founders, who all played competitive hoops when they were younger and would often chat about business ideas after pick-up games the last few years, purchased a church and its neighboring presbytery. The group promptly turned the church into a high-performance gymnasium and the presbytery into dorms. The project went live in the fall of 2019 with prospects from Quebec enrolling, while accepted international students like Cedric showed up throughout the year as paperwork was approved.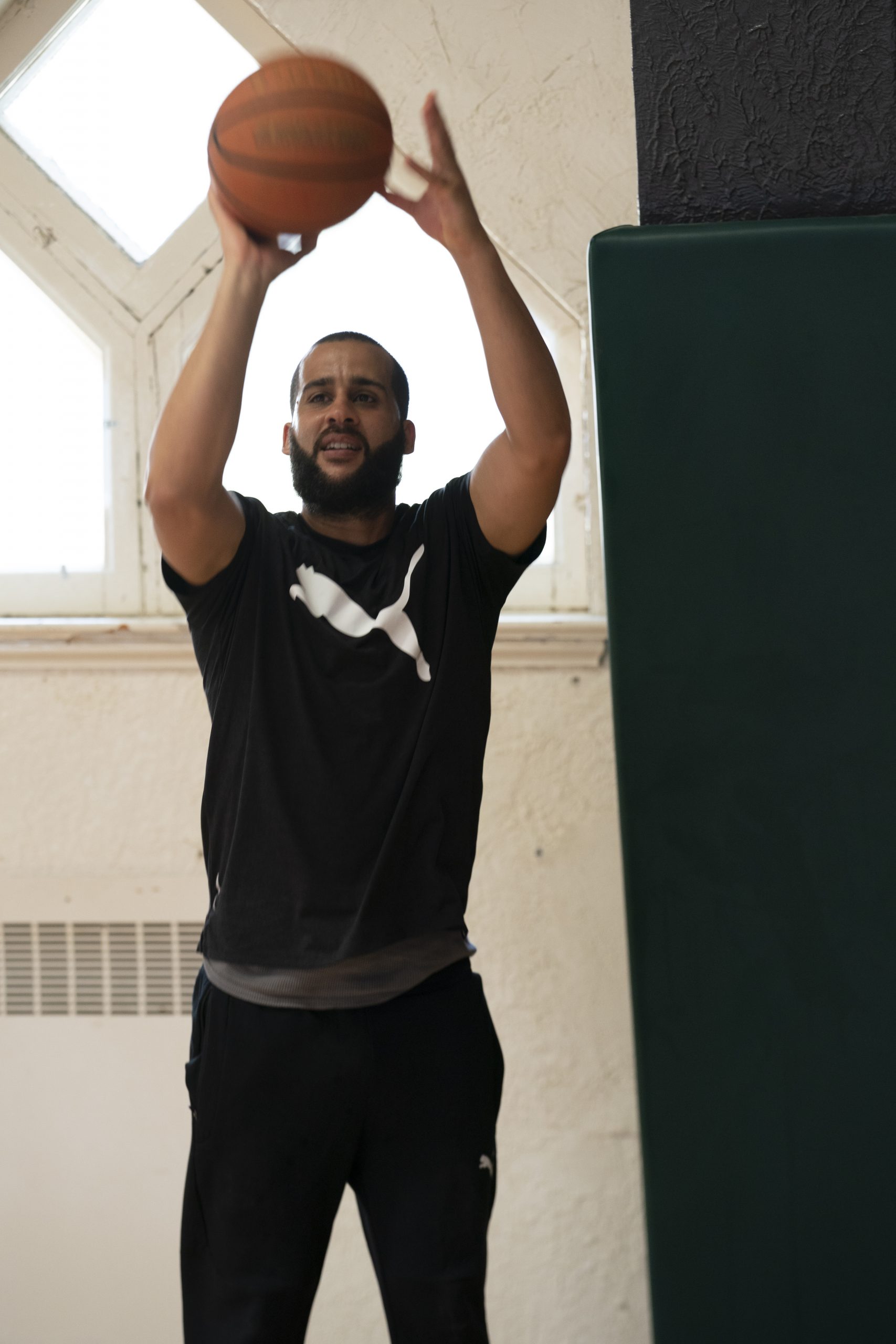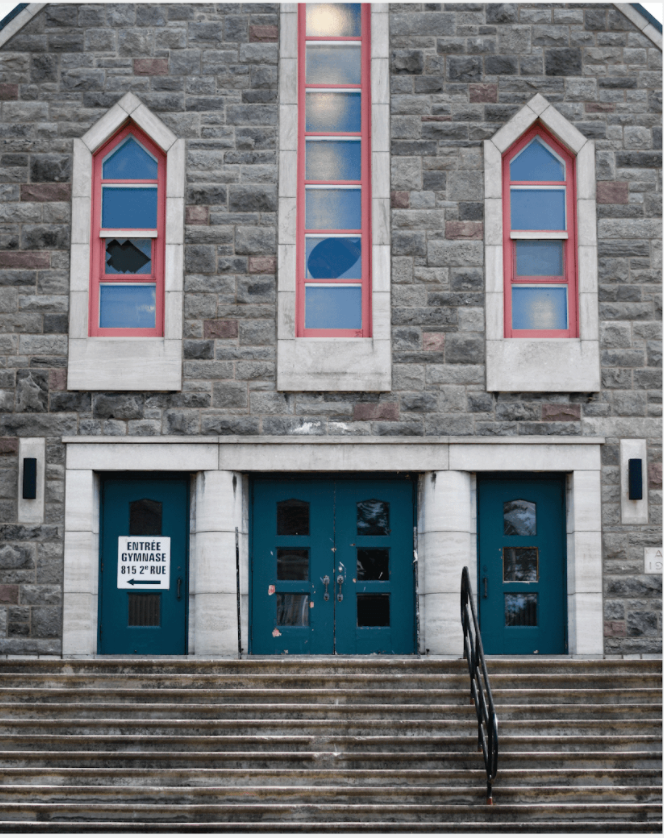 Dynastie had one full roster by February 2020, and showed flashes of strong play down the stretch of the NPA (Canada's elite basketball league, the National Preparatory Association) season. Then Coronavirus hit, travel shut down and the 13 current players—especially those who came from overseas—have basically been around ever since, studying at the appropriate schools (Dynastie partners with three local institutions and kids attend whichever one is right for their age and nationality) and hooping a ton.
"We're in the gym just about every day," says Séraphin, the head coach. "We are one of the few private gyms in Quebec that can be open and run workouts. The kids live together, they take classes online, so we are in a bubble. We never really had to stop. The challenge is keeping the kids motivated and engaged. We don't have that usual candy of games in front of them right now. And they live together so they may get on each other's nerves a bit. But we will get through this."
To the solidly built Séraphin, who was also a football player, coaching these kids the right way is personal to him. "I played high-level basketball in Canada but I was not developed properly. I was 6-4 and I was pushed in the post," he says. "I feel like I should have been a shooting guard. My experience really made me passionate about developing players and their skills. Like, now my point guard is 6-4 [chuckles].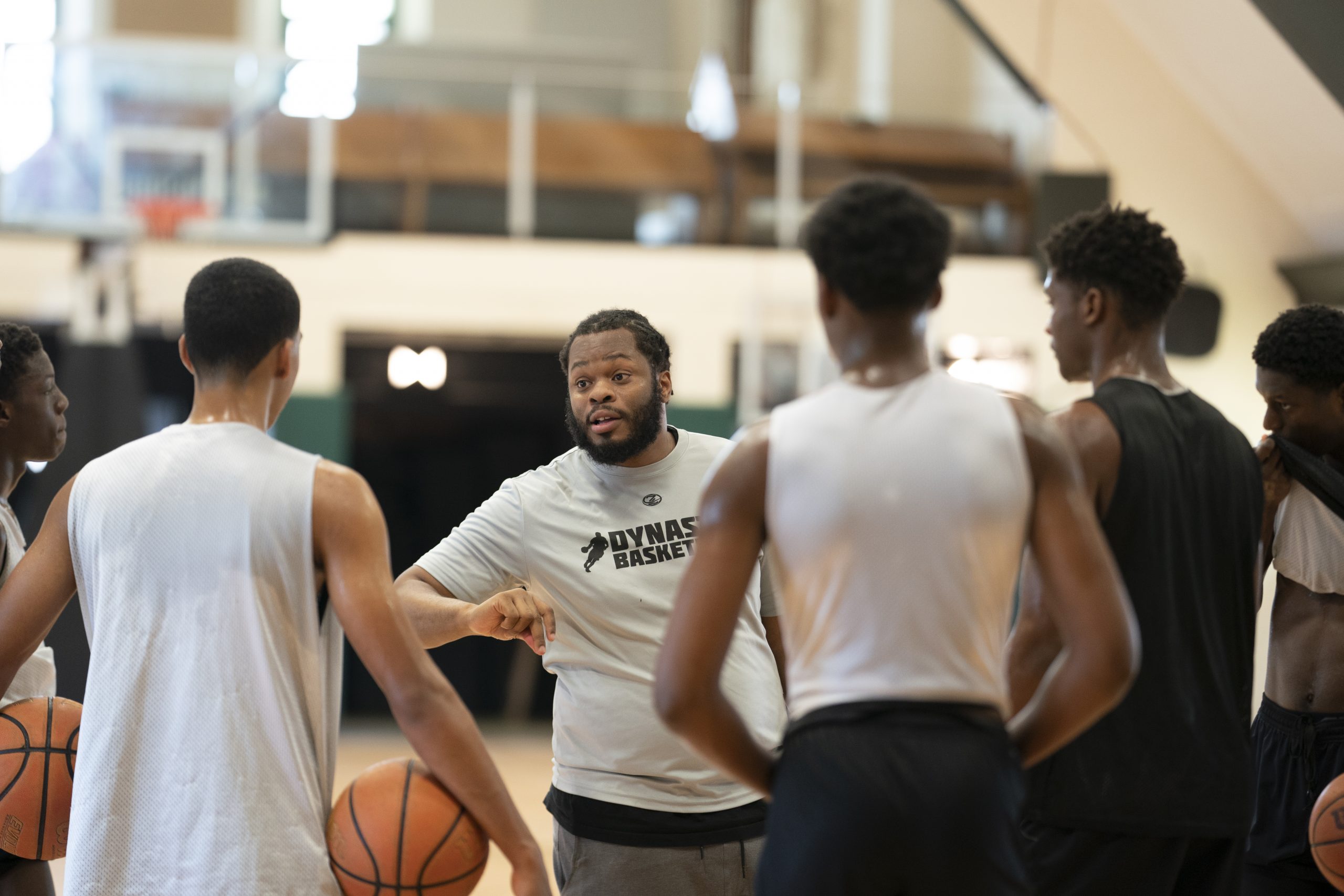 "We're a pretty athletic group," he continues when asked to describe his team and their style of play. "I'm a new-generation [type of] coach. I like stats. I don't want mid-range shots—I want dunks, layups, threes. Maximize possessions. But don't be a robot, especially on offense. I want to develop guys who can think on their own and [are] able to fit into a lot of different systems."
Lath, who is 6-10 and 235 with a 7-2 wingspan and Thierno Sylla, another 17-year-old big man who starred for his native Guinea in the 2019 FIBA U16 African tournament, are the most prominent prospects at Dynastie now. "Physically, I think Cedric is a pro. He is special," Séraphin says.
For his part, the workout-loving Cedric is unfazed by any props he may receive. "I think I am a modern Shaq," he says with a straight face, adding that the current players he studies and looks up to are versatile big men Joel Embiid and NBA rookie James Wiseman. "But Shaq couldn't shoot three-pointers. I shoot three-pointers."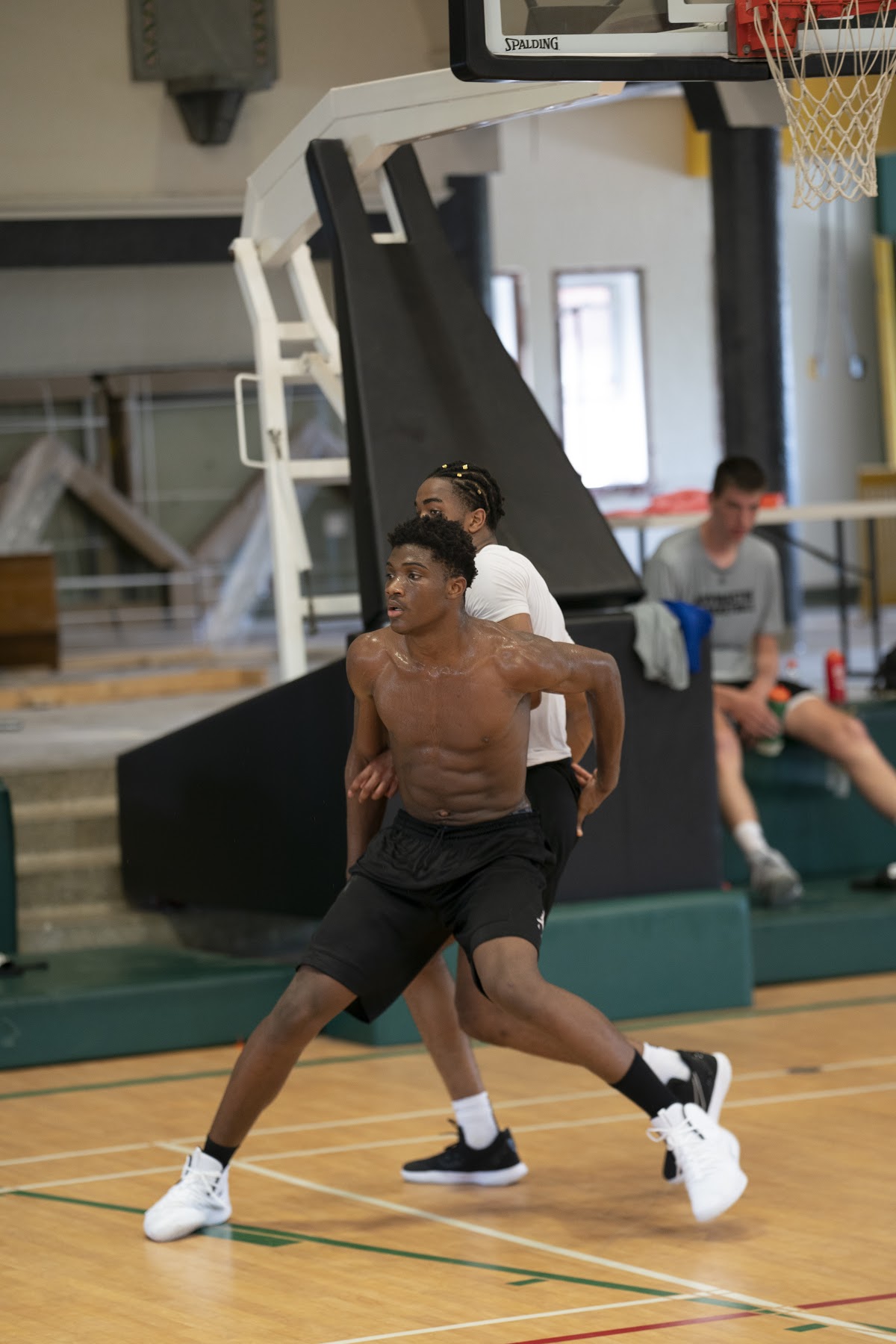 The founders expect a lot more players with Lath and Sylla's potential to find their way to Saint-Jean-sur-Richelieu once the world is back up and running again and Dynastie's rep grows. "We're at 14 kids and one team now, but we want to have two teams in the future," Victor says. "One will be the traveling team, playing a national schedule in the US, really big. The second one would play in Canada, 12-15 kids each team. We believe 30 kids would be the capacity. Having half [from Quebec] and half [international] will allow us to always be competitive with teams like Montverde, Oak Hill…This is our goal for the traveling team. And bring all those talents to North America, basically."
The emphasis on French-speaking ballplayers is certainly unprecedented in North America, but Victor feels that, regardless of primary language, he doesn't think Dynastie has a peer in the prep hoops game these days.
"The closest to us would be Orangeville Prep [in Ontario]," he says. "It's also 100 percent privately run. But our business model, with the culture-first approach, makes us different from everybody. Everybody else just tries to be elite, elite, elite. My personal belief is that, before economic comes culture, and that to create wealth you need a strong base which is your culture and your values and all that. So we're putting that forward and creating an identity, which I believe is stronger. For example, in March we're going to have artists [and] painters that get paired with each player and we're creating an exhibit with that. A lot of our business and what we're teaching our kids goes beyond basketball, and that I haven't seen, personally. I don't know if it exists. But we feel this is our competitive advantage as far as getting sponsors, kids and building a unique niche."
Thus far, besides money the founders have invested themselves, Dynastie has gotten financial backing from the Royal Bank of Canada (RBC) and Groupe Park Avenue, a car dealership with locations throughout Quebec. More relevant to the SLAM audience, and my personal curiosity, is Dynastie's shoe/jersey situation. Dynastie rocked Puma kicks and gear last year, which made sense because of the brand's cultural approach to the game. It's looking like the team will be in Pumas again this season (should one happen, *fingers crossed*), but other brands are understandably sniffing around a program that features international talent and perhaps some future NBA players.
Regardless of what's on the team's collective feet, the folks involved with Dynastie are sure they are on to something big.
"It's been amazing so far, the talent level we've been able to attract in just our second year," Séraphin gushes. "There is nothing like this in Quebec. To be working with French-speaking kids from around the world? It's very special. We feel like we are changing these kids' lives as soon as they arrive, and we can only imagine what is in front of them and for this school."
—
Ben Osborne served as Editor-In-Chief of SLAM from 2007-16, as well as Bleacher Report from 2016-20. You can follow him on Twitter @bosborne17
Photo credits to Jeff Photo. You can follow him on Instagram @jeffphoto.ca and Facebook JeffPhotoMTL