Growing up in Rockford, Illinois, Fred VanVleet adopted an underdog mentality at a very young age.
"It's been like that my whole life," VanVleet says. "Growing up with three brothers, with that many boys in the house, you're always fighting for respect and attention."
As an All-State player, VanVleet spent four successful seasons at Wichita State, but went undrafted in 2016. After impressing at Summer League and in training camp, he landed an NBA contract and a roster spot with the Toronto Raptors.
During his rookie season, VanVleet split time between the NBA and the G League, appearing in just 37 games with the Raptors. At the time, it was hard to see how he would fit long-term. Kyle Lowry was entrenched as the team's starting point guard, and behind him were Cory Joseph and Delon Wright.
Toronto re-signed Lowry and Serge Ibaka this offseason, but lost some of their depth when they traded Joseph and DeMarre Carroll, and watched PJ Tucker and Patrick Patterson leave in free agency. It meant an opportunity for VanVleet to earn minutes with the second unit in the 2017-18 campaign.
And the 24-year-old has taken full advantage, currently leading the Raptors in fourth quarter minutes (9.0). In a 34-point home win over the Cavaliers in January, VanVleet came off the bench and scored a career-high 22 points. Two weeks later, he set a new career-high with 25 points in a win over the Lakers. Through 71 games, he is averaging 8.8 points and 3.2 assists on 41 percent shooting from three.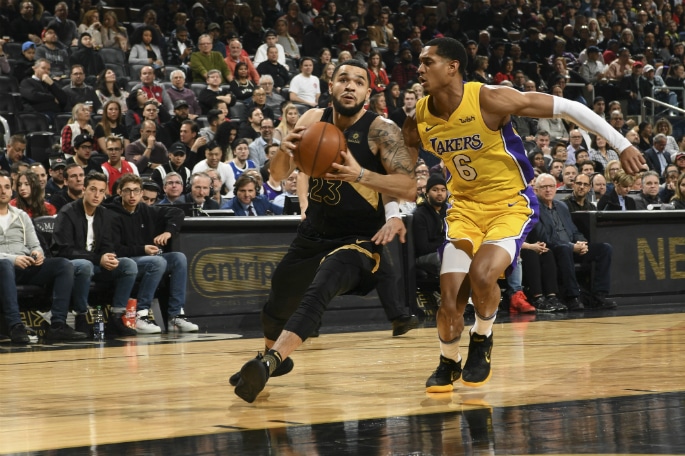 To hear VanVleet describe his game, it feels like a perfect fit for what the Raptors need, a steady influence off the bench who can contribute on both ends and isn't afraid of crunch time.
"I like to be a coach on the floor," VanVleet says. "I like taking shots late and making plays late. It's something I take a lot of pride in."
Toronto enters the playoffs with a realistic shot at making a deep run. VanVleet and the team's second unit will have to continue playing a significant role if they want to erase the disappointment of last year's postseason, which ended in the second round with a four-game sweep to Cleveland.
The bench has become the best secret weapon in the League, blowing the doors off opposing team's second units and giving Toronto's starters plenty of rest in the fourth quarter. VanVleet believes the camaraderie between the guys off the court has helped them on it.
"We joke and laugh all day long," VanVleet says. "That's all we do, whether it's on the bus, on the bench, during the game, that's all we do. We crack jokes, have fun and laugh. We talk about everything. Nothing is off limits. It's a pretty tight knit group. We've practiced together, we've spent summer leagues together. We spend a lot of time together."
VanVleet, who has now made a habit of proving people wrong, is ready for the challenge ahead, and believes the younger guys on the team will support Lowry and DeMar DeRozan when the time comes.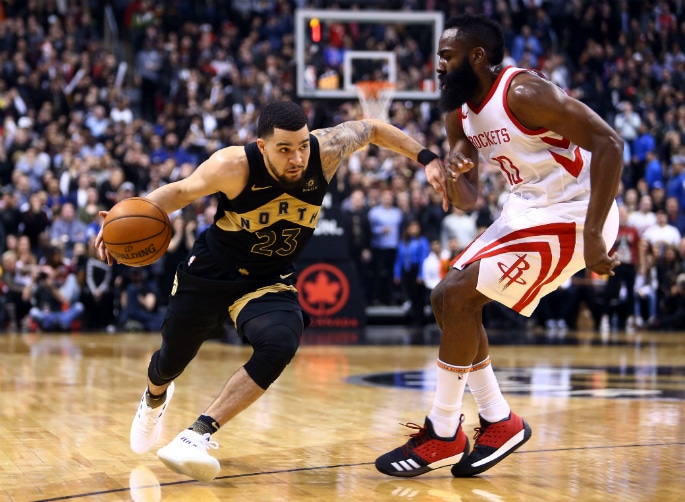 "It gives us options and it gives us flexibility," VanVleet says. "You saw when Kyle went down with an ankle injury [during the regular season]. In those situations, you want guys to be ready. The rotation might shorten towards the end of the season, but we're playing and we're getting experience. Guys will be ready to pop off the bench if we get an opportunity. We'll be more seasoned as well with all the experience."
As the resume grows, VanVleet is less motivated by the people who doubt him, and more driven by earning respect from players around the League.
"I've grown to the point where I don't care about what people think about me," VanVleet says. "You just want the respect of your peers. I care about what they think, they my teammates think, and what my coaches think. You want to earn that respect as a young player."
He'll be doing it for everyone who believed in him back home in Rockford, Illinois.
"It's the place that raised me and made me," VanVleet says. "It shaped me into the man that I've become. Where I come from, they don't have the brightest lights in the world. But it's home, so I'll always view it in a positive light."
—
Photos via Getty Images. 
Alex Wong is a writer living in Toronto. Follow him on Twitter @steven_lebron.