Led by Guest Editor Carmelo Anthony, SLAM's new magazine focuses on social justice and activism as seen through the lens of basketball. 100 percent of proceeds will be donated to the Social Change Fund. Grab your copy here.
—
We brought Sheryl Swoopes, Angel McCoughtry and Lexie Brown together with host Ros Gold-Onwude to learn about their perspectives as Black women in sports.
Part 1 of the roundtable can be found here.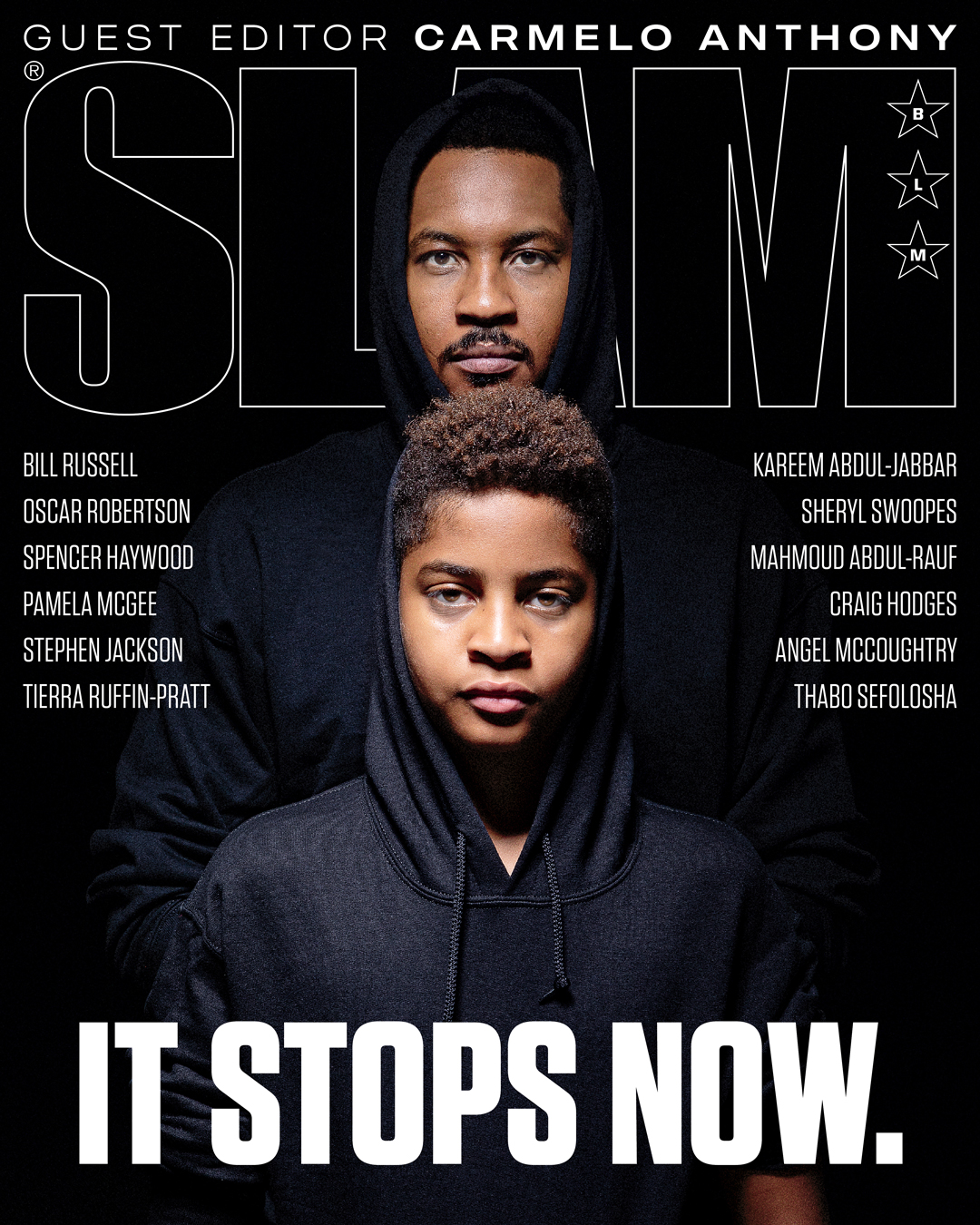 Gold-Onwude: Angel and Lexie, how do you feel the WNBA does as far as marketing players?
McCoughtry: I still remember that episode of you guys on Martin [to Swoopes]. That was the best thing ever. He was challenging Gina saying that women can't do what men can do. And then she brings these WNBA players [to play]. That was the best thing ever for us to see growing up. To add on to that, people don't know LeBron personally, but they know LeBron. Does that make sense? So if someone doesn't know Lexie Brown or Angel McCoughtry, why are they gonna come to the game? They don't know who they're watching. Our commercials are only on when we have a game. Then people don't even know when we have a game. You can see an NBA commercial when you're watching primetime TV. I think, too, some of the NBA players can grab some of us and say, Hey, I want Lexie in this State Farm commercial with me. They need to get to know who she is as well. I think we can all work together to get more of these girls known. Yeah, we know Diana Taurasi. We know Sue Bird. But they should know Lexie Brown. I think we can do a better job at that.
Gold-Onwude: MVPs and star players have gotten promoted. Sheryl, you, Cynthia Cooper—I knew everything about you. Growing up in New York, I knew Teresa Weatherspoon. Candace Parker. I'm a big Cappie Pondexter fan. But maybe you're talking to somebody who's a little biased because I'm an actual women's basketball fan. We're talking about the casual fan. How do we get them in line with knowing everybody? I remember networks like ESPN did things like "The 3 to See" with Skylar Diggins and Britney Griner and Elene Delle Donne. It was just about the top players. How do you get to that next level? Maybe like with you Lexie, someone who's a star but young and coming up, how do we learn more about your story the way we might learn about a role player on an NBA team?
A lot of times the stories around women's sports tend to be "good girl stories," all good news, all positive. Could the WNBA benefit from having more real, honest characterizations of who the personalities and players are in the league?
Brown: I'm coming from college and it's the same there. You know the three top players, they all look the same, they might not even be the best players but they all look alike. There's a certain look that I think people try to push out. I think our league has the most colorful personalities from top to bottom. The beautiful thing about our league is that there's not a lot of us, so we really all do know each other pretty well. There are a lot of stories that need to be shared. And just because they're real doesn't mean they have to be tragic or sad, they just have to be real. Everything doesn't need to be a good girl story, like you said. I think that this younger group of WNBA players has tried to take it into their own hands, using social media and their followings and things like that. I personally have noticed that even sometimes when we reach out to the league: Oh, we have this idea. They turn it away. They don't want it. They don't want anything to do with it. So that's forced us to go our separate ways and find our little fan groups separately. When you go out somewhere and say that you're a professional basketball player, they get super interested. You tell them that you attended Louisville and Duke and then people lose their minds. There are so many stories to tell.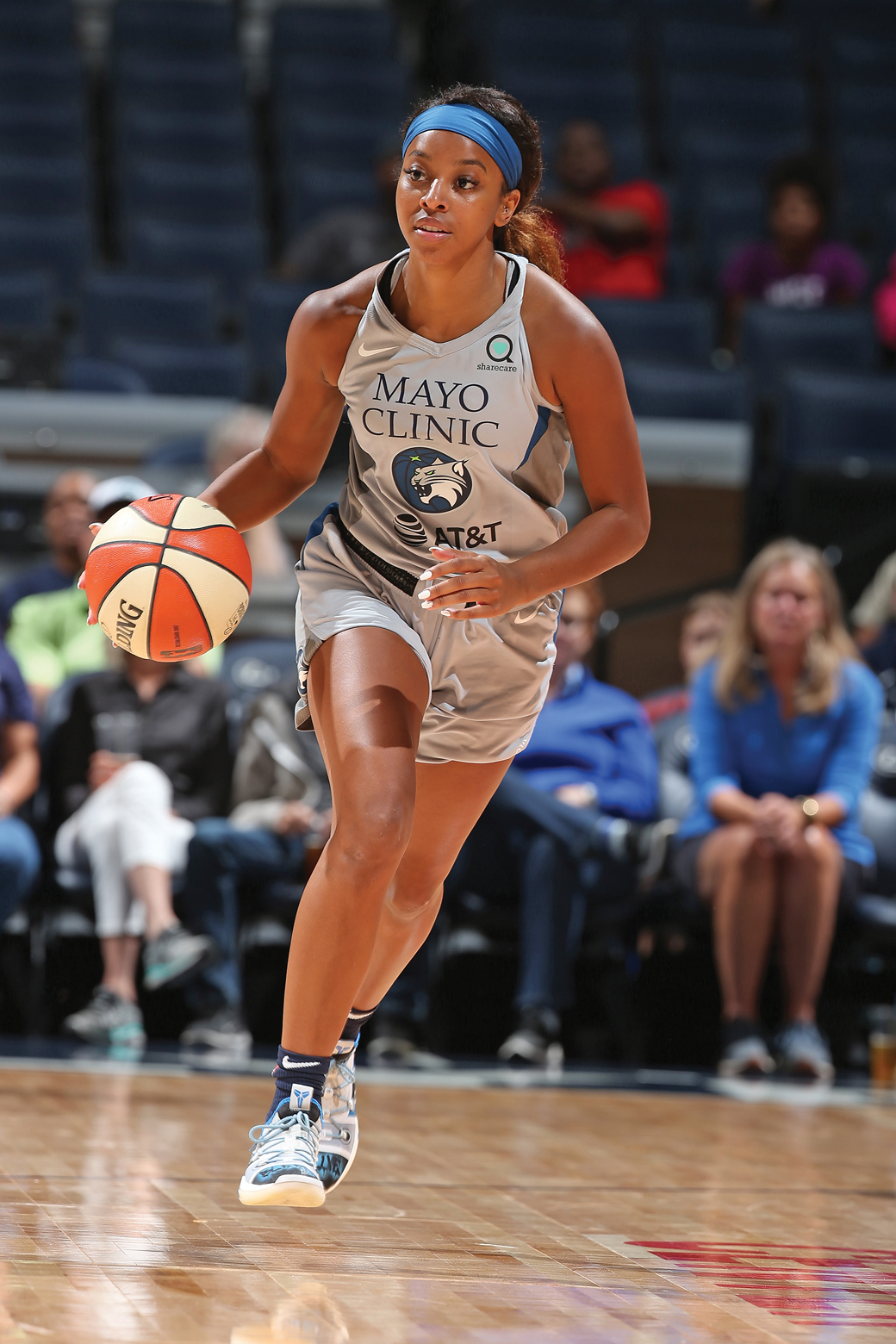 McCoughtry: It's hard to work really hard at something and it's like, Man, does anybody notice that I worked this hard? I have an ice cream shop here in Atlanta. Kandi Burruss from the Real Housewives of Atlanta was actually the owner of the building, so I rented from her which was awesome. Todd was her husband. They were doing a mural out back [of the building]. I go out back to look at it, they're putting all the sports teams logos on this mural. So I asked the guy, Where is the Dream logo gonna be? He was like, Dream, what is that? I don't know nothing about that. I said, Todd, the mural outside is dope, but you're forgetting one thing. The WNBA logo. We're the only women's professional sports team in the city and you forgot about us. He was like, Oh my god, my bad! My bad! You come to my ice cream shop every day, we're friends, and you forgot to put the only women's professional team's logo on this mural. I have to send you guys a picture of this mural. If you look at it now, we're at the top. The fact that I had to fight for that. How do you forget?
I have another story for y'all real quick. I'm at the NBA Awards and PR says, Come over and do some interviews. I come over to do the line on the red carpet and they're all like [looking]. [They said], Excuse me, we want the players. So I walked to the next person. They were like, Excuse me, we're waiting for the players. I'm a player. I'm a two-time Olympic Gold Medalist. Really? I went down that whole red carpet line, nobody looked at me twice. I felt kind of belittled. It was just like, That's what you guys really think of us? I wasn't even considered a player. Those are the things that definitely have to change.
Gold-Onwude: Let's talk about how mainstream media and entertainment treat WNBA players. It's not just that the WNBA has to market [players] better. Sports reporters, people who cover sports, will say things like, The first pro championship to come to Seattle, or something. And you're like, Well, what about the Seattle Storm? You see it over and over again. I feel like every year there's a correction of a professional sports broadcaster with credibility dismissing the credits of a WNBA championship.
Swoopes: The other part of that, too—and I'm not saying you, [Ros], because I don't think you do it. But even as commentators or broadcasters or analysts, when you're watching games, college or WNBA, we compare girls to boys all the time. When you're watching college games, you'll say, Oh, so and so reminds me of Kevin Durant or Steph Curry or James Harden. No, she reminds you of Angel McCoughtry or Lexie Brown or Candace Parker. You know what I mean? We'll talk about what everyone else is not doing to promote the league and help us grow the game, but we don't help ourselves grow the game.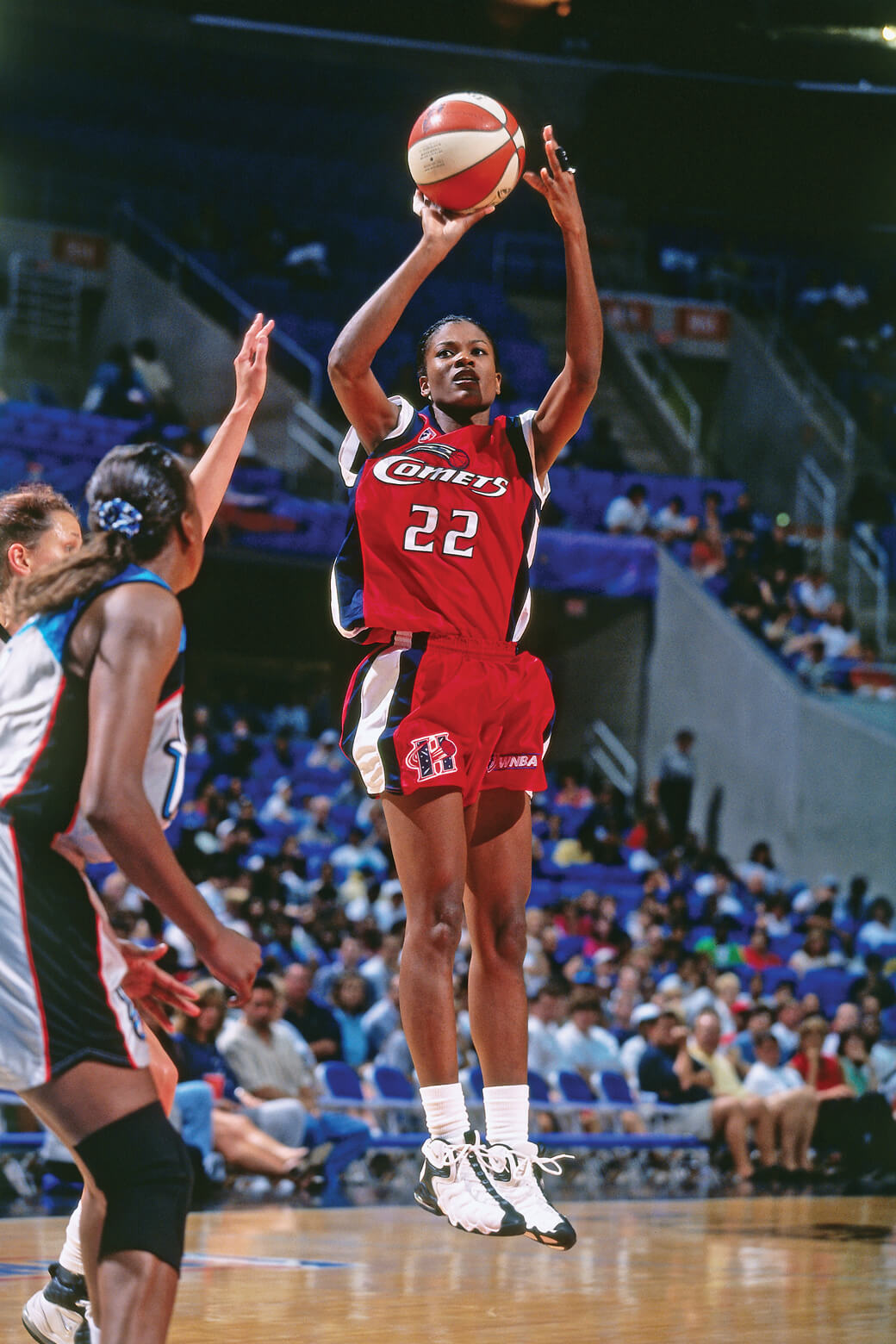 Gold-Onwude: I hear that a lot and the strategy there is trying to capture that casual fan who might know the NBA player more than the WNBA player and create some kind of connection. But I've often felt that women's basketball shouldn't be compared to men's basketball because they are separate and different games and businesses. Lexie, I'll take it to you. When we talk about women's basketball, should it be compared to men's basketball in your opinion?
Brown: I know when I was younger, there was a point where I was looking up to NBA players. And then when my dad got into coaching in the WNBA, he kind of shut all that down. He was like, Nah, you're going to model your game after all of these players. So even through middle school and high school, my favorite player was Kristi Toliver. I loved her at Maryland; she was the reason why I committed to Maryland. I basically modeled my entire game after her up until I got to college, honestly. I do agree with what people say, that they're trying to capture the casual fan by comparing to NBA players—I do understand that. But I feel that at this point, we're trying so hard to capture so many casual fans, we just need to capture a new fan. Maybe mentioning a WNBA player will have them [thinking], Oh, I wonder who that is. They'll go look up the WNBA player and discover this whole league filled with women who can hoop their asses off. I am guilty of comparing people to NBA players, definitely; but as I've gotten older, gotten to know these players and paid a little bit more attention, I'm able to compare a lot of players to WNBA players instead.
Gold-Onwude: Sometimes the public criticism and jokes that we see are happening even in popular culture, like television shows such as Family Guy or Black-ish, which is a show about uplifting Black culture and here they are cracking jokes about a league that is predominately Black. I'm a fan of the show but it was disappointing to see those kinds of jokes and it continues to permeate that it's OK to make fun of a group of excellent women. First I want to ask, does it hurt when you see that?
Brown: Not as much as it used to. You look at the people who are making these comments and you're like, They must be jealous or something. It's been hard for me to understand, with men specifically, why they have such a problem with women being good at anything. Not even just sports, just anything. It's weird. I can't figure it out. I can't wrap my mind around it. Men can be good at things and women can be good at things. It's that simple. But the jokes are played out. I will say they haven't come up with anything new. It's the same jokes coming from a page with an egg as the icon. We must be doing something right if people are upset at how amazing and successful we are.
McCoughtry: I like how you put that. I had one last night, Lexie. I was saying how our season was going to start at the end of July and I was like, It's going to be weird not having any fans. Guys were like, You should be used to that.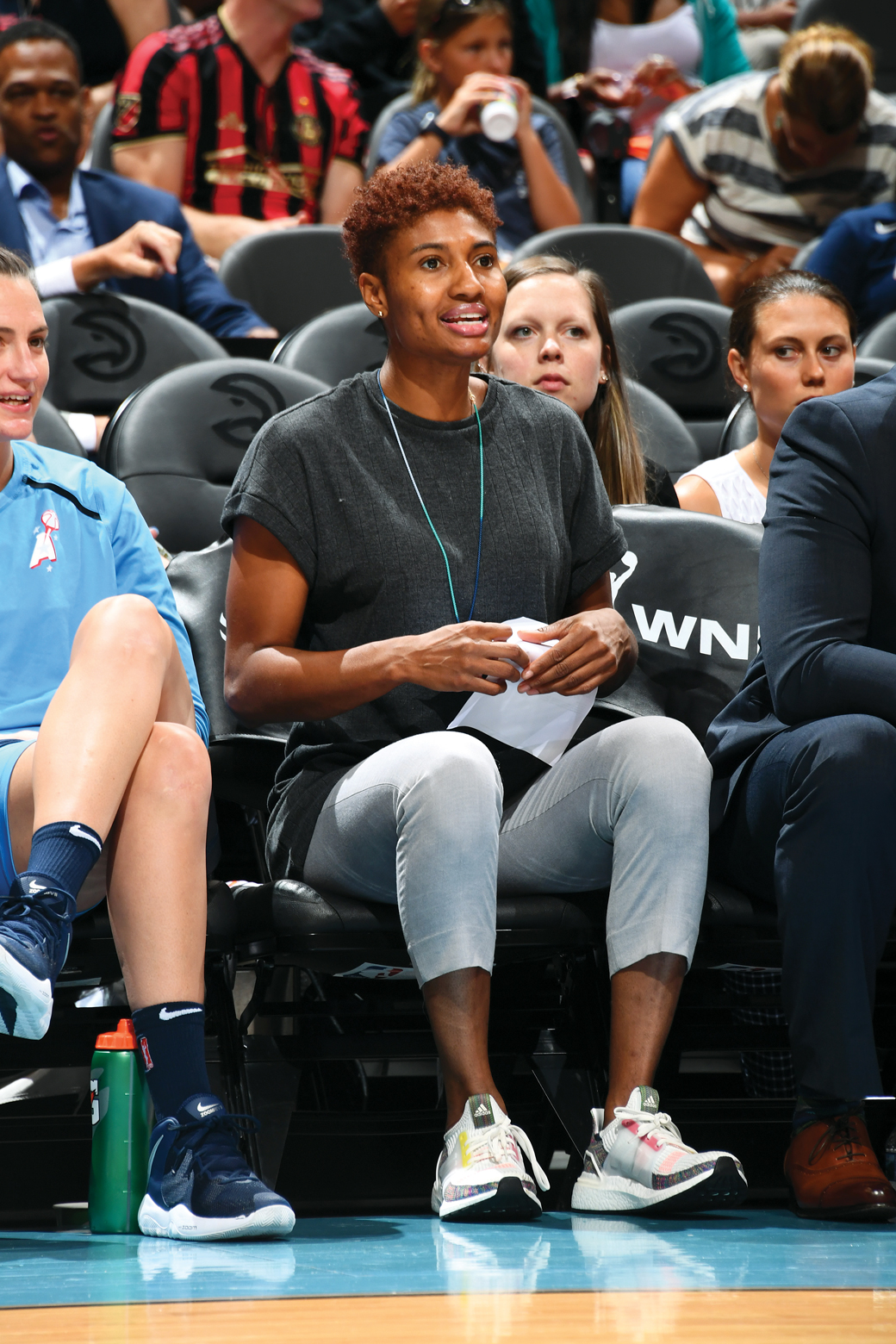 Brown: That's the other thing. They say something crazy and you're like, F off, and they'll either message me or tweet me later saying they were just playing and they're a huge fan. I'm just convinced that people want a reaction because they're bored and sometimes we give in to them.
Swoopes: It's easy to sit behind your phone or computer or something and run your mouth. It's easy to do that. But if you met that person or saw that person in the store or on the street or whatever, they're not going to say anything. To me, some of the comments that I read on social media, I honestly laugh at them. Like, really? It's so stupid. You have to laugh at it. For me personally, and I don't play anymore, but for some of the things like Black-ish; when I see that, I'm like, really? I don't feel like that hurt me personally, but it hurt us. I think that hurts the game—when we're still trying to grow it and get fans and talk to people about how incredible these women are, not just at basketball, but how incredible these women are. A show like Black-ish, that's what's funny to me. You want to make fun and poke at who we are and our game. That's the part that drives me crazy. I could care less what some of these assholes have to say on social media.
McCoughtry: Here's the thing, they want to compare us to greats. For example, I'm at a restaurant and I'm telling this guy, Hey, you should come to a WNBA game. He's like, Why should I come watch you guys play? Can you jump as high as LeBron? No. Can you run as fast as LeBron? No. Well, why should I come watch you play? I said, I run faster and I jump higher than you. You can't even compare to me, so why would you say that? He kind of got quiet [after that]. Just the fact that you're comparing me to a freak of nature like LeBron, but you can't even compare yourself to me, but you're knocking me—a woman who's doing incredible things in life and playing a sport.
I want to dig deep. I ask my male friends, When you guys were younger, what were you taught about women? That women couldn't do anything? They're like, No, we were just taught to be easy on girls, not too rough. So nobody ever taught you to knock women in sports? No. So where does that come from? Is it taught behavior? To me, it feels like racism. It's a form of racism. It's a taught hate.
—
Click here for part 1 of the WNBA roundtable.
100 percent of proceeds from SLAM's new issue will be donated to the Social Change Fund. Grab your copy here.
Photos via Getty.