Tyson Hartnett's got a ratchet. He can hit from anywhere on the court, off the catch or dribble. At 6-6, with strength and a good handle, he chooses his looks. He's not waiting for the defense. And the form is just about as textbook as possible.
The South New Jersey native says he worked on that jumper tirelessly from eighth grade and on to earn himself a Division I scholarship. The hours paid off when he got a ride to the University of Maine.
"Since 8th grade, my only goal was to play Division I and then play overseas somewhere," Hartnett says.
There he was, on scholarship to a D-I program, playing ball nonstop. He had accomplished his goal. His jumpshot had gotten him a spot on the roster, but it wasn't getting him any time on the court.
"After two years, I realized I wasn't really gonna play that much," Hartnett says of his time at Maine. "The whole reality of athletics hit me when I realized it wasn't about how hard I work.
"I was proud of myself for all the work I was putting in. But then I wasn't getting playing time and at the end of my sophomore year, my coach was like, 'Hey, you're never gonna play here.' And it wasn't, 'I appreciate all the work you're putting in.' It was, 'This is my decision and there's nothing you can do about it.'"
After absorbing that emotional gut punch, Hartnett took him jumpshot back to Jersey, where he transferred to Rowan University, a D-III school. He was All-Conference there for two years, playing well enough to go pro overseas.
For two years Hartnett played in Sweden, Argentina and Chile. But when he came back to the States, his passion and dedication to the game, he had learned, weren't enough to bring the success and adulation he thought came with being a high-level athlete. That's when he had an idea.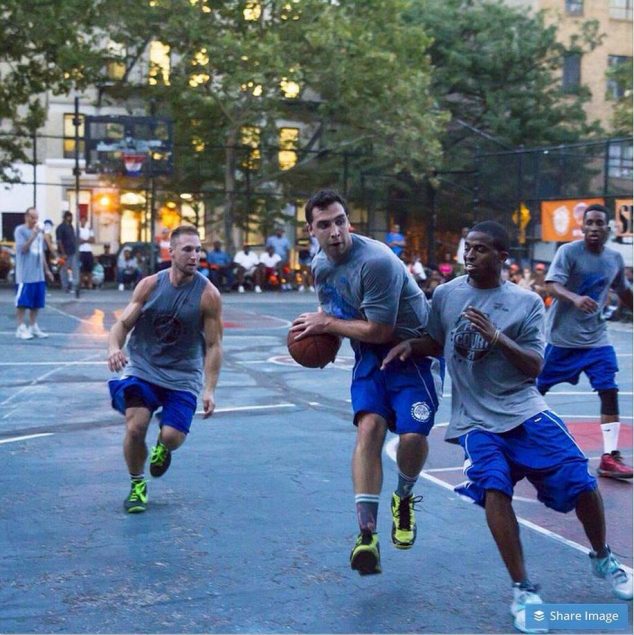 "After I wrote the book, I started to look into other athletes who were going through these mental struggles," Hartnett says. "It's so prevalent because we train our entire lives in this sport but then once it ends, we're left out to the wind. We don't make the NFL or NBA, so those are the athletes you don't even hear about. You never hear about the struggle they face because they're not big names. That's who I wanna help."
Hartnett founded Athlete Minded in August, 2015. He enlisted the help of three doctors to produce content that helps athletes who are still playing and athletes who have moved on from their careers. Athlete Minded provides advice for athletes looking to establish themselves off the field of play. Hartnett wants to help them find internships, build resumes, identify what they want to do with the rest of their lives.
Hartnett talks about the culture shock of no longer being an athlete. He uses the word "lost" over and over. He doesn't want other athletes to feel like just a machine. He wants to help athletes become well rounded people.
"I've lived it," Hartnett says. "Where I wanna go with this is a lot deeper. Into the psychology, the identity of being an athlete. Fear. Worry. All these little things that athletes don't realize. I had to learn the hard way.
"Talking about the deep emotional side, the mental side. Stuff people don't wanna talk about. I went through this. I was depressed. Terrified of practice. I was worried about not playing. It's not glamourous."
Because he didn't have anyone to turn to during his troubling times with the game, Hartnett is hoping no one else has to go be afraid of basketball again. At least on their own.
"If any athlete out there reads this, somebody has been through it, somebody they can relate to," Hartnett says. "I'm not putting myself on a high horse. I see myself in a bad way sometimes. I've made a ton of mistakes. I've done a lot of things that I should have known better. But letting others learn through my mistakes or the things I had to go through [is the important thing]."
Through all of it, though, Hartnett still gets out to play a few times a week. He still loves to play. He stills fills it up. He won Bobbito Garcia's Full Court 21 Tournament in 2014. He's still got the ratchet.
—
To get in touch with Tyson to talk about athletics, send him an email or check out his Twitter. Photo courtesy of Rebecca Taylor/MSG.
66