Annie Tarakchian has been known to divulge some particularly awesome insights about one of her classmates and friends at Princeton—Alex Wheatley is going to save the world; You just want to BE Alex Wheatley—to the point that, when she hears Annie's latest tribute, the one they call Wheats blurts out this response.
"Annie did not say that about me! Oh my gosh, that's so embarrassing."
Outsized expectations and good-natured ribbing aside, there is a very good chance that, somewhere down the line, Wheatley will be making the planet a little bit better. Last December, she was named to the University's Scholars in the Nation's Service Initiative (SINSI), which accepts up to five juniors each year and helps foster careers in US government. Next fall, Wheatley will enter Princeton's Woodrow Wilson School in the Master of Public Affairs program. Her GPA, as you might have guessed, tilts heavily toward 4.0.
This past summer, as part of the SINSI initiative, Wheatley spent 10 weeks in Washington, DC, with the National Institute of Health, where she worked a daily 9 to 5 shift and was able to make serious headway on her senior thesis. CliffsNotes version: mathematical modeling of a virus in Mexico. Wheatley also worked with a project aimed toward bringing policy makers, scientists and global health experts together so that, she says, "You can implement programs in countries that really need help."
Wheatley has always seemed wise beyond her years, an observation that she quickly refutes—"I left high school feeling like I had no idea what I wanted to do!"—but this is why she is the perfect example of a Princeton scholar-athlete. Seizing upon so many opportunities at this school has helped her begin paving the path she one day hopes to pursue.
In the summer of 2014, Wheatley spent eight weeks in Kenya through a school internship, where she instructed students and participated in field work with a conservation club. She enjoyed the experience, but noticed that when she talked to Annelies Paine, a Princeton rower and roommate on the trip, their conversations invariably shifted toward global issues, many of which concerned health.
"I thought to myself, Wow, I really like talking about these things—where can I talk about them more?" says Wheatley. "Princeton has allowed me to try things out that I'm interested in. You can grow so much just from listening to people around you, here. They're brilliant, and to be a part of this environment, on this campus, is just a blessing in and of itself."
This is the type of personality that wakes up some mornings and, with the prospect of a three-hour lecture on tap, pumps her fists. YES! "You grow so much from the intellectual atmosphere here," Wheatley says. "I don't feel like I know exactly where I'm going (for a career), but I do know what I like to do, and hopefully that will take me somewhere that I like."
It's probably worth mentioning at this point that Wheatley is also a starting forward and vital contributor for the Princeton women's basketball team, which enters this season with serious momentum after finishing 2014-15 with a 31-1 record (!), punctuated by the first NCAA Tournament win in program history.
Mention Wheats to teammates and coaches, and you sense faces breaking into smiles, even over the phone. "Alex has done our program so right," says Courtney Banghart, Princeton's head coach.
Since taking the reins of Princeton in 2007, Banghart has worked painstakingly to create a culture in which player growth is paramount. It has begun to define the Tigers, and in Wheatley's case, it meant shifting a mentality from humility to unabashed, indomitable confidence.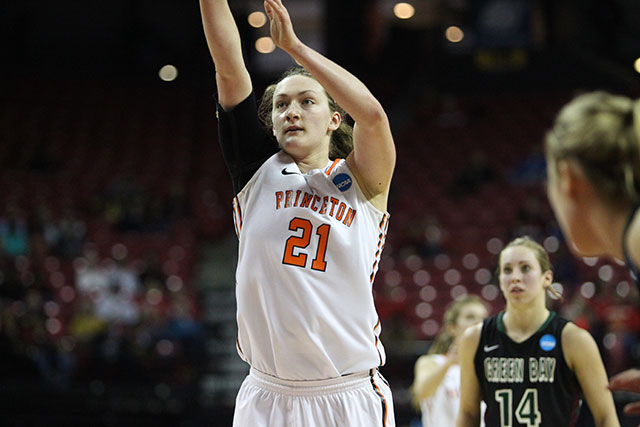 Humility—a wonderful life skill, but, as Banghart notes, a performance inhibitor during the rush of action that defines this game. Wheatley can need a little prodding to become, well, unstoppable.
"She's just a machine," says Tarakchian, a 6-0 senior who guards Wheatley in the low post during practice. "And she's just a good person to her core. I always make fun of her: she's, like, so nice that it's kind of rude. She'll think something over eight times before she does it, because she wants everybody to be happy with it."
"She's selfless to a fault," says Michelle Miller, another Tigers senior. "Coach is always getting on her—You need to elevate and shoot that!—if we get the ball to her inside, and she kicks it out because she's guarded. We all want her to be more aggressive, because she has the talent and the ability to really be a presence inside. And we need that."
For Wheatley, it's meant overcoming what she describes as her own nervous personality. "And basketball has helped me push past that," Wheatley says. "It's such a different culture, and such a supportive network. Playing at the level we do at Princeton is not an easy task, but you think, Sure, I can do this. It lends a new perspective: and the one among my teammates and coaches is: Try to do the impossible."
Last season's NCAA Tournament Round of 64 game against Green Bay was the perfect example of surge. Wheatley started slowly, her first-half performance marred by several turnovers, missed field goals and fouls.
As the first half had unfolded, Miller observed Wheatley's match up in the low post, and came to a conclusion: She's got this girl. At halftime, she told her best friend just that. "It comes down to trust," says Miller, "and I was very confident that Wheats was going to have a really good second half."
Wheatley finished with 15 points, 10 rebounds and 2 assists. "She stepped up," says Miller of this latest display of Wheats Mode.
"She's—a—machine," says Tarakchian, stressing each word. "Once Alex gets that edge—and sometimes it takes an elbow to the neck to get her going—she's just unstoppable."
This is what Banghart wants to see from Wheatley in her senior season, for which she's been named a team captain. "Alex's kindness, experience, and gentle soul will all factor into her captaincy, but her leadership, for me, is going to be how committed she is to her numbers," says Banghart, who wants a steady 18 and 8 a night from Wheats. "Literally, she's the first kid I've ever said that to. But Alex is just so humble, and so gentle, that it actually has inhibited her production." (Wheatley averaged 10.9 points on 56 percent shooting with 5.1 rebounds, 1.4 blocks and 1.0 steals in 2014-15. She was a First-Team Ivy League selection.)
Wheatley is raring to take up the mantle. "You don't know what you're capable of until you push yourself outside your comfort zone," she says, "and at Princeton, that's something I've continued to grow more comfortable with."
"It's the way that Wheats works, the way she genuinely cares for people," says Tarakchian, who is a captain alongside Wheatley and fellow senior Taylor Williams. "She's my captain, too. I look up to Alex and respect her like everyone else does."
***
Wheatley has always stood out because of her athleticism. In high school, she ran the 400 and 800 meters and high jumped in track, at all-league levels. On the court, the 6-2 post flew past guards in transition and left posts flat-footed with her elevation on the low block.
Niveen Rasheed, Princeton's first AP All-America and a senior during Wheatley's freshman season, remembers watching Wheatley play, and shaking her head in admiration of the talent on tap. What a force it could be, once realized. She doesn't know how good she is. "As a freshman, the hardest part is having practices go slower, so you can adjust to everything that's being thrown at you," says Rasheed. "But Alex had that natural ability to get it right away, and just run with it."
"You show her something," says Tarakchian, "and she'll have it memorized in five minutes."
The only time Rasheed can ever remember yelling at Wheatley is when the frosh didn't show an urgency to score. "And she could score every time she wanted," says Rasheed, "But she had this incredible humility about her. You wanted her on your team in practice and in games. I'm glad to have called her a teammate."
As Princeton has become the Ivy League's reference point, and a burgeoning player on the national stage, Banghart has grown accustomed to a frequent complaint. Princeton wins because Banghart always get the best players. It rankles.
"What Princeton gets are the people who are willing to put in the work to be the best of the best," says Banghart. "They don't remember the Alex that I saw during her freshman year. They don't remember my conversations with her, that in order for this team to be great, she had to continue to get better.
"And Alex is such an important example of how one can grow in this program, and because she grew as a person, she also grew as a player. She had to learn to demand the ball, to be OK with finishing through somebody in the post. That's so, so anti-Alex Wheatley. She's the most gentle human being on the planet. So, to make this transformation in four years, it takes a daily commitment, and she's been so dialed in to trusting that daily process."
Banghart kept challenging Wheatley to add new dimensions to her game. Everyone keeps talking about how athletic you are. OK, but you were born that way—so what are you going to become, beyond that?
"She works so hard," says Banghart, "and we wanted to see that work ethic pay off with her being a go-to player in the post, a versatile force in the mid-range. And she's become a really, really effective offensive threat, from 18 feet in. She's still the great athlete, with an unbelievable motor and all of that. But that's not what she leads with all the time, anymore."
Wheatley enters this final season alongside her four fellow seniors. Tarakchian, Miller, Amanda Berntsen and Williams. You want squad goals, they're 'it'. In addition to being one of the most talented groups in DI, they will likely be leaders in their respective fields 10 years down the line. To wit: when Miller is interviewed for this article, she has just finished a grueling organic chemistry exam. For an optional class. Ah, midterm week.
Miller reflects upon the seniors' career arc: making the NCAA Tournament as freshmen, but then missing out on it as sophs. "That taught us a huge lesson," says Miller, "and we talked a lot about that last year. How you need to work hard for everything, to not take anything for granted. To come back last year as juniors and win that Tournament game, it feels like we've had a fulfilling journey to this point.
"And now we have the opportunity to build upon last year's success and take it a step further this year. We've been up, and then down, and then back up."
They have a group text labeled 'Cat 5,' and sometimes the notifications blur into the hundreds. The five of them could not be more different; the five of them could not be closer friends.
"I don't think we go more than an hour or two without some conversation blowing up," says Wheatley. "Basketball has brought us all together, and it's special to think that my classmates are some of my best friends on campus. However many years down the line, I know we'll still be very, very involved in each other's lives. I'm so thankful to Princeton for being able to share this experience with Annie, Taylor, Amanda and Meesh."
Sometimes, though, Wheatley needs a break, and she'll mute the text chain because "too many messages gives me anxiety," she says, laughing. "Her phrase is, 'I don't 'people' well,'" says Miller, who's also chuckling. "And I do too, sometimes. So, I like to use her phrase."
***
Three years. Haven't they gone by in a blink.
Banghart remembers ushering those five freshmen into her office and telling them, We're gonna dream out loud. We're gonna hold you to a standard that seems impossible—but it only seems impossible if you're not dreaming big enough.
A message that was delivered before Princeton had won an NCAA Tournament game.
"And I'm telling them I want them to bring us to a Sweet 16," says Banghart. "It's the kind of story that can only go bad, unless it goes right, and these guys have made it right. It's really remarkable, what they've brought this program to."
Each of these players will tell you that it is Banghart—this community she has forged, the confidence they find within the framework, the lifelong friends they've made along the way—who has been instrumental to their growth. If ball is life, then relationships are the key that unlock the door to success. And no one understands this more fully than Banghart.
"She studies us—it's weird," says Tarakchian. "One day before practice, we were talking, and she turns to Taylor and says, 'Taylor, you stress clean, don't you. That's your form of procrastination.' Then she turned to Amanda, and then to Meesh, and then to me, and it's, 'You, you, you' and she's pinpointing it every time, just nailing it.
"She knows us in and out, our tendencies too, and that kind of stinks sometimes, because she knows what to say that'll get to us. But it's also awesome, because you know she cares so much. To take that time and get to know each of us inside and out like that—not many coaches are like that."
The seniors' motto is Last One Best One, and there are indications of the poignancy settling in. Tarakchian, who this past summer won a gold medal at the Pan-Armenian Games, remembers preparing to take the court, and catching herself. This is the first time in three years I've played without those four alongside me.
"It really knocked me back," says Tarakchian. "I was like, Wow, this is my last run with these guys."
"That's the most important thing: the people you're playing with," says Miller. "Our bond is really special, and I couldn't ask for a better group of girls to be my teammates. That sounds cliché, but I honestly do feel that. I just want to make the most of every day this year, especially on the basketball court. I don't want to see it go by and have any regrets."
"This is their turn. This is their team," says Banghart. "They are going to have to have this team play to their personality, and this senior group is known for being really nice. So, they're gonna have to learn to say hard things, and do hard things."
This is where Blake Dietrick's graduation might be most keenly felt. By the end of last season, Dietrick dominated games like one of the best players in the country, but it was her vocal leadership that cemented her legacy. "Not having her leaves that void of somebody willing to hold everybody accountable," says Miller. "And I think for us, it's not going to be any one person directly filling that role, but all of us collectively stepping up, in different ways."
A note on this particular brand of Princeton leadership. Miller, Wheatley and Tarakchian all cite Rasheed, Lauren Polansky, Kate Miller and Megan Bowen, the seniors during their freshman year. How that quartet practiced as hard as they played, how that ethic became embedded in the program fabric. "We're about giving 100 percent, of working as hard as we can on defense," says Miller. "Now, as seniors, we want to instill that in the freshmen."
A supremely talented group of six freshmen joins Princeton this season, the kind that could kick the team's fortunes into overdrive. Wheatley, Tarakchian and Miller each highlight bringing these frosh along as a pivotal part of '15-16.
"And that goes for this senior class in general," says Tarakchian. "Captain is, honestly, just a title: it's us five leading this team, through and through. Alex, Taylor, and I are gonna go to the circle before games and tell the refs we're not gonna foul too much, and all that good stuff, but the five of us are all in for this thing."
Says Rasheed, "In 10 years, no one will remember individual players as much as they will the program. It's about reaching out to the younger ones, showing them how we hold ourselves off the court. We have certain mottos that get passed down, and it becomes a way of Princeton basketball. These things that are so key to being successful, to get the most out of college. My biggest takeaways are what my teammates taught me, like how to lead and manage people. Understanding how to make legacy last, what the classes below you will inherit. I know these seniors will keep it going."
"We're just paying it back now," says Tarakchian, "and it's so much fun."
***
Her teammates are certain that one day, she will save the world, and it seems fitting that the scholar who once professed to have little idea of what her future held, upon leaving high school, had a favorite quote that has served as the perfect theme for her time at Princeton.
You have brains in your head, you have feet in your shoes. You can steer yourself in any direction you choose. You are who you are. And you know what you know. You are the one who'll decide where you go. The eternal sage, Dr. Suess.
This was one of Wheatley's chief takeaways from her internship at the NIH this past summer. With an eye on the two years she'll spend in a government fellowship, in between two years in the Woodrow Wilson program, she canvassed everyone she could find for recommendations about how to spend that time.
"And something that stuck with me is that you need a touchstone in your health career, you need to have had experiences in the field, just to look back on and remind you what you're working for, and why it's important," Wheatley says.
It's about the people, the bonds that develop, and the strength that flows through them. How this basketball team will serve as an ultimate touchstone for Wheatley's life. One year left with these teammates and best friends. They've still got some places they'd like to go, some more history they hope to make. So, the final word might as well go to another sage, who happens to be one of Wheatley's teammates, and part of this special senior five.
"Wheats has conquered every part of this place. It's so hard to put into words what she's able to do on the court, but she just freaking slays," says Tarakchian, before adding, quite fittingly, "and her course work? She just dominates that, too."
Photos courtesy of Beverly Schaefer