The morning after helping the Princeton women's basketball team to its first NCAA Tournament win in program history, the latest feat in a season defined by the unprecedented, Annie Tarakchian (aka Tarak Attack!) and Blake Dietrick (Shake N' Blake!) stood outside a locker room and, between bouts of laughter, explained the story behind a bet.
Well, actually…this wasn't a bet. It was a deal.
"So," Dietrick says, launching into the story. "We were 2-0 on the season, and I told Annie, if we go undefeated—and I didn't say she had to—but I asked her, Will you bleach your hair? And Annie was like, 'For sure!'"
"Absolutely," says Tarakchian.
Princeton finished the regular season 30-0, and thanks to some quick thinking from Dietrick in the press conference following the Ivy League finale at Penn, the deal got fast-tracked from after the season to before the NCAA Tournament. When ESPN caught wind of the arrangement, Tarakchian's hands were tied. Soon, her hair was no longer brown. But she didn't mind, not that much. "It's a great story," she says with a laugh.
"She's a woman of her word," says Dietrick.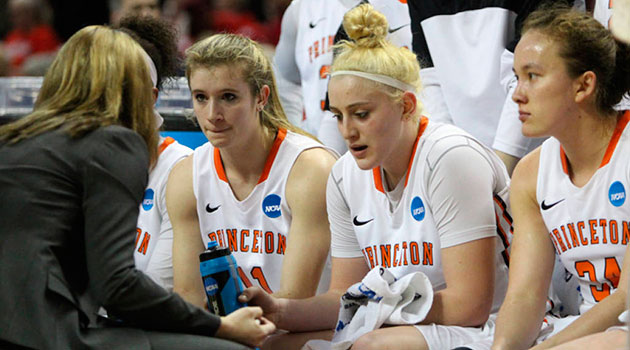 Interviewed in tandem, the camaraderie between Dietrick, a senior, and Tarakchian, a junior, quickly becomes evident. They riff and joke seamlessly, running with thoughts the other produces. That two of this team's best players share such ebullience helps paint a picture of camaraderie.
That one of their teammates, a soft-spoken 6-0 guard with a great chance at being named a Rhodes Scholar this fall, feels just as at home within the framework says just as much, if not more.
"OK…" junior Michelle Miller says, taking a deep breath. "Our student-athlete dean said, basically, that I would be a strong candidate for a Rhodes Scholar. And yes, I do plan on applying for it. But I haven't applied yet." (Miller was the recipient of Princeton's prestigious Shapiro Prize last fall.)
Before delving further into Miller's academic excellence, or proceeding toward a diagnosis of her game, first: the demeanor.
"I'm very, very quiet," Miller says, minutes after helping Princeton to that historic NCAA Tournament first-round win, 80-70 over Green Bay, last Saturday.
Miller's former Princeton teammate, Niveen Rasheed, might have explained it best in a tweet during the first half, during which Miller dropped 15 points on 6-10 shooting.
MEEEEEEEEEESH! YOU BEAUTIFUL SILENT HUMAN!
Miller chuckles when told about Rasheed's words. Half an hour after the Green Bay game ended, she stood outside the Princeton locker room, barefoot. (A search for ice had proven unsuccessful.) Miller was fighting off the last remaining effects of a virus that had kept her from practicing for the past several days. In fact, she'd been a scratch for the Green Bay game until just 12 hours before tip-off.
Against the Phoenix, she willed herself to 20 points, 7 rebounds and 2 assists. For long stretches in the second half, she guarded Green Bay sophomore forward Mehryn Kraker, the game's high scorer with 21. The most Miller allowed: "It was pretty tiring."
So, Miller isn't the most vocal?
"If you have five people screaming the whole game, that's not fun for anybody," says Dietrick. "You need people who lead more by example than with their voice. That's not to say we don't try to make Meesh louder. We get on her a lot about that. And I work on curbing my voice. It's perfect!"
Says Tarakchian, "Meesh has shown her dedication in different ways. It's the way she practices, the way she plays in games. She's just so focused. You can tell she cares for this program. She's not outward about it, but she gives a lot for us, and she's ready to go every day."
Dietrick nods along to that thought. "Michelle's just really consistent. We always know what we can get from her."
On the recruiting trail, Princeton head coach Courtney Banghart searches for skill—often the multifaceted sort. A player must be accustomed to winning; you don't want to have to teach that. There should be a level of competitiveness that sets the prospect apart from the pack.
And then there is the intangible. An enthusiasm for life. The great thing about Princeton, like any family, is that this enthusiasm manifests differently in each member. It all blends into a cohesive whole.
"This whole year has been possible because of what everyone has done," says Miller. "It's one through 15. We rely on our depth every day to get better. That's showed in our success this year."
Says Banghart, "We've got 15 women in one place for nine months. We do a great job of making sure it's a group of 15."
***
Miller finished her career at Pasadena Polytechnic (CA) School, better known as 'Poly', with 3,331 points. It was the second highest tally in Southern Section history, fifth all-time in the state. And yet, when asked to describe the impact of her former star, whom she'd once referred to as "The Kobe Bryant of Pasadena," Poly coach Kim Weber pointed to a defensive performance.
In Miller's sophomore season, Poly faced Fresno Christian in a state playoff game. Unsure of how best to combat Fresno's formidable 6-5 center, Weber decided to have Miller guard her. Miller did so—quite adeptly, as Weber remembers it—and she still managed to score 26 points in a 53-49 loss.
"I never took charges, and I took three charges in that game," Miller says, with a chuckle.
Something you learn quite quickly about Miller: Yes, she is an elite scorer who, once she finds her rhythm, becomes near unstoppable. No, that does not begin to describe her overall impact.
Asked about the defenses Miller faced on the path to all those points, Weber launches into a lengthy list. Boxes-and-ones, triangle-and-twos, face guards. Three defenders at a time. "The one thing I remember, she really let the game come to her," Weber says. "She was always hitting something."
Weber remembers a kid who, once Poly basketball season ended, would take off her kicks and jump into the swimming pool. Miller set the school record in the 50-freestyle and was a two-time MVP. And volleyball, in the fall? Miller was a three-time Southern Section nominee at setter, despite never playing club or pursuing the sport before her freshman year.
She maintained a 4.9 GPA throughout high school, often juggling more Advanced Placement classes than fingers on one hand.
Was she ever overwhelmed?
Miller takes a deep breath and thinks. Well, there was this one time, her senior year. She'd just helped Poly to its first swimming championship in 20 years. But she had a basketball All-Star game to get to that evening. There's Miller, clad in her hoops gear after dashing to the locker room to change, still placing a finger on her team's trophy.
Miller was more offensively geared coming out of Poly, but Banghart has challenged her to take on a more comprehensive role. Miller was already on it. Before her freshman season, she filled out her goal card with a thought: win an NCAA tournament game. That means defending key players like Mehryn Kraker. "When your best shooter defends with toughness, you're a better team," says Banghart.
Weber remembers the way the interviews piled up, as Miller continued her rise up the California prep scoring ranks. Asked about that now, Miller gives a little sigh. Weber: "She was interviewed a lot, and her first comments were always about her teammates. She rarely spoke up, but she was respected. It made her teammates want to play better for her. She was always playing her hardest. I always thought she'd do well at Princeton. It's clearly been a good fit."
Then, Weber with perhaps the key line. "She's just a good person."
***
"So, we have a 'buddy' we're given at the beginning of the year," Dietrick says. "And it changes every year."
Another hallmark of the program. Veterans taking newcomers under their wings, passing down lessons. Might be coffee dates; could be making sure you're awake for early morning workouts. During Tarakchian's freshman year, Rasheed was her buddy. Dietrick had Lauren Polansky, the three-time Ivy League defensive player of the year.
Tarakchian, succinctly: "It works."
Adds Dietrick, "We're all each other's buddies, though. Everyone fits in with everybody else."
Rasheed has said that on campus, you'll never see a Princeton player without a teammate within two feet. Dietrick remembers heading to Princeton's Elite Camp the summer before her senior year of high school. She didn't know anybody, but Nicole Hung, then a Tigers incoming freshman, looked out for her.
Banghart always wants to know whether a prospective recruit fits in with the team. "There have been times where people haven't clicked with us, and we've told Coach that, and she's like, 'OK, that's it,'" says Dietrick. "It makes a difference, that we're just as much a part of that whole experience. These are people we have to live four huge years of our lives with. They'll carry on our legacy. So we want to know: Is she gonna be a good teammate? Will she be up at 7 for lifting?"
At which point Tarakchian interjects, "Is she nice…"
Dietrick seizes upon this. "Yeah! Is she a nice person!"
Tarakchian continues seamlessly. "It's basic stuff: Good teammate, wants to win."
Dietrick: "Laughs easily."
Maybe this is another sort of intangible. The reason so many fans, President Obama included, have flocked to this team.
They see enthusiasm. Warming up before the Green Bay game, Dietrick's eyes alight when some of her favorite songs come on the Xfinity Center loudspeakers. The senior, always chatting. They see fastidiousness. The way Miller played defense on Kraker. Eyes sweeping, feet moving, and though you had to strain to hear it, the calls of Ball, Ball and Shot!
"I'm still quiet, and it's just naturally how I am, but as an upperclassman, I try to lead," says Miller. "It might not always be vocally. It might be by example, with a hustle play, or what I put into the offseason. My teammates trust me. And I think that's what's important. I'll never be the loudest, or the most vocal, but when I do say something, I try to make that message count."
They see a great story.
***
Maybe the most telling was a banner, frequently held aloft by a Princeton fan in Maryland. "Defense Wins Rings." After an offseason of re-dedication toward that principle, it would have made Banghart smile. So did Tarakchian's avowal, post-Grenn Bay. The 6-0 "tweener" (she's become a big fan of the word) finished with 19 points, 17 rebounds, 5 assists and a steal, and the first thing she told Banghart in the locker room was, I promise my defense will be better in the next game.
Facing No. 1-seeded Maryland in the next round, on the Terps' home court to boot, Princeton battled. Banghart loved what she saw. The Tigers got good shots and executed the game plan they'd been given. They lost their first game of the season, 85-70, pushing their opponent the entire way. 31-1.
Maryland coach Brenda Frese had seen Princeton on film earlier this season, when she'd studied film of the Tigers' emphatic non-conference win over Michigan. "I told our staff, you wait until the bracket comes out. Whoever plays Princeton is gonna have a game," Frese said.
The Terps, not known as proficient from deep, finished 12-20 from beyond the arc. Dietrick: "If a top-five team in the country has to shoot 87.5 percent from three (in the second half) to beat you, then more power to them."
Banghart: "We owned the tempo of that game. I wouldn't take back one shot that we took. We did what we wanted to do."
Dietrick and Tarakchian stood outside the locker room, heads held high. They'd just been talking about this run. They knew how special it was. The stories they'd tell their grandkids one day.
Annie's hair. Both players burst out laughing when Dietrick offers that up. "No matter what I'm gonna say to Annie, I love her to death. I'd do anything for her," says Dietrick.
"We did a lot this year," said Tarakchian. "It was a fun ride. I couldn't have picked a better group to play with. It's gonna hold a special place in my heart."
Said Banghart, "I leave this season with enormous pride, and not just in the numbers, but in how they did it. I look at this team as a real connector. I will never forget the number of people who totally invested in this team, and we played in their honor."
***
Maybe it was the sign in the stands for both games in College Park. "It's Miller Time!", the number 34 printed to the left of the slogan. Miller's parents had flown in for the game, but this sign was the work of a fan.
This past summer, Miller befriended Sarah Johnson, then an incoming freshman at Poly. They met through Koko Archibong, a Poly and Penn alum who held training sessions at the Poly gym. Poly is K-12, but Johnson had attended a different middle school before transferring in, so she was understandably a bit nervous about a new place, new friends to be made.
Imagine how it meant the world when Miller agreed to mentor her. "She answered any questions I had," Johnson says. "Even as she was so incredibly busy." (As in, MCATs to study for. A chemistry major, Miller plans on pursuing medicine. Maybe ophthalmology, like her father. Perhaps neuroscience.)
On Selection Monday, Miller received a text from Johnson. "She sent me a picture of when I was on ESPN," says Miller, who soon learned that Johnson was headed to Maryland, the NCAA Tournament's first rounds coinciding with Poly's spring break. "That was so cool," says Miller.
Selflessness. With players like Miller, one sees how a legacy builds. Rasheed testified to that, as she stood on the court following the Maryland game. Like so many Princeton fans who'd made the trip, she wanted to hail the players as they emerged from the locker room.
After watching Princeton beat Green Bay, Rasheed decided she had to book a trip to College Park for Monday night's game. She landed 45 minutes before the opening tip—just enough time to throw on her old orange practice jersey, No. 24 on the back, and tote her luggage into the arena, where she joined a cadre of fellow former Princeton players.
Rasheed remembers listening to Banghart's vision, the palpable enthusiasm imbued, and thinking, How cool, to be a part of that. Rasheed finished her career in 2013 with four Ivy League titles. She's the greatest women's basketball player in Ivy League history. Now, she fields interview requests pertaining to Princeton with: Anything for the program.
Like so many, across so many walks of life, Rasheed cheered the incredible rise of this '14-15 team. Held her head high after the end. She knows there so many more chapters, still to be written. Now Dietrick joins the ranks of the alumni, and she will keep a beady eye on the group. When she returns to campus, she'll be welcomed right back into the fold.
Miller says, "I couldn't be happier to do it with this group of girls. It makes me know I'm in the right place."
The team's standard practice break reveals that. Tigers on 3. Family on 6.
Images courtesy of Beverly Schaefer