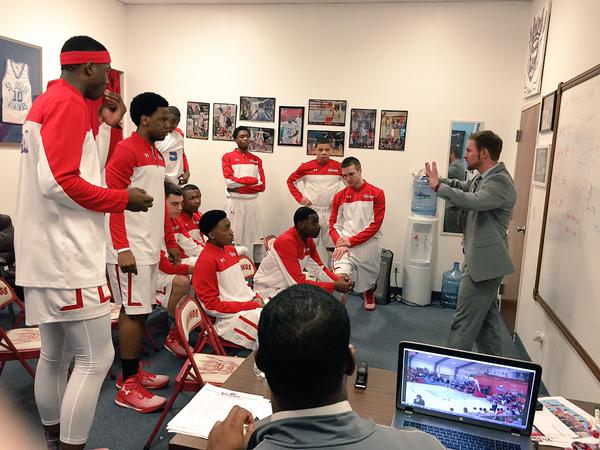 Villa Angela-St. Joseph's (Cleveland, OH) seniors Carlton Bragg (committed to Kansas), Dererk Pardon (Northwestern) and Brian Parker (Marist) will be representing their families, school and city at the Division I level next season. It's something the area hoops standouts will continue to do for the rest of their lives, wherever the game they've grown up playing together as kids eventually leads to as adults.
On a day dedicated to the life and legacy of Dr. Martin Luther King Jr., however—during a game televised nationally on ESPNU—the trio from Cleveland will represent all of those things and more, collectively. Alongside their brothers and teammates on a national stage, the Bragg-led Vikings from VASJ (ranked No. 11 in the nation) will collide with Oak Hill Academy (No. 6), the national powerhouse that's produced NBA stars like Carmelo Anthony, Kevin Durant, Brandon Jennings, Ty Lawson, Rajon Rondo and many more.
Oak Hill will arrive in Springfield, Massachusetts for the 2015 Spalding Hoop Hall Classic with an extremely loaded and superbly coached group again this year. Led by Dwayne Bacon (Florida State), Daniel Giddens (Ohio State), Josh Reaves (Penn State) and others, the Steve Smith-coached Warriors will pose a serious, daunting test for VASJ.
"I told our kids we are representing more than VASJ in this game," VASJ head coach Babe Kwasniak told SLAM, in anticipation of his team's MLK Day matchup with Oak Hill. Kwasniak is a former Army point guard who competed memorably with Steve Wojciechowski during his collegiate career. He was also featured in a chapter of John Feinstein's award-wining book, The Last Amateurs, during his playing days.
"This game is about showing the country how we play high school hoops in Cleveland," he added. "Our kids will make us proud, they always do."
During the Vikings' final home game before the Oak Hill matchup, Bragg and company offered another performance to be proud of. With the temptation of looking past its opponent toward the lights of ESPN looming, the Vikings handled their business against a reputable conference foe. They led 26-5 after one quarter before winning the game by 40. But Kwasniak and his team are well aware of the type of competition that now awaits.
"Oak Hill equals talented," Kwasniak said. "I asked a friend who I consider pretty knowledgeable when it comes to high school hoops if we can play with them—he said No. I hope he is wrong, because the entire country is going to get a chance to see it."
Despite its size and enrollment, VASJ is a storied program that's competed against the very best in the country before. Coach Kwasniak's father, Tedd—who was a state championship-winning head coach at VASJ, and who also served as an assistant on two different title-winning staffs (including the one now led by his son)—understands better than anybody the caliber of players that Oak Hill features.
"Besides LeBron, who was obviously the best, the player I remember coaching against that stood out more than anyone else while I was at Joe's on the high school level was Kenny Anderson," Tedd Kwasniak said. "We played Anderson and Archbishop Malloy in a tournament, and he just had this air about him. He carried himself with that New York City aura, and he just had the ball on a string. He was so good."
"We also played against Rasheed Wallace, Stephon Marbury, Nerlens Noel, and Andrew Wiggins. We scrimmaged Jalen Rose and Detroit Southwest when we had London Fletcher on the team. And Carlton, this group, they played against Nerlens when they were freshman. So they should have an idea of what to expect."
The elder Kwasniak first served as an assistant under Mike Moran in the 1980's at VASJ. After Moran left to build a D-III dynasty at John Carroll University, Kwasniak assumed head coaching duties. He won multiple state championships as a head coach, including titles with sons Babe and TJ as players. He also secured his latest state championship ring as an assistant under his oldest son when Bragg, Pardon and Parker were sophomores.
"They're getting there," Tedd Kwasniak replied, when asked how the 6-10 Bragg and 6-8 Pardon compare to that elite group of high school superstars he just referenced. "They're down that list right now, of course, but they have the skill-set to belong with those types of high school players. Carlton especially. But they're not done growing, and there's goals they're still working to accomplish."
What makes USA TODAY's No. 11-ranked team special is that for as good as Bragg is—and it only takes a couple seconds to confirm he's every bit the Top-20 recruit he's considered by all scouting services—the Vikings are more than simply one transcendent talent. Pardon will make a major impact at Northwestern, and the reigning Ohio co-player of the Year, Parker, could find himself spear-heading a Cinderella charge through March before his college days are complete.
"Clark Kellogg was at our practice before Christmas and says that this team has a chance to be the best team in school history," said Kwasniak of the legendary Vikings alum that anchors CBS Sports College Basketball coverage. "We understand what that means when someone like Clark says that. But we're just trying to go 1-0 each time we step onto the court."
Kellogg, as a high school player, was what many people throughout Northeast Ohio consider to have been LeBron James before LeBron James was ever born. Kellogg went on to star at Ohio State before an NBA career with the Indiana Pacers. He is among names like Desmond Howard, Kevin Edwards, Eric Reilly, Tony Miller, David Lighty and many more to have played basketball for VASJ. It's high praise to be sure, but not a statement that old man Kwasniak isn't willing to cosign.
"We played Rasheed Wallace and Simon Gratz three times the year we won the state championship," Kwasniak said. "They beat us by eight the last time. Tony Miller played Steph Marbury tough the year he won it. Melvin Levett's team, when Babe was a point guard, Melvin was incredible. Desmond's team, London's, Clark's, they were really, really good. But this team does have a chance to separate itself and be special this season."
Last week, Bragg held a press conference in the gym he's grown up in over the last four years to announce his commitment to Bill Self and Kansas. The announcement ended a 24-month courtship from college coaches like John Calipari, Sean Miller, Thad Matta and others from all over the country. The talented, polite and mature young man from Cleveland is now afforded the opportunity to focus exclusively on the task at hand with his friends.
"I am looking forward to representing Cleveland while I'm at Kansas next year," Bragg told SLAM. "But right now, I'm just focused on representing my school and my teammates while we're working to accomplish the goals we have in front of us. We have a lot of work to accomplish as a team this season, and we know we have a long way to go."
Despite the fanfare surrounding life as a major college recruit in the digital age, Bragg is noticeably humbled to be hearing his name and team mentioned alongside the greats from his high school. He knows both who Clark Kellogg is and what he was as a player; the same could be said about Howard, Fletcher, the Golic Brothers, and countless other professional stars from VASJ. He even spent time this summer watching YouTube highlights of Melvin "The Helicopter" Levett.
"I've learned about all the great players and teams who came before us at this school," Bragg said. "I've had the chance to talk with the Mr. Kellogg, and I understand the history. I even watched YouTube highlights of Mel Levett over the summer after coach was telling me about him. He was such an amazing finisher. So we know the tradition we're representing."
Oak Hill is brimming with exciting players and an illustrious history as well in its own right. Under the direction of Coach Smith, the Warriors finished 41-4 in 2013-14, ranked as high as No. 4 nationally by some outlets. Along with Bacon, Giddens and Reaves, Oak Hill also features Andrew Fleming (Iowa), Terrence Phillips and Rodney Miller. Collectively, Oak Hill is a lot to handle, even for a team featuring three D-I recruits paced by a player like Bragg.
ESPN will kick-off its national high school hoops coverage with VASJ and Oak Hill on Monday at 1pm on ESPNU. Keep watching, because we may end up seeing a couple guys in this game in the League some day, too.
Brendan Bowers is an NBA writer who covers the Cavaliers and the NBA in Cleveland for SLAM. Follow him on Twitter @BowersCLE. Image via Getty.