In honor of BHM, SLAM presents: THE HBCU CAPSULE COLLECTION
The Mecca is a unique place. From the laughter and vibes on the yard to the swag-surfin' at the games in Burr Gymnasium, suiting up for Howard University is one of the best decisions I have ever made.
When I stepped onto the campus during a recruiting visit, I instantly fell in love with the atmosphere and the different people that I came across. Howard is a place where I did not have to worry about trying to fit in, and on the court, I've never had to worry about trying to change or alter my game. That has been essential to my growth over these past four years.
Throughout the years, my coaches and teammates continue to encourage and remind me that the sky's the limit. But this constant desire to grow a program and players is not only seen on the women's side of the Bison Athletic program. The men's program has been pushing to grow an elite program for more than 20 years.
Back in 1991, Howard men's basketball head coach Butch Beard put together a team of specialists and employed a substitution pattern that featured a starting five and a five-man reserve rotation off the bench. It worked: 12 different players averaged between five and 12 points. Everybody was eatin'.
Beard, an army veteran who was adamant on the benefits of physical conditioning, used a two-platoon strategy that wore down opponents with their relentless full-court pressure. During the Mid-Eastern Athletic Conference Tournament Championship game, the Bison erased a 17-point second-half deficit to come from behind and defeat Florida A&M. We then advanced to the NCAA Tournament for only the second time in school history, and the first time in a decade.
We didn't stop there, either. Howard won seven out of eight down the stretch with the key catalyst being senior point guard Milan Brown, who was instrumental in five wins with last-second game-winners of clutch free throws. Brown was named All-Conference, while reserve transfer senior guard Howard Holley was named tournament most valuable player.
Howard's athletic prowess inspires me to want to grow to my fullest potential in college, and suiting up for Howard has been an honor. Being in a space that allows me to learn and grow has molded me into the player, and young woman, that I am today. Shoutout to The Mecca for helping make it happen.
—
Photo courtesy of Howard Athletics.
Jayla Thornton is a senior at Howard University, studying Sports Management, and a guard on the women's basketball team. Raised in Newark, New Jersey, her favorite team is the Brooklyn Nets. You can follow her on Instagram @_jayboogiee
In honor of Black History Month, SLAM has partnered with 19Nine to release four Retro shorts from monumental seasons when the Eagles, Bison, Pirates, and the Maroon Tigers put their schools on the map.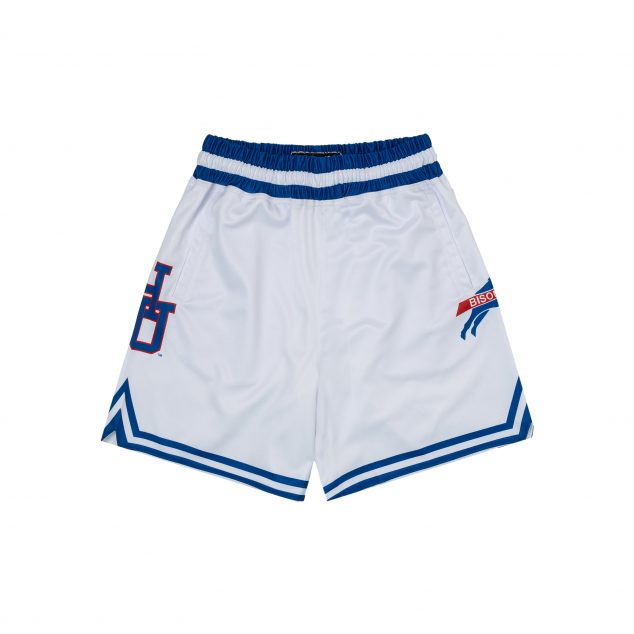 They're available now on SLAMgoods.