Located in the heart of basketball country and home to the Pacers, Butler University and a slew of recent NBA Draft picks, this year's Final Four host is a hoops hotbed.
The first iteration of the Indiana Pacers was an ABA juggernaut, winning three championships (1970, 1972, 1973) in the nine-year history of the upstart league. Playing in front of a rabid fan base, the Pacers were coached by Bob "Slick" Leonard, the current team's long-time radio color man, and its stars were among the best the ABA had to offer.
Roger Brown was the Pacers' go-to guy, and although he never played in the NBA—partly due to getting blackballed from the League, à la Connie Hawkins, after being embroiled in college basketball's New York-based gambling scandal in the '60s; he remained in Dayton, where he matriculated but never played, and worked in a factory before the advent of the ABA—the Brooklyn-bred scorer is a Basketball Hall of Famer.
Holding it down in the paint was Mel Daniels, considered one of the most fearsome big men in the game during his playing days. Other beloved Pacer players from the franchise's ABA days include Darnell Hillman and his glorious Afro, shooter Freddie Lewis, the colorful Bob Netolicky and a pair of Indianapolis natives, diminutive point guard Billy Keller and star forward George McGinnis, who had the best career of the bunch after the ABA-NBA merger.
Along with the Nets, Nuggets and Spurs, the Pacers made the move to the NBA in 1976, but despite having young stars like forward Clark Kellogg (whose career was shortened by a knee injury) and the flamboyant Chuck "The Rifleman" Person, the franchise struggled to replicate its previous ABA success. That started to change with the addition of the top player in team history, Reggie Miller, in the 1987 Draft.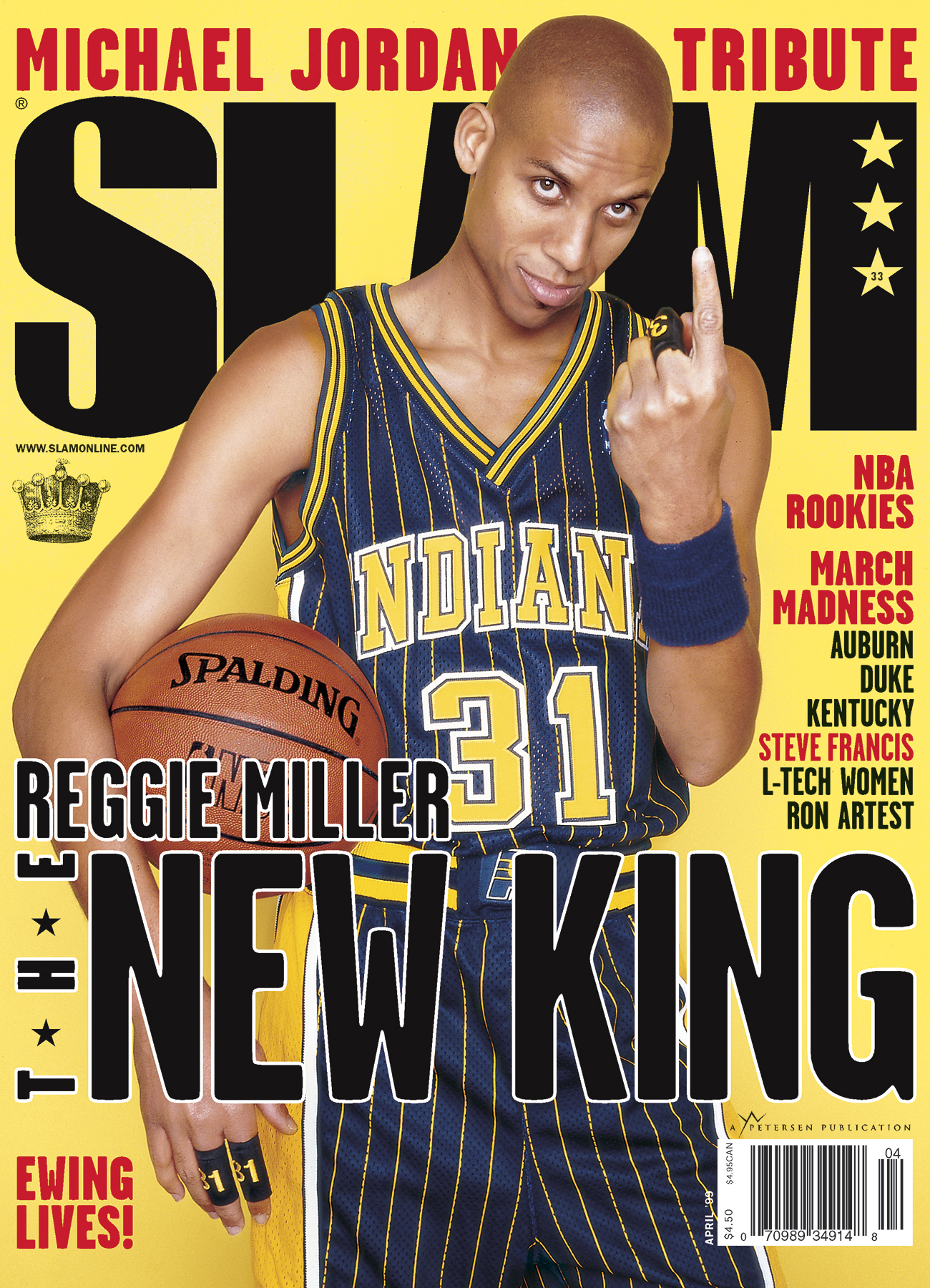 Miller, one of the top three-point threats ever, starred for Indiana in the '90s, as the Larry Brown-coached squad battled Patrick Ewing's Knicks and Michael Jordan's Bulls in exciting, intense and physical Playoff series every spring. GM Donnie Walsh's team featured big men like the bruising Davis "brothers," Dale and Antonio, and underappreciated Dutch center Rik Smits. Alas, those teams could never get out of the East that decade, but when the most beloved basketball figure in the state, the retired Larry Bird, came back home to coach the Pacers, Indy finally got to the Finals in 2000, though Shaq and Kobe would ensure that the clutch, brash and inimitable Miller would retire without a ring.
Bird, now the team's top executive, rebuilt the roster around an aging Miller and by 2004, it appeared that Indiana would have a chance to contend for a title again. But fate struck early that season, when defensive stopper Metta World Peace, then known by Ron Artest, was a central figure in the "Malice in the Palace." The ugly brawl, during a game against the rival Pistons, led to the decimation of the Pacers (an infamous after-hours incident at an Indy strip club didn't help matters) as Artest, star center Jermaine O'Neal, Stephen Jackson and floor general Jamaal Tinsley were all jettisoned as Miller's career came to a close.
The Pacers bounced back in recent years, assembling a tough, defensive-minded core around All-Star swingman Paul George, no-nonsense veteran David West and shot-blocking center Roy Hibbert. Indiana was on an upward trajectory, returning to the Playoffs and advancing to last year's conference finals as the East's No. 1 seed before a disastrous summer that saw George suffer a gruesome leg injury while playing for the national team and budding star guard Lance Stephenson depart in free agency.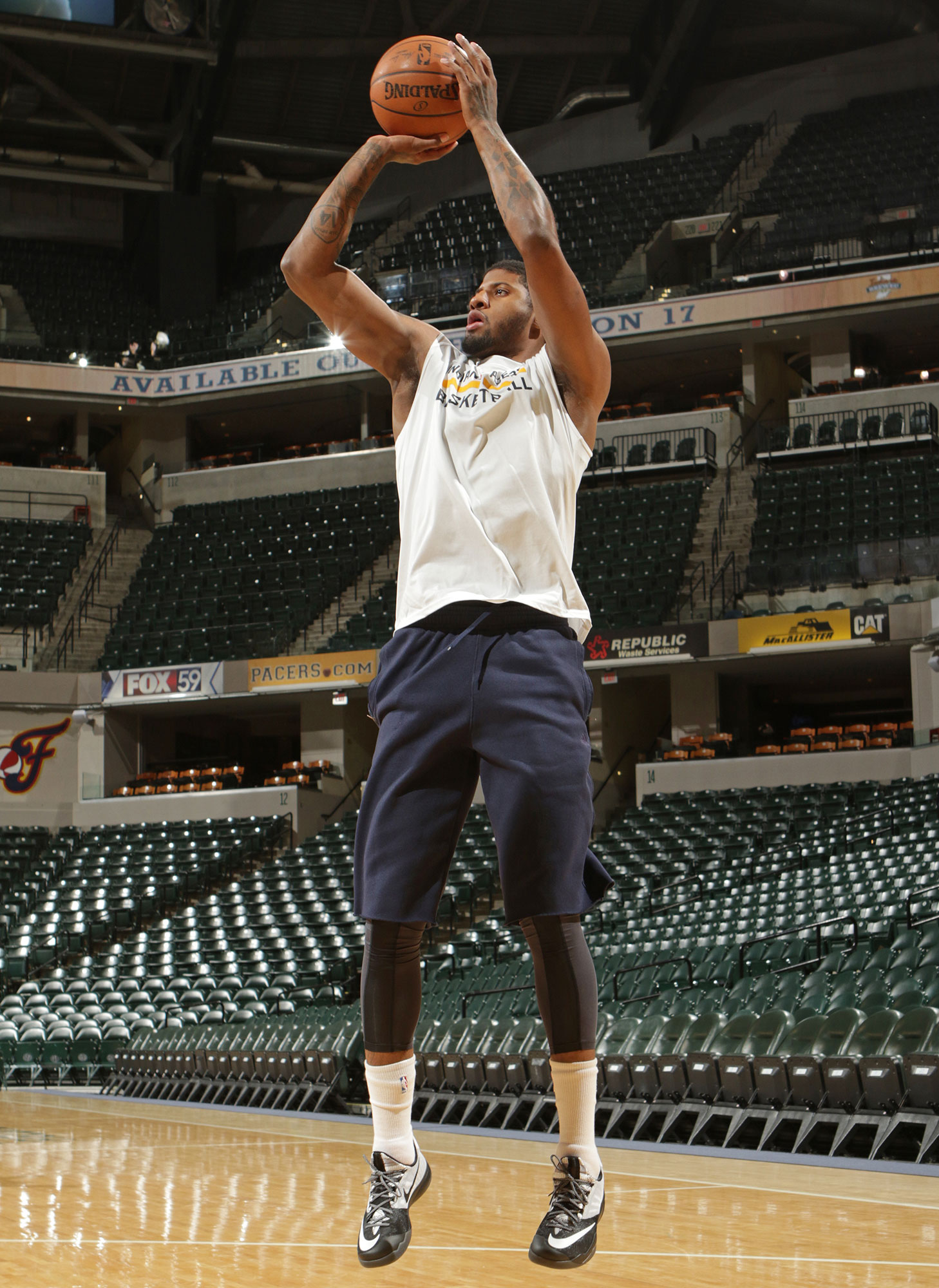 BIG MEN ON CAMPUS
Considered one of the most storied venues in basketball, Hinkle Fieldhouse, named after Butler's long-time coach Tony Hinkle, might be more known for hosting state high school championships, but in recent years, "Indiana's Basketball Cathedral" has also been home to one of the best mid-major programs in the college game. Beginning with Thad Matta's pre-Ohio State stint and peaking with an NCAA title appearance in 2010—guided by current Celtics coach Brad Stevens and led by Jazz star Gordon Hayward—Butler, now in the Big East, has gone from Cinderella to certified.
Indianapolis' other DI program, IUPUI, doesn't have the same résumé but does boast an NBA player in hometown hero George Hill, an overlooked prep recruit who is now the Pacers' starting PG.
Approximately 50 miles away, in Bloomington, sits mighty Indiana University, which won three National Championships—going undefeated in 1976, led by Isiah Thomas in 1981 and finally, in 1987—under the controversial and legendary Bobby Knight. Purdue, an hour-plus in the other direction, has also had its share of success, led by in-state stars like Rick Mount and Glenn Robinson, and with Gene Keady stalking the sidelines.
Notre Dame, which is closer to Chicago and bordering Michigan than Indy, isn't as embraced in the state, but obviously has a strong legacy of its own, while Vincennes University has long been a JuCo powerhouse, producing numerous pros for decades. DII University of Indianapolis has also had its moments behind players like former star guard David Logan.
But even without a regular national powerhouse in the city itself, Indianapolis has proved it has a massive appetite for hoops by hosting the Final Four seven times (including 2010 and this year at the Colts' stadium, Lucas Oil Fieldhouse), not to mention the crowds that come out for events like the annual Indiana-Purdue alumni game each summer.
PREP STARS
When it comes to high-school ball in Nap, the list begins (and honestly, could end) with Oscar Robertson. The "Big O," in addition to all his achievements on the college and pro levels, made history at Crispus Attucks HS. Robertson's team lost to the famed underdogs of Milan in 1954, but Attucks became the first all-black squad to win a state chip in '55 before going undefeated and repeating his senior year.
The likes of the aforementioned McGinnis and Keller, fellow ABA star Louie Dampier, the NBA-bound Van Arsdale twins and future NBA head coaches Randy Wittman and Mike Woodson (both of whom played for Knight at IU) followed, but there wasn't much star power to come out of Indy—apologies to former pros Alan Henderson and Eric Montross, among others—until recently.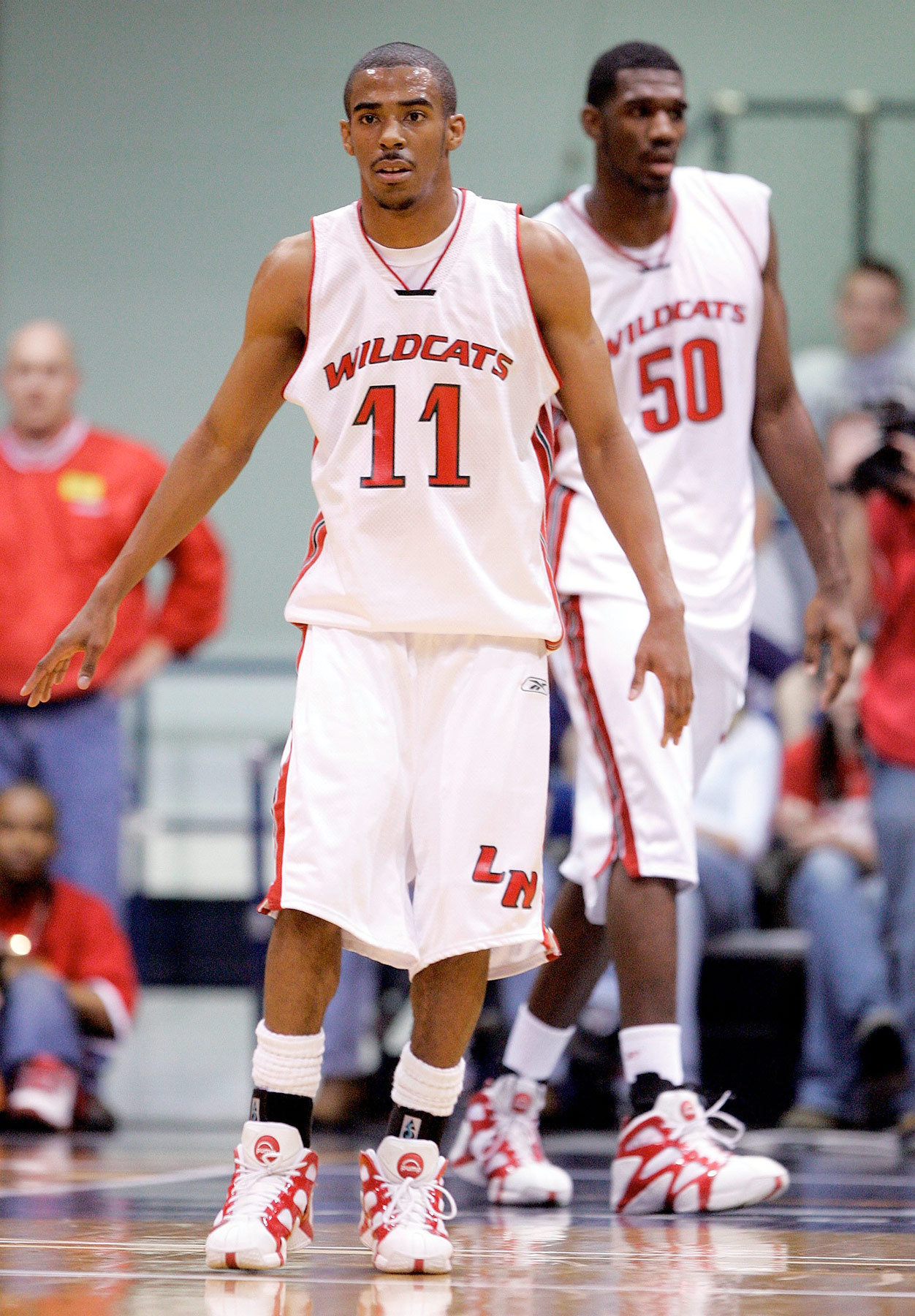 Quietly, Indianapolis-area products have invaded the NBA in a wave, as 3-1-7 residents in the League as of late have included Mike Conley Jr, Eric Gordon, Josh McRoberts, the Teague brothers (All-Star Jeff of the Hawks and Marquis, currently playing in the D-League), Courtney Lee, rookie Gary Harris, former No. 1 pick Greg Oden and the aforementioned Hayward and Hill. The invasion might not cease for a while, as Naptown-bred college stars like Indiana's Yogi Ferrell, Michigan's Zak Irvin, Kentucky's Trey Lyles and Trevon Bluiett of Xavier all rate as solid NBA prospects.
There isn't necessarily a year-in, year-out dominant program (Lawrence North, the alma mater of Conley and Oden, has been consistent, as has North Central, Gordon's school, while Pike produced both Teagues, Lee and Hill). But on the girls' side, Ben Davis has had dominant stretches over the last decade or two. Perhaps the best indicator of the popularity of the sport in Indy, as well as the state as a whole, is the annual Indiana vs Kentucky all-star game series, featuring top prep recruits from both states barnstorming various locales for bragging rights prior to their freshman year.
STREETBALL
Although the image most frequently conjured up when it comes to hoops in Indiana is of farm kids shooting on a basket attached to a barn door, the state's biggest city in fact combines the rich legacy of perhaps the nation's most basketball-obsessed state with the more traditional, urban setting of the sport in most major metropolises.
While lower in profile than New York's iconic Rucker Park, Indianapolis' "Dust Bowl" has its own history of consequence, as the annual tournament and robust competition in general spawned local legends such as Robertson, who lived in Lockefield Gardens, the city's first public housing projects, which happened to be adjacent to the courts.
"They had a situation in Indianapolis called the PAL Club: The Police Athletic League. Every neighborhood had their own team, and they had a police officer stationed there to make sure you didn't get into trouble. There must have been 10 or 20 districts around Indianapolis. That's where I first started playing—the Lockefield PAL Club in Indianapolis," Robertson recently told SLAM. "There were guys around that came from all over. After my sophomore and junior years of high school, guys would come from all over—whites, blacks, anyone would come and play ball over there. The funny thing is that even with all the racial problems, there were never any incidents with the white guys coming over. The Van Arsdales used to come over, a lot of guys from Manual High School, Cathedral. They would come there and play, and it was wonderful to have. You hear about all these incidents and things going on, but that never happened over there at all. It was a fun time, I must tell you."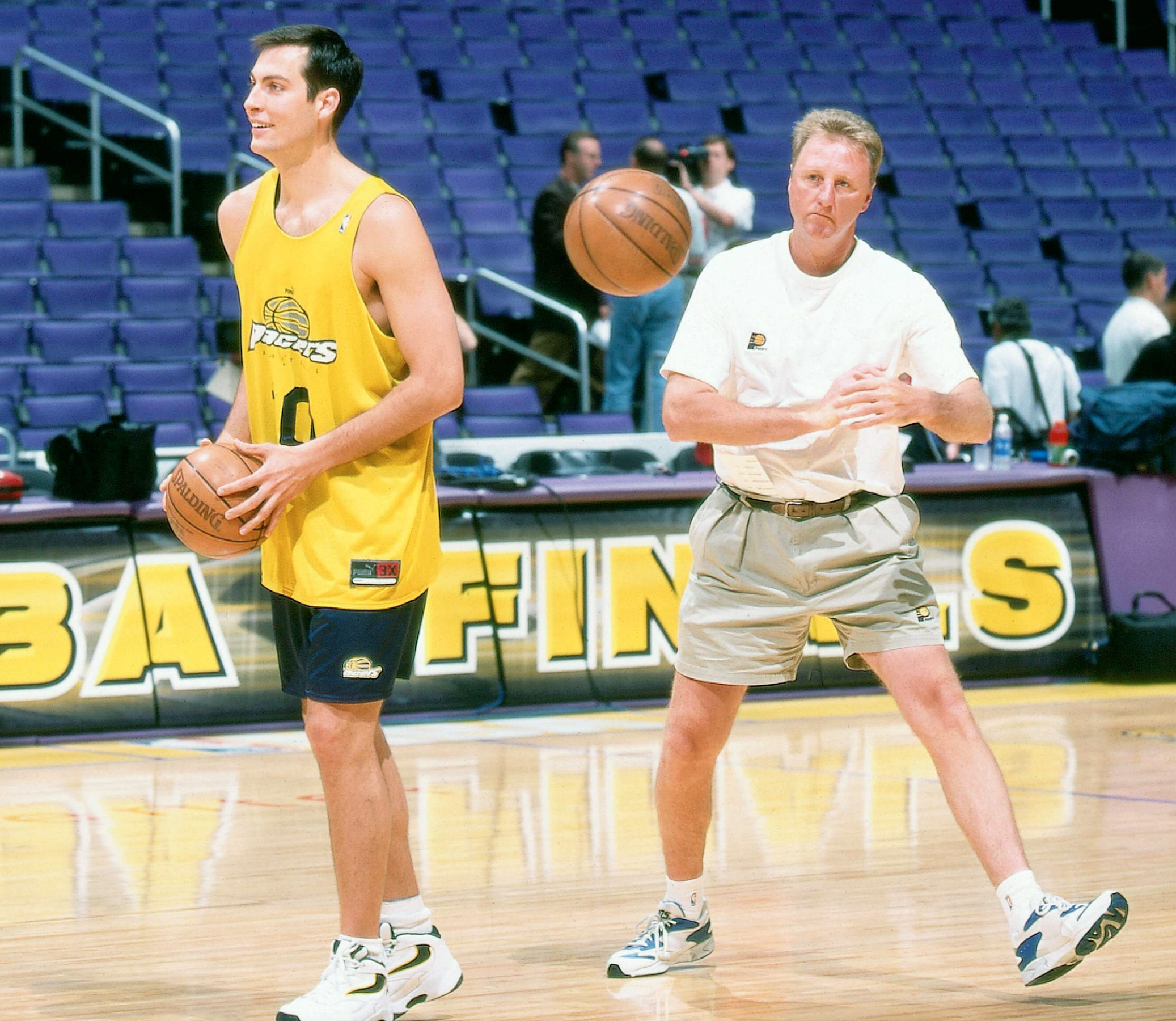 RUNS
Nowadays, as in most places, the game has turned indoors in Indianapolis. Again, being in a major city doesn't always provide for a coach's son like Steve Alford to be handed keys to the gym or the next Bird, Damon Bailey or Bobby Plump to hone his skills in the solitude of the country, so proving grounds tend to be neighborhood gyms where the competition is fierce.
With few of the top local talent staying home for college, a meeting spot for the cream of the crop tends to be the Knox Pro-Am, which is held at downtown IUPUI's campus. Named for its creator, Carlos Knox, a former star at the school and off-season trainer for several pros with local ties, besides the best active players Naptown has to offer, players like former Pacer Stephenson and Grizzlies star Zach Randolph—Z-Bo hails from Marion, IN, an hour-plus drive from Indy—also flock to the league to get ready for the upcoming NBA campaign.
The courts at places like Meadwood Park and the Douglass Courts rec center used to be hot spots for pick-up games, but now, besides open gyms at high schools, the best ballers congregate at IUPUI, whether for the pro-am league or informal competition.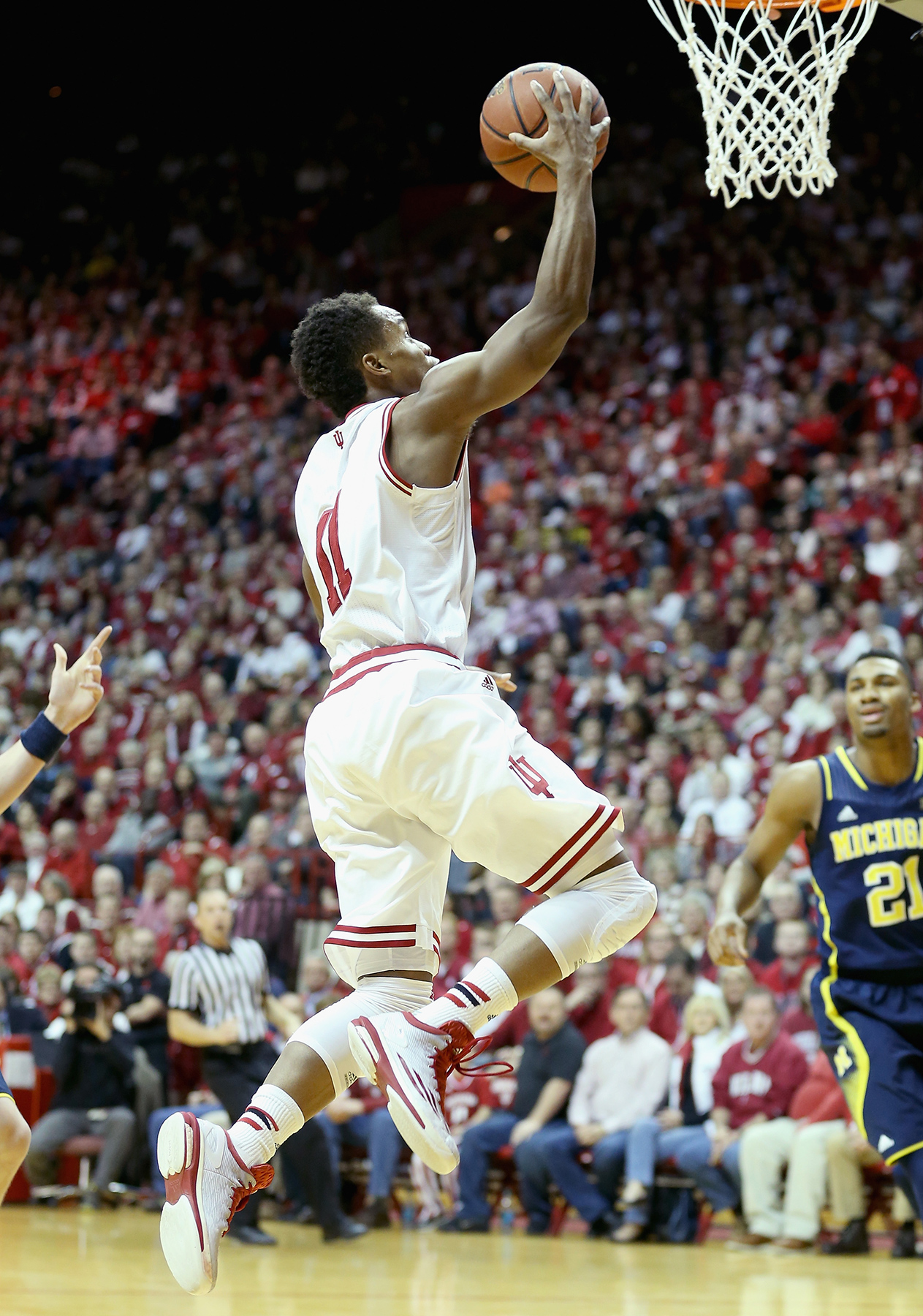 HOW WE DO
Basketball in the Nap, with its blend of tradition and talent, is somewhat different than the usual process that takes place in many other hoops hotbeds. While the AAU scene does matter, the way things are done and how the game is played has remained largely the same, relatively speaking, from era to era.
"Basketball in Indy, it's up there with any other inner city because it's such a competitive thing. We have [eight recent] NBA Draft picks out of the city of Indianapolis. All of those guys are from the city of Indianapolis, not Indiana," explains Knox, a former overseas pro and the current head coach of the London Lightning in Canada's professional league. "It's more of a conservative style of basketball, more fundamental, but they win. They really base their style of basketball on winning. It's more structured, but at the same time, they get up and down."
Aggrey Sam is a SLAM contributor.