LaMelo Ball is Returning To High School, Plans To Enroll at SPIRE Institute in Ohio
The Ball family grew into a household name by doing and saying the unexpected. Unconventional move after unconventional move throughout 2017 kept basketball fans on their toes while drawing criticism from others.
First it was Lonzo Ball opting to go the independent route by helping launch his family's brand instead of signing a traditional sneaker contract with Nike, adidas or Under Armour. Then it was LaMelo Ball withdrawing from Chino Hills HS to be homeschooled. Then it was LiAngelo Ball withdrawing from UCLA to go pro overseas.
That subsequently led to Melo and Gelo signing pro contracts in Lithuania with BC Vytautas Prienai. Then this past summer LaVar Ball launched the JBA league with the premise of offering top HS players an alternative to college, offering to pay players and touring throughout the United States during the summer and now throughout Europe in the fall.
And now the Ball family has made another unexpected turn. Over the last couple of weeks LaMelo sat down with his family and after multiple discussions the decision was made for the 17-year-old stud to return to high school in the United States and rejoin his peers.
At the time Melo left Chino Hills HS last year he was ranked as the No. 7 recruit in the Class of 2019 and the clear-cut most famous high school hooper in the world.
"I'm excited to return to school and rejoin my class on the court for my senior year," says LaMelo. "Playing in international competition was a great experience. I learned and matured so much. I appreciated the JBA experience my dad provided for me. I think it helped my development. I can't wait to play with my peers."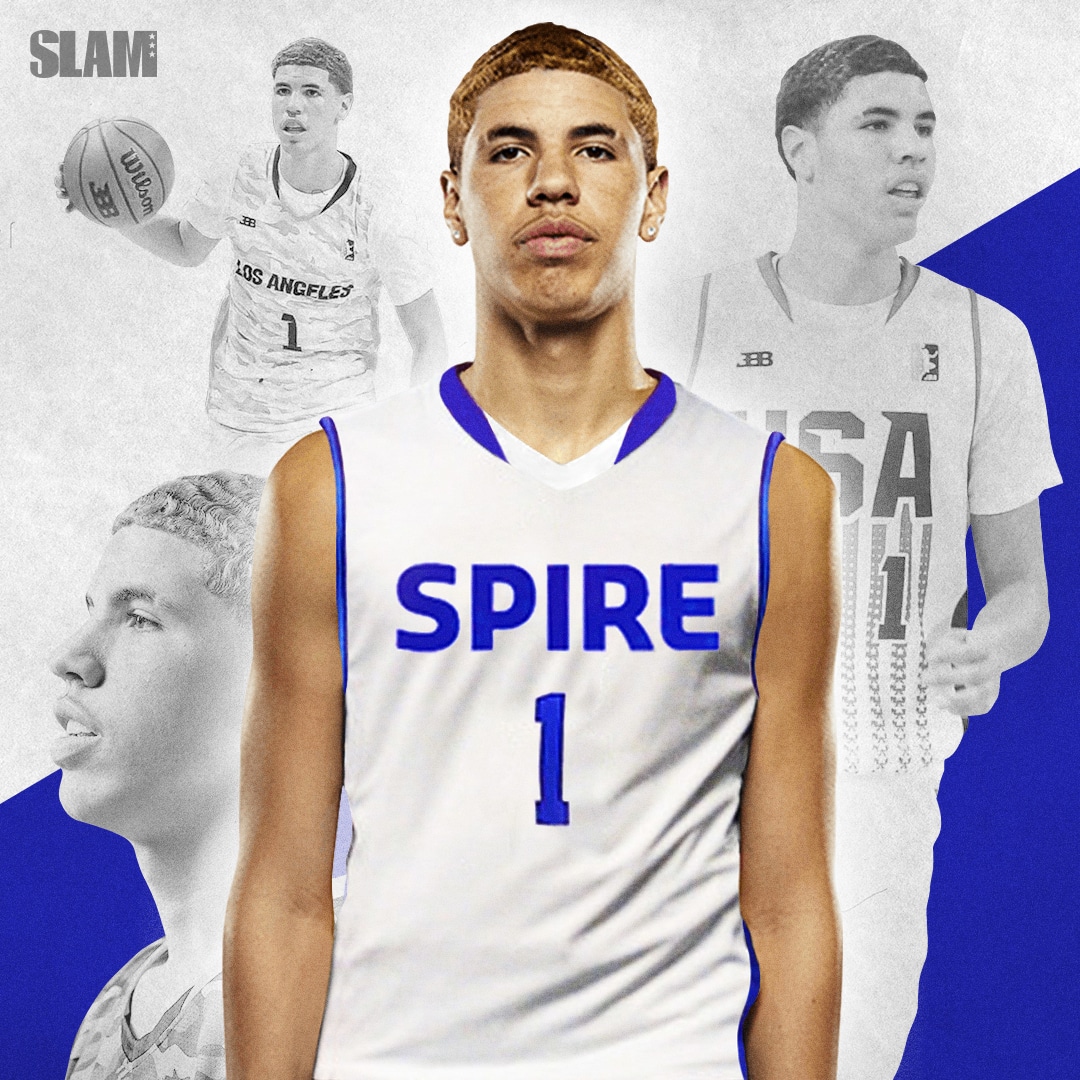 LaMelo will enroll at Spire Institute in Geneva, Ohio. He'll be playing for the basketball program there this winter and is expected to make his debut on November 13 against national powerhouse La Lumiere in Indiana.
Because Spire Institute is a prep school instead of a traditional high school, LaMelo will be eligible to play against other top prep schools.
The thinking behind this decision is to show scouts just how good LaMelo is when placed among his own age group—especially with him being eligible for the 2020 NBA Draft. In his last JBA International Tour game against the London Lions, the now 6-7 point guard posted a 41-point triple-double (17 assists and 13 rebounds). He averaged 40.0 points, 13.8 rebounds, 11.0 assists and 3.6 steals per game during the inaugural domestic JBA season last summer. During the first seven games of the JBA International Tour he averaged 29.9 points, 12. 4 assists, 8.7 rebounds, and 5.1 steals.
LaMelo boarded a cross-Atlantic flight back to LA on Monday and is expected to start at Spire in the coming days.
The Chino Hills native was the talk of high school hoops just a season ago, with highlights from every single one of his games being dissected on online on a nightly basis. Expect it all to return this season to a social media feed near you.