When Michael Jordan first inked his Nike endorsement deal with a full head of hair in 1984, the plan for the 21-year-old rookie was grandiose from the start. He'd be given his very own signature shoe, the Air Jordan, backed with "aggressive marketing," as his agent David Falk deemed it.
A five-year, $500,000 cash per season deal with his own shoe and a national commercial campaign? It was unprecedented. Three decades later, the Air Jordan line is the gold standard in basketball sneakers, thanks to MJ's HOF career and a perfect marketing plan.
By the early '90s, the Air Jordan had established itself as the pinnacle signature shoe in all of footwear. Year by year, the "game shoe" led the industry in design, materials and innovation, all while setting the bar from a storytelling standpoint by injecting Michael's sense of style. Designer Tinker Hatfield had done such a tremendous job of incorporating cues from Michael's life into daring new silhouettes that people were all of a sudden taking note of who the shoe designer actually was. Jordan became the sport's first global icon. Hatfield became a star himself.
By late 1994, Nike was celebrating a full decade with Air Jordan, even though Michael's NBA career was technically done. With three consecutive NBA championships, countless scoring titles and the League in the palm of his hands, the challenge for Michael had faded, and he walked away from the game. The internal debate among Swoosh executives was ramping up: Is the Air Jordan line over?
For Howard "H" White, then Michael's sports marketing rep for the brand, the conversation with Jordan was brief. The upcoming Air Jordan X's outsole design purposefully encapsulated all of Michael's accomplishments by literally writing them through the lines of the shoe. It was designed with the understanding that it could be the final model of the series.
"You know Michael, if nothing happens, it's been a great run," White told MJ, leveling expectations.
"[There was] a lot of uncertainty," H reflects. "I remember even feeling like the world was done. It's over—it's been a great run."
As many execs doubted the line's longevity, wanting to turn the focus to young players like Penny Hardaway, Tim Hardaway, Gary Payton and Charles Barkley, Tinker toiled throughout Michael's "retirement" and kept designing. And White used some high-level convincing to keep the brand alive.
"I remember telling Phil [Knight], You know, I just saw a Mercedes-Benz go right down the street in front of campus," White says. "He said, What? I'm not quite sure I get your point here. I said, A Mercedes. A Mercedes-Benz was riding down the street. And he said, And your point is? I said, I think Mr. Mercedes has been dead a long time, and it is amazing to me that the Mercedes-Benz could be riding down the street after that man's been dead. So, really, this can live on ad infinitum. This can keep going, because I've never seen it as [just] basketball."
Indeed by that time, Air Jordan had come to signify the highest degree of design, both in performance innovation and in styling, and it represented Nike's ability to continually redefine where the industry was headed.
"[Michael] kept telling everybody that he wasn't going to come back to basketball, and Nike wanted to stop the Jordan line," says Hatfield. "They didn't want to do any more Jordans, and their thinking was that he wasn't going to be playing basketball and we wouldn't be able to sell Jordans. I disagreed with that, even though the people higher up than me tried to stop me. I didn't stop."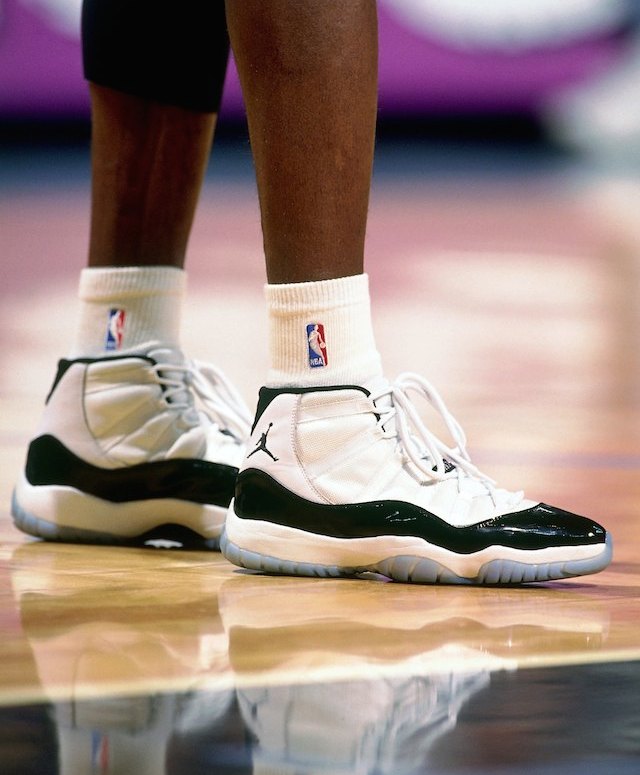 Hatfield never truly believed Michael was done with the NBA—he knew his passion for the game of basketball was just too strong. It just so happened that the 11th Air Jordan model, with its iconic patent leather rand, cordura mesh upper and futuristic clear outsole, would immediately become one of the most iconic designs the industry had ever seen. More than just a single shoe, the legacy of the Air Jordan was back, and here for good.
"I think Michael provided something. I don't think you could do this if it was just about basketball," says White. "Hope is something that the world needs every day, and they need it in large supplies. And I think Michael Jordan represented that to a lot of people. I think he represented that you could be bigger than your situation."
Just after Michael and the Bulls won their second consecutive championship in '97, Nike coined "Brand Jordan" (later flipped to Jordan Brand, and now known simply as Jordan). Having surpassed every other signature shoe in the marketplace, Air Jordan was its very own lane now. A full line of complementary team shoes, casual sneakers and a range of clothing would be added to the catalog.
"I have been involved in the design of everything I have worn from Nike since we began our relationship in 1984," Jordan said at the news conference held at New York's then-dubbed NikeTown store. "The launch of the Jordan Brand is simply an extension of that process." Joining Michael on stage in now-hilariously similar baggy and over-the-top tan tailored suits was the first class of Team Jordan endorsers, including Eddie Jones, Vin Baker, Ray Allen, Michael Finley and Derek Anderson.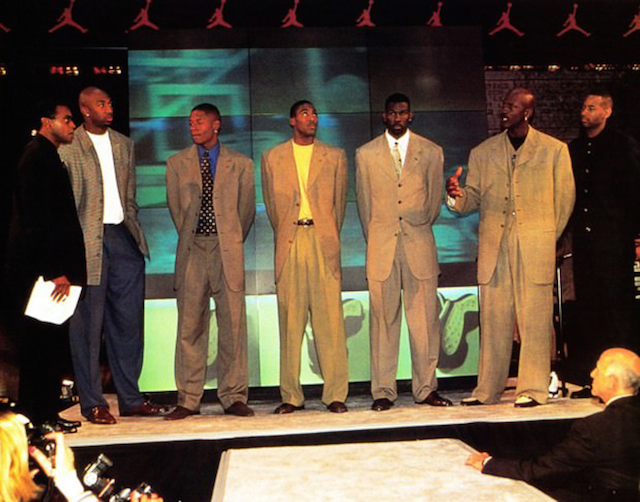 In many ways, while he wouldn't outwardly admit it at the time, the Brand Jordan formation at the start of the '97 season set the stage for what would become Michael's final year with the Bulls. The business structure foreshadowed Jordan's post-career aspirations and how he planned to stay involved with the sport to this day.
Expectations were high right out of the gate. Nike projected Brand Jordan would gross $250 million during the 1998 fiscal year, its first full year in the market. As we'd go on to see into the next millennium, the Brand would blow past those projections with exponential growth into the 2000s.
Having played his final game as a Chicago Bull, surely not even Tinker Hatfield could have predicted MJ's return to the NBA in 2001 as a Washington Wizard. By that time, though, Brand Jordan was fully afloat on its own.
As Michael's second unretirement saw him matching up against new foes like Allen Iverson, Vince Carter and Kobe Bryant—and being treated like royalty at every stop along the way—the brand's visibility was reaching new heights. Jordan agreed to outfit several of the NCAA's top college powerhouses, including Georgetown, Kansas, Cal Berkeley and of course, his alma mater, the North Carolina Tar Heels. It would also continue to extend its reach across the NBA, adding Hall of Fame veterans in Gary Payton and Jason Kidd to the roster, along with 2003's No. 3 draft pick Carmelo Anthony.
It was also in the early 2000s that product manager Gentry Humphrey looked to accelerate the Brand's retro business. The brand not only re-released some of the most sought after original Air Jordans, but Humphrey also put a plan in place to create new "Retro+" colors of the line's iconic early models, hitting color hues outside of the familiar Bulls uniforms and cementing a connection to a new generation of young consumers. No longer just Nike's top annual shoe, the brand was now giving its parent company, Nike Inc., a run for its money.
"We still have our connection with Nike. In some ways we are competition," Jordan told the Associated Press at the time during a product launch at NikeTown Chicago. "But that is the best type of competition you can have. You are competing with your brother instead of competing with the enemy. I am pretty sure Nike is not going to worry about us until we get in second place."
Just as White affirmed, Jordan's legacy was always bigger than basketball. His brand has lived on to showcase his relentless quest to be the best, and that aura and message has still connected and hit home for players and consumers alike just making their way into their own basketball journeys. All this despite the fact that today's high school kids hadn't even been born yet when he played his last NBA game as a Bull.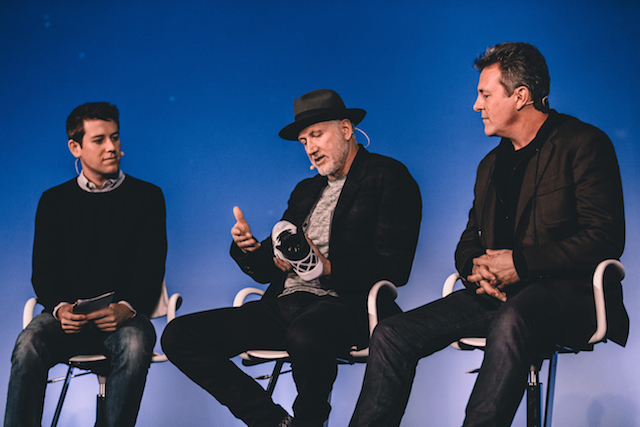 Each year, the Air Jordan signature game shoe is still the brand's pinnacle model, offering up those same key initial principles and goals of being the best collective showcase of design, innovation and styling. Through the years, the Air Jordan has transitioned from the feet of Ray Allen and Michael Finley, to J-Kidd and GP, to Melo, Chris Paul and Dwyane Wade. Now, Russell Westbrook, Kawhi Leonard and Jimmy Butler are each proudly carrying the torch. Just last year, Jordan experienced its highest revenues yet, topping $2.6 billion in sales.
"When you look at players post-retirement, Michael now has an incredibly iconic brand in Brand Jordan," says agent David Falk. "They're approaching $3 billion in sales, and their goal when they signed him was to hit $3 million after the fourth year [laughs]. It's been an incredible success, probably the most successful athletic endorsement in history."
And while the brand had danced through an array of technologies and naming conventions from the 2000s to now, by all measures, the Air Jordan signature sneaker is back.
With a nod to the signature line's traditional Roman numerals, the Air Jordan XX8 represented a refocused initiative to re-establish the game shoe as the Brand's statement level shoe. That was always Tinker Hatfield's starting point and end goal early on, and as he's re-engaged with the annual shoe's design process, it's his approach that is helping to push the brand into yet another generation of relevance.
"The reason for concept cars is to push for new technologies and new performance. Also, to generate a lot of excitement," says Hatfield. "In the world of basketball shoes, you can say that it's pretty much the same thing. We're looking to push for higher levels of performance and actually change the way a basketball shoe, not only performs, but change how it looks."
With the XX8 representing that "concept car" mentality most overtly, each subsequent Air Jordan model has featured the Brand's still-bar-setting Zoom Air technology, along with ongoing woven and knit material evolution that's centered around improving both fit and lockdown.
"When you think about the power of Michael Jordan's persona, and the strength of his brand, I think that kind of gives us a little bit of license to push for change and try and get people to come along for the ride," Hatfield continues. "That's not easy to do, it's a little bit risky, and it's a heck of a lot of fun."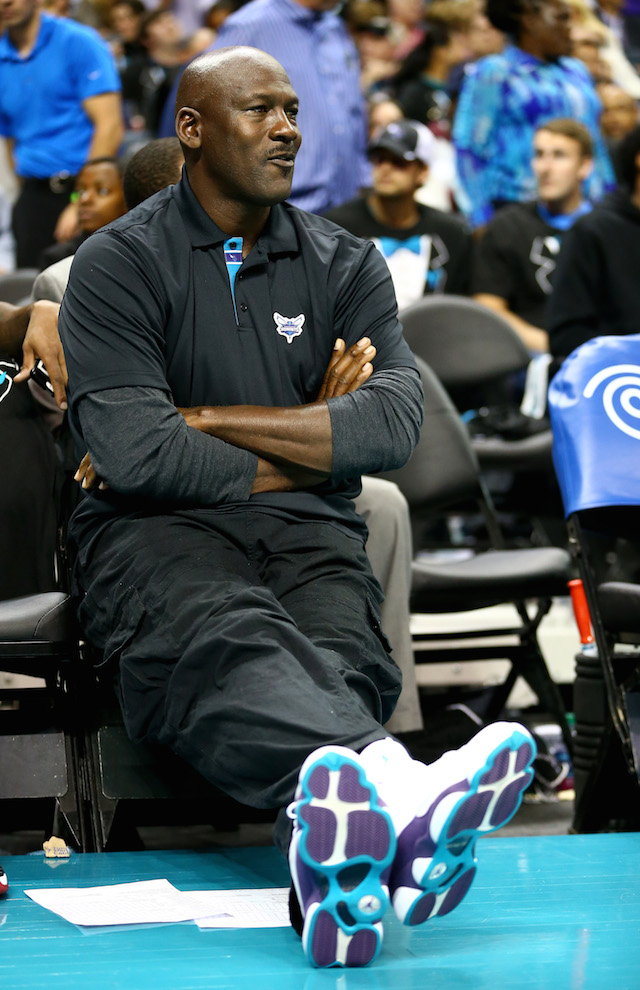 Michael is now a full 13 years removed from his playing days, but he's still closely connected to the game as majority owner of the Charlotte Hornets. Though he entered the League a full generation before the NBA's salary cap aggressively spiked (for which he was largely responsible), MJ earned just over $90 million in salary for his career. Mike can thank his Jordan Brand royalties for his ability to enter into team ownership, as his 4 percent royalty rate earned him more than $90 million from Nike Inc. in the last year alone. As Nike preps to take over the NBA uniform designs beginning with the 2017-18 season, there's a widespread assumption within the company that the Hornets—and possibly additional teams, such as Toronto and Washington—will actually feature the Jumpman logo on their jerseys. And going forward, Air Jordan will live beyond the hardwood, having recently partnered with the University of Michigan's iconic football program and with stars from the other football, like Brazilian soccer star Neymar.
As waves of players and future icons continue to enter the NBA, Jordan's imprint on League history and his connection going forward gives him a unique foothold in the industry—one that isn't going anywhere.
"If you added up the sales of every signature player in the NBA today, you'd have to aggregate them all together and still multiply it by two or three, and they don't sell what Jordan sells," Falk notes. "Every single guy. LeBron, Kobe, Curry, Durant, and you add them all up. Those are all great players. Michael's just had a very unique impact."
For both Jordan and Falk, it's a legacy over 30 years in the making, but something they believed the power of his transcendent career could carry from the start. "When Michael was 22 years old, I used to tell him, One day, you're going to get married and have a son. Can you imagine if your son is 14 and he can walk into a Foot Locker and buy a pair of Air Jordan?" Falk recalls. "His kids are in their mid-20s now, and it's still going strong."
Jordan has established not only over 30 editions of a signature shoe, but a signature brand that's provided consumers with endless innovations, and provided his family with endless opportunity. Marcus Jordan runs Trophy Room [more on that soon! —Ed.], while Jordan's oldest son Jeffrey now works at the Brand, and his daughter Jasmine works for the Hornets.
"People needed to believe that. They needed to believe, Michael Jordan, CEO. Wow, he's the CEO of his brand. Oh my goodness, you can be anything in life," White says with a smile. "And those are the building blocks that started it."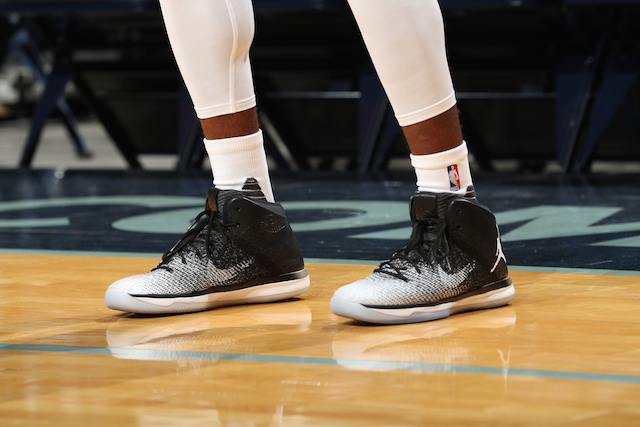 CLICK HERE TO ORDER YOUR COPY OF JORDANS VOL. 3!
—
Photos via Jordan Brand, Getty Images
580