If you ask Nneka and Chiney Ogwumike what's important to them, basketball isn't the first thing that comes to mind. One would expect that for the Ogwumike pair, who have been hooping for the majority of their lives, the game would sit at the top of their lists. But basketball only plays a small percentage of their lives, despite the fact that they are two of the WNBA's rising stars.
It's family that is most important to the Ogwumike's. Their father, Peter Ogwumike, emigrated from Nigeria to the United States in the 1980s where met his wife, Ify, at a community college in Colorado before relocating to Houston. That's where Chiney and Nneka established themselves as one the best sibling duos to come out of the state.
Although there's a 628-day gap in age, Chiney, 24, jokes that she and Nneka, 26, are like identical twins and have to do almost everything together. The decisions they've made during their hoop journey support that, too.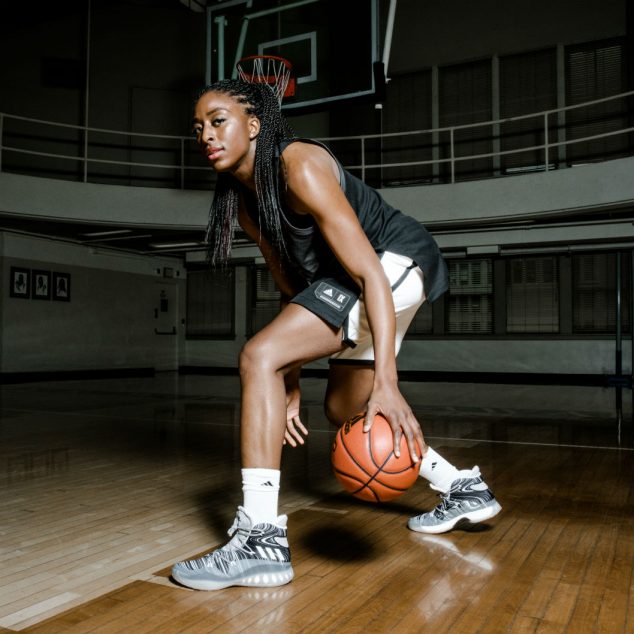 Nneka earned a scholarship to play at Stanford. Two years later, Chiney followed in the same footsteps and joined her big sister in Palo Alto. The tandem left behind an extensive list of accolades at The Farm, making a combined six Final Four's in seven years.
In 2012, Nneka was drafted No. 1 overall by the Los Angeles Sparks. Chiney, a sophomore at the time, would dominate the PAC-12 for two more years before being selected No. 1 overall by the Connecticut Sun in 2014. The Ogwumike's joined Peyton and Eli Manning as the only siblings to be taken first overall in any professional draft.
Four years later, with the Sparks fresh off a championship and the team's MVP looking to have another huge year, the elder Ogwumike recently made another important decision: joining adidas as one of the brand's four newest signees. The decision came down to one important factor for her.
"Family orientation," says Nneka, about what separated adidas from its competitors. "I like the culture of family and also how much they express displaying and advocating individuality for the athletes. They always say the athlete first. That's definitely what drew me to adidas."
And guess who was another of those four athletes that followed in her older sister's footsteps?
"I think that we both know that we came into this game together and we are a package deal," says Chiney, jokingly. "When looking for something that speaks to us as a brand, adidas was perfect and we knew that we wanted to do that together."
Last week, the Ogwumike sisters took to Instagram announced their partnership by posing with a pair of Yeezys in-hand while sitting around an array of adidas silhouettes. They join Nneka's teammate Chelsea Gray and Minnesota Lynx rookie Alexis Jones as the new additions to the Three Stripes family that already includes Candace Parker, Moriah Jefferson, Imani Boyette and Morgan Tucker.
"I'm really happy to be a part of the 'Here to Create' campaign because when it comes to athletics, you really create for yourself and you help cultivate a well-oiled machine when you're creating as a team," says Nneka. "That's really what they embody and that's what we're all about."
The Sparks began their season Saturday at home, with Nneka wearing the Crazy Explosive. Adidas provided player exclusives for Ogwumike and Parker for the opener. Nneka's rocked a black-gold pair that featured "2016 WNBA Champs" on the tongue, while Parker balled in a white-gold look with "Ace 3″ on the tongue. Parker's PE also included hidden accents all over the shoe, like the insole that said "For Pat," a tribute to the legendary Pat Summitt, who passed away last June at the age of 64. Parker famously dedicated her Game 5 Finals performance to her former college coach.
Nneka learned about the shoe way before putting it on her feet because that was Parker's go-to shoe last season.
"I know quite a bit about the shoe because Candace wears that shoe when she plays," says Nneka. "She always said that she loved how it feels, what it allowed her to do on the court and that's what I'm all about for a shoe."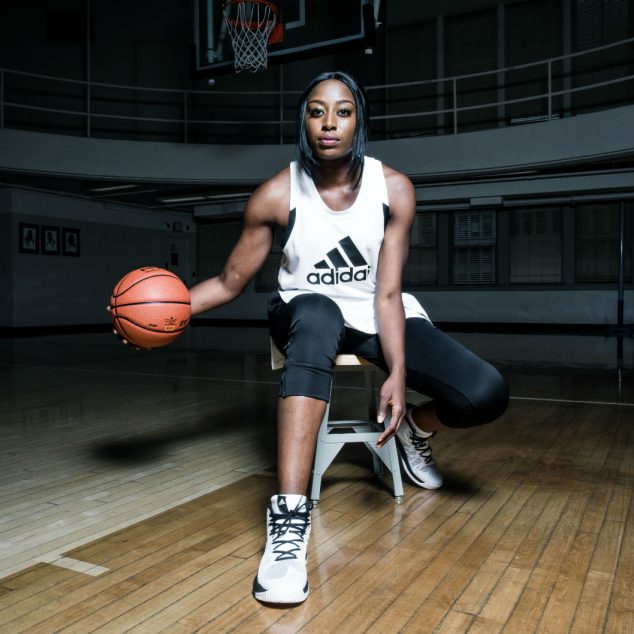 It's a cloudy Wednesday afternoon and both Nneka and Chiney are handling last-minute brand obligations inside the Los Angeles Athletic Club in downtown Los Angeles. The two are moving swiftly throughout the 12-story facility—the lobby, to a secret room, the rooftop and finally the gymnasium—before the shoot is over.
While a myriad of cameras, brand reps, make-up artists and stylists following their every move, Erica and Olivia, the two younger sisters of the Ogwumike family who are in town for the summer, shadow Nneka and Chiney and make sure to get a few glamour shots in with adidas gear.
"We fell into basketball and fell in love with it," says Chiney, who's still in the middle of rehab for an Achilles injury. "I think that adidas really allows us to be our true selves. We stick together, as the Cheetah Girls say."
Family forever.
—
Related
Best Sneakers of 2017: adidas Crazy Explosive
Photos courtesy of adidas 
Drew Ruiz is a contributor to SLAM. Follow him @DrewRuiz90.