Stanley Johnson is no stranger to dope kicks. After all, dude announced his college decision with a pair of custom Air Jordan IIIs.
And, despite financial difficulties in his youth that limited him to sneakers within a certain price range, Johnson has developed a passion for obtaining anything and everything that catches his eye—no matter the cost—to rock in NBA arenas across the country, taking him from "What are those?!" to becoming a staple in our Kicks of the Night recaps.
We caught up with the 20-year-old Pistons swingman and Nike endorser to talk go-to hoop shoes, rocking PEs and the code of ethics when it comes to wearing opponents' signature sneakers.
SLAM: Do you remember your first pair of kicks?
Stanley Johnson: Yeah, they were some yellow Laker-colored Shaqs from Payless. My mom got them for my first team she coached. I used to wear running shoes, Vans and stuff because we couldn't afford [certain shoes] back then. So when I got my first pair of shoes for my birthday, I wore them for like two to three years.
SLAM: Was that around the time you got your first basketball?
SJ: I probably got my first basketball when I was 1. My very first present was a real-life basketball and I always had it in my room.
SLAM: Anything in particular that got you interested in sneakers?
SJ: I just think that not being able to have them as a kid and always seeing guys like my friends having the fresh Js and stuff like that, you start to care about having the freshest kicks and things. I told my mom that one day I wanted to wear a different pair of shoes for every game, put them in the closet and never wear them again. You gotta have a lot of pairs of shoes in different colors and styles to do that, so it's been a little ambition of mine. I started looking at different neon greens, yellows and reds and whites, and I started collecting shoes and it got crazy.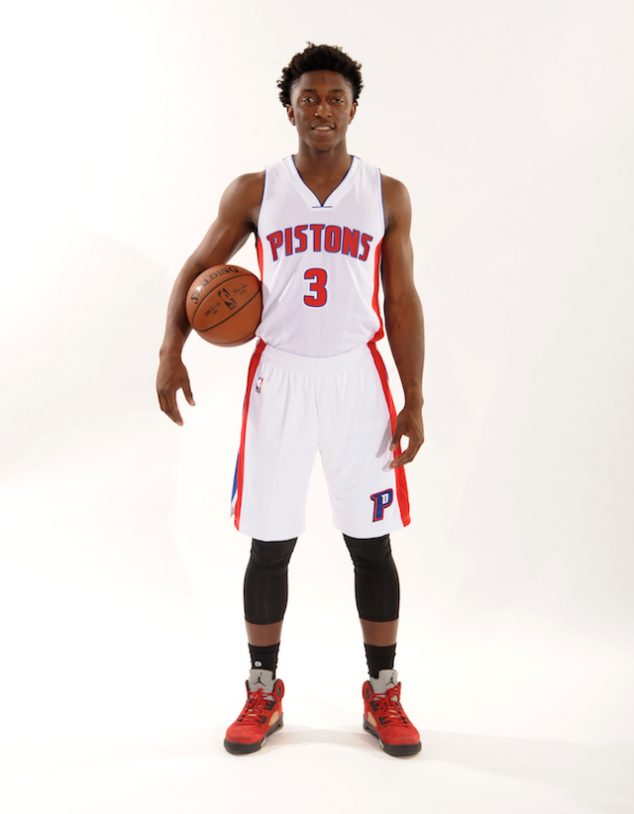 SLAM: To date, how many pairs do you own?
SJ: I really don't even know. I know I have like three closets worth. I have my high school stuff, some of my stuff is at my father's house and I have all my college kicks in my garage and all the shoes I wore in the NBA are at my house in Detroit.
SLAM: What are your go-to shoes to play in?
SJ: Kobes. You can never go wrong with Kobes. I really like the KD9s that just came out. That's the kind of shoe that I always wanted Nike to make. I've only had them for a couple days, so I'm trying to wear them in, but I like them so far.
SLAM: You broke out some Quentin Richardson x Jordan XII PEs in the Playoffs. Did you cop anything else from Q that you're planning on rocking next season?
SJ: Yeah, I mean, Q's the big homie [Richardson is currently the director of player development for the Pistons], so he's given me a lot of his New York and Miami stuff—IXs, XIs, XIIs and other stuff. I feel like they're so good I don't know if I should put them on the court. As much as he gives stuff to me, he wants me to wear them. I'll go out there and wear them.
SLAM: What's your take on wearing opponents' shoes?
SJ: The only person's shoes I wore against him was Kobe, and even in the second game [we played the Lakers], I didn't wear them. I just feel like you can't do that. There's like a little secret code in the NBA that you just don't wear the other guy's shoes against him.
SLAM: Are there any other sneakers you're still on the hunt for?
SJ: I was on the hunt for the Wheat Air Zoom Generation 1s and I got them. The silver Anniversary XIs would be dope to have, and the Bruce Lee Kobe Vs. I had them but I need to get them again.
Related:
Stanley Johnson Throws Down A Huge Dunk at Drew League
WATCH: Stanley Johnson Scores 46 Points at the Drew League
—
Photo via Getty Images