Tim Hardaway Jr had a good summer. He inked a big-time contract with the Knicks and he also became the newest member of the Jordan Brand family, joining an elite group of players that includes Kawhi Leonard, Russell Westbrook, Maya Moore, Mike Conley and Jimmy Butler, among others.
We were on-hand in Italy when Jordan Brand introduced the Air Jordan XXXII, their newest flagship sneaker. It makes use of a Flyknit upper and a dual cushioning system featuring Nike Zoom Air and Flight Speed tech. Hardaway says he'll be one of the players that gets to lace up the XXXII this season.
The 25-year-old is entering his fifth season in the League. He averaged a career-best 14 points last year for the Hawks and is all ready to make his return to the Garden — the Knicks drafted him with the 24th pick in 2013. We recently linked up with THJ to discuss his deal with the Jumpman, an agreement he's (rightfully) hype about.
SLAM: How did you link up with Jordan Brand? Did they reach out to you?
Tim Hardaway Jr: It was more of a mutual thing with Jordan Brand. My pops [Tim Hardaway] was a big part of it. I was with adidas for all of college and for my first three years [in the League], but I played my fourth season in the NBA as a sneaker free agent. I just loved playing in Jordans and Kobe ADs.
They just felt comfortable. I just told my pops, 'Hey, I love these shoes, even though they're lows.' My pops doesn't like me playing in lows. I played in the shoes in the playoffs, when we played against the Wizards.
After the season, I was talking to my agent [about brands] and told him, 'Hey, what's up with Jordan? I don't care what they give me, it's just the honor to be able to play for the Jumpman and go out there and represent him in a great way.' That was the pitch I gave them. And then my pops tried to talk to Jordan personally.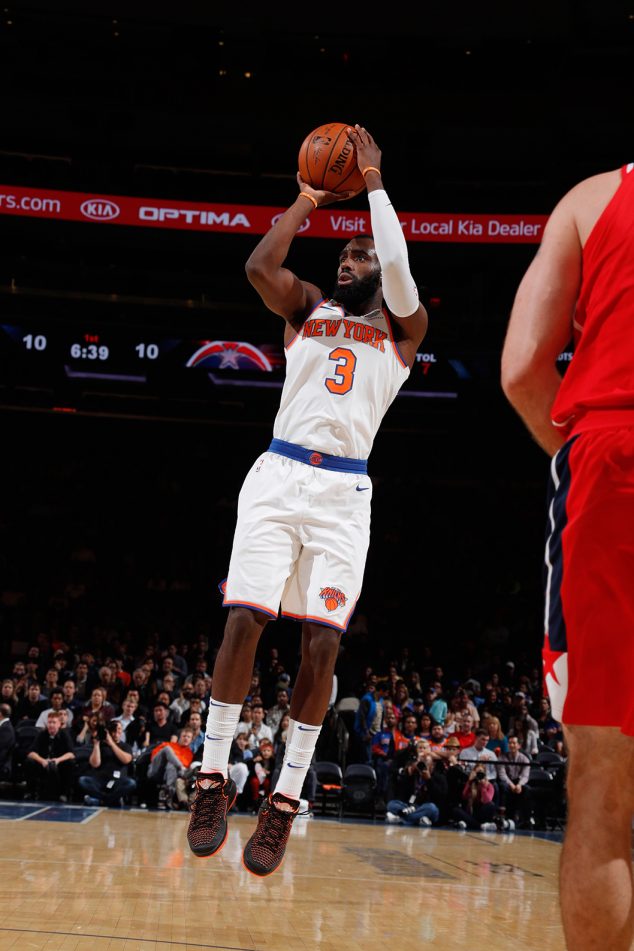 SLAM: Your dad still has a relationship with MJ? 
THJ: Just the mutual respect between one another. I've known his kids, Marcus and Jeffrey, since we were playing at Hoops Gym in Chicago. It's just a mutual respect kind of thing.
SLAM: And you'll be playing in the XXXIIs, right?
THJ: Maybe a couple of retros here and there but not too much. The XXXIIs feel very, very comfortable. They're a great, great looking shoe. We've got some PEs coming, a lot of Knicks colorways. It'll be great. I'm happy and excited to reveal them once the season keeps going.