Fans, players, and media came through the Los Angeles Athletic Club on Saturday to see Dwyane Wade unveil the All-Star Weekend "Moments" colorway of the "Way of Wade 6" by Li-Ning.
Only 30 pairs of the limited sneaker, which was produced as a tribute to Wade's fans, were released for sale via an in-person lottery.
Despite not being an All-Star in 2018, Wade was motivated to create the shoe because of the high amount of votes he continues to receive each year.
"We decided to change the name from the All-Star shoe to 'Moments' because I thought this was a big moment for me," he explained. "To see my fans support and that they still want to see me in the [All-Star Game]."
SLAM participated in a roundtable interview with the 36-year-old veteran to discuss developing the Li-Ning brand, building his legacy, LeBron James, LaVar Ball and more.
Q: With other notable athletes such as CJ McCollum also joining Li-Ning, can you tell us about the brand's growth?
Dwyane Wade: It's cool—the athletes that have joined the brand. Hopefully I've been a good billboard for the brand over these five and a half, almost six years. It's a Chinese brand, and as much as our fans in the U.S. get angry at times because it's not accessible yet, we are really trying to build it in China first and then see what our fan base in the U.S. thinks about it until we get to the point where it becomes more accessible.
It's been great, but it's also been tough at times to start a shoe brand that is unknown in the States as a U.S. athlete and try to make it something when you got the competition of Nike and Jordan and all of those. But I think we've done a good job of finding our lane now.
Q: You were one of the OGs to sign with Li-Ning. Where do you want the brand to go?
DW: The vision that I had six years ago for this brand is not to be just a shoe brand, I want it to be an iconic brand. When you think of iconic brands, you think of Tom Ford, right? Tom Ford doesn't just have hard bottoms. He doesn't just have suits. He doesn't just have colognes. He has everything. You want your brand to be able to be as iconic, to be able to produce and have everything for consumers and people we're making things for. That's the ultimate goal. And if I don't get there, if I fall short of that, I'm still successful if I can get three or four of those things. Right now, having basketball sneakers, lifestyle shoes, basketball apparel, lifestyle apparel, all these things is a move in the right direction. We're doing okay, but we got a long way to go.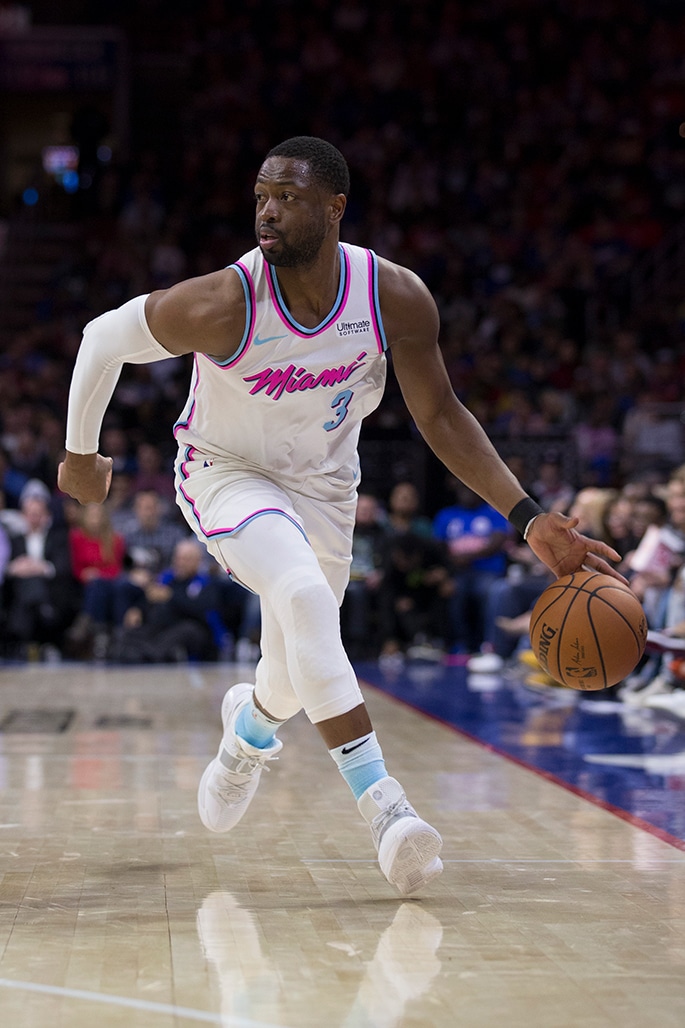 Q: How has the partnership with Li-Ning helped you to build your legacy off the court?
DW: One of the biggest reasons I wanted to sign with Li-Ning was because of the global reach. Understanding that, knowing the millions of supporters in China, I wanted to tap into that market. Being known and being seen, even way bigger than a basketball player, was something that was key for me when you think about longevity in a brand.
Basketball ends and everybody can't be Michael Jordan—you'd think Mike was still playing. You want to try to be able to build your own legacy and own brand, and I thought that my best opportunity and chance at that was with a brand that was trying to do the same thing at the same time I was—trying to make an impact and try to become something different.
Q: You always talk about being a kid from Chicago. Now knowing that your reach is in China and all around the world, do you ever pinch yourself to remind you that you're global?
DW: It's crazy, life is crazy, man. You never know. I try to tell my kids that, I try to tell other kids in the communities that I talk to. [I tell them,] I understand at times it seems like no one probably cares about you, no one believes in you the way that you believe in yourself, or you can't get to where you want to get to. And I'm not saying it's going to happen because you believe, there's a lot of things that got to go right for that to happen. But I definitely dreamed big, man, and I always say I didn't dream big enough because I'm doing things I couldn't even mix up in my mind. It's so cool and I'm humbled by everything. And I don't know if I always handled it the perfect way, but I definitely appreciate the love and, more so than anything, the support I've gotten throughout my career.
Q: As a father, what is your reaction to LaVar Ball's approach to parenting his kids?
DW: I love it, he's all about his kids. People have many different views on what he should and shouldn't do. But everybody wasn't there at five in the morning when he had them getting up and they were running or working out. No one [else] was knocking on their doors telling them they were going to be the next ones. We only know that because he told us that.
I don't know him that way, but as a father, I'm proud of the way he's behind his kids and he believes in his kids. That goes a long way. To have belief from someone that you look up to, that you admire, and that you need that support from. He's doing it his own way, and it might not be the popular way, but it's his way. We're all talking about him, we all know everything about him now, and we will continue to.
Like I said, congratulations to that family for doing it their way. For me and my sons, especially my oldest son who plays basketball, he's going to do it the way he wants to do it. I'm going to try to give him the tools I can along the way. But I'm crazy over my kids too, and that's what LaVar Ball is: He's crazy over his kids. And you got to love it.
Q: What did you learn about LeBron James from years playing with him?
DW: He's not great because he's big or fast. All those things help, but it's his knowledge of the game and his work ethic. He works like no other. He's very strict on things in his life when it comes to his diet, when it comes to his time, when it comes to all kinds of things. It's not by mistake that he's great. He definitely works at it.
—
RELATED
Dwyane Wade And Chance The Rapper Produce Basketball Documentary
—
Alex Squadron is an Associate Editor at SLAM. Follow him on Twitter @asquad510.
Top photo via Li-Ning. Action shot via Getty Images.