A man can wear many hats, but it takes a special gift to be able to thrive in so many lanes simultaneously. Take, for example, the triple-double statistic. One has to reach double figures in three separate (positive) statistics in a game. Fat Lever was that gifted of a ballplayer during his 11-year NBA career. Only Larry Bird (59), Wilt Chamberlain (78), Jason Kidd (107), Magic Johnson (138) and Oscar Robertson (181), respectively, have more career triple-doubles than Lever's total of 44. Despite that list being loaded with Hall of Fame players (Kidd is universally considered a first-ballot inductee once he becomes eligible in 2017), Lever was never one to follow the limelight, fame and publicity during his collegiate and professional career. A man of that many talents rarely has to.
"I knew Fat was special the first time I saw him play," says former college teammate and 16-year NBA vet center Alton Lister.
Born and raised in Pine Bluff, AR, Lafayette Lever, his mother and two brothers left home to start anew thousands of miles away in Tucson, AZ. His mother and oldest brother Anthony made the move initially before Lafayette and younger brother Elmore followed. Work was hard to come by in Pine Bluff in the early '70s, so a change of venue was necessary. Lever, a quiet kid, was 11 when he first laid eyes on the desert, and he took his time adjusting, even then the patient playmaker. Basketball came naturally to the young man nicknamed "Fat" due to his younger brother's inability as a baby to pronounce his given name of Lafayette.
"My younger brother Elmore couldn't say 'Lafayette' so he called me 'Fett,' which later became 'Fat,'" Lever says.
Having loved the game from an early age, Lever didn't stop working on it despite his new environment. When the time came to choose a high school, nearby Pueblo High [now named Pueblo Magnet High] on South 12th Avenue was an easy choice. From the start of his playing career, Lever was counted on to do more than just bring the ball down the floor and distribute. Before long he was a 6-3 point guard—a starter his sophomore year—with plenty of college options. Fond of Arizona but looking to branch out, Lever felt it necessary to turn down hometown University of Arizona—not yet the powerhouse it would become in later years—and stay loyal to the state, choosing to play at rival Arizona State, 111 miles away in Tempe.
"When the time came, I felt like I needed to go away and grow up and get out of Tucson," Lever says during an afternoon break from his construction business in Phoenix. "Far enough to grow up, but close enough to get home in an emergency."
Lister knew ASU was getting a special player before the PG suited up. "I saw Fat play in the Arizona State high school basketball championship game [held on ASU's campus] when he was at Pueblo," Lister says. "When it was time for Lever to visit campus, I made sure that I spent extra time and talked with him."
Following a solid freshman season Lever had the opportunity to try out for the 1979 United States U19 World Championships team in Colorado Springs, CO, with future professionals like James Worthy, Mark Aguirre, Fred Roberts, long-time University of Washington coach Lorenzo Romar—then a Husky guard—and North Carolina point guard and Worthy's teammate Jimmy Black. "I remember going to the Sports Festival in Colorado Springs and working out with the guys and realizing that I could really play," Lever recalls.
Nothing fosters success, particularly for a point guard, like having a talented squad to run with, and the 1981 Arizona State Sun Devils were indeed a team to reckon with in the Pac-10. "That was probably one of the first groups of guys I had ever been a part of that was overly talented but didn't know how to put it all together as a team," says Lever.
The Sun Devils were going into Lever's sophomore year with senior center and future NBA first round Draft pick Lister and a future three-time NBA Champion at shooting guard in incoming freshman Byron Scott. Arizona State's coach Ned Wulk and his staff had been recruiting talent from all over the West Coast (with the exception of some top-notch players throughout the years: we see you James Harden, Ike Diogu, Eddie House and Lionel Hollins).
The team looked tough from the jump. "Byron [Scott] came in my sophomore year and he was the best athlete I've ever seen come through at ASU," Lever says of the current Lakers' coach. "He ran faster, jumped higher and was a very gifted athlete.
"That first day at practice when the coaches assembled us and I saw the talent we had, I knew we had something special," he continues. "We had an NBA-caliber team in college."
Along with Lister, a senior, Scott, a sophomore and Lever, a junior, that Sun Devils squad would also have 6-8 senior forward Sam Williams drafted into the NBA. The goal was to dominate the Pac-10, then head to the NCAA Tournament. The first half of that mission was clearly accomplished with a 16-2 conference record, and an overall record of 24-4. Arizona State barely lost three regular-season games—then they were blown out by Kansas in the round of 32. The game had suspiciously been held in Wichita despite Arizona State being a high seed. "That place was packed to the rafters," says Lister. "I thought we had the horses to get it done, but once we fell behind and with the entire gym on their side, we were done."
Scott still feels a sense of loss in regards to that night. "That was a tough loss for us," he says after a recent Lakers practice. "We had a great team and we expected to get to the Final Four or Elite 8, so to lose in the second round was very disappointing.
"I definitely believe Fat and I were the best backcourt in the nation," he adds. "We didn't get the recognition we felt we deserved, but if you go back and look at where we both ended up, I think obviously we were one of the best, if not the best, combos."
After a less-successful senior season but some good pre-Draft workouts, the quiet kid from Arkansas walked into the NBA as the No. 11 pick, having been chosen by the Portland Trail Blazers and their legendary coach Dr. Jack Ramsay. Lever started on and off his first two years, learning in the process. "Portland was probably the best place I could go as a rookie because of Dr. Jack and the way he taught the game," says Lever. "He was a great teacher of the game."
Two seasons into his career, Lever was blindsided by a trade to Denver and was not happy about it. "I loved the city of Portland and I enjoyed playing on that team," says Lever. "We had a second unit with Clyde Drexler and myself that more times than not beat the starters in practice."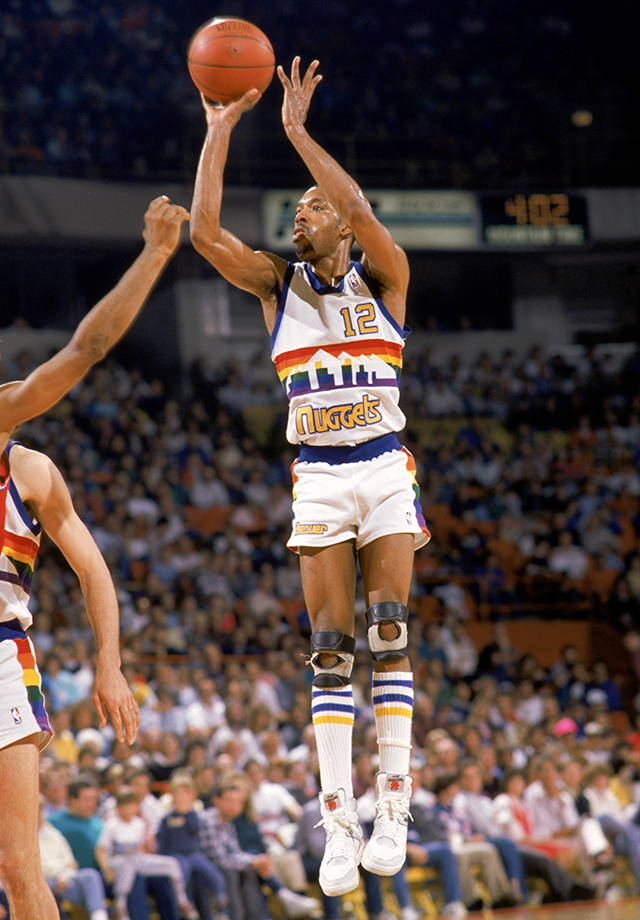 Veteran Blazers Wayne Cooper and Calvin Natt were his NBA tutors during his first years, and though unhappy with the move to the Nuggets, he was pleased to learn that they'd be going with him. "I was surprised I was a throw-in along with Calvin and Wayne," says Lever. "When we were traded I didn't know what to expect so I just followed them and did what they said."
Those six seasons as a Nugget would define Lever's career. In that first season with old teammates Natt and Cooper, and new teammates Alex English, Bill Hanzlik and Danny Schayes, the Nuggets finished the '84-85 season 52-30, winning the Midwest Conference and beating San Antonio and Utah en route to a Western Conference finals matchup with the Lakers and Lever's old college teammate, Byron Scott. "That was the best basketball experience of my pro career," Lever gushes about going head-to-head with Magic, Worthy and the rest of the Showtime Lakers. "Being a young player on a good team playing the stars of the NBA was priceless."
The Lakers beat the upstart Nuggets in five games and then the Boston Celtics in an epic six-game series to win the '85 Championship. Scott stood out throughout that postseason, remembering all the while what he learned as a collegiate teammate of Lever's. "The thing I learned from playing with Fat was that you didn't have to be flashy to be productive," says Scott. "He was the most non-flashy guy I had ever played with, but he was the most fundamentally sound. That's why he went on to have such a great career in the NBA."
Lever's successful six-season stint in Denver (which included two All-Star selections) ended with another surprising multi-player trade, this time to Dallas. "That was a surprise trade. Whenever you're playing well there are always trade rumors," Lever says. "I was on a trip to Hawaii with the Players Association when I heard about it."
The Mavs team he went to looked amazing, at least on paper. "The expectations in Dallas were higher than in Denver," Lever says. "We had Alex English [traded with Lever from Denver—Ed.], Derek Harper, Rolando Blackman, Roy Tarpley, Rodney McCray and James Donaldson. That was probably the most talented squad I've been around."
Talent aside, the Mavericks would bottom out due to injuries to Tarpley and Lever and finish the '90-91 season 28-54. Further hampered by injury, Lever ultimately retired at age 33 following the '93-94 season. "It was just the wear and tear on my knees," he says. "When it's more work getting on the court than it is playing on the court, it's time to do something different."
That "something different" would include assisting Lister's Mesa Community College hoops squad with workouts, to opening the aforementioned construction business, to working for the Kings as their Director of Player Development and color analyst, positions he held for seven years up until the end of last season.
The man with many hats is still a ball of energy, always looking to branch out to new endeavors. "I'm trying to figure out what I want to do when I grow up," Lever, now 55, says with a chuckle.
Says here he'll be good at whatever that is.
—
Images via NBAE/Getty