Ice Cube is a known NBA junkie. He can be spotted at Lakers games, and he played in the inaugural Celebrity Game at the 2003 NBA All-Star Weekend in Atlanta. We caught up with Cube after he officially announced the launch of the BIG3, a new, professional 3-on-3 league he founded with ex-NBA player and former Deputy Executive Director of the NBPA Roger Mason Jr and entertainment exec Jeff Kwatinetz. As you'll learn below, basketball is in his blood.
SLAM: You played in the Celebrity Game three times. What are your favorite memories?
Ice Cube: Living out a fantasy and a dream, playing in front of thousands, on TV, showing what you got and being on the stage. It's great that a person like myself who's such a sports fan gets a chance to not only meet my favorite players at functions and games, but also have a chance to get out there and get on the hardwood.
SLAM: Why is All-Star Weekend so important for the relationship between NBA players and rappers?
IC: We all come from the same neighborhood, in a way. We all understand we're a rare breed. To make it out and see a little more than just your environment. I think that right there makes us have something in common. We're all judged or critiqued by our work, that also creates a relationship. And we both admire each other. I think entertainers admire sports figures because you see them at the game and you see them supporting every way you can think of.
SLAM: Of all the celebrities you played with, who stood out, good or bad?
IC: I don't want to put nobody on blast as far as the bad ones because we all are not good enough to make it into the NBA. I love Snopp Dogg's game. He go hard at it. The Game, he can ball. Brian McKnight, he can ball, too. Jaleel White—Urkel—he can ball, straight up, hard defense. [Laughs]
SLAM: We all know you're a diehard Lakers fan. Who's your all-time starting five?
IC: Magic Johnson, Kobe Bryant, Kareem Abdul-Jabbar in the middle. I got to have Shaq in there, he would be my power forward. Then give me James Worthy as my small forward.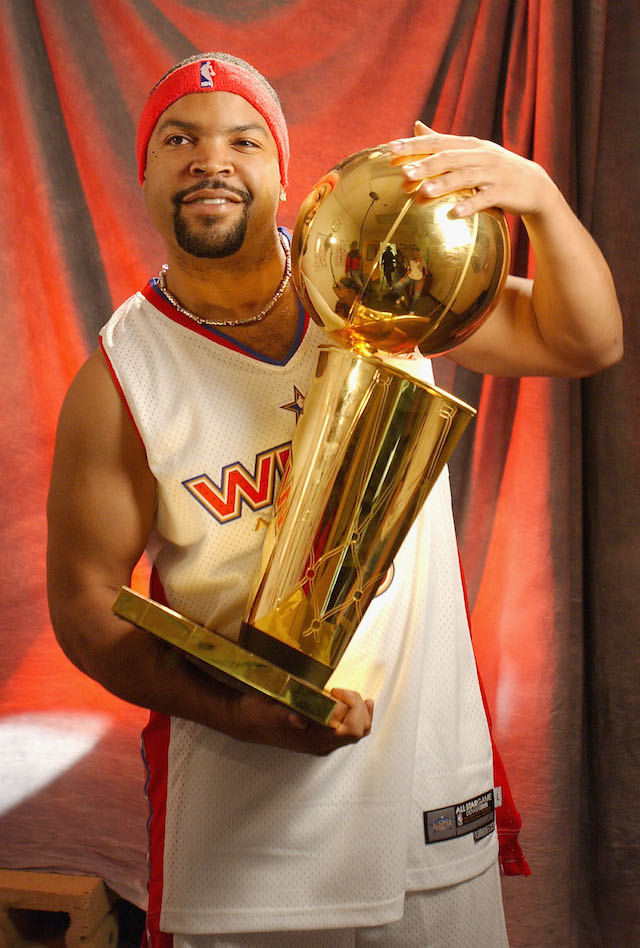 SLAM: Who do you hate the most: Celtics, Clippers or Spurs?
IC: The Celtics. The Spurs ain't even in the equation because it's not really a rival. I don't know what it is. It's weird. Like for some reason you can't really get mad at the Spurs. But those Celtics, yeah, nothing will ever replace my feelings for that.
SLAM: What were you thinking when Paul Pierce was carted off in a wheelchair in Game 1 of the 2008 NBA Finals, only to return to the game later?
IC: I was mad for a lot of reasons. I was mad we wasn't at full strength and I've seen this movie before in 1989. We weren't at full strength in the Finals again like 2004. Then I thought it was ultra-dramatic and I think they cheat in Boston. [Laughs] The refs…either that or some damn leprechaun, it just added insult to insult.
SLAM: If every crew in hip-hop formed a basketball team, where do you think N.W.A would stack up?
IC: Oh, they would suck. I think The D.O.C. could play, but N.W.A, naw, not basketball. [Laughs] I would probably have 50 points and everybody else would be fighting and a bunch of flagrant fouls and ejections.
SLAM: Where do you see the BIG3 in the future?
IC: If it's not around in 100 years, I'm going to be disappointed.
—
Photo: Getty Images