The last time the Spurs had a losing record was the 1996-97 season, when Gregg Popovich took over 18 games into the year, after head coach Bob Hill was fired and an injury ended David Robinson's season just six games in.
Tim Duncan was a senior at Wake Forest. Manu Ginobili was playing for his hometown team in Buenos Aires. Tony Parker was 15.
Since then, the Spurs have won 70 percent of their games under Pop. Somewhere along the way, Pop and Duncan developed a "corporate knowledge," or how the Spurs play on the court and operate off it.
It started with defense. The first four championship teams had defensive ratings lower than 100 (the lower the better). The ball had to make its way to Duncan on the block and there would also be no media scandals or complaining about playing time. Players had to accept that the Spurs were only about winning.
That corporate knowledge permeated the League and made its way to guys not even on the squad. Everyone knows that the Spurs are a well-oiled machine. They silently, systematically destroy opponents each night.
Last night in Brooklyn, the Spurs were at it again. The first quarter bounced along, with LaMarcus Aldridge going for 10 points out the gate but San Antonio only led 22-20 after 12 minutes. Their lead was only 45-38 at the half. Then quickly, silently, systematically, they busted the game open in the third and all of a sudden Kyle Anderson, at 6-9, was running the point for the Spurs during the fourth quarter when they led by as much as 30.
Anderson was 3 years old when Pop took the reigns in San Antonio. He was growing up in New Jersey when the Spurs were at the height of their defensive powers. He was a senior at legendary St. Anthony's High School when Kawhi Leonard won Finals MVP in 2014. As the youngest player on the Spurs roster, Anderson knows how rare of a situation he's in.
"Not a lot of 22-year-old dudes are around guys like this," Anderson said before registering 5 points, 4 rebounds and 3 assists against the Nets. "These guys got a lot of knowledge. Not only just teaching me about it, but showing by example. These guys do a great job of leading by example."
Anderson's game was tailor-made for the Spurs' system. He's a tall ball handler who looks to pass first but can also finish at the rim. At Summer League this past year, he won MVP and teamed up with rookie Jonathon Simmons to lead the Spurs to the championship.
Anderson and Simmons combined to average 38 points, thoroughly outplaying the competition, providing multiple highlight plays.
"They just said, 'Do you, we know what you're capable of,'" Simmons said about the Summer League coaching staff, led by Becky Hammon.
Simmons did him, collecting a two-year guaranteed contract and Summer League championship game MVP honors. Now the 26-year-old is learning about how to be more than a just a basketball player.
"It's about being a man," Simmons said about playing for the Spurs. "Doing your job and being professional. [Pop] does a very good job of setting examples, as far as more than basketball."
Ray McCallum, in his first year with the Spurs, said that he's trying to soak up all the knowledge he can from Pop and Tony Parker.
"I like to watch everything he does," the 24-year-old McCallum said about Parker. "The way he runs his team, the ways he runs plays. I'm blessed to be here to get the opportunity to play for Coach Pop, be around all these great players and learn as much as I can."
Perhaps the biggest secret to the corporate knowledge, the thing that teams around the League just can't seem to replicate, is the Spurs' chemistry.
"They say it's like a family over here and it is," McCallum said before the game. "The team's real close. A lot of the main guys have been on this team for a long time. Even some of the newer, younger guys on this team have been here at least four or five years. That's something you don't see every NBA team, guys being together for so long. That's what makes this team so good."
The team showed why it was so good against the Nets, eventually turning on their Hall-of-Fame switch and putting away their momentarily pesky opponents in the blink of an eye. Simmons spent most of his playing time hounding Joe Johnson, barely giving him any room to dribble. He also rose up to put one down on Shane Larkin and Thomas Robinson late in the fourth.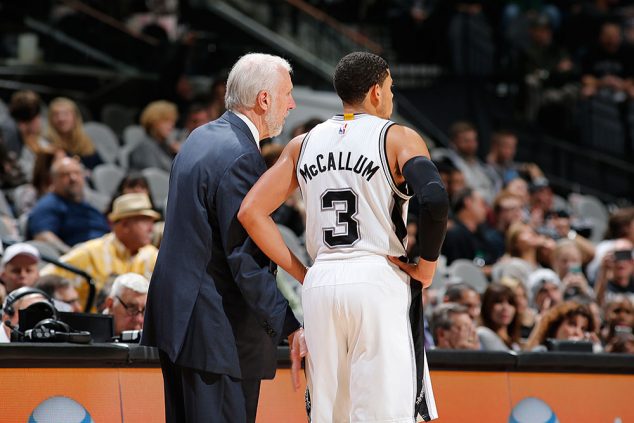 All the winning has let the Spurs enjoy matching the best start in franchise history. Before the game, general manager extraordinaire RC Buford was holding court on the sidelines, smiling and shaking hands with countless faces. Former Spur and current assistant GM Sean Marks sat by himself on the sidelines, arms stretched out across a few seats, looking as confident as anyone associated with the silver and black.
The young guns were at ease in the locker room, too. McCallum laughed carelessly with Anderson, while Simmons took his time doing his stretches.
"Off the court, everyone's so close, it makes it that much easier when they're playing the game," McCallum said.
It's been 19 years of the Duncan-Popovich tandem. Nineteen years of winning. Nineteen long years. And for Kyle Anderson, who could be counted on as a Spurs fan before he was drafted, he's just as in awe as the rest of us.
"It's crazy, man," Anderson said. "Especially for someone who's been watching these guys for so long. And they're still here doing it. It's crazy. It's insane."