Ever since LeBron popped up in the pages of our magazine, played nationally televised games on ESPN and graced the cover of Sports Illustrated, high school basketball players have been increasingly under the spotlight. By the time they hit the NBA draft, almost every North American-born lottery pick is known to basketball fans on some level. These days, the explosion of YouTube, highlight mixtapes and social media has made 16- and 17-year-old kids legitimate stars. High school man-child Zion Williamson has gone viral many times over and already earned a co-sign from Drake. Isaiah Washington, Ja'Quaye James, Jahvon Quinerly and a handful of other East Coast ballers formed #JellyFam and created a movement both on the internet and on the playgrounds. And you can't go a day without hearing about Lonzo, LiAngelo or LaMelo Ball.
This year's draft class is widely considered one of the best in the past decade. Throughout the past college season, there was a steady debate over who would go No. 1—Lonzo Ball or Markelle Fultz—and fans from Philly, Boston and Phoenix were already studying up on their franchise's next potential superstar. Despite the publicity and attention the top picks have garnered, there remains a very tall, relatively unknown 7-footer out of Creighton University who could, given his ridiculous upside, challenge for the title of top player in this loaded class.
Justin Patton, the rare player to declare for the NBA draft as a redshirt freshman, is projected to go anywhere between picks  No. 10 and 20, depending on which mock draft site you favor. But it's likely you've never heard of him until very recently.
A quick Google search for "Justin Patton high school highlights" yields just two videos. One, from 2014, is a 45-second clip that shows a gangly, somewhat awkward Patton hoisting up mid-range jumpers during a practice. The other, from 2015, shows grainy footage of an explosive big man catching a lob off the backboard during one of his Omaha North (NE) high school games.
It begs the question: how did Patton go from a scrawny kid jacking up slow mid-range jumpers to a super-athletic, bouncy 7-footer that has NBA teams ready to make him a major piece of their franchise in the span of just a few short years?
For starters, a high school growth spurt took him from a 6-foot wing player to a 6-9 big man.
"I was 6-2 as a high school freshman and now I'm 7-feet tall," says Patton. "I grew seven inches my sophomore year. I had a little growth spurt. I don't think my game caught up to my body until my redshirt season at Creighton. [Before that year] I was falling down on the court and I would get tired easily. Now my conditioning has caught up with my growth and I feel like I'm a much better ballplayer than I was two years ago."
During his high school years, Patton played with the Nebraska-based OSA Crusaders on the AAU circuit, where his coach, Bob Franzese, saw the potential in him as a raw sophomore who still had a lot of work to do.
"I remember I was trying to find another player for our AAU program and I went and watched him play," says Franzese, "and I had a lot of people tell me he wasn't good enough as a 6-9, 6-10 sophomore. And I was thinking, Man, with the progress he has made, I think a year or two from now we could really have something."
Franzese told the same thing to the coaches at Creighton, where the staff—predicting that he would likely be a three-to-four year project—offered Patton a scholarship early in the summer of 2014. Patton said yes before head coach Greg McDermott could even finish his sentence.
It was the only D-I scholarship offer Patton received.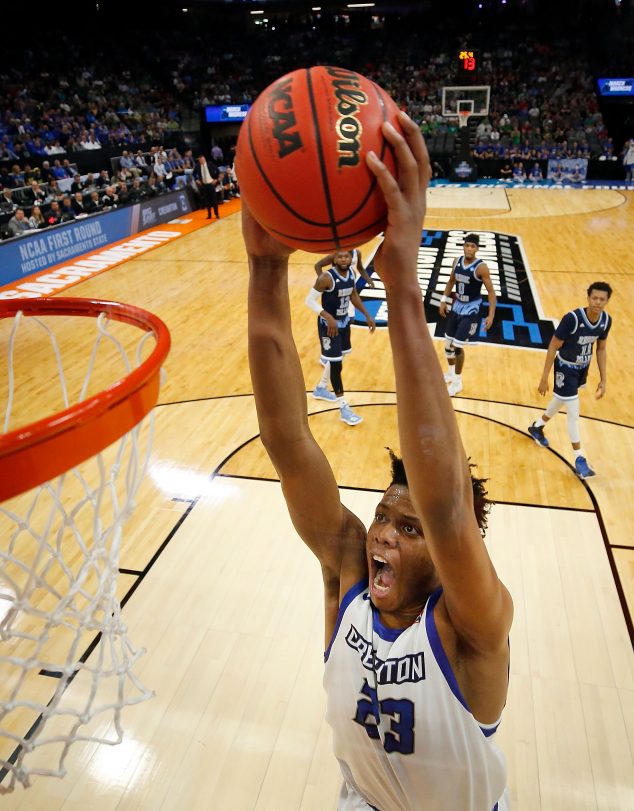 Later that summer, the rising big man's game started to blossom a bit and he showed flashes of dominance at tournaments. In the Crusaders' first major showcase of the AAU season, Patton displayed his explosiveness with tip dunks and blocked shots. As the summer progressed, more and more coaches began to show up at games.
"We went down to a tournament in Kansas City and played in front of 150 college coaches and Justin had the game of his life," says Franzese. "I'm thinking, OK, here we go, we're going to get 500 phone calls tomorrow. We didn't get one call."
Justin's big summer continued and the phone calls started to roll in, but his eyes never strayed from Creighton's CenturyLink Center. His commitment to Coach McDermott never wavered. For a hometown kid, playing at Creighton meant everything.
"Everyone in the state goes to the Creighton games—they drive from all over to see Creighton play," Patton says. "When you play there, all eyes are on you. We filled the gym with 18,000 fans every game. It's like no other playing there. Everyone is rooting for you—you'll be walking down the street and they'll be treating you like a God. It was fun being in that environment."
Patton's chance to prove himself took a little detour when he got to college, as he and the coaching staff decided that it would be best for him to take a redshirt year to develop and build on his skinny 200-pound frame. While hosting a recruiting visit with Class of 2016 guard Davion Mintz during Justin's redshirt year, Mintz, his father, Patton and McDermott were eating at a restaurant that overlooked the Missouri River. Following the dinner, the crew looked up facts about the body of water and learned that the part that flows through Omaha is called the "Big Muddy River," which prompted McDermott and Mintz's father to say, "Justin, since this is your city, we're going to call you Big Muddy." Little did the group know that Patton's true takeover of Omaha would come quicker than anyone could have anticipated.
Patton first started to turn heads on a national level when he scored 10 points and grabbed 7 boards in an early-season win over No. 9 Wisconsin last November. In a January game against St. John's, Patton scored 25 points, snatched 9 rebounds, dished out 4 assists and blocked a shot. His stock skyrocketed. The Bluejays started the season 18-1 and climbed as high as No. 7 in the polls before star point guard and National Player of the Year candidate Maurice Watson Jr went down for the season with a torn ACL.
With Watson out, "Muddy" became more of a focal point of Creighton's offense, frequently initiating the offense from the high post. The change meant Patton got to show off his versatility. Already known as a skilled post player and capable finisher at the rim off the pick-and-roll, the 7-footer flashed his handle, court vision and ability to step out and hit shots from both mid-range and three-point territory. JP finished the season with averages of 12.9 points, 6.2 boards and 1.4 blocks, while shooting 67.6 percent from the field for the 25-10 Bluejays.
Patton didn't begin to seriously think about declaring for the NBA draft until halfway through this past season, but with a new wave of stretch big men like Kristaps Porzingis, Karl-Anthony Towns and Joel Embiid taking over the game, his skill set—and untapped potential—gives him a shot at being a franchise cornerstone like the aforementioned stars.
"I feel like those players have a similar game to mine," Patton says. "I'm always trying to learn new things and I'm always watching those guys play and see how they do it at the highest level every day. I try to watch them and take pieces from their games and add it to mine."
Most one-and-done players are thrust into the spotlight at a young age and dubbed the next NBA superstar, often before they are old enough to fully grasp what that means and how much baggage comes with drawing such attention during their formative years. For Patton, growing and maturing late allowed him to analyze the landscape and see what has worked, and more importantly, what hasn't for other players.
"I feel like I got to grow up before all of this happened," he says. "A lot of these players, they go through this whole process and they're just kids and don't have the opportunity to grow up. I got to watch a lot of other people make mistakes and a lot of people prosper and I studied that. By the time I started to blow up, I was already a mature person and knew how to handle everything.
"I want to rise to the top," he adds. "I've always been someone that was never given a chance but made the most of everything they got. I hope and I will become one of the best in the NBA. That's one of the things I'm banking on right now."
—
Peter Walsh is a Senior Editor at SLAM. Follow him on Twitter at @Peter_M_Walsh.
Photos via Getty Images