As I said on a radio show about Lamar Odom yesterday, there was (and still is, I think), an extra layer of hype, pressure and promise around the best high school player in America when said player comes from New York City. Lamar was certainly one of those guys. All the talent, all the hype, all the personal drama….not to mention an unselfish approach to the game. On one hand, his story reminded me so much of LO's fellow outer borough prodigy from a broken family, Lloyd Daniels, whose story has turned out both happy and sad. On the more positive side, Lamar reminded me—and my colleagues back in 1999, namely Russ Bengtson and Tony Gervino—of a different tall baller with point guard skills who was drafted by a team in Los Angeles. What would compel us to compare Lamar Odom to Magic Johnson? Take a trip back in time and read this SLAM 37 cover story, and join us in hoping he gets better.—Ben Osborne
The NBA's next Rookie of the Year sits pensively, simultaneously nursing a cold and a bowl of chicken soup at a diner on Manhattan's West Side. A 19-year-old prodigy who represents the Los Angeles Clippers' best-ever chance at moving out of the League's basement, he has spent the day posing for photos and discussing basketball more intelligently than any TNT analyst, as well as addressing his already-long career as the Second Coming. But at the end of day, Lamar Odom has just one message.
"You only got to put one quote in this story: Hate me now. Hate me now. Hate me now."
Really though, Odom is being too simplistic. There is obviously some resentment that builds up when you get more ink for your sometimes-immature off-court behavior than you do for being the most intriguing player to enter the NBA in years, but in talking with Odom it seems like the bitterness is mostly beneath the surface like GZA. The 6-10 point forward is quick with the laughs and an easy smile, sharing enough to convince you (without ever saying so himself) that his being picked fourth was absurd; of course he should've gone first. Odom also leads you to believe that the League will never quite be the same once he starts showing more skills in the new Staples Center than there's supplies in a Staples store. "The thing I love about the NBA game, which I think will help me, is that it's a playmakers' league," Odom says. "A league for people who like to play the game of basketball. You know, someone that gets off on passing the ball and running an offense. I think it's a league for players like that, because you're playing with great players who can all run, jump and dunk. I want to pass to these guys, so that might make the NBA easier for me than college was."
Jump your eyes back up the page for a quick second: the man is 6-10, with a lithe 220-pound body that has been harnessed quite well by its owner. Odom's court vision and unselfishness—not to mention his being in the right city—make him the first player ever to warrant honest comparisons to Magic Johnson. Odom's point about the NBA potentially being easier is a good one, even though Lamar's slick ball-handling, powerful rebounding and graceful shooting sure helped make his one season at the University of Rhode Island look easy. But, as by far the best player on his team, Odom didn't always get to play his game. "We really pushed Lamar and asked him to do things offensively that he could do, but didn't always want to do," says URI head man Jerry DeGregorio, a long-time confidante of Odom's who served as an assistant under Jim Harrick last season. "He is so unselfish as a player and not at all conscious of how many shots he's taking. On our team we really needed him to be more assertive than he likes to be, and once he started doing that we started to win."
The most talented player to ever play in the Atlantic 10 Conference, Odom helped a mediocre Rams squad to a 20-13 record, serving as the team's top scorer (17.6 ppg), rebounder (9.4) rpg and shot blocker (1.6 bpg), and number-two pass master (3.8) apg. Odom started URI's regular season off in stirring fashion when he dropped 19, 14, nine and the game-winning shot on TCU in game one, and then finished off the job when he single-handedly delivered Rhode Island to the NCAA Tournament, hitting an NBA-range triple at the buzzer to beat Temple in the A-10 finals. "As much as Lamar feels no need to shoot throughout much of the game," DeGregorio says, "when there's big shots to take, he does want to shoot. And he'll make them."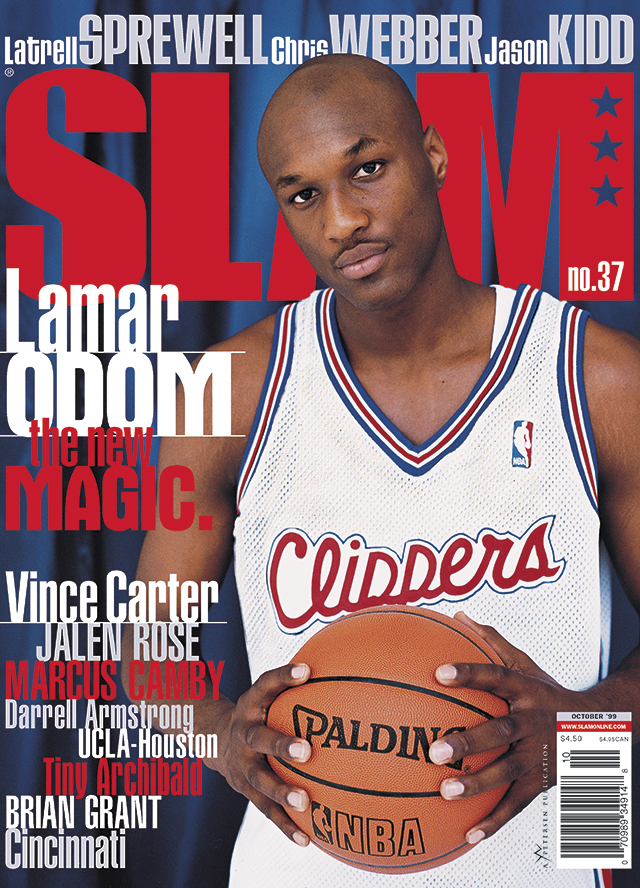 Odom's heroics notwithstanding, playing in the A-10 on a squad not coached by John Chaney was a good way to keep Odom's growth as a player out of the national spotlight for a little while. "It was a great year for me," Lamar says. "I had a lot of support from the people in Kingston, and on the court I added some discipline to my game. I thought I could have played better, but I was still happy with all I accomplished."
The accomplishments, however, are not what got Odom his ink. Instead, the Queens-reared Lamar, who's been in the center of the big-money world of basketball since the age of 15, remained known more for his well-publicized journey through three high schools in his senior year, a short and troublesome stay at UNLV and then a long wait to play at Rhode Island. When he finally was playing, you actually heard less about him, but the madness returned when Odom struggled with the decision of whether or not to turn pro. "It's pretty weird that I still haven't even played a game in the NBA, considering all I've been through," Odom says. Despite not even turning 20 until this season is a week old [Nov. 6], Odom says he feels like he's "at least 30," adding, "I mean, reaching this League has been my dream since I was 10-years-old and playing at the park with 15-year-olds. And then being talked about as a lottery pick straight out of high school… even though so much has happened, I always kind of felt like it was my destiny to make it. Now it's finally here."
"He's like Magic Johnson with a jumpshot." —Pat Riley
If you don't like hearing it from us, listen to Riles, a better man than anyone else to issue Magic comparisons. Riley spent eight-plus seasons coaching Earvin Johnson, and after watching Odom in a private workout the day before the Draft, the Slick One was sure he'd seen a reasonable facsimile of his former point guard. You didn't hear much about Odom's late-in-the-Draft-game performances, because most members of the press found it so much more fun to harp on what Odom had done "wrong" leading up to the annual cattle call (skipped the NBA Combine, split with an agent, explored returning to college). But there was some dope stuff going on.
Check it: Having realized that hiding from the teams that wanted to pick him and the vultures that wanted to represent him was not the answer, Odom started to face the music in a June 28 workout at URI in front of folks from the Bulls, Clippers, Heat and Raptors. Lamar didn't hit many of his shots, but he showed enough for Miami to want to see more. At midnight on the 28th, Odom boarded the Heat's private jet with Miami assistant coach Bob McAdoo, and rather than resting up for his next workout, Lamar grilled the former great like a detective, picking McAdoo's brain for helpful hints and throwing in a line or two about how ridiculous it is that Kevin McHale is getting inducted into the Hall of Fame this fall while McAdoo remains uninitiated. Anyway, after landing in Miami and catching about three hours of shuteye, it was time for the eager student of the game to show off what he's learned. Observers of that workout say Lamar was on, nailing a good 90 percent of his shots. When he finished, Odom hit the showers, returning to the court to find a hand-written, three-page note from Riley. The note was filled with plenty of the blather that fills Riley's motivational book, The Winner Within, but there was also some personalized gushing, including the message that "You have a chance to be considered the best of the best," and "You will be known as the only one who can do what you do."
As Odom was whisked off to a workout with the Bulls, the starstruck Riley was working hard on dealing for the chance to draft him, a tall order when your greatest tradable asset is PJ Brown. Alas, no trade went down, so Lamar entered Draft night unsure of where he'd go. "All the teams I talked to seemed interested in men, and of course they tell you they want to take you, just like you tell every team you want to play for them," he says of the cat-and-mouse game that precedes David Stern's climb to the podium. "But I realize this is a business, and if it's not written down I don't believe it, so I didn't know who'd take me."
And anyway, Odom adds, who cares who drafts you when it's the act of being drafted that you've been working your entire life for? "It was such a great feeling to hear David Stern call my name. Just shaking his hand was a great moment in itself," he says. And the fact that once he got over the thrill, he realized he was wearing a Clippers hat? "That's fine with me. Nothing beats basketball in L.A. I'm ready to go out there and kick some ass."
The skills of the players picked before Odom—workmanlike 6-8 forward Elton Brand, high-flying 6-3 guard Steve Francis and flamboyant-but-bad-knee-owning 6-2 point guard Baron Davis—can be summed up thusly: save for Francis' unique ability to walk on air, you can combine every other trait that the three own into one player and still not match Odom's panoply of skills. So the thought that team execs in Chicago, Vancouver and Charlotte—as well as self-righteous fans and writers around the country—must live with is that the most talent and basketball-intelligent player in the Draft was passed up because he acted his age for a few weeks. A young man whose favorite player was Magic and who says about his game: "I've always considered my game to be on the floor. I don't want to be known as an 'athlete.'
"I really take pride in setting a pick, opening up to the basket, screening through. All that stuff is a big deal to me. You know, when the team is clicking [at this point, Odom begins excitedly snapping his fingers around his head to demonstrate] and spreading the ball around, it makes the game so much fun."
And with the skills Odom has—to rebound, start a fast break, take the ball in the post, be isolated on the wing or work off the ball—he can create all the textbook elements of basketball just by being on the court. "Growing up, I played for a lot of good coaches who really knew the game, and once I learned what to do, I played and watched as much basketball as I could," Odom says. "And since New York City basketball is mainly a guard's game, I learned how to be a guard."
As Utah Jazz VP of Basketball Operations Scott Layden said of Odom, "He's a 1-2-3. His talents and abilities exceed everyone else in the draft." But Jerry Krause, Stu Jackson and Bob Bass passed up on the rarest of players because he lacked some guidance? "My mother passed away when I was 12, and I was never close to my father. My grandmother and my aunt did a great job of raising me, but I had to learn everything about the basketball world on my own," Odom says. As the top-ranked high schooler in the country, "everything" included street agents, despicable sneaker companies, camp representatives, and agents feeding him gifts. "You've got people trying to make a business out of you when you're only 16 years old, and you don't even know what's going on yet. You might take a sweatsuit or two, and who knows? You just sold your soul."
Leading up to the Draft, all the same elements, laced with even more greed, returned to Odom's life with a vengeance. And the 19-year-old Lamar still didn't have too many people he could trust. "I guess it was just a learning experience going through all those things, getting a lot of negative publicity towards me and my name," Odom concedes. "As a young black man from the inner city that excels at what he does, I'm always going to be under a microscope, and I haven't always handled it well. But now I've reached the NBA, the highest level of basketball, and I've learned how to conduct myself."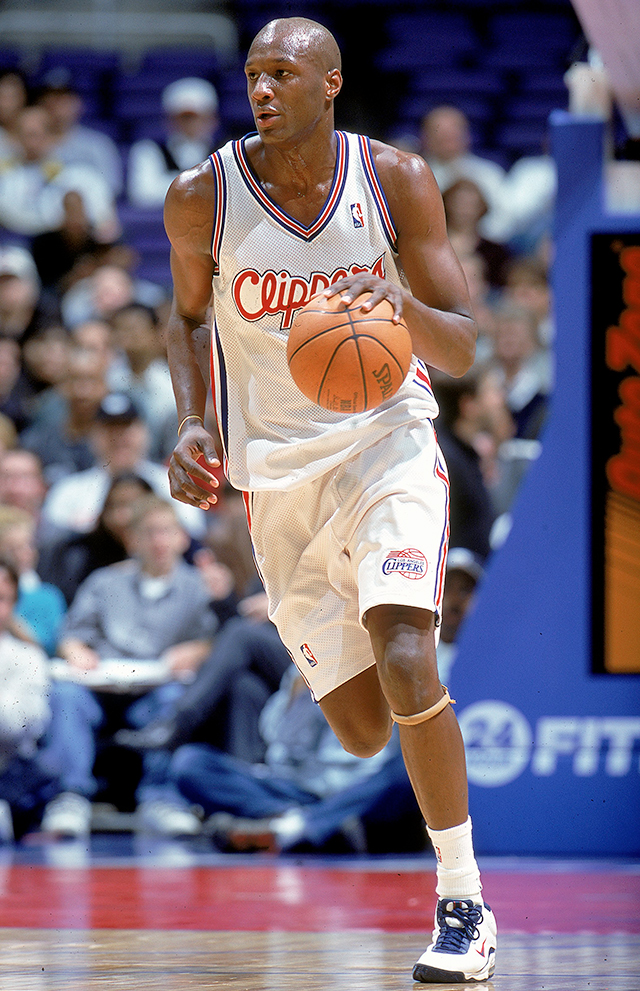 Perhaps the hardest part for Odom was dealing with the fact that even when he would make a wise decision to cut some scumbags out of his life, those people would then do all they could to hurt him. "What makes where I am today even more special is that I had so many people trying to pull me down because I chose not to be involved with them. Now it's like, 'I told you I could make it.'"
So the question that all observers want to be judge and jury in the case of "The People vs. Lamar Odom" must ask themselves is this: "Which statement do you find more relevant: a) It's about time that Lamar Odom learned who to trust, or b) Lamar Odom is 19 years old." If you answered "a," you must have been, or plan to be, one precocious teenager. As for the lucky team that chose "b," well, maybe they've finally decided to try. I wanted to get some comments from Clippers' VP of Basketball Operations Elgin Baylor on what he sees in Odom, but Baylor—after repeated requests—declined to speak to SLAM due to an earlier disagreement with another writer. [Ed's note: Elgin, please get over it.]
Clippers coach Chris Ford must be having a hard time sleeping just imagining what he'll do with this youngster who can do things like Ford's old teammate Larry Bird used to. While Ford was also unreachable for this story (he was on vacation), he did say after the Draft that. "When we realized the Draft had gotten down to the fourth pick and [Lamar] was still on the board, we were thrilled…[He] has never had any serious trouble. We're talking about being late, changing minds, changing schools. He just needs a little guidance. We'll give him that."
If they can do that, it says here that the Paper Clips aren't that far from becoming razor blades, slicing up their opponents with a high-octane attack that should scare aging Western Conference squads like Houston, Seattle and Utah. For one thing, there's the aforementioned Staples Center. Sharing a legit arena with the high-profile Lake Show is a huge step up from playing home games at the morgue-like LA Sports Arena. More importantly, the Clips own a rising star in Maurice Taylor—who they swear will be re-signed for the maximum salary—as well as talented and improving players like Tyrone Nesby and Michael Olowokandi. If they are able to keep Lo Wright and Lamond Murray, plus pick up a real point guard, the addition of Odom could easily send the Clippers straight into the 2000 Playoffs. Even if Wright and Murray walk and there is no nice point man added, Odom alone should be enough to boost L.A.'s W total in a big way. "I'm not totally certain what they're going to ask of me, but I'll wave a towel and just be a spark plug off the bench if I have to," Odom says. "But when they asked me how I think I could help, I said as a ballhandler. I can see us playing two shooting guards, me at small forward and then a power forward and a center. In that situation you can just let me handle the ball and not even worry about having a point guard out there."
Odom even has the Clippers' notoriously unpleasant locker room scene figured out. "Of course guys have been miserable in the past," he says. "When you don't win, guys are not going to want to play. You're going to have a coach who starts walking into the lock room all hunched over, but damn, if you win, you just kill all of that. If we can make the Playoffs you're going to see a whole new outlook for the Clippers."
As we leave the diner and walk the streets of Manhattan for a bit, Lamar goes unnoticed by every single person on the street, save for a random encounter on Ninth Avenue with Knicks radio man Gus Johnson, who wishes Lamar well.
A year from now will be a different story. If we sit down one year from today, what kind of season do you think we'll be talking about? I asked Odom. "I'd say hopefully about 18 points, 7 boards and 5 assists per game, Playoffs—and the Rookie of the Year Award."
Try to hate him after that.