This is not a secret: Rappers like basketball. A lot. They like it so much that managers often tell us they have to plan their artists' shows and events around important games, so much that emcees keep their songs and verses littered with both current and historic hoop references. With the NBA season tipping off Tuesday night, we asked a specific set of questions to 10 rappers—Jadakiss, Bun B, Riff Raff, Fat Trel, Jay Rock, Skyzoo, Gunplay, Lil Bibby, Problem and Your Old Droog—to get some predictions on what to expect in the coming months.
(Riff Raff's answers were emailed in; we left them unedited. Clearly.—Ed.)
interviews by Tzvi Twersky and Adam Figman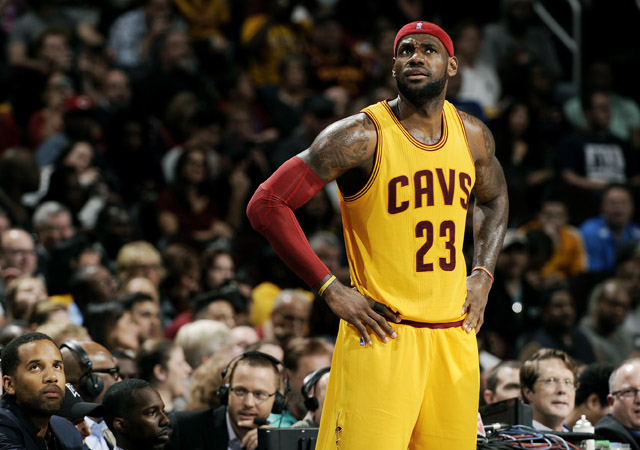 1. Who you got coming out of the East?
Jadakiss: You can't count Cleveland out. I still like Miami—I think Miami's gonna be solid, they'll have a nice chip on their shoulder. Nets should be pretty solid. Indiana, I don't know. I think you gotta look out for Chicago, Cleveland and Miami. Then the sleepers are Washington, Charlotte and maybe Brooklyn. But I'll say Cleveland.
Bun B: You gotta look at the Cavs as a contender. It just depends on how quickly those guys get it together. I don't expect it to take these guys long. LeBron comes back to this team as a leader—it's safe to say Miami was Dwyane's team. But this Cavaliers team, this is LeBron's team. He's coming with the experience and the rings.
Jay Rock: Anybody could win I think, because it's pretty much wide open since LeBron left Miami. But if I have to choose a team, I think the Knicks got a shot.
Lil Bibby: If DRose is even halfway healthy, I think the Bulls will get it. If not, LeBron and those guys might win it. That's a cheatin' team, though. I hate those super teams.
Gunplay: I'm a die-hard Miami fan. If they came out with a soccer team, I'd be a Miami soccer fan, too. So, I hope we'll pull it out without LeBron and show everybody that we didn't really need him. Thanks for your services, but we can still pull it off. Hopefully. I don't know.
Fat Trel: Cleveland, of course. Simple as LeBron, Kyrie and Kevin Love.
Problem: Haven't seen everybody yet, but on paper the Bulls look strong. Cavs are gonna be fun to watch. Don't sleep on Toronto though.
Riff Raff: LeBrons n NEM
Skyzoo: To me, the East this year is so open ended, it's unbelievable. I don't think you can honestly give a clear cut 99 percent answer like we may have all done in the past. With Paul George going down for the season, Derrick Rose coming back but uncertainty surrounding that outcome, the Cavs loading up but needing time to jell I'm sure, it's a free for all in the East. My heart, as a life long blue and orange fan, wants to say my Knicks, but my mind is built on reality so I honestly can't say NYK. I hope we get it and I'd be the first to champion the feat, but really it'll most likely come down to Cleveland or Chicago, depending on Derrick Rose's health. Let's sadly roll with the Cavs.
Your Old Droog: Of course the Cavs. There's nobody else, really. The East is dry. I feel bad. I think it's gonna be the Cavs, b.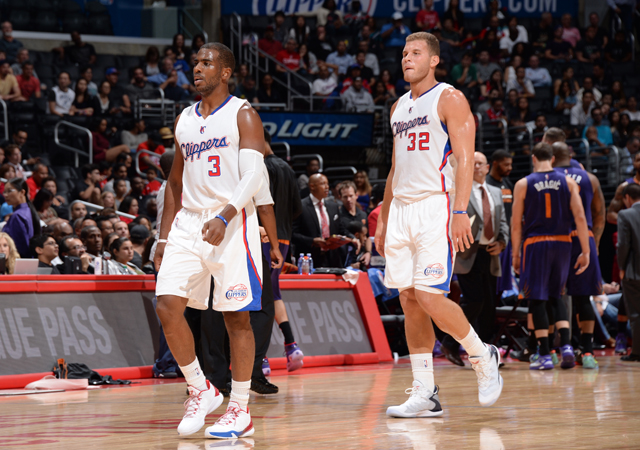 2. Who you got coming out of the West?
Jadakiss: I'll say San Antonio's the front-runner to win it all. They didn't touch nothing. Teams usually trade away or lose someone after they win a Championship because somebody played really well and they feel they gotta go to Milwaukee or something. They kept everybody. It's theirs to lose. They're gonna try to stay healthy and make that run at the end.
Bun B: I think the Rockets have as good a chance as anybody. I think everybody looks at the West as wide open right now, with Kevin Durant looking to miss at least six weeks. I think Russell Westbrook can't do everything by himself, and I think he's already said that. I would love to see some mid-season free agency pick-ups to strengthen the bench. That's my only concern. Guys like Golden State and San Antonio have a really solid bench. So it's gonna be a hard road, but I'm not down about it. I'm extremely optimistic.
Jay Rock: I hate to say it, but I think the Spurs might get it again in the West, even though it's Laker Gang on mines. But it'll be either the Spurs or OKC.
Lil Bibby: I hope Kevin Durant and them win it all, but I think he needs to take over a little bit more. That guy Westbrook shoots too many shots. To me, Westbrook do the shit that Durant's supposed to be doing.
Gunplay: I think the Spurs will do it again. They're a real well-rounded team.
Fat Trel: Either the L.A. Clippers or OKC Thunder. Yeah, KD's injured, but that's a small thing to a giant. The Clippers, they did great last year, and now they're even better. Outside of that, I want to give Kobe and the Lakers a chance, but I want to keep it realistic, too.
Problem: Lakers, in a perfect world! Spurs, though. Too good. Too disciplined. Great balance of vets and young talent. They're gonna be tough to beat.
Riff Raff: Clippers n NEM
Skyzoo: The West is way easier to pinpoint. I like Golden State as a team, love Steph Curry and Klay Thompson, which to me is the best backcourt in the League by a landslide, so I'd love to see them take the West, but I think they're one more piece away from that. OKC is always gonna be in the talks, and I think the Clippers are knocking at the door. Houston looked dope on paper before they lost Parsons, but now I think they're off the table. Really, OKC or LAC will be there in my opinion, and if I'm picking one, give me LAC since the Thunder hasn't updated their roster since their last Finals appearance. I hate the Spurs, that's why they're not on my list. I'm cool on them, except for Tony Parker.
Your Old Droog: I think it's either San Antonio or Dallas. I feel like Carlisle is the best coach in the League, by far. That was the only team that took San Antonio to seven games, and that squad was not that ill. Calderon couldn't play any D. Dirk had like five bad games. It's all coaching.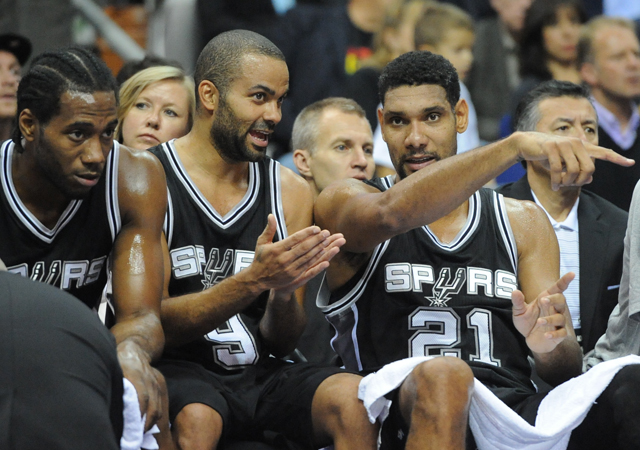 3. Finals prediction?
Jadakiss: I think San Antonio wins it. I think [Coach] Popovich got the remedy. He uses his whole team. See how easy they beat Miami? Easy. It was no way Miami was winning at all. They couldn't win.
Bun B: Oh man, Rockets in seven. It's gonna go the whole way.
Jay Rock: San Antonio, because they got more Playoff experience.
Lil Bibby: I hope the dog comes out in Durant, and [the Thunder] win it.
Gunplay: Of course I've got the M-I-Yayo, baby! Deep down I'm like, well, it's gonna be a tough one, but I keep faith 'til the very end.
Fat Trel: I won't say the Cavs are going to win the Finals no matter what. As far as me betting cash-wise, yeah, I'm going with Cleveland all the way. But I think the Clippers or OKC could win it.
Problem: Spurs vs. Bulls, with Spurs winning in 7.
Riff Raff: Clippers sweep VERSACE broom style
Skyzoo: Cleveland would probably get it off of Lebron's experience, but I wouldn't be surprised if LAC got it based on Doc being in the driver's seat. I can't call that one, but seven of those would be pretty nice.
Your Old Droog: I think the Spurs might repeat. If I'm not mistaken, I don't think they've ever had a repeat.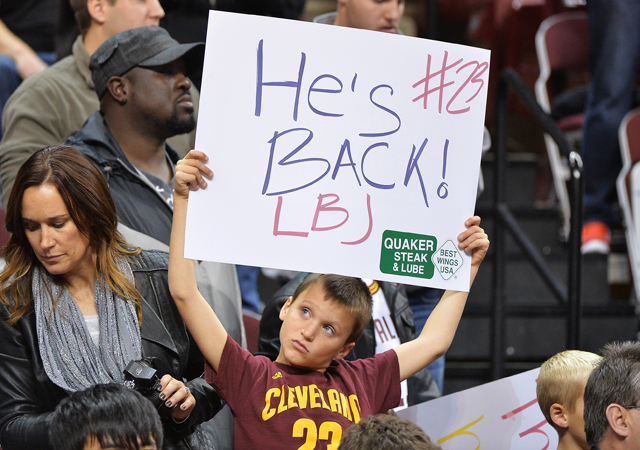 4. What did you think of LeBron's decision to return to Cleveland?
Jadakiss: I was happy for him. I know even though he won those two chips and went to the Finals three times, there was still something in the back of my mind, with the way he did The Decision, that he was still never really in peace with himself. His wife is from [Ohio], he's got a huge mansion over there. That was one of the smartest things he ever could've done. It was a sigh of relief for Cleveland, for him, for everybody.
Bun B: Obviously the Rockets put their pitch in. I would've loved to see him come here. But I think once people realized Cleveland was even on the table that was pretty much a done deal. I think he's already done what he came to accomplish in Miami, and now he kind of wants to do it at home. And you can't blame a guy­ for that—he's got the opportunity to do it.
Jay Rock: I guess he made a decision that's best for him and what he wanted to do with his career.
Lil Bibby: LeBron was my favorite player when he was on Cleveland, the first time. He was by himself, and he was taking them all the way to the Championship. When he left, I was thinking, Why would you go to a team with two other guys? You're already the best. And now he's home? Nah, you can't do that. You can't be back and forth.
Gunplay: I just thought it was business, ain't nothing personal. People take it a little too far, I think. He brought the rings here! What the fuck? Let him go about his business and go back home. We got some rings, now keep it moving.
Fat Trel: As far as Championship-wise, yeah [he should've returned]. You can't even argue with that. There's no doubt that Dwyane Wade is practically kinda done, you feel me? You hate to put it that way, but I feel as though he's near done. Chris Bosh was a great player, but he's Chris Bosh and he'll never do numbers like Kevin Love. So, LeBron did what was best for him. And he's home. You can't argue with that. Maybe if it was a third team and he was going all over the place, but he just went back to his previous team and you can't argue that.
Problem: LeBron should've done whatever was best for him and his family.
Riff Raff: LeBrons an icon "LeBron The iCoN" He wanted to prove to the world that he can face any challenge everyone was mad he left but he is back and gunna showcase why could have been the best wide Reciever in NFL history but he chose to shoot jumpers
Skyzoo: I'm not mad at the move, but I also was prepared to see him retire in Miami. For everything it took to get there, what he accomplished, the glory, the mistakes, him staying in Miami would've made sense. But I do respect the theory and drive behind the move.
Your Old Droog: I don't know. I was never a fan of that whole switching-teams thing. I think Danny Ainge kinda fucked up the League with that shit. I mean, [LeBron] should've never left anyway, but he's his own man, you know?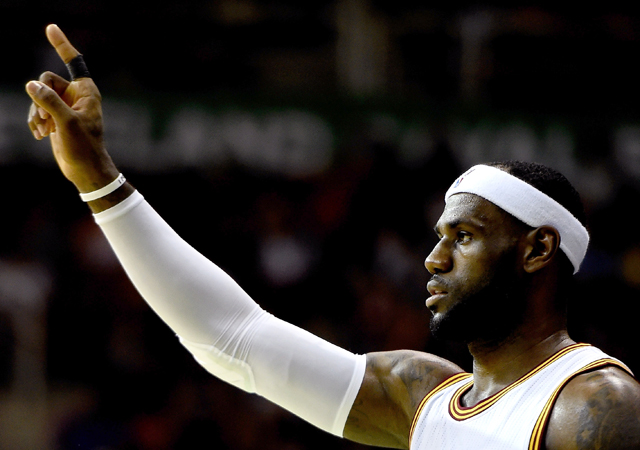 5. Who will win MVP this season?
Jadakiss: I don't really know. I gotta see how the season starts. They've got LeBron the top candidate to win it, but I dunno. I like the underdog.
Bun B: I think it's really early. It's gonna be very hard with KD's injury to consider him right now. I think Melo is gonna be a candidate. I think Melo is really gonna make a big push to solidify himself in the NBA this year as a player. I would definitely say keep your eyes on Melo. I think he's starting see that people aren't placing him in that category because the team hasn't made it to the Finals, and he hasn't gotten that ring yet. I think he comes into this year more determined than ever.
Jay Rock: I think LeBron. All eyes on him right now, plus if he's consistent he's gonna get MVP.
Lil Bibby: If Rose comes out the gate running, I think it'll be him. If not, it'll be Durant or LeBron.
Gunplay: I think LeBron will take it. I think LeBron is the best player since Michael Jordan retired, you know what I'm saying? I was there for the Michael Jordan days, his height. I remember those days. I haven't seen nothing like that—offense and defense, putting up numbers like that—besides LeBron. So I have to go with LeBron.
Fat Trel: LeBron. First year back with Cleveland, he finna go off. Go off, go off, you feel me?
Problem: Tim Duncan. He's still the best power forward/center in basketball. That's why.
Riff Raff: DeAndre Jordan he the most highest jumping versatile big man in the league he can hang on the top of the backboard and do chin ups
Skyzoo: The typical answer is LeBron, but I'm going Melo, 100 percent. What he's gonna be able to do in this new system should show doubters his versatility as a player and face of a team, on the court. Easy answer, Melo all the way.
Your Old Droog: Probably Bron. I don't see his skills fading. And the East is so trash, the Cavs are just gonna dominate.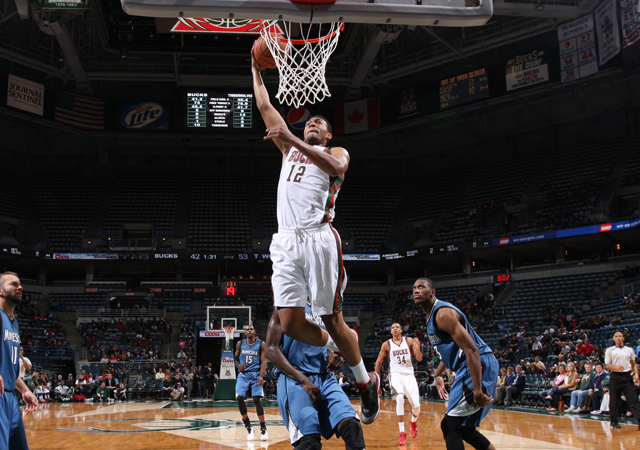 6. Who will win Rookie of the Year this season?
Jadakiss: I like Jabari. I like Wiggins, he's looking good. But I think Jabari has more of an NBA game already. Jabari's like a baby Melo. He's got a mid-range game, he can go on the blocks, he's got a nice little handle. I think he's gonna be the sleeper. He's got nice elements to his game and has size already. Wiggins is a little slim but he's fast and lanky and he's got hops, but Jabari's got those shoulders—he's gonna be able to take them bumps. I haven't met Cleanthony [Early], but can't wait to meet him. I made a lot of money betting on him in the NCAA Tournament. Wichita State was killing it.
Bun B: I know all eyes are on Wiggins, but I think Jabari, based on his position, has a better opportunity to show how well-rounded he is. I don't know. I expect Wiggins to do big numbers, but I expect Jabari to have better all-around stats. But it all depends on which of these guys adapts to their system best.
Jay Rock: Ain't no telling.
Lil Bibby: I hope Jabari wins it. When I played in grammar school, I played against him a lot. He was one grade under me, and when we played them he had the ball in his hands the whole game. Like, he was 6-2 and he was the point guard and center! So, salute to Jabari.
Gunplay: I haven't been following the rookies. I ain't gonna lie to you.
Fat Trel: I don't really like the class, but I say Jabari Parker. It'll be him or Wiggins, but I personally think Parker is better.
Problem: A sleeper, the dope white kid from the Bulls. He's a beast.
Riff Raff: JODY HiGHROLLER
Skyzoo: I've been a Jabari Parker fan for a while now, and I think he's gonna easily pick that award up. As talented as this Draft class is, he's the most prepared to go up against vets, and he's also on a team that literally needs him, so he'll be able to shine for 82 games straight
Your Old Droog: Nah. I don't know. I'm not even gonna front. I'm not clocking them like that.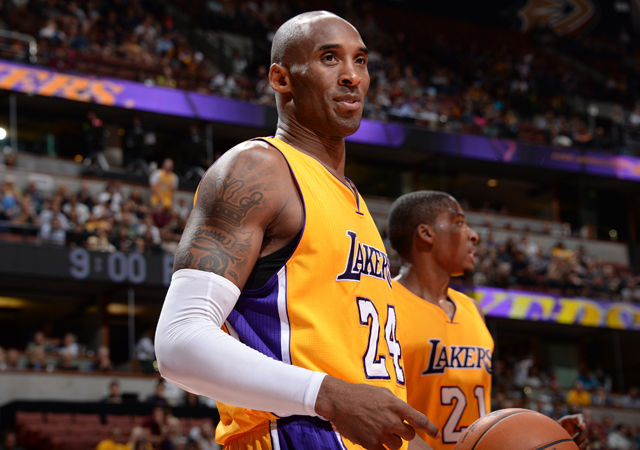 7. What kind of season will Kobe have?
Jadakiss: Never is The Mamba done! The Mamba ain't done 'til the Mamba says he's done. I see everybody counting him out and all of this stuff—that's just gonna make him go harder. I don't think he's over. I'm not sure how far [the Lakers] are gonna go, though. If they make the Playoffs, that's crazy.
Bun B: I think Kobe's pissed. That's what I think. If he's healthy, he's gonna make a lot of people pay for what they've been saying. Putting Kobe Bryant 40th [in the ESPN rankings]—I may not be the biggest Kobe Bryant fan in the world, but shit, we're not gonna act like he isn't who he is. I'm biased because he came down here and torched us. He looked me in my face a couple times, so me and Kobe have a little history. He gave me the MJ shrug after he nailed a three right in front of me. He gave me the MJ shrug. But you've got to respect who Kobe Bryant is. He's the fiercest competitor in the NBA—I don't think anybody wants it more than Kobe.
Jay Rock: Can't count Kobe out, he got something up his sleeve. The Black Mamba will perform.
Lil Bibby: I dunno. With that jumper, Kobe might just stick around for a minute.
Gunplay: I don't think he's done. He's just getting a little old now. He's still a hell of a player. I think he'll try to make his mark this year to prove a point. I think he's got five more years, then he needs to sit on down somewhere.
Fat Trel: I believe Kobe will have a good year, but I don't think we're going to see the Black Mamba, or whatever the fuck they call him.
Problem: He'll average 24, 6 and 6. Hopefully, we will get a midseason trade goin' so we can shock the world!
Riff Raff: Kobe Is gunna be inspirational to watch I want him to average 25ppg
Skyzoo: Kobe is gonna be better than people are predicting, but I don't see it being 2008 or anything. He'll show flashes of brilliance and will overall have a dope season, but it won't be what it was. Still in all, he's Kobe, point blank. Never be another.
Your Old Droog: Kobe's a beast, man. He's got a lot to prove. Cats like that, they go insane with the preparation and training. I think he's got two or three more years in him. But I'm glad the Lakers and Celtics got shitty squads.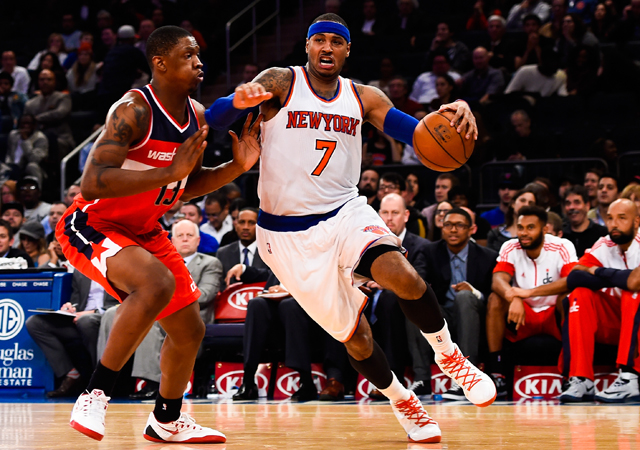 8. How will Carmelo Anthony and the Knicks do?
Jadakiss: The Knicks are up in the air. You know how the Knicks are. I'm leaving it in the hands of Phil—right now I'm on Phil and Melo. I hope Cleanthony can come in and have a solid rookie year, I hope Tim Hardaway [Jr] can show some progression like he did last year, I hope JR comes in stable. It should be alright if everybody do what they do. But it's the Knicks, so you never know. They could lose to all the teams they're supposed to lose to, then win the games you never think they're gonna win.
Jay Rock: I think they gonna do good.
Lil Bibby: I think they need another player. The team looks good on paper, but I think they need a leader-type point guard. If they get that, they'll be straight.
Gunplay: Eh, it's to be seen.
Fat Trel: I think it's going to take a year for Phil Jackson and DFish to get it officially right. As far as this year, I say they make it to the first round of Playoffs but no further.
Riff Raff: CARMELO Anthony in the Candy Toyota Camry
Skyzoo: Again, as someone who bleeds blue and orange, I think this year will be tough for us. Melo is gonna be Melo, top five in the League, hands down. But the help isn't where he deserves it to be. Next season should be everything, a LaMarcus Aldridge and Rajon Rondo scoop of sorts should help fix things. We can all hope, right?
Your Old Droog: Honestly, I don't care. I'll watch regardless. As long as Walt "Clyde" Frazier has rhymes, I'm gonna be tuned in. But [the team] is just sad. I try not to think about the Knicks.