DeMatha Catholic is an all-boys high school nestled just outside the nation's capital in Hyattsville, MD. DeMatha is well known for academic excellence, as well as its storied music and athletic programs. Under the tutelage of Hall of Fame Coach Morgan Wootten, the basketball team won national championships, sent numerous players to the NBA—even defeated Lew Alcindor and Power Memorial Academy for top billing in 1965's "Greatest High School Basketball Game Ever."
Currently, the Stags are led by class of '91 alum Coach Mike Jones. At a storied program like DeMatha, the sum of the hard work and dedication are championships and elite-level athletes. It was there that three current NBA players would push each other to eventually play at the highest level. Together.
Jerian Grant, his younger brother Jerami, and Victor Oladipo are in their first, second and third seasons of their budding pro careers. Each brings something different to their individual teams: Oladipo has a strong all-around game and high-flying acrobatics on display with the Orlando Magic, Jerian leads the New York Knicks with intelligence and resolve at PG, and Jerami brings high energy to the Philadelphia 76ers, with an recently extended shooting range, too.
They are enjoying success after paying their dues, and making good on their schoolboy dreams. "It's crazy how we all used to be in the same house growing up in high school," Oladipo says, "talking about playing in the NBA, and now we are actually living our dreams—it's a blessing."
A lot has been written on the Grant brothers, their father Harvey and uncle Horace, both longtime veterans of the League. But their narrative isn't complete without including Oladipo, who starred alongside Jerian, Jerami and Quinn Cook during consecutive Washington Catholic Athletic Conference championships in '09 and '10.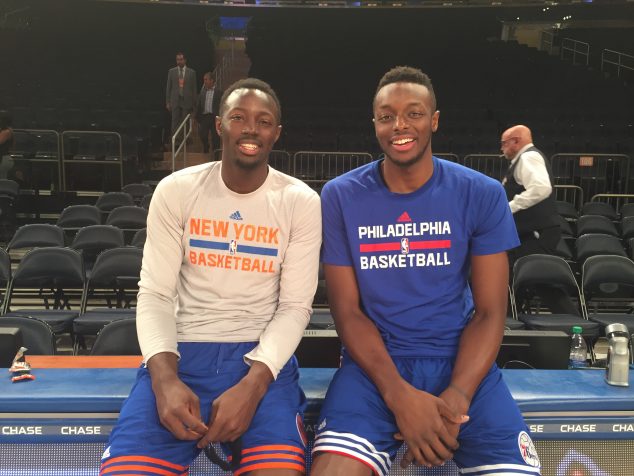 Explains Jerami: "We just grew up together, we've always been like family…Victor was always over our house and things like that…we kind of made a bond early, and we always told each other that we were going to make it to the NBA."
"We just worked extremely hard and it came true," the youngest continues. "I'm proud of everybody."
Oladipo echoes the sentiment. "First and foremost they're my brothers," Vic says. "They literally are like extended family. In high school I would just go over there and be at their house all week and weekends. I don't think of them as friends, they are blood brothers to me. I call their mother, Mom."
And while the Sixers are struggling, the Knicks and Magic are looking to shock the world and make their way back to the playoffs. The future of the Eastern Conference could see all three making an impact. Jerian assesses the experience in saying, "we've worked our entire lives for this, and we're doing this together. We have our own personal goals that we want to reach in this League, and being able to do that together will be great."
Time will put things together, and if they eventually meet in the postseason, the headlines will write themselves. To think, it all began back home a sibling rivalry.
—
Anthony Gilbert is a SLAM contributor. Follow him on Twitter. Photo via Anthony Gilbert/AXG.