"I'm giving you the keys to the Maserati, man. Please tell me you can drive this car."
That was the quote John Calipari gave us this past summer when asked to describe the recruiting pitch to potential University of Kentucky point guards. While it may not be the exact words he tells HS prospects when handing out scholarship offers to the nation's top recruits, the point is clear. Coming to Lexington as a highly touted PG means you're in for the ride of your life, and that you understand that you'll be expected to move at a different pace than anyone else on the road.
Enter Immanuel Quickley, a top-15 national prospect that has already given a pledge to the Wildcats. The 6-3 senior out of Havre De Grace, Maryland, will be arriving on campus next fall following in the footsteps of John Wall, Devin Booker, Tyler Ulis, Jamal Murray, De'Aaron Fox and Malik Monk as the next five-star guard to join Big Blue Nation and hoop under Coach Cal.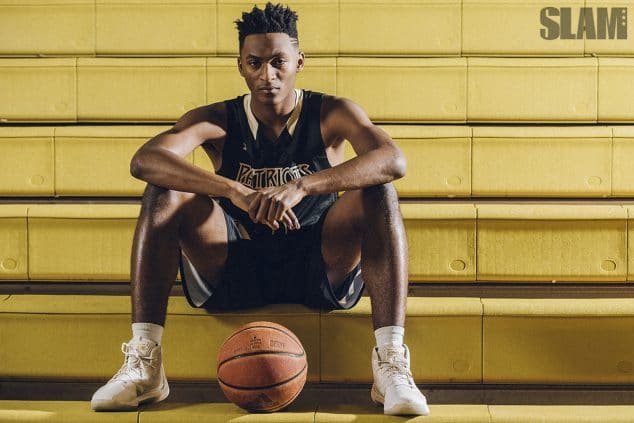 Quickley credits Calipari's "track record with point guards" as one of the factors that went into choosing Kentucky: "What he's done for people like me that have [played] the same position," says the point guard. "I think the biggest thing was going to Midnight Madness at Kentucky. John Wall came back. DeMarcus Cousins came back. Seeing all those guys and where they are now, and seeing them on TV—you see them [in person] and it's like, Why not me? I can do the same thing.
"I know it's not going to be easy," he adds. "I'm ready for that challenge. Trusting the process and embracing the grind is probably the biggest thing for me. "
Today, Quickley is highly regarded as one the best in the prep hoops scene, but he was once just a bench player looking to get into the rotation. He came off the bench his freshman year at The John Carroll School in Bel Air, MD. In front of him were two senior guards on their way to playing DI ball—Elijah
Long is now a junior at Texas and Kimbal Mackenzie is a junior at Bucknell.
"Earning a role as a freshman in high school is a humbling experience," Quickley says. "You have two people ahead of you, you're trying to battle for minutes just like them. I just [saw] them coming in early and staying in late, so that kind of clicked for me."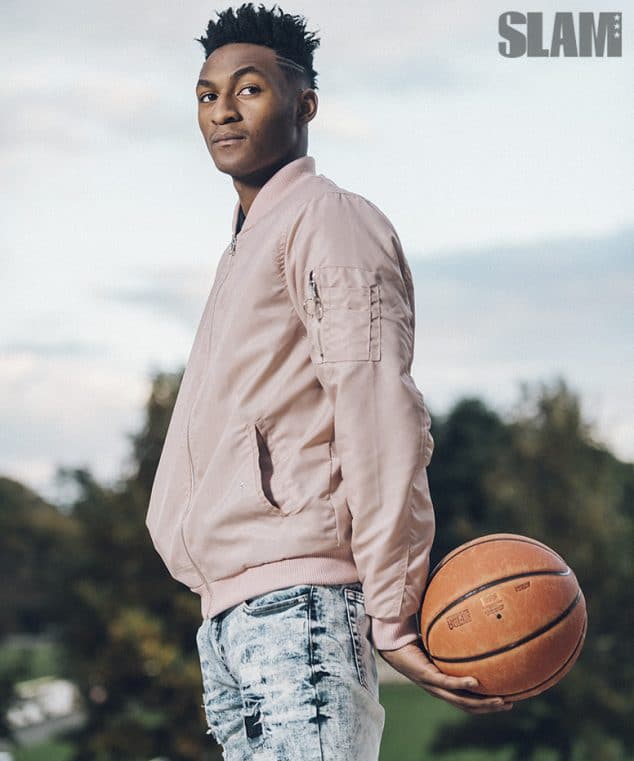 Nonetheless, despite not starting as a freshman, it wasn't long before college coaches began taking notice of his talent. The summer after his freshman year, Quickley drew offers from Cincinnati and Washington.
He earned a starting spot his sophomore year, in which he averaged 17.7 points per game and was named Baltimore Catholic League co-Player of the Year and Baltimore Sun Metro Player of the Year. Last season as a junior, he took it up another notch, posting 23.7 points and 7.2 assists.
"I would describe the journey as unbelievable," Quickley says. "Looking back at my freshman year, I would have never thought I would have been anywhere near here. That's just a testament to hard work, dedication and staying faithful to the grind. That's all you can do."
—
Portraits by Jared Soares
Video by Rob Migrin