The Chinese Basketball Association intended to resume play in mid-April, becoming one of the first leagues that was suspended due to the coronavirus pandemic to return to action. But with the Chinese government issuing an order that restricts all group sporting events until further notice, the CBA had to postpone their target start date.
There is hope that the season could pick up in early May. Several Americans have already flown back to China and undergone a two-week quarantine, such as guard Pooh Jeter, who's keeping a diary with SLAM.
Sylven Landesberg—a small forward for the Zhejiang Golden Bulls—is averaging 26.1 points and 7.8 rebounds per game. Born and raised in New York City, Landesberg was a McDonald's All-American in 2008 and starred for the University of Virginia. He's since pursued a career overseas, spending time in Israel, Spain, Turkey and China.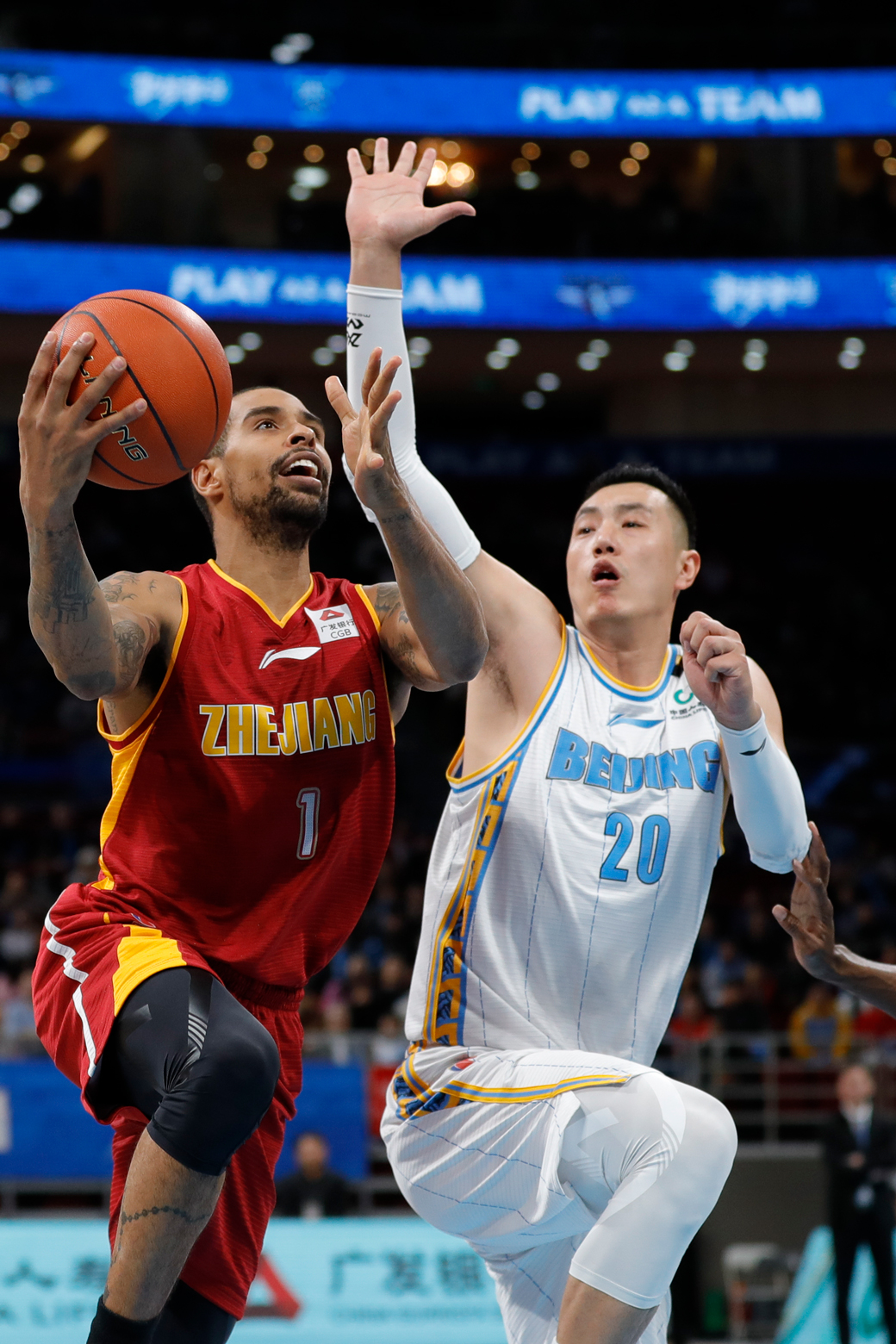 Less than a week ago, Landesberg had his bags packed and was bound for Hangzhou. As he details in his first SLAM diary below, things changed quickly:
—
By Sylven Landesberg, as told to Alex Squadron:
This is my first season in China. It's crazy how it went on like this and has ended so abruptly. I was hoping for a little more, man, but some things are out of our control. I got to China early September. I got home (to Queens, NY) toward the end of January. It's crazy, it felt like the virus was actually following me on my way out of China. We went to play our last game before the Chinese New Year break in Liaoning. They have Lance Stephenson and Brandon Bass. Before we were going there, we had no cases in my [home] city of Hangzhou that we knew of. Then I remember when we got to Liaoning, two days into being there, I think there were like three cases in Hangzhou. We play the game. I already had a trip booked to Tokyo for the Chinese New Year because we had a few days off.
I head to Tokyo. And when I get there, I see that Liaoning now has 2-3 confirmed cases. So I'm supposed to be in Tokyo for like 3-4 days. The first day, I hear about Liaoning. The second day, I start hearing more and more about how it's spreading and spreading. I hit my agent up, it's like 630 in the morning in Tokyo. I asked him, 'What's the word man?' He's like, 'Well the team said because of the virus you can probably stay in Tokyo for an extra 2-3 days and then come back.' My immediate mindset was, because at the time I thought the season was going to resume: Alright, I'm going to be in Tokyo for about a week. I'm not going to be able to touch a ball or get any type of work in. So I told him: 'If they're telling us to be here for an extra week, I'm just going to go home.' He was like, 'Yeah man, that's probably a great idea.'
I got home and then the situation in China just started escalating day by day. I was keeping up with it. It's crazy. Obviously it's terrible what's taking place there and what's taking place in the world, but as far as the league too, just to try to keep up, nobody knows what to do in this situation. This is something that hasn't been handled before. This is all new ground for everybody in it. So the league just kept going back and forth, like, We're going to start [now], and [then], We're going to delay it for an extra two weeks. Then it kept going another two weeks, another two weeks. Every few days, they'd just keep adding more and more days until I'm in the situation I'm in now—just being home for awhile.
I'm from Queens, NY. When they set a potential restart day of April 15, I got a flight back [to China]. I was supposed to leave March 26, get there, do a two-week quarantine and be ready to play. I kept going back and forth with my agent and trying to make sure the league wasn't going to get postponed longer. I wouldn't want to be in a situation where I'm just out there instead of being home, where every other day the league is getting postponed more. I'd rather be home with my loved ones, especially at a time like this. The day of the flight came, the 26th. My flight was at 1 p.m. in the afternoon. It's so hard getting [to China] right now, so I had to go from New York to Seattle, Seattle to Vancouver, Vancouver to a city in Asia and then from that city, I was going to my city in China. I think that's just because of what's going on. When I went there [initially], I flew directly in.
I live in Astoria so it's like a 10-minute drive to the airport. I cut it close [laughs]. I knew it was going to be empty. I got through security and they were calling my name to board. The flight had wifi. I passed out before we even took off. I wake up—I'm in the air for about two and a half hours now—and I see my phone has a bunch of notifications. I see I got a message from my teammate [Marcus Denmon], the other American who plays with me there. His message was just like, Yo man, it's crazy, go look at the messages Alex sent you. That's my agent in China. I open his message and two and a half hours into this flight, he just writes this whole thing like, I'm so sorry, the Chinese government shut down its borders to people coming in. I got a flight for you back from Seattle to New York when you land. I landed in Seattle around 5 p.m., walked around and grabbed some food, saw Lake Tacoma and then flew back to New York at 11 p.m. later that night.
China's borders are still shut off, so I don't think legally I can [return yet]. We're still hoping, staying positive and optimistic that the league will resume. I'm not going to lie, it's hard to stay in basketball shape without playing basketball. I've been doing the best I can with in-house workouts. I try to stay on top of it daily. It's just not the same. I'm trying my best to stay in the best shape I can so that if the season does resume this year, we can go finish it out.
I don't think my city got hit too bad. I think they've been back to regular life activities for a few weeks now. I know when they first got into quarantine—they got quarantined for a little bit—it sounded pretty similar to New York. They were still able to leave the house for necessities. There were supermarkets open, but most restaurants and businesses were closed.
This is a situation nobody's ever dealt with. It's hard to even give input on this because I've never been through this. This is my first time going through it to. I'm taking it day by day. Obviously it would be great to have a definite decision instead of being in limbo, but at the same time, I understand the other end of the table.
Right now, there's no definite for me or for anybody involved in the CBA, I don't think. They're still trying to figure out what they're doing with the league and we're just patiently waiting. But what's going on right now is a lot bigger than basketball, man. There are a lot of people being affected by this. I hope everybody's able to make it out OK.
—
Follow Sylven Landesberg on Twitter and Instagram.
Alex Squadron is an Associate Editor at SLAM. Follow him on Twitter @asquad510.
Photos via Getty.