After initially planning to resume play in mid-April, the CBA season has been pushed back yet again—this time to at least July. Many Americans returned to China in March, completed a two-week quarantine and have been practicing with their teams over the last few weeks. Now with no confirmed restart date and questions still looming, they are confronted with another difficult decision: Stay put or head home?
Eugene "Pooh" Jeter, a guard for the Fujian Sturgeons, has been in the CBA for eight years following a long career in Europe and one stint with the Sacramento Kings. Here, in his third diary for SLAM, he describes the state of things in China, his journey back to L.A., the passing of his grandpa and more.
DIARY 1 (March 27, 2020): Pooh Jeter Describes Returning to a New World
DIARY 2 (April 5, 2020): Pooh Jeter Gets Out of Quarantine
—
By Pooh Jeter, as told to Alex Squadron:
Yooo! Wassup everybody. Hope all is well. Grace, peace and blessings to you and your loved ones. In this diary, I'll be talking about the reasons I returned home to Los Angeles, the CBA season and my 91-year-old grandpa passing away from COVID-19.
2020 is incredible, huh? And it's only MAY! Who knows what these next seven months are going to be like. But the rule of the game is to take care of today and let tomorrow take care of its own self. One day at a time.
OK, let's start here: Once I heard the news that the CBA season was going to be pushed to July, I really had to make a choice. It seems like this whole situation—with me going back to China and now returning back home—has been about choices. Life is really about choices. In March, when they were saying the season was going to start in April, I made the choice to get back over to China and do my quarantine. While I was in quarantine, they said the season was going to start in May. I thought that was pretty good because it would allow us to get into game shape. Then after quarantine, while I was practicing, they pushed it to July. I had to talk with our GM and coach about how my family needs me at home. And they totally understood. I took all the proper steps and followed their directions on everything regarding the situation.
We were going like two-a-days, but once my coach got the news about the season starting in July, he decided to cut down to one practice a day for a week and then ended up calling for a three-week break. So once that break started, I felt it was the perfect time for me to get back home to my family. We don't even know for sure if the season is going to start again in July. I'd rather, until they figure out a set schedule, just go home to be with my family and help my wife out. And when it comes time for me to go back, then we'll work on that. If my family was able to come to China with me, that would've been a different story. But I really need to be there for my family; that was one of my main concerns even going to China in the first place, knowing about the lockdown in the US. I figured the season was going to start in April and I'd be back sometime in June. Now if the season starts in July, I probably won't be back until September. So if I did stay, I would've been gone from my family from March to September.
Most Americans in China are probably going to be doing the same thing because nobody's practicing right now. All the teams have really just shut down for a good three weeks until the league makes a decision. But I think some people are going to stay because the situation in the states isn't too good. So they're thinking that they might as well just stay out there because it's safe in China. What I was seeing in my city, in Quanzhou, everything was basically back to normal. I think schools might be starting back up this month. Things were definitely heading in that right direction. I felt really safe in China, especially in my city. Players may stay for that reason or they may just go home until things get figured out.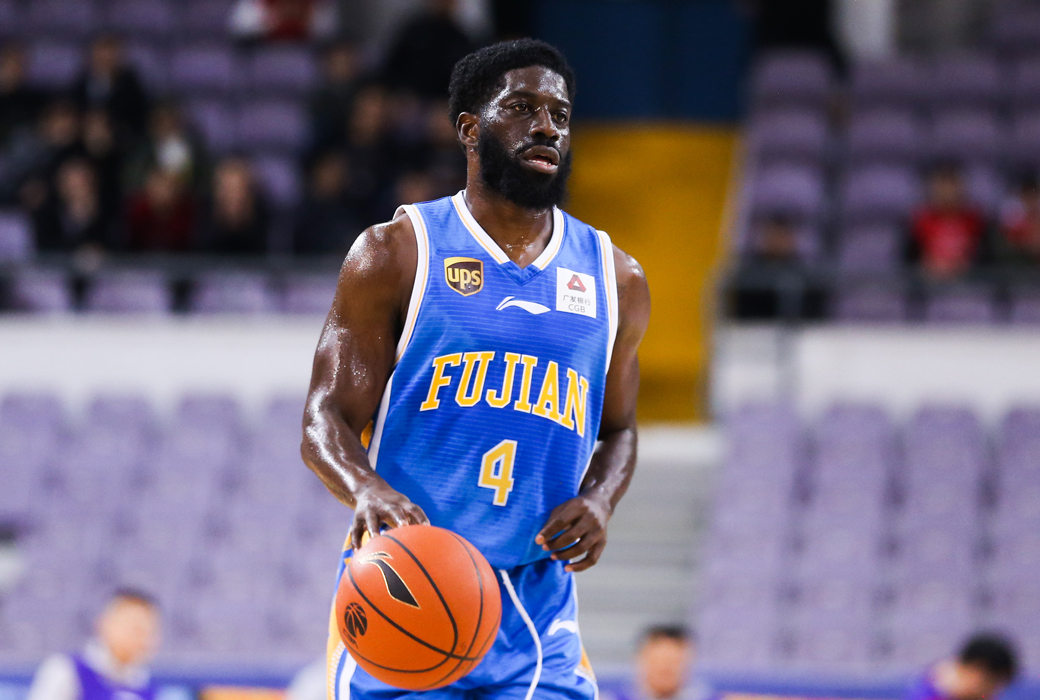 When you make a decision, you have to put every scenario on the wall. You have to prepare yourself. So it may be the case that if I do go back to China, I have to do another two-week quarantine where I'm not allowed to leave my room at all again. But hopefully by that time, everything will be a little better. But who knows? That may be one of the options.
In terms of returning to practice, everybody was getting their temperature checked before entering the facility. Whatever building you enter in China, there's a mandatory temperature check. Restaurants, hotels, etc. But once we were in the facility, practice was live, 5-on-5, all types of scenarios. We were really practicing. That was one of the best things. I'm lifting everyday. We're practicing everyday. I was only in three places while in China—my hotel, the gym and this restaurant called Piggys. In the restaurant, their tables were already set up for social distancing, but it was pretty much normal. Once you got your temperature checked, got your wipes and cleaned your hands, then you just enjoyed your meal.
The team got a flight for me from Xiamen, one of the biggest cities in our province, straight back to L.A. Airports in China aren't packed at all. Nobody's really traveling right now. I got to the airport, got my temperature checked, went through the process. It wasn't like when I arrived in Shanghai, it was a little easier now. While in the Xiamen airport, I had to fill out some paperwork stating everything I did while in China. Right before I got on the plane, they checked my temperature again; and when I was on the plane, I got my temperature checked like three times during the flight. The flight attendants came to my seat and checked to make sure I was good. They weren't messing around. The flight was empty. I don't think that the plane had more than, like, 20 people.
When I got to L.A., as soon as I got off the plane, the CDC was right in the tunnel asking questions. You had to go through two people. They're checking temperatures, asking where you've been and stuff like that. You go to another person and they give you a pamphlet and talk you through doing a self-quarantine. I just couldn't believe LAX was that empty. It's unbelievable. Nobody was at the airport.
They didn't give us a set date to restart the season in July. Once we're able to figure something out, I told the team just let me know. I've shown that I'm dedicated and determined to hoop. I went through that whole process already. It was just tough thinking that I'd be waiting until July. And all I could think about was my family. I have two boys that are active and they're staying home. They can't move around. I love my team because they really understood. They got it. They accepted it. Once you have a family, they are your whole responsibility.
Another reason why I came home early was because of my grandpa. In late April, my almost 92-year-old healthy grandpa had some type of stroke and ended up passing away in a hospital in Detroit, MI. We're still trying to figure out if he had COVID-19 before the stroke or if he ended up getting the virus after the stroke in the hospital. So much is going through my mind right now. My g-pops, who was turning 92 on May 9, was a boss and respectable man. I see who my pops gets it from. My g-pops was still cutting hair, exercising everyday, had a girlfriend and was always using FaceTime to see us. The only thing he didn't have was Instagram. Grandpa is the OG, "Original Gene." Meaning he is the foundation of being Eugene Jeter. My dad is JR, I'm the 3rd, and my son is the 4th. When my son came into the world five years ago, I made sure that my g-pops came out to L.A. for us to take our "Jeter Generational Dreams" picture. Shout out to my photographer Zyaire (@porterhousela on IG). My bro pics are fire. I'm so happy I didn't procrastinate on getting this picture done. My g-pops and son have plenty of pics together, and I'm so thankful that God allowed him to see me grow up and meet my son. Aye, y'all should've seen how proud he was when I played against the Pistons in Detroit. He was like, "Look at my name on the back of an NBA jersey. And it's on the back of a Kings jersey. We sure are Kings, huh Pooh?"
The last time I physically saw my g-pops was last year when he came to L.A. Like I said, he was over 90 years old. So that means he was born in the late 1920s. Geez, that was long time ago. Lol. I have a Tesla Truck. The one that has the wing/falcon doors that open up and basically do everything for you. So when I picked him up from the airport and pushed the buttons for everything to open, he was like, "What in the world is this?" I greeted him outside of the car with a hug, took his luggage from him and put it in the back seat. I get back in the car and the passenger door is still open because he's still standing outside of the car saying, "Pooh, what is this?" I'm like, "Grandpa, can you please get in the car?" It's like somebody tagged him in a game of freeze tag, because he didn't move at all. He was stuck. So he finally gets in the car and is looking around saying, "Man, you got you a spaceship, don't ya? Wow. Does it put my seatbelt on for me?" We both started crying laughing. But just think about the cars he saw from the time he was born until now. I would've probably did the same thing. But I'ma miss you like crazy, g-pops. Now I have another Angel watching over me and my household.
To all my readers, please tell people that you LOVE THEM because you don't know when it'll be the last time you ever see or speak to them again. So I love YOU! Peace be with you. Talk to y'all soon.
—
Pooh Jeter also runs Laced, the only black-owned shoe store in Los Angeles with a Nike account. The retail location is closed due to coronavirus but the online store remains open. Follow Jeter on Instagram and Twitter.
Alex Squadron is an Associate Editor at SLAM. Follow him on Twitter @asquad510.
Photos via Getty.