How Kyle Korver's Methodical Approach to the Game Made Him One of the Best Shooters in the League
This story appears in an entire magazine dedicated to one of the most impactful draft classes ever. Get your copy here.
Kyle Korver's shot is part magic, part perfection. There are layers and levels to it, mechanics and technicalities layered within each release, from a bend of the elbow to the way he's catching the ball. It's a full-body experience, he once said. It's a motion that involves every part of the body, the same way drawing comes from the wrist. Every meticulous detail gets noticed and considered: how he lands in front of the line, how he's squaring up his shoulders, how he's finding the ball, even squeezing the ball. They say the greatest shooters of all time approach it like an art form. If so, then Korver Picasso'd the catch-and-shoot game of the early '00s.
He sensationalized it. One beautiful, clutch play at a time.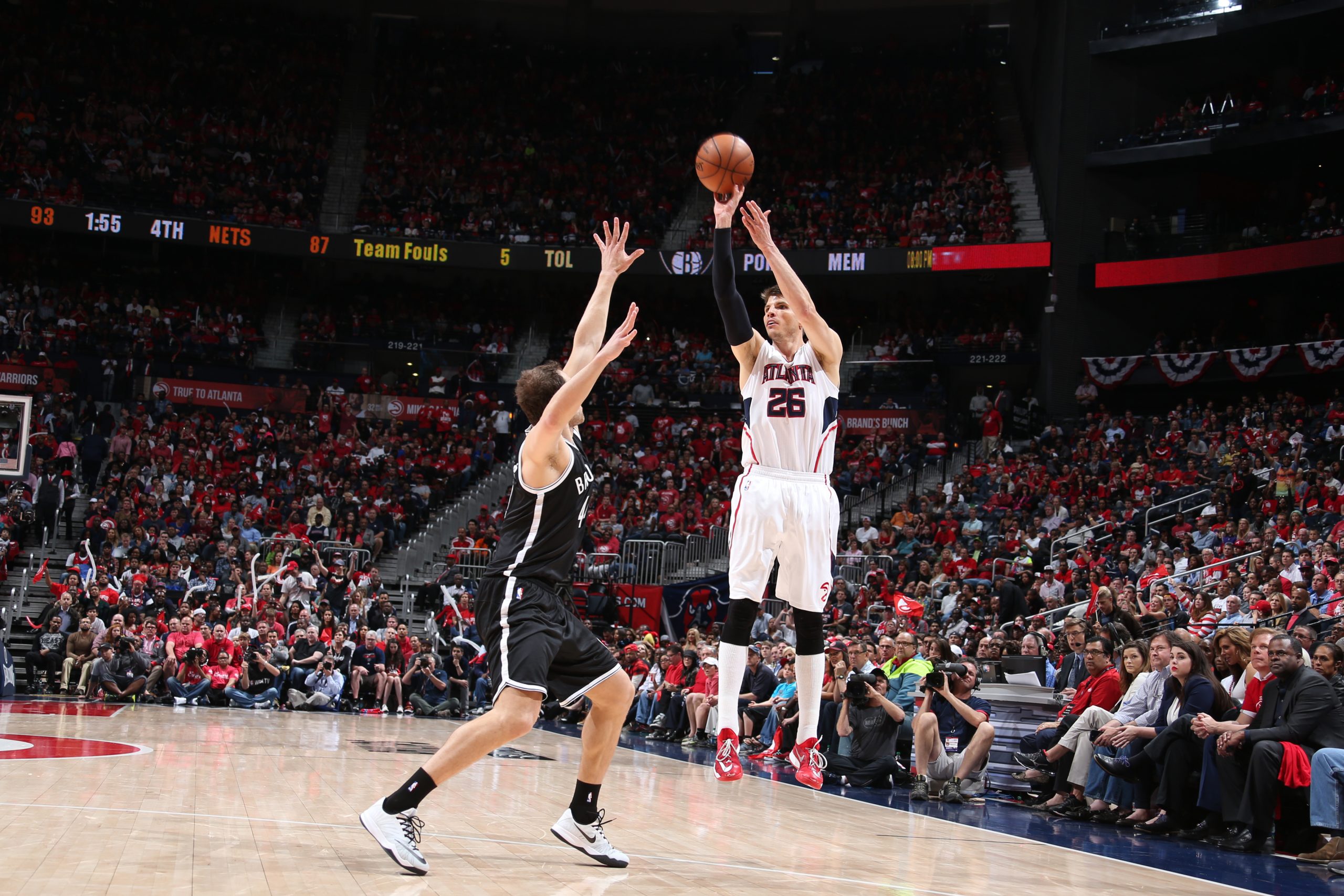 Korver was drafted, technically, out of his dorm room, Kiewit Hall, at Creighton. At least, that's where he watched the draft with a friend, back in '03. As the night progressed deeper into the second round and more people filled Korver's room, the room suddenly became quieter.
Is he gonna get picked? Should we leave if he doesn't get picked?
The pre-draft process, he admits, was tough for him. He had never been a big workout type of guy, preferring to live in his own imagination and get lost in his head while he trained. But, as he discovered during those workouts, teams wanted to see him try to lock down more athletic guards. One-on-one workouts against Dwyane Wade, Dahntay Jones, Josh Howard and Travis Hansen. First, they did the physical assessment, testing his vertical, and then he went head-to-head with other draft prospects. By the end of the workout, he was asked to shoot stand-still threes.
"My confidence wasn't so high," he admits over email, which he sent in June while on vacation with his family at a camp in the "sticks" in South Carolina, with minimal cell phone reception.
He was drafted, 51st overall by the New Jersey Nets, then traded to the Sixers, during the last commercial break of the night. When the broadcasting resumed, his name was there, at the bottom of the screen.
As a rookie, Korver was joining a Sixers franchise that was hitting a rough patch. Their superstar guard, Allen Iverson, specifically, was starting to get testy with management. Head coach Randy Ayers was fired midway through the season. Injuries plagued the team so much, they even earned the nickname "the City Line 9," a moniker that refers to where the team practiced, on City Line Avenue, and the number of healthy bodies they had on a given night. Korver, a shooting guard/small forward, played center at times and only saw a minute, minute-and-a-half at a time at the end of most quarters. But what he learned, especially in that first year, even in the first few weeks of the season alone, was what it was like to hoop in the L.
"I remember the first week of games," Korver says. "One night we played Boston [and] Paul Pierce had 40, and I'm like, Yo, Paul Pierce is the best player I've ever seen! The next game we played New Orleans. Baron Davis had 45 and I'm like, Yo, Baron Davis is the best player. But AI is on my team and he's matching everyone! Until opening night, I had only ever been to one NBA game and I think I was eight years old. Until you watch NBA games in person, you can't understand how good everyone is."
And it was Iverson who really pushed him to keep shooting the ball. But that came with an expectation; he'd make his shots.
"I can't overstate how important AI was for me," Korver says. "So much of a young player making it in the League is finding the right fit from a team standpoint and earning the trust of your best players. AI wanted to make plays, [he] wanted to pass. But if he didn't think you were gonna make it, he was like, Why would I pass it to you? I'll just shoot it! We didn't have a lot of shooting on our team, so those first couple years he was always in my ear to be ready and to let it fly. If I passed up a shot he thought I should shoot, he would let me hear about it all the way back down the court. And AI, he's more than a superstar. He's a legend. So to have him put me under his wing like he did, it was everything."
GET YOUR COPY OF SLAM PRESENTS THE '03 DRAFT NOW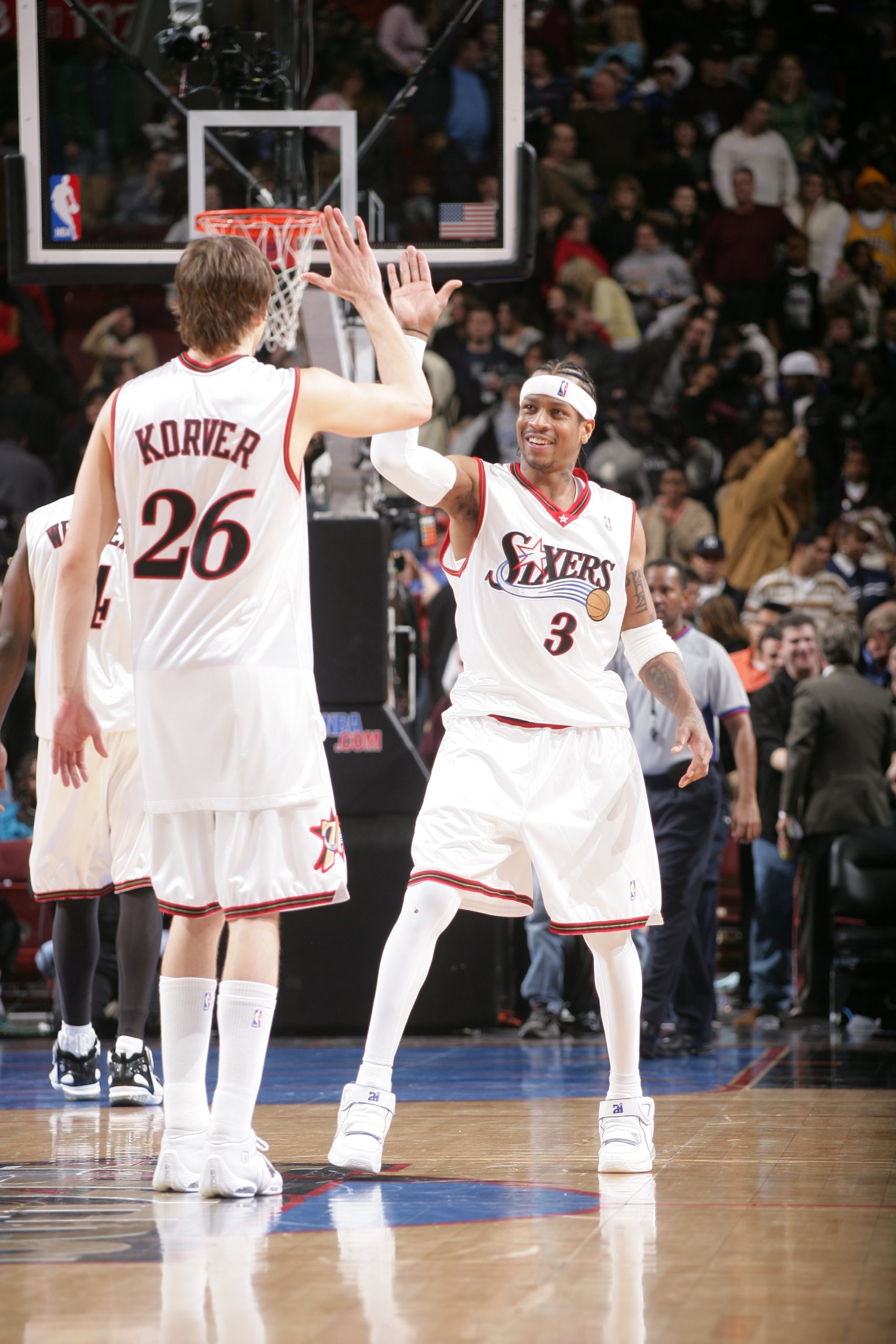 By his second year in the League, Korver went from averaging only 4.5 points as a rookie to double digits (11.5), shooting 40 percent from three. When Iverson dished the rock to him, Korver let that thing fly every single time. Even in crunch time.
Against the Pacers in January of '05, the Sixers trailed by four going into the fourth quarter. After a comeback, Iverson drove into the paint with 10 seconds left and was damn near at the rim and just a layup away, when he decided, suddenly, to dish it out to his second-year shooting guard. Korver got himself on balance with a single dribble and pulled up for a two-point jump shot. The Sixers won, 89-88, and Korver, who had hit five three-pointers on the night, finished with 17 points.
Iverson, who had hit the game-winner in overtime against Indiana months prior in November, saw something in Korver.
"You see a guy in his second year who's able to hit a big shot like that, it says a lot about him as a player," Iverson said in the postgame presser. "It says a lot about his confidence and the confidence the coaching staff and we have in him."
His catch and release game, which has made him so lethal throughout his time in the League, has often been described as clutch. Early on in his career, he was once called "the prototypical catch and release guy," a sentiment that reflected the inside-outside offense that was mainly run in the early 2000s—back when the ball went inside, first, before it was kicked out to catch-and-shoot guards like Korver.
Playing in Philly "toughened" Korver up a bit. And as a starter, now playing 82 games in his third season, he learned that consistency mattered most. You don't start averaging double-digit numbers (11.5) and leading the team in three-pointers made (184) and attempted (438) without being consistent.
"As a shooter, that's what I care about," Korver told CBS Sports in '14. "It's not just about having hot days when you couldn't miss. It's, How do you be consistent through an 82-game season? And that's hard. And that takes a lot of work and a lot of mental preparation. As a young guy coming in, that's a thing to work through."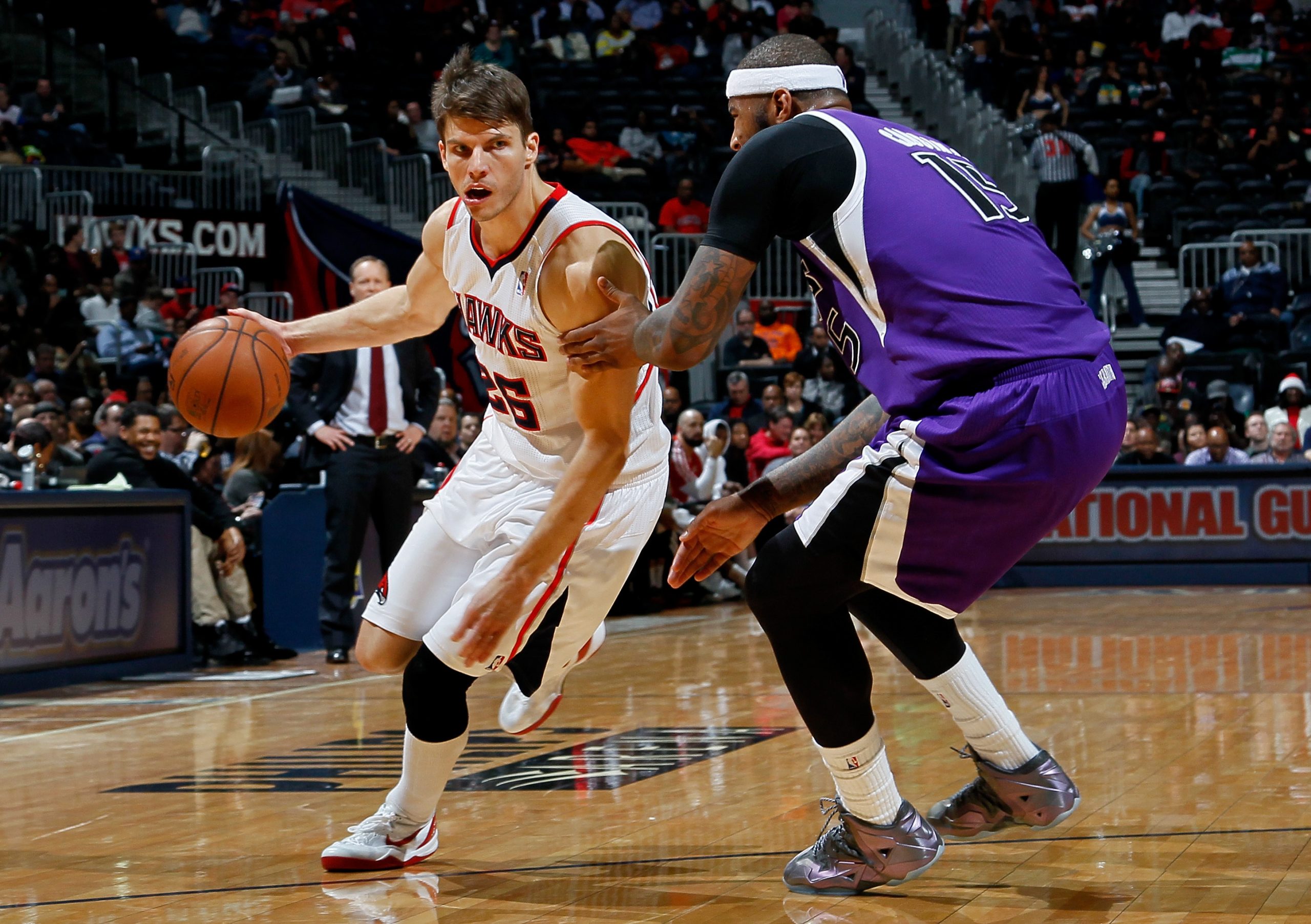 GET YOUR COPY OF SLAM PRESENTS THE '03 DRAFT NOW
By the time he landed in Utah in '07, he only averaged 9.8 points, putting up solid numbers midway throughout the season, including 20 points against the New Orleans Hornets and 27 against Denver two nights later. But by the following season in '09, he found himself dealing with nagging knee and wrist injuries, opting to have surgery in October that caused him to miss 23 games.
Years later, Korver says that injury made him start getting more "serious" about his shooting mechanics.
"If my elbow wasn't straight, if I wasn't using my legs properly, I was getting pain," Korver says. "But if I was doing it correctly, I wasn't feeling the pain. And then also when I was doing it correctly, my shot was going in more. So it's one of those things where, like in life and in basketball, sometimes through adversity, that's when good things happen. It's the same thing with my shot. I feel like I've been better the last five years after dealing with some injuries and having to work with them and get more serious about my craft."
After a stint in Chicago, he went on to set records when he landed in Atlanta. In 2012-13, he made at least one three-pointer in his final 73 games of the season, setting an NBA record for the longest active streak at the time, and the fourth-longest streak in Hawks history—Dana Barros, Michael Adams and Dennis Scott are also on that list. His historic streak didn't end until the following season, marking 127 consecutive games. He made his first All-Star appearance the next year, having passed Jason Richardson for 15th all-time in threes made. And by that March, he had passed Kobe Bryant for 12th all-time on that list.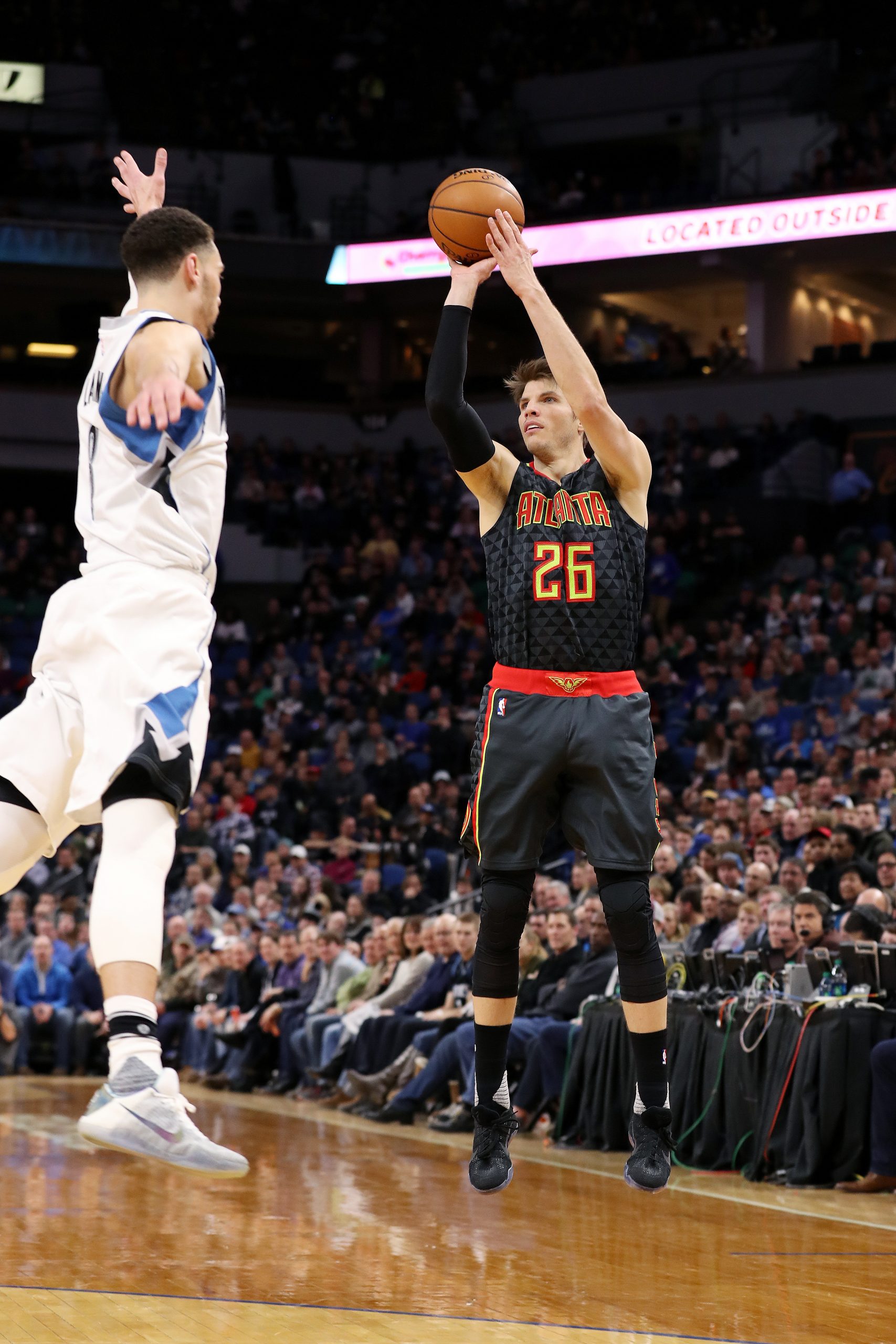 And it was in 2013 that he was introduced to the practice of misogi by Marcus Elliot, the founder of Peak Performance Project. As he writes poetically in his email, the practice itself changed his perspective on both shooting and life.
"The heart of misogi is to keep learning about yourself and push your boundaries," he writes. "Oftentimes, as we get older, it's easy to start settling. We worked through younger years where maybe there were more unknowns. We were trying to establish ourselves. We were probably more willing to try something new. But along the way we probably took some losses. We got burned. And so as we age, we can easily move into a more careful mindset. We get more concerned with protecting the things we've accumulated. 'Risk' moves from a positive relationship to a negative one. On top of that, when you get more careful, you stop working hard! You feel like you've got things figured out and you lose that endurance muscle…and I felt that. I felt it with life. I felt it with basketball. It's harder as you get older to keep trying to evolve. Getting better can easily turn into being more specialized in every way. But you have to ask yourself, does your world getting smaller and more specialized lead you to the life you ultimately want? Nah."
Through physical exercises and activities, like stand up paddleboarding 25 to 30 miles from the Channel Islands to Santa Barbara, Korver learned how to endure, how to push through the pain, how to become completely present in the moment and in the task at hand. How out there, in the middle of the ocean on a paddleboard, each stroke was important. 
"We start and right away, I'm falling," he says. "Can't even get back on my board to stand up. And my mind is only partially present because I keep thinking about sharks. But my friends are way ahead of me, so I start paddling from my knees. After an hour, my knees are killing me and my toes are bleeding from rubbing on the rubber on top of the board. But the waves go down just enough that I can start standing better. So I start trying to paddle from standing. I'd get to 3-4 strokes and then fall. Try again. Fall. And out there in the middle of the ocean, you can't gauge your progress. When we are young, we're taught to set goals. And if that goal feels far away, to set smaller goals that lead to that bigger goal. But there weren't smaller goals to set out there. There were no mile markers. No houses or streets to try to make it to. So I started to think about what I could actually control and the smallest thing I could control was this stroke. What if I got lost in trying to make the perfect stroke? So I did. I started thinking through every part of my body, from my toes—turning my toes slightly towards the edge of the board gave me better balance to my knees, to my hips, to my core, to how I positioned my shoulders over my toes, to how I held the paddle, to where I put the paddle in the water, what muscles I pulled from, what muscles I didn't pull from, where I pulled the paddle out of the water. Every little detail I could find, I tried to explore as deep as I could. And once I found what I thought was optimal, I tried to duplicate—one in a row. Two. Three. Fall. Get up. One in a row. Two. Three. Four. Fall. But I got lost in it, and before I knew it I was finding new details. And then I realized I hadn't fallen in a while. Or thought about sharks. 8.5 hours later, we made it. It was one of the most gratifying feelings."
It's clear, even in his email, that his passion for the details, for explaining the intricacies of things like misogi, hasn't left him. Even after a three-year stint in Cleveland, a return to Utah, a one-year deal with the Bucks, and, ultimately opting out of the 2020-21 regular season to spend time with his family, Korver is still detailed as ever.
The greatest shooters of all time find solace in the specifics and it's that attention that has made him one of them. His methodical approach to the game will surely help him this upcoming season as he moves on to his next venture as a player development assistant coach on the Brooklyn Nets.
"It's become ingrained in me, to always keep pushing," Korver writes. "Always keep evolving. To me, it's vital."
While he's referring to his approach to shooting, it's perhaps another commentary on life, too. That when the ball stops bouncing, or when a time in our lives reaches an end, we're all just humans, moving forward. There's beauty in the details, the moments that have made us who we are, but we're not to be defined by what we've done or what we've accomplished. What's vital, human nature, really, is how we've grown and evolved since then.
---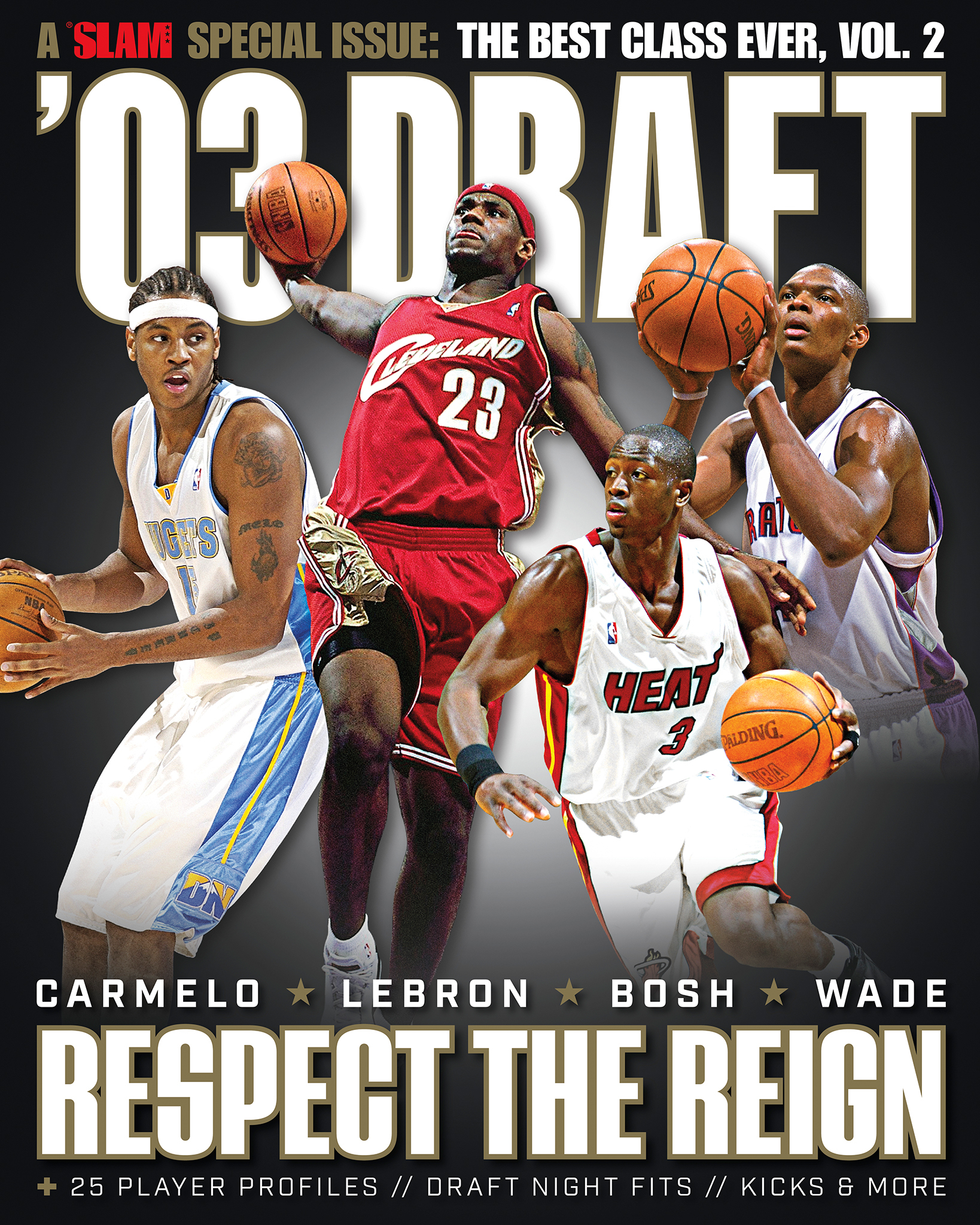 Photos via Getty Images.