It's the afternoon before the ESPYs in Los Angeles. A phone call from New York lights up Skylar Diggins' phone.
She answers politely, speaks conversationally, as if we've known each other for a long time.
Even across thousands of miles, three time zones, she can do this. It's just one of the reasons why Skylar Diggins is Skylar Diggins.
According to data from The Markeing Arm, Diggins ranks 73rd among celebrities who consumers aspire to be like. That's in the same neighborhood as Taylor Swift and Sofia Vergara.
Despite her considerable crossover appeal, many fans still may not know that her current team, the Dallas Wings, moved this season from Tulsa to the DFW. Fans may not know that Diggins is coming off ACL surgery last July. And because so few games are televised nationally, fans may not know that she's looked dominant some nights (27 points in a 3OT win vs Phoenix) and not herself on others (3 points in a loss to Chicago).
Add in a hectic schedule full of back-to-backs, and you can understand why Diggins hasn't quite found her rhythm this season. Luckily, the WNBA will take a hiatus for the Olympics, a welcome respite not only for Diggins, but for the banged-up Wings as well.
Dallas will have 36 days rest after Friday's game in Atlanta. When play resumes in the end of August, injured forward Glory Johnson (fractured toe) should be close to a return, and Diggins, who takes meticulous care when it comes to her health, should be ready to lead the way to the playoffs.
Back to that phone call before last week's ESPYs. Before Diggins walked the stage with Usher to present the award for Best Play, she spoke openly about the WNBA's jam-packed schedule, possibly playing China, players taking a stand against violence in America, and more.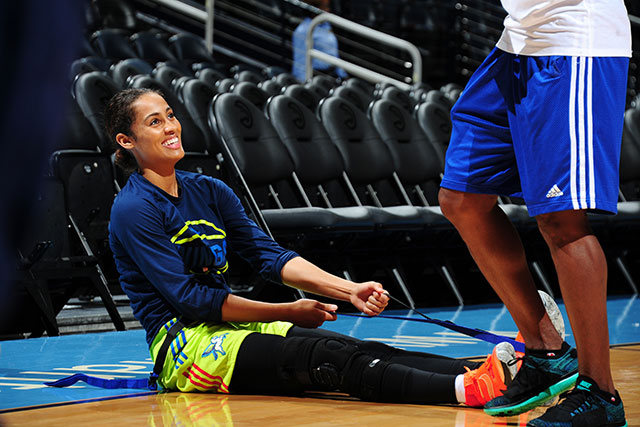 SLAM: Dallas is known as a great basketball city. Have you noticed the city's passion for hoops?
Skylar Diggins: Yeah, Dallas is not only a basketball city, but a sports city, period. When you think Dallas, TX, you think of some of the most sports-crazed fans in the country. From the Cowboys to the Rangers to the Stars. For us, being a women's professional team there, I think that's what everybody was waiting for. There's so much young talent that comes out of the DFW area year after year, especially in women's basketball that moves on to the next level. I even play with Odyssey Sims who grew up in Irving, TX, right down the street from Dallas. I think it was time. It was overdue. I thought Texas deserved another team and Dallas deserved a pro team. The response has been great. People have been really supportive of the team. UTA (University of Texas at Arlington), they've done a great job of welcoming us with open arms. For the women's basketball and men's basketball and volleyball team, who we have to share those facilities with, the coaches and the trainers, they've been a big help. I don't know how that would fare at my college. But as far as having to get used to each other and the schedule, they've really made it easy for us. We love the fans, and we love the Metroplex area.
SLAM: And the size of the arena is pretty much prefect, right?
SD: Yeah, it reminds me a lot of Notre Dame. There's not a bad seat in the house. About 7,300-7,500 I believe is the seating. A little over 7,000, which is perfect. We draw great crowds every night. It just continues to get bigger and better. I think for us, in the first year, we just want to continue to build, focus on winning ballgames and putting a good product out there.
SLAM: In your new book, you write about how you were strongly considering Stanford in addition to Notre Dame. How difficult of a decision was it to choose between those two schools?
SD: I think obviously when you're a 15-, 16-, 17-year-old kid and you have to make a decision as far as where you want to go to school, graduate from, and being a decision that will affect your adult life—it was probably the biggest decision I had made up to that point. I guess you can put that as stressful. For me, looking back on it, I'm glad my parents just encouraged me to enjoy the moment. They always reiterated how much of a blessing it was to have the option to choose where you want to go for higher education and the importance of that. I knew I wanted to go to either Stanford or Notre Dame. I had respect for their programs. They had Hall of Fame coaches, so many All-Americans and people who have played or coached at the next level. And those are definitely two educational networks I want to be connected with. When it came down to it, I actually had friends on both teams. I just decided to stay home. Just having a university like Notre Dame in my backyard, my parents having an opportunity to see me play every night, that was something that really appealed to me.
SLAM: There have been a lot more back-to-back games in the schedule this season because of the Olympics. Have you noticed players being more fatigued?
SD: This is my fourth year, so I came in right after the (2012) Olympics, so I never had a season like this with the Olympic break. Coming back from my ACL—I missed the first few games, the first eight or nine, I believe—jumped right into the game. Every team is on this type of schedule. I think we had nine games in 21 days. Something crazy like that. But yeah, I think it's just a part of it, and not something we hopefully have to get used to. Everybody's on the same schedule where you got to squeeze games in. You try to deal with it game by game and get as many wins as you can get. You can't really use it as an excuse, but I'd have to say this has been the busiest summer of my pro career.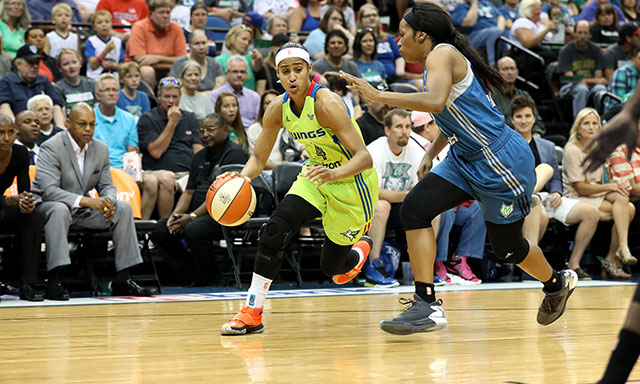 SLAM: The schedule makes it tough for players who are trying to get healthy. Only four Wings players have played in every game. We really haven't seen the Wings at full strength yet, wouldn't you say?
SD: Yeah, absolutely. Obviously, coming in, we had people coming back from injuries, including myself. We had people coming back from overseas and little things. And then some new things that kind of hit us, and that's unfortunately been our M.O. since I've been with the Tulsa Shock/Dallas Wings franchise. For us, it's just about taking care of our bodies. That's the most important thing. Obviously, people go overseas and have stuff going on in the WNBA offseason. You play year-round. That's just the nature of the beast, especially in our business. And with that, you're prone to more injuries and having to deal with those things year-round. So for us, personally, just trying to stay healthy. Trying to get everybody back on the floor at full strength. Especially, that's why I think it's good having this break so people get to refuel and reload, and hopefully come back at the end of August ready to finish the season strong and make a playoff push.
SLAM: Whether it was the Lynx and Liberty wearing anti-violence t-shirts or players commemorating the Orlando nightclub victims, the WNBA has been outspoken when it comes to social issues this season. Are you proud of the way the league has stood up for social change recently?
SD: Yeah, I think it's definitely important when you have a platform to use it to focus on positive messaging—firstly to young women, preaching on a multitude of issues. Players individually using their brands and their platform to spread positive messaging of support and peace. Just continue to use the WNBA and our platform to speak on things that are important to us—both individually and as a unit.
SLAM: I read that you were considering playing in China last year. The season there is shorter than in Europe. Would that be one advantage for you?
SD: Yeah, with my injury and stuff last year, I wasn't able to do it, but I would have been there for a few months. Especially still having the opportunity at the time of being in the Olympic pool and things like that. I just thought it would have given me some more in-game experience, polish my skills a little bit, and a chance to experience that life. I had never been overseas before, so that would have been something different for me. You hear about your friends going overseas, and people talk about overseas all the time. For me, I always had intentions. I love to travel. I've been to different countries with USA Basketball before and have gotten to play in tournaments in China and Argentina and Thailand and Greece and France. So I've been able to travel with the game of basketball, but never for a separate season outside of the WNBA. I was signed last year to go play, and it was the same week that I tore my ACL. So I wasn't able to go do that. Maybe one day. I'm not saying that I am or I am not going this year. But hopefully one day in the future, I'll be able to go over there for one of the shorter seasons. I also have other things I want to pursue here.
SLAM: Being really competitive, you might enjoy playing meaningful games in the offseason…
SD: Oh definitely. Like I said, having that offseason, it benefits you, being able to do other things as far as brand marketing, my camps, being able to have that rest, especially at this point. But yeah, we'll just see how it plays out. It's a long break from WNBA season to WNBA season, so I wouldn't mind filling in that space with games and going over there, and learning a new country, a new area and having a new experience with the game.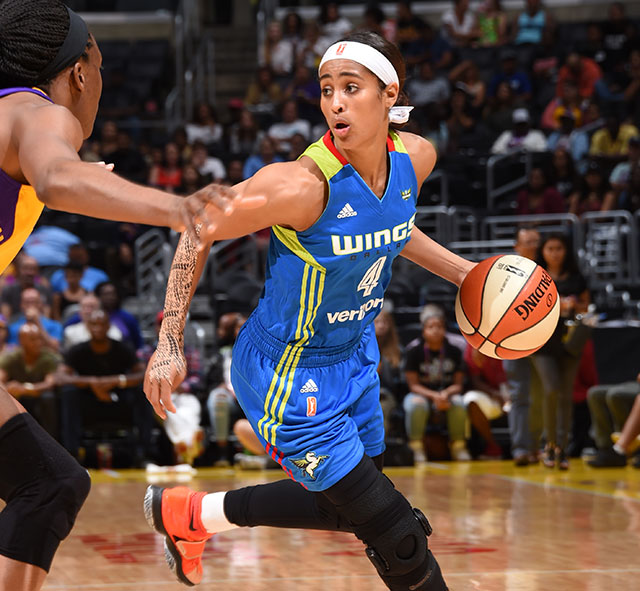 SLAM: Jay Z once said, "One of the biggest things in business is to open yourself up to change." Do you think that could be applicable to anything in your life, and more broadly, the WNBA in its 20th season this year?
SD: Yeah, I think what he means by that is working outside your comfort zone. I think that has something to do with it. As far as being open to change…working outside of your comfort zone. Trying new things, taking a leap of faith. It could be interpreted in so many ways. As far as the WNBA goes, us being in our 20th season, just continuing to growing and continuing to adapt to the market. For us as entertainers and basketball players who are responsible for the product, just our game continuing to get better and better, our product continuing to get better and better and more competitive. Education and drawing fans to our league. The play is getting better and better. People knowing when we play. And just continuing to grow our sport. You know, when the NBA was 20 years old, now it's what? Eighty-something years old? Hopefully we can all do our part to sustain the WNBA so it has an 80th celebration.
SLAM: You've been a partner with BODYARMOR since 2014. Why was it a natural fit for you to team up with a sports drink that uses all natural ingredients?
SD: It was so appealing in a few ways. Obviously, when I got started with the brand, it was fairly young. It's still fairly young as a brand. I thought that the history with the creators and what they've done in the past with various products—they've always been successful. It wasn't hard for me to understand that they know how to put good products out there. After I tasted the product… I think that's something that's really important—it has to be genuine, it has to be organic for you. You have to like the product. It has to be something that matches with your brand and what you do. I thought that was just natural for me, especially just seeing what's in the product, tasting the product—it's good. Just knowing that this brand is something that's taking off and continues to grow quarter after quarter.
SLAM: What difference do you notice when you drink BODYARMOR as opposed to other sports drinks?
SD: I really can't speak for all of them because I don't drink all of them. But I just notice that it's about staying hydrated. Working out, moving around during the day, during my workouts, just refueling me. It has even coconut water in it. Vitamins, coconut water. And now it continues to come out with different products, and different flavors, even a BODYARMOR Water. It just continues to grow, and it speaks for itself. We've had it featured in about 20 of my camps over the past two years. Different markets that it wasn't yet been exposed to, and the feedback has been amazing. They really enjoyed the product, and children really enjoyed the product. Parents coming up to me, asking, "Where can we get this?" And, "Where is this available?" I think as the brand continues to grow, and people see that there's another option—and that it's a really good option—it's good to you and good for you, that it will just continue to grow.
SLAM: BODYARMOR is widely available now, right?
SD: Yeah, now. When it first came off the ground, it wasn't available in maybe some of the smaller markets. But like I said, you'll see it appear in more stores and more brands and more cities all over the country.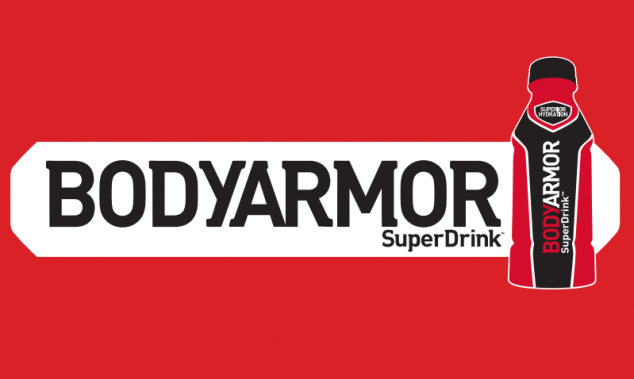 For more info on BODYARMOR, click here. Photos via Getty Images.