While growing up north of Los Angeles, in Palmdale, CA, Paul George spent most of his time playing ball or playing video games. And he also kept up with sneakers, dreaming of having his own pair. And when the Swoosh came calling years after those sunny childhood days in the desert, George was ready. He gave lead designer Tony Hardman a sketch of a sneaker that had a forefoot strap.
Fast-forward a couple more years and the Nike PG1 became a smash hit. The low-cut silhouette was George's vision come to life. It was decked out with Nike's trademark technology, staples like Flywire and Zoom Air cushioning. And, of course, it had that forefoot strap.
Just like his with accomplishments on the court, PG's success in sneakers is no accident. He was ready for his moment. He's studied and learned and figured out what he needs in his kicks. He and Hardman delivered an instant classic, a reimagined take on the modern basketball sneaker and the way that stories could be told through colorways.
And by the time that Hardman and his team were starting the PG2, George was ready again, this time for a shoe with some advancements.
"Paul always wants something that's a little more sneakery," Hardman tells SLAM over a phone call. "He doesn't want a sock or something that's super, super technical.
"He wants his shoe to be about comfort, he wants the natural materials in there," Hardman continues. "And then it was, 'Hey, don't put on a strap and I want a regular tongue. Let me see what you got.' It was really just a process of actually just designing a few things, bringing it to him, letting him check it out. We had a few iterations that he wasn't feeling. In the beginning we tried to go a little bit higher. We went away from a mid to a low and that was it."
The result is the Nike PG2, an updated silhouette that's adding a few key changes to evolve the PG line.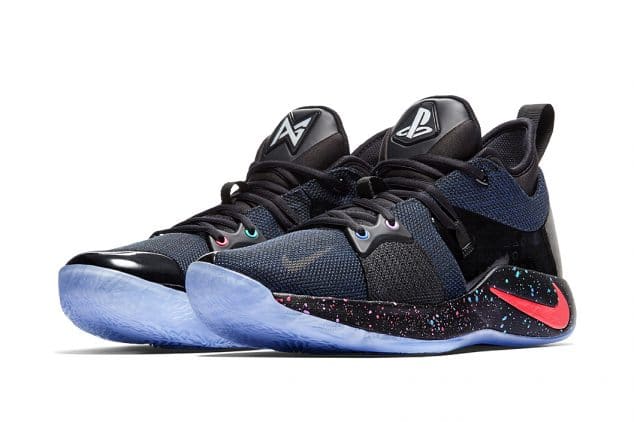 The big difference is that the forefoot strap is gone, replaced by "dynamic wings." Hardman explains that when George said he didn't want the strap, he and his team had to figure out a way to give the Thunder's star shooting guard a way to still have that locked-in, snug feel he loves so much.
Hardman used Flywire cables in the forefoot, supported within a textile shell, and he mixed it with a stretchy zone right there in the forefoot.
"It's super-tunable so if you want to back off on it a little bit, you can," Hardman says. "If you want to wrench it up super-tight, you can do that."
Hardman wasn't done with the forefoot. He and his team went from the 8 millimeter Zoom bag that was in the PG1 to a 10 millimeter Zoom bag for the PG2. There's no foam in there, either, so George is completely standing on the bag, an improvement that will give him much more responsiveness. And with the leveled-up Zoom, we'll probably see more dunks like this.
https://youtu.be/2jx4p4m0B4M?t=1m17s
"My love of basketball clicked early," George says via Nike. "I was crazy about the game. I would wake up early to dribble, playing outside barefoot and running up and down my street in hundred-degree weather with a backpack full of rocks trying to learn how to get more bounce. I used to do those crazy things because my ambition was not just to play in the park or in the streets; I wanted to play at the highest level."
"[Paul] is a really fluid guy," Hardman tells SLAM. "One thing that dawned on us from the design language of the 1, we had these really sharp lines that almost had a Kobe-feel to it. We thought 'Let's really get closer to his personality.' He's a calm killer, is what we call him. He's really fluid, it almost looks effortless out there. So let's let the design language reflect a little bit of that. Be a little smoother, more organic."
That comes to life on the 2 with the inclusion of natural materials, which is a way that George and Nike will continue to tell stories.
PG doesn't use the word "colorway." He's got flavors, and he's got tons of 'em. With each new PG2 colorway that drops this year, Hardman says that materials will be refreshed, so that George's stories can properly be told.
"We have a color team that is really good at what they do," Hardman says. "They're really good at finding the stories that Paul wants to tell. Some of it is just stuff that we know from reading about Paul or things that he'll say in the meeting. So we bring that back and the color team just goes crazy. They're able to just keep bringing it."
"I think the one thing that stuck out the most was his love for the colorways," Solomon Hill, George's former teammate in Indiana, told SLAM a few months after the PG1 came out. "The way he plays on color. He might throw a color in there that has nothing to do with the color scheme, but it just makes it pop. Sometimes he'll add a red accent on some blue and gold sneakers. He always wanted to control that, no matter if it was a player exclusive or his own shoe."
The first colorway of the PG2 ratchets that storytelling and play on color all the way up. The "Playstation" PG2 is inspired by George's love of video games. It features a Playstation logo on the left tongue, two different Swoosh colors, eyelets and a midsole speckle that all pay homage to Playstation colors.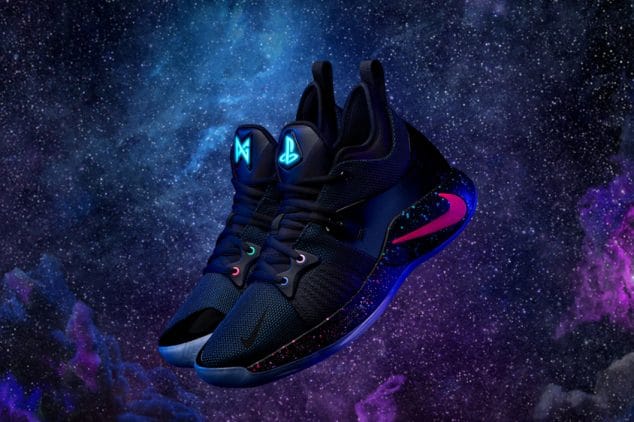 "As soon as I discovered PlayStation, I was throwing hints here and there to my dad — cutting out the clipping of a video game, cutting out the clippings of the PlayStation, leaving it on his dresser," George says via Nike. "I remember on Christmas morning, I unwrapped my gift and sure enough, it was the PS2. I've been a PlayStation guy ever since."
George's talents have grown so much throughout his eight-year career. He's a complete two-way ballplayer, gifted and skilled enough to be a game-changing playmaker on offense and athletic and smart enough to be a disruptive force on defense.
But he's still just that kid from Palmdale that loves to hoop and play video games.
—
The "Playstation" Nike PG2 releases on February 10 in limited quantities.
Max Resetar is an Associate Editor at SLAM. Follow him on Twitter and Instagram. Photos courtesy of Nike, video courtesy of FreeDawkins.