Tim Duncan showed up to receive his 2002 MVP Trophy in jean shorts and Birkenstocks. And for most of his 19 seasons in the League, the Hall of Famer's off-court style included dad jeans and ugly shirts that were somehow too big for him. He was unstoppable on the court and his game demanded the utmost respect, but he really had no style to speak of.
Amazingly though, Timmy—up until the final few years of his tenure with the Spurs—had some of the best sneakers in the NBA, despite the photo below.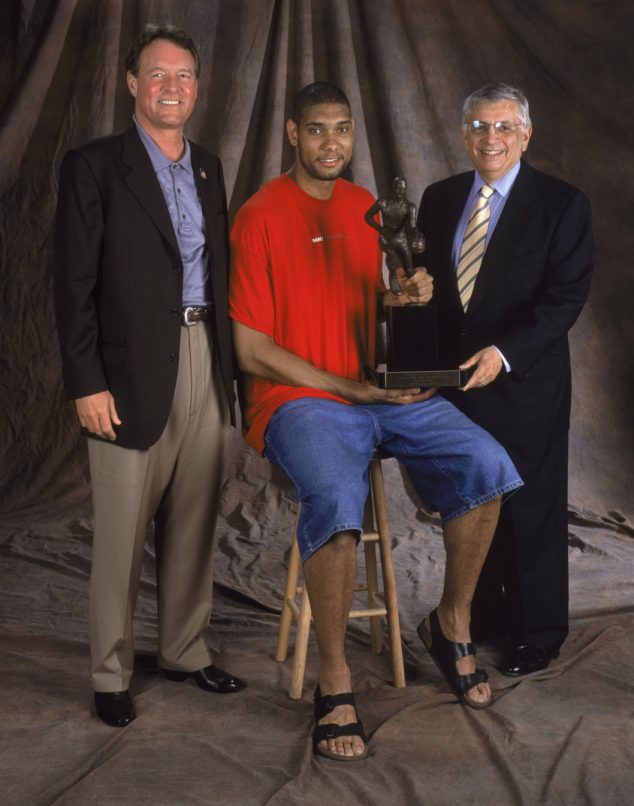 Duncan was selected with the first overall pick in the 1997 NBA Draft, coming out of Wake Forest, which is a Nike school. He signed with the Swoosh for his rookie season. Nike made sure that Duncan, then the game's best young big man prospect, had their newest sneakers. During his six years as a Nike athlete, Duncan wore Foams, Flightposites and the Total Air Foamposite Max. He even landed two signature silhouettes, the Air Max Duncan and Air Max Duncan 2.
When he joined adidas in 2003, we were there to see the beginning of a relationship that's stood the test of time. From his first A3 Superstar model to the Stealth Duncan to the Crazyquick, Duncan became adidas' rock. He was part of a stacked roster of talent back in the day, and he's still an adidas athlete.
Check out the gallery above to see his signature sneakers from both brands, as well as the rest of the heat that he wore during his incredible career. Happy 41st birthday, TD!
Related
Culture: How the Spurs Became the NBA's Most Successful Franchise
Photos courtesy of Getty Images