If you follow the NBA at all, then you're familiar with "the elbow pass." In fact, chances are you've spent significant time in your driveway or at your local park practicing it.
It was All-Star Weekend, 2000. The Rookie vs Sophomore game. A 24-year-old Jason Williams dribbled up the floor, surveyed his options, faked a behind-the-back dish and bounced the ball off his elbow to a trailing Raef LaFrentz. The pass didn't even result in a bucket (LaFrentz got fouled); and yet, it was a split-second moment that has become the enduring memory of a legendary career.
And for good reason. Every bit of Jason Williams was summed up by that play.
J-Will was a creative basketball genius, something we had never observed before and did not anticipate coming. An entertainer who provoked reactions of shock, disbelief and excitement on a nightly basis; who sent crowds, and later YouTubers, into frenzies; who brought the tricks of the playground to the pros; who inspired kids everywhere with a unique blend of unselfishness and flair. In the same way last week's SLAM Legend, Ben Wallace, made defense and rebounding fun, Williams made passing more enjoyable than arguably anyone in NBA history.
The mere fact that he made it to the League, and displayed such immense confidence on the court, emboldened young players across the country. Because the path was unconventional, and whenever that's the case, there's bound to be skeptics. As former SLAM editor Scoop Jackson wrote back in 1999, Williams was "an afterthought, dismissed as a 'maybe'" when he started out.
Jason was born in rural Belle, WV—a place that had a population of less than 1,500 people and, as you probably guessed, wasn't exactly known for it's basketball. A successful run at Dupont High School, where Williams played alongside Randy Moss, resulted in a few collegiate offers, but certainly not the amount of attention that was warranted. After one season at Marshall and one at Florida, Williams was surprised that the Sacramento Kings selected him at No. 7.
"I didn't really expect to go that high," he told SLAM.  "I went to these different workouts with teams and I was in the best shape of my life. I was killing everyone that they put in front of me."
Those who didn't know the name Jason Williams were quickly introduced. And those who had their doubts were quickly quieted.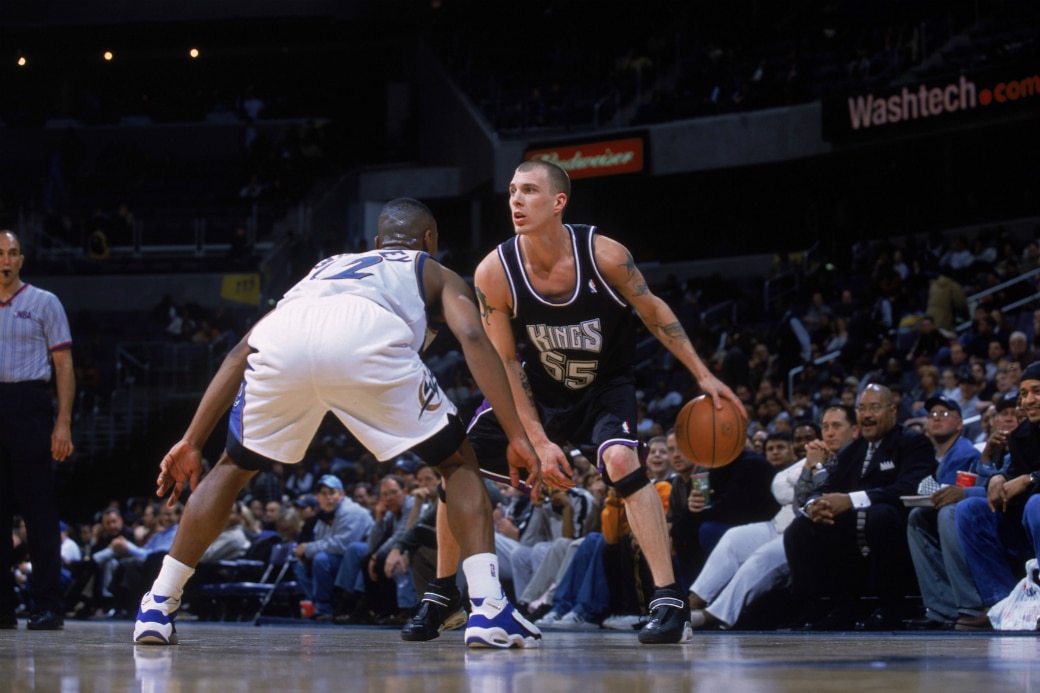 In his feature for SLAM almost 20 years ago, Scoop described what Williams brought to the table: "70-foot, alley-oop passes to Tariq Abdul-Wahad; over-the-head dimes to C-Webb; one-handed, in-the-lane, behind-the-back grooves that make us watch SportsCenter over and over again; ill Dr.J-like reverse layups that put NBA Showtime producers on edit; murderous crossovers that freeze defenders like Han Solo, wrapping opponents up like an Erykah Badu headpiece; 21-point/9 assist/ 4 steal games on a semi-regular basis; 11 assist/ 1 turnover game against the Lakers his first time on national TV. He be pissin' on defenders like they fire, putting out the flame."
"He was the best ballhandler I have ever seen," said Mike Miller, Williams' former teammate.
Jason's NBA journey brought him to four different teams—the Kings, Grizzlies, Heat, and Magic. As a veteran in Miami, he won a championship in 2006. The career averages: 10.5 points, 5.9 assists, and 1.2 steals per game.
You wanna talk about having an impact beyond the court? Williams was never named an All-Star, but his No. 55 Kings' jersey was a top-seller and continues to be one of the more popular throwback fits. As the New York Times reported in April of Jason's rookie season (which was disrupted by a lockout), the Kings experienced a 13 percent increase in attendance, which led the entire NBA.
He was, and forever will be, one of the greatest shows the League has ever seen.
The SLAM Legend of the Week is a recurring post that pays tribute to an individual who impacted the game way beyond the court.
—
Alex Squadron is an Associate News Editor at SLAM. Follow him on Twitter @asquad510.
Photos via Getty Images.
12,386