As the first All-Star Weekend in Chicago since 1988 nears, we're rolling out a bunch of content focused on the rich history and current state of hoops in the Windy City. Chi-Town, stand up.
Previous stories:
LIVE FROM MADISON STREET: Zach LaVine Talks Playing in Chicago
ALL OF THE LIGHTS: REMEMBERING 1988 ALL-STAR WEEKEND IN CHICAGO
—
Few people have greater insight into the basketball madness set to descend upon Chicago for February's NBA All-Star Game than Allie Quigley. After all, Quigley is the defining basketball player of this Chicago generation.
A Joliet, IL, native, Quigley has blossomed in her pro career thanks to two facts. First, an ability to sink long-distance shots—she has two WNBA three-point contest titles to her name and is the WNBA's active leader in three-point accuracy at 39.9 percent. And second: Allie Quigley, for her entire life, has been Chicago basketball.
Joliet Catholic Academy. DePaul University. And now, the longest-tenured member of a Chicago Sky team that reached the playoffs in 2019 and has championship aspirations in 2020.
It's all pretty improbable, especially considering Quigley's early professional path: A second-round draft pick who struggled to stick on rosters in a variety of other WNBA outposts—Phoenix, Indiana, San Antonio and Seattle.
"I mean, especially because my first couple of years were either overseas, or in Phoenix, or Seattle, San Antonio," Quigley says. "I just thought that was going to be my life and that was that. I never really imagined that I'd get to be so close to my hometown every single summer. So I'm definitely lucky, I know not a lot of players get to do that."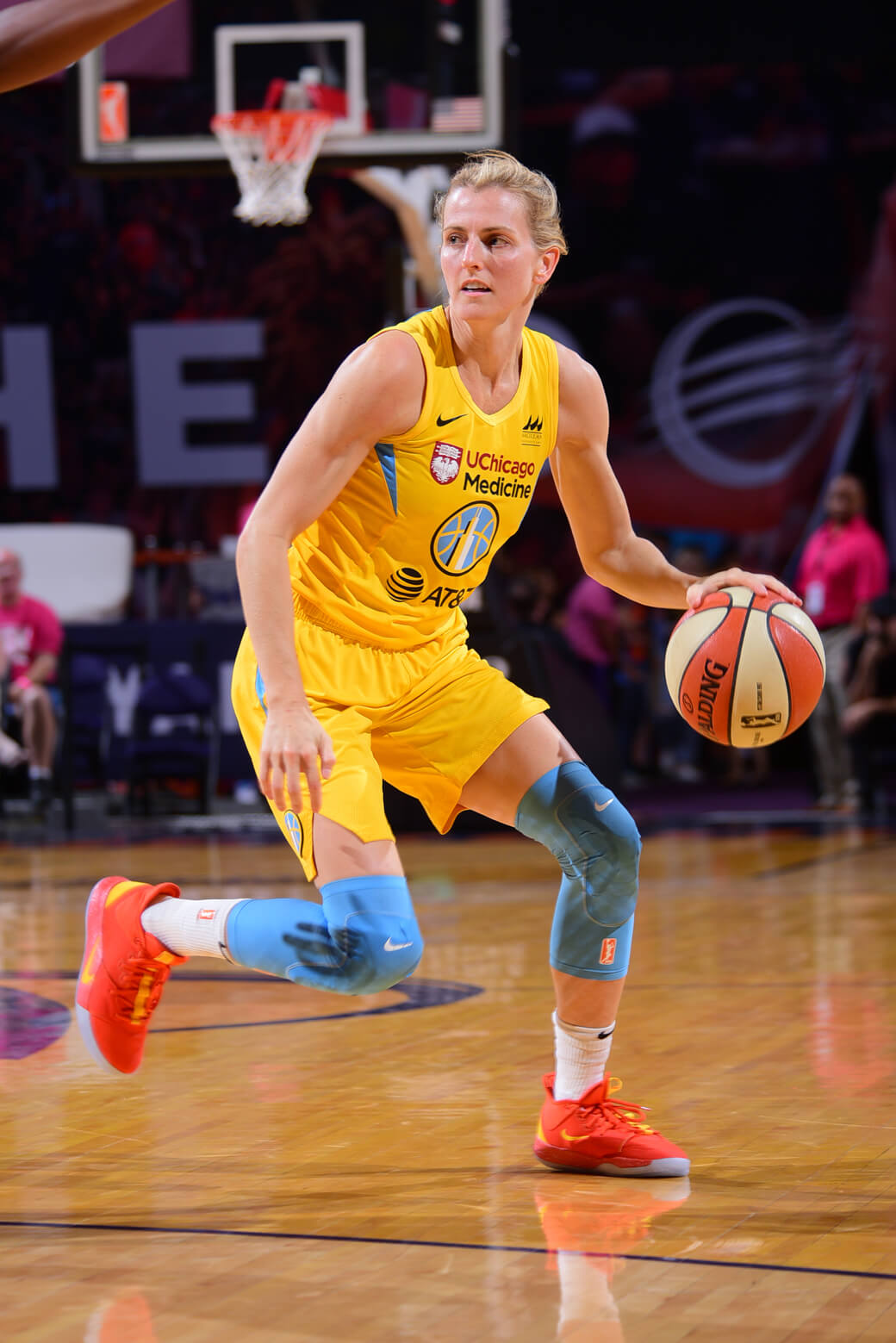 Accordingly, Quigley has enjoyed a lot of time to figure out the quintessential Chicago question: Where do you get the best deep dish pizza? Fortunately, you have the Allie Quigley seal of approval to choose either of two elite options in town.
"You definitely have to try some deep dish pizza if you're from out of town, at either Uno's or Due's downtown," Quigley says. "Either of those is fine with me."
Quigley won't be eating at either one of them come NBA All-Star Weekend, however. During the WNBA offseason, she plays overseas along with some of the best players in women's basketball.
She's giving her advice from the airport, about to fly back to Russia, where she suits up for a powerhouse UMMC Ekaterinberg team with her wife and Chicago Sky teammate Courtney Vandersloot, Phoenix Mercury center Brittney Griner, 2019 WNBA Finals MVP Emma Meesseman of the Washington Mystics, Connecticut Sun franchise player Jonquel Jones and many others.
The result is the loss of an opportunity to showcase the WNBA through the ultimate Chicago player. Quigley will return this spring, though, and after a heartbreaking last-second loss to the Las Vegas Aces, she and the Sky represent one of Chicago's best opportunities to celebrate a championship in 2020. It's not lost on her that a Chicago product can help lead the city to greater glory, either.
"I think we're always trying to grow the women's game and at the same time just have Chicago notice us and notice our success," Quigley says. "But mainly, I think we're just thinking small picture, just about our franchise and how far we've come, and we're trying to do something special, something that we've never done before."
As for Quigley's legacy, it's already secure. There will never be another. She followed the WNBA from the very birth of the league and has shown an entire city that girls can grow up to hoop—not just casually, but professionally, at the highest level.
"I just hope that I'm a player that helps Chicago do things that they've never done before, in terms of the Sky, helping us get to our first ever playoff appearance, hopefully getting our first championship ever," Quigley says. "Just helping the program go in the right direction. Just positivity, good chemistry, interaction with the fans. I just hope that's what people remember."
—
Howard Megdal is a contributor to SLAM. Follow him on Twitter @howardmegdal.
Photos via Getty.