LeBron James' steps are measured differently. His moves have more impact than anyone else in the League. He bounds down the court, full-speed, seemingly always chasing the perfect soaring dunk or the ideal bullet-fast pass. His free agency decisions make the entire NBA hold its breathe. And he jets from city to city, country to country, spreading his message of equality and inspiration. His footprint shakes the world.
With such an important influence, the King's sneakers have to support the journey. And the Nike LeBron 16 is ready for the ride.
Decorated with a Battleknit 2.0 upper, and sitting on a Nike Max Air midsole, the LeBron 16 is an evolution in James' signature line. The new shoe is building off the LeBron 15, which featured the first version of Battleknit and a similar midsole. The 16 is making use of a stronger knit that's been created by hot-off-the-presses technology. Jason Petrie, the lead designer on the LeBron line, is holding the knit material in his hand, breaking it all down.
"Our knit innovation team has this new technology, called a Shima machine," Petrie says. "It's a brand new machine that allowed you to make a knit in a new way. It allows you to combine the structure of a woven, a really strong, in-all-directions type of construction, and then you knit through it and around it.
"You add it to that strong base," Petrie continues. "So now you've got a brand new composite knit material. And in addition to that, what you see in red," Petrie says while pointing at the black/red LeBron 16, "is actually high tenacity yarn. It's out strongest yarn. We brought that to life as the under layer, and really woke up that material. In order to build this we had to buy an entire new fleet of machines. It's the first shoe Nike has ever built on those machines."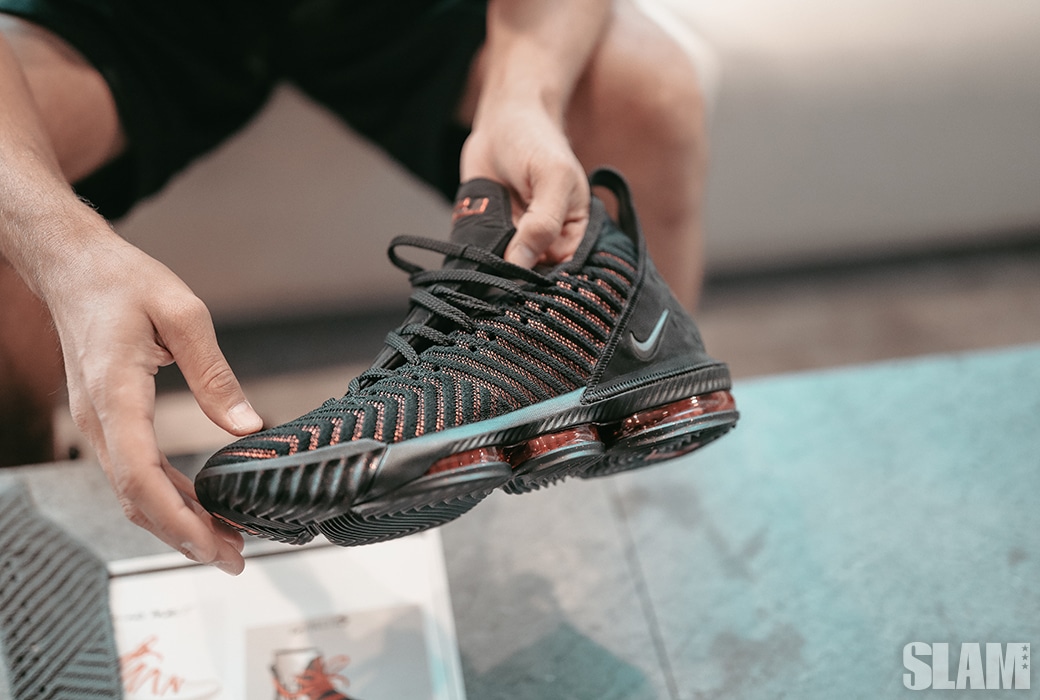 Petrie is quick to point out how important it is to make products specifically for James. His physically demanding on-court style takes a tremendous toll throughout the season. No. 23 reportedly spends more than $1 million on his body each year, meaning that Petrie has to do his part in protecting the game's greatest player.
Everything on the 16 is fine-tuned for him, and James himself has grown into a well-versed sneakerhead. He knows the ins and outs of Nike's materials and technologies and can now easily articulate what he wants from his footwear. He's also very involved in creating colorways and using his footwear to deliver messages.
Coming off the strength of last season's #LeBronWatch and the famous EQUALITY colorways, James challenged Petrie and his team to find a way to build another platform for storytelling. The 16's big heel counter, which serves a purpose in locking the wearer down, is also prime real estate for a plethora of narrative-driven colorways.
The first LeBron 16 'way is highlighted by the appearance of the lion, a longtime symbol of strength in the LeBron line. Nike connected lions to LeBron for the release of his first sneaker, the Air Zoom Generation.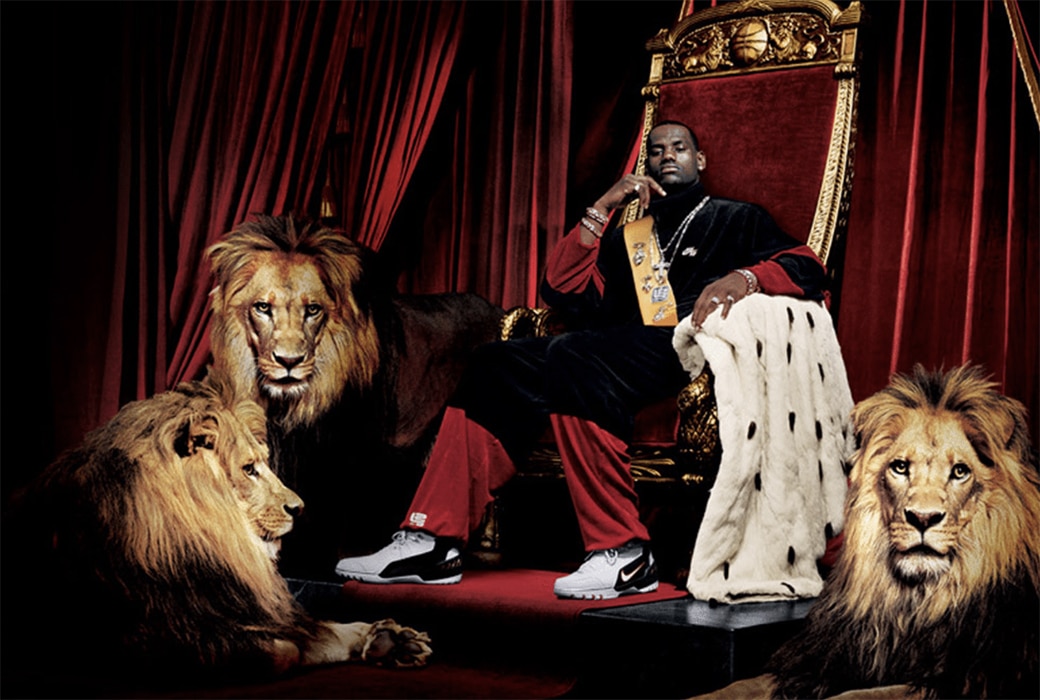 "I've been around for a long time," Petrie says. "We don't like to use [the lion] all the time because it's a special thing and it does have meaning. And it's not gonna show up on every model for the 16. It's really based on that killer instinct. That finisher. That's why you see the eyes red on the lion."
Petrie flips the shoe around and points to the heel.
"That inspiration really came from Game 6 in Boston, when LeBron was in Miami. The stare. That moment, you could tell, he wasn't gonna lose that game."
"We had a renewed interest in going deeper in stories for two reasons," Petrie says. "LeBron really started to open up, he's reaching out beyond basketball. And also it seemed like it was getting kinda boring. It took a refocusing.
"I think a big turning point came for us when he wore Soldier X in 2016 because it changed the way that we built shoes for him. We always thought that we had to over-build it because he's so powerful. That really allowed us to start moving."
Petrie says that he and his team had to go beyond just making a high-performance model. They needed to discover a new way to construct multidimensional silhouettes that could carry the King's voice.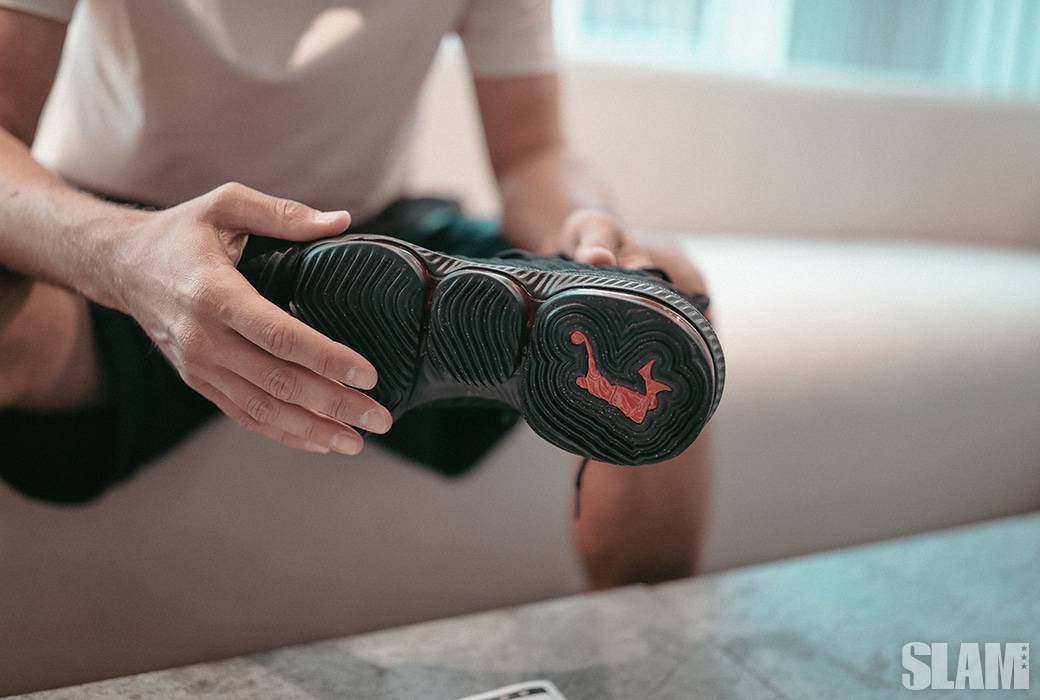 The 16 has also been forged with fashion in-mind. Petrie says he loved the 15 but he didn't like how it translated to off-court style.
"This is actually structurally the same as the 15," he says. "We just cut off that soft collar. Wearing a bootie's cool but you can't wear it with jeans. We want everybody to get in LeBron's, including ladies and kids."
In keeping with Bron's message of equality, the 16 has also been treated to a reimagined version by an all-women's design team. In collaboration with Harlem's Fashion Row, the first 16 colorway to be released was created for women only and it immediately sold out.
"He had the quote about black women being the strongest people on the planet," Petrie says. "I remember looking at Meline Khachatourian when he answered that question and we were like, 'Holy shit, we gotta do something with that.' It started with HFR and it turned into this amazing thing. We opened the design up to that team and transformed the shoe."
And Petrie promises more transformations to the 16s. "There's gonna be some shit," he says with a smile.
—
Max Resetar is an Associate Editor at SLAM. Follow him on Twitter and Instagram. Photos by Joseph L. Sherman and via Nike. Video courtesy of House of Highlights.